Meet EPA Scientist Chris Weaver, Ph.D.
EPA scientist Dr. Chris Weaver's research focuses on climate science, especially understanding the risks climate change poses to air quality, water quality, public health, and communities, as well as planning and decision-making in the face of uncertainty about future climate change. His past research has focused on the role of clouds in the climate system and impacts of land-use change on the atmosphere.
From 2011-2015, Dr. Weaver served in a number of leadership roles within the U.S. Federal climate science enterprise, including as Deputy Director and Acting Director of the U.S. Global Change Research Program (USGCRP) and as a Senior Advisor in the White House Office of Science and Technology Policy. Prior to joining the EPA in 2005, he was on the faculty of the Department of Environmental Sciences at Rutgers University, where he was also the Associate Director of the Center for Environmental Prediction. He spends most of his free time getting out and about with his wife, Sarah, and young son, Henry. Occasionally he has time to pursue his sports-related and musical hobbies.
How does your science matter?
I think my science matters because the questions we are facing related to climate change are important, but also quite complicated. For example, how will we protect coastal wastewater facilities, both now and decades into the future, from impacts such as sea level rise, coastal erosion, and heightened storms? Or, how can we continue to ensure clean air for our citizens when warming temperatures and more wildfires may increase ozone and PM pollution?
Those questions are complex, as well as very interdisciplinary, requiring a lot of different types of expertise – and not just from within EPA, but other science agencies across the government. A big part of my work at USGCRP was to help bring these agencies together to integrate their unique knowledge base and capabilities so we can better address these kinds of important questions. By working together, we're increasing our ability to do research that supports national needs for information about what climate-related risks we need to prepare for and how we can best respond.
As a scientist at EPA, I can help us use that information to continue to meet our mission of protecting human health and the environment into the future.
When did you first know you wanted to be a scientist?
A lot of my interest in science came from my dad, who was a physicist and professor at Tufts University near Boston, Massachusetts. I always wanted to be like my dad.
If you could have dinner with any scientist, past or present, who would you choose and what would you ask them?
This is easy for me. That would be my dad, who passed away a number of years ago. Then I would say one my two brothers who is also a scientist, a professor at UC-Davis. I'd like to talk to my dad, as I haven't gotten to talk to him in many years, and my brother, because he lives on the other side of the country, and I don't get to see him as much as I'd like.
What do you like most about your research?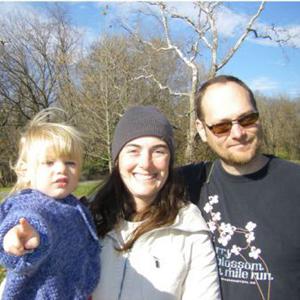 I've always been interested in the process of discovering new things, but also in putting that newly discovered knowledge into practice. I'm working at EPA because I like to see the immediate usefulness of science, as well as working deliberately to connect the science with a need that our country has. Knowing that we'll be able to use what we learn from scientific research for a problem we're trying to solve, that's what is the most exciting for me.
Tell us about your background.
I got my Ph.D. in oceanography from the Scripps Institute of Oceanography, where I mainly studied clouds over the ocean. Clouds do a lot to determine climate in the short and long-term. They reflect a lot of sunlight, trap a lot of heat emitted from the surface, and so they're a big piece of the puzzle for climate studies and climate change. Before that, I went to Princeton for my undergraduate degree in geosciences.
Any advice for students interested in a career in science?
It depends on what you want to do with your interest in science. If you do want to be a research scientist, you have to love the day-to-day process (including the frustrations) of doing research and figuring things out. If that's what gets you up in the morning, there's nothing better.
If you're interested in staying connected with science but don't envision research as your primary focus, there are a lot of opportunities to be engaged with science and scientists without necessarily being a researcher yourself.
Finally, regardless of whether you want science to be part of your career, continue to seek out opportunities to learn about science because it is exciting and rewarding to know more about how the world works!
---
Editor's Note: The opinions expressed herein are those of the researcher alone. EPA does not endorse the opinions or positions expressed.