Meet EPA Scientist John Wambaugh, Ph.D.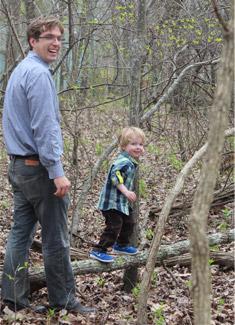 EPA physical scientist John Wambaugh works as a team member on the ToxCast and Virtual Tissues projects and is a co-leader of the Rapid Exposure and Dosimetry project.
Dr. Wambaugh received a BS in physics from the University of Michigan, Ann Arbor, a MS in physics from Georgia Institute of Technology, and a MS in Computer Science and Ph.D. in physics from Duke University.
What research are you doing at the EPA?
I am a Project Lead for the Rapid Exposure and Dosimetry Project, the home of ExpoCast.  We're exposed to thousands and thousands of chemicals, so how do we decide which chemical that we need to study next?  It's what is known as prioritization—if we've got the resources to intensely study five chemicals next year, statistics allow you to identify which chemicals should be studied next. It is kind of the way that Netflix might use an algorithm to select recommended movies.  If you watched fifteen action movies last month, Netflix might recommend another action movie. Using this same principle, if a new and untested chemical is similar to another chemical with hazardous properties, it seems more important to invest resources into further testing that chemical.
How does your science matter?
The statistical models are a way of assuring that we are spending EPA research dollars most effectively and studying the "right" things, rather than alphabetical order or random selections.  The goal, as we continue to improve on our models, is to make sure that we are selecting the chemicals that are most important to public health.
When did you first know you wanted to be a scientist?
I was infatuated with Godzilla as a three or four year old, and I became obsessed with dinosaurs during my childhood.  There wasn't much of a market for toy dinosaurs in the 1970s, so when the store ran out of little plastic toys, my parents had to say, "Here's a textbook on dinosaurs".  That was a fast jump into realizing that people study science for a living. In the discipline of paleontology, you never see the actual animal, just the evidence.  You're governed by the measurements that you have within the rocks, yet you can infer all sorts of things.  This is the evidence that I have—how do I get better evidence?  What other conclusions can I draw?  It's the process of finding more and drawing conclusions that has always interested me.
How did you get there? Tell us about your background.
In graduate school, I studied statistical physics and computer science.  What I was really studying was complex systems, a topic that grew out of chaos physics.  We were looking at systems that were greater than the sum of their parts. My favorite example is the wave at a football stadium.  It could be a stadium full of fans in the Big House at Michigan, at Nebraska, or at NC State, it doesn't matter, the wave is always the same speed.  You get all these different people together and you always get a similar result.  It's called an emergent phenomenon.  And within physics, we like to study the simplest system that we can.  I did an entire PhD studying sand.  Individual grains of sand aren't too exciting but if you put enough individual rocks of sand together, it will always form the same exact angle and slope, called the angle of repose.  The complex system there is how do all of those rocks "talk" to each other and align themselves perfectly every time. 
What do you like most about your research?
I've always enjoyed modeling data.  The whole point of a model is to make something simpler.  A bad model never works, a good model works some of the time, and no model ever works 100% of the time because then it would no longer be a model!  We're always trying to specify the domain of applicability.  Working on Expocast, we run 2,500 chemicals through the SHEDs model at EPA.  The presumption is that for some of those chemicals, it does a really good job. Other chemicals fall outside of this domain, and as long as we know which chemicals are in or out of the domain then we're in good shape.  I love studying these models and the systematic study of making more accurate predictions about the data.
If you weren't a scientist, what would you be doing?
I'd love to be writing video games.  I have actually worked with several friends in the past who built multi-player video games.  For me, video games are a sort of model for the world, but a more fun model.  You open the door and there could be a whole other world on the other side.  You could be 10 feet tall or be able to run fast, but either way it's all a model and governed by the parameters that you create.
If you could have dinner with any scientist, past or present, who would it be and what would you like to ask him or her?
Probably Richard Feynman. He seems like a goof.  I would ask him about computing and maybe complex systems. These two fields of study really came out after his death.  What would he be doing with these things?  What could we be missing in our theories?
Do you any advice for students considering a career in science?
Every single scientist that I've ever known has had a winding path.  I actually didn't pass my PhD qualifiers at Georgia Tech, so I ended up studying biological modeling at Duke.  It's one of the best worst things that's ever happened to me.  Of course it can be frustrating if you're having a bad day, but you've got to be open to what life throws at you.  My advice is, if you want to be a scientist, keep chipping away at it and it will happen. 
---
Editor's Note: The opinions expressed herein are those of the researcher alone. EPA does not endorse the opinions or positions expressed.