Meet EPA Scientist Paul Harten, Ph.D.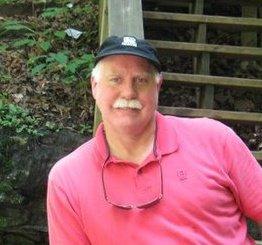 EPA Scientist Paul Harten
Paul Harten is a Computational Environmental Scientist researching nanomaterials. He has been with the EPA for the last 21 years researching several areas of sustainability.  
When did you first know you wanted to be a scientist?
When I was young, I read a lot of science fiction and it inspired me.  As a little boy, I read books from the Tom Swift series such as "Tom Swift and His Ultrasonic Cycloplane" and "Tom Swift and His Flying Lab."  Later, I had many favorite science fiction authors like Isaac Asimov who wrote "I, Robot"; Arthur C. Clarke who wrote "2001, A Space Odyssey"; and Robert Heinlein who wrote "Stranger in a Strange Land."
How does your science matter?
My science makes a difference because the laboratory results of many experimental toxicologists can be brought together to make predictions about the harmful effects of new materials that are designed at the molecular level for their special properties.  Hopefully, this can be used as a tool to determine if these emerging materials might be harmful and need further investigation.
What do you like most about your research?
I am sort of a computer person, so I like combining math with computers to model nature (physics, organic chemistry, and the environment).  For example, I like modeling the interaction of ethanol and water molecules as they slip through different boundaries.
If you could have dinner with any scientist, past or present, who would it be? What would you ask them?
I would have dinner with Jeremy England, a biophysicist at MIT.  His hypothesis  "A New Physics Theory of Life"Exit  shows that when stimulated, very complex molecular structures can change to dissipate energy to the environment more effectively.  I would ask him how his theories can be used to predict the possibly harmful response of living human cells exposed to designed materials.
If you weren't a scientist, what would you be doing?
I would be a computer hacker. I'm good with computers; I've been working with them since before I graduated from college many years ago.
If you could have one superpower, what would it be and why?
My super power would be to always know the right questions to ask when working on a problem. A critical part of research is approaching a problem in the correct way.
Any advice for students considering a career in science?
Always ask questions to gain a better understanding of a subject;
Read science fiction;
Study hard in your math and science courses;
 And do your homework!
What do you think the coolest scientific discovery was and why?
The coolest scientific discovery was the invention of computers.  The ENIAC (Electronic Numerical Integrator and Computer) was started at the University of Pennsylvania in 1943 and was finished in 1946.  This technology opened up a whole new method of research.  Along with experimental research and theoretical research, computational research became available to scientists in their efforts.
Is there a project or effort that you are most proud of at EPA?
The project and effort that I am proudest of at EPA is the pollution prevention solvent substitution software tool PARIS III.  With the help of my EPA colleagues, I developed this application and it can be freely download by anybody in the world to find replacements for harmful chemicals mixtures (solvents) used by industry.  These replacements are very similar to original solvents, but are less harmful to human health and the environment.
What's the coolest day you've ever had at work?
The coolest day at work that I've ever had was explaining the speed-up limits of High Performance Computing to other scientists at EPA who use computers in their research. Most scientists think that the more computers you have, the faster you can solve your problem. There is a limit to how much computers can help your research and how many computers you can use for your research effort. I loved talking about computers with them.
Do you take any steps in your daily life to protect the environment?
I recycle plastics, glass, paper, batteries, and electronic equipment; I take Metro Access to and from work; and I reduce my energy usage as much as possible.   
---
Editor's Note: The opinions expressed herein are those of the researcher alone. EPA does not endorse the opinions or positions expressed.