Meet EPA Scientist Sang Don Lee, Ph.D.
Sang Don Lee works as a researcher and technical expert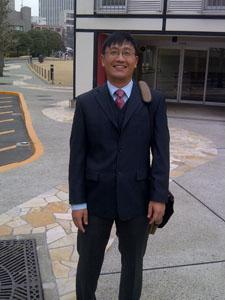 EPA scientist Dr. Sang Don Lee in remediation for EPA's homeland security research program. Dr. Lee was selected as an Embassy Science Fellow by the U.S. Department of State to provide expertise and advice to Japanese officials in the aftermath of the 2011 tsunami, earthquake, and damage that led to a radiation leak at the Daiichi Fukushima power plant. He brought what he learned during his tenure in Japan back to the U.S. to help us better prepare for potential nuclear incidents.
When did you first know you wanted to be a scientist?
I was always a curious kid. If I was intrigued by something, I had to figure it out one way or another, otherwise I couldn't sleep. I think it was during my 4th grade volcano experiment.  It was so fun that I had to repeat the same experiment over and over until there was no more materials left. I think that was the moment that I got interested in science.
Video profile: EPA Scientist Sang Don Lee Helps Communities Bounce Back from Disaster Exit
How does your science matter?
My research is motivated out of a desire to prepare the EPA and the nation to more effectively respond to and recover from a chemical, biological, or radiological incident. Response to such incidents may involve various unpredictable challenges. Our research findings are delivered to the response community to improve their preparedness and response capabilities.
What do you like most about your research?
I like my research because I can learn new things. My research often requires the application or adaptation of technologies and methods from different scientific fields. I have been learning various microbiology techniques to sample and decontaminate viruses and spores on surfaces. I also have learned how ions move through outdoor porous surfaces such as concrete, brick, and asphalt. It is my pleasure to learn new information every day at work.
If you could have dinner with any scientist, past  or present, who would it be and what would you like to ask him or her?
I do not have any specific scientist in mind, but, I would ask any scientist responsible for making great discoveries if they would change their research, and if so, how.
If you weren't a scientist, what would you be doing?
I would be a science or math teacher in elementary or middle school. I like communicating with kids and seeing them grow.
If you could have one superpower, what would it be and why?
Teleportation, so I can enjoy various locations in the world without long travel to get there.
Any advice for students considering a career in science?
I think 'Science' is a great tool to help us understand the phenomena and also resolve many problems around us. I would like to encourage students to practice connecting scientific knowledge to practical application.
---
Editor's Note: The opinions expressed herein are those of the researcher alone. EPA does not endorse the opinions or positions expressed.