Meet ORISE Research Fellow Nisha S. Sipes, Ph.D.
Update: While this researcher no longer works at EPA, our science builds on the work they did during their time here.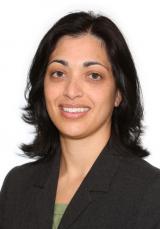 Nisha S. Sipes is an ORISE Research Fellow in EPA's innovative National Center for Computational Toxicology. She has a B.S. degree in Mechanical Engineering, M.S. in Biomedical Engineering and a Ph.D. in Cell and Cancer Biology from the University of Cincinnati. She and her colleagues are changing the way toxicity testing is done by researching ways to make it faster, more efficient, and more informative.
Nisha is actively involved in the research community. She's a member of the Society of Toxicology and the Teratology Society, peer-reviewed journal reviewer, invited speaker for numerous conferences, past Vice-President for EPA's Networking, Leadership, and Training Organization (NLTO), and volunteer for EPA's Society of Toxicology outreach exhibit booth.
What research are you doing at EPA?
We are exposed to thousands of chemicals in our daily lives and we don't always know how those exposures affect us.  As chemicals come and go in the body, they may get metabolized and/or excreted out. My team and I want to know how chemical exposures affect a developing embryo. When the embryo is developing, what is the pregnant mother exposed to and how does it affect the developing embryo? Critical developmental events make it possible for an embryo to properly make a limb or develop each of its organs. It is important for us to know how a mother's exposure during those critical periods can perturb key events and hence disrupt embryo development.
What types of chemicals have you looked at so far?
As part of the ToxCast research program, we're looking at how chemicals interact with living organisms. To understand this, we are testing thousands of chemicals in high throughput screening experiments. Our first phase of testing looked mainly at pesticides used on food because there is a lot of existing data from more traditional laboratory (animal based) tests that we can compare with our high throughput screening data. We recently released data on the second phase of testing which includes a number of everyday chemicals, not only pesticides but also those in consumer products, proposed green alternative chemicals, pharmaceuticals, and even food additives.
What do you like most about your research?
The variety in my projects lets me continually learn and use my knowledge to develop new methods for advancing science to help the public. For example, I have proposed alternative methods for screening developmental toxicants, evaluated the outcomes of thousands of chemicals in biochemical experiments, started collaborations across EPA to see how we can start incorporating our research into decision making, and am working on the Children's Environmental Health Roadmap to plan forward thinking approaches for understanding the effects of chemicals in child health outcomes. I work with amazing professionals from diverse backgrounds and it is great to know that our science can make a difference.
If you could have dinner with any scientist, past or present, who would you choose and what would you ask him or her?
In general, I could gain experience from talking to any scientist, famous or not, about their biggest successes or biggest failures. I think there would be common themes, such as persistence, how they arrived at their conclusions, and what they learned and took away from their experiences.
In particular, I would like to talk with Carl Sagan. Although controversial, he was passionate about his work and having the public understand it (and science in general). He was an avid believer in the scientific method and always asking questions, and a free-thinker. I would like to hear his thoughts on our approaches to alternatives in toxicity testing. A scientist not familiar with the field may come up with a different way to look at the problem.  I would also be very interested to hear all about his scientific advocacy work.
When did you first know you wanted to be a scientist?
Honestly, probably in utero! My father was a scientist in the public health area and my mother was in the medical profession, so I think it is just in my blood. When I was a child, I was always outdoors, either hiking or looking at fossils and plants. I don't think it ever occurred to me to do something that didn't involve science. 
If you weren't a scientist, what would you be doing?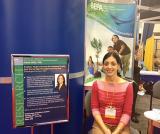 I think I would be a career counselor. I enjoy helping people find information that will lead them to a rewarding career.
I am involved with EPA's networking and leadership training program for post-doctoral students. Our goal is to help them gain experience and learn from their time at the EPA, through networking and career advice.
What advice do you share with them and other students interested in a career in science?
Do what you like! It's your career path, so be proactive and look for new opportunities wherever you can. Take risks and take advantage of co-ops, internships, and volunteer activities. Networking is huge. I have found that many people are open to discussing their work, even if they don't know you. If you are proactive and persistent, you can make great connections for your career.
---
Editor's Note: The opinions expressed herein are those of the researcher alone. EPA does not endorse the opinions or positions expressed.