Meet Toby Schonfeld, Ph.D.
Update: While this researcher no longer works at EPA, our science builds on the work they did during their time here. 
Toby Schonfeld is EPA's Human Subjects Research Review Official. Coming from a background in bioethics and educational scholarship, Schonfeld is committed to developing an agency-wide community of practice in research ethics at the EPA. She has honed the process for oversight and approval of research projects and is building a unified research ethics education program to ensure that all research involving human subjects across the EPA conforms to regulatory requirements and best practices in ethics. Good science starts with good ethics, and Schonfeld works to ensure that both have a place at the table.
Tell us about your background.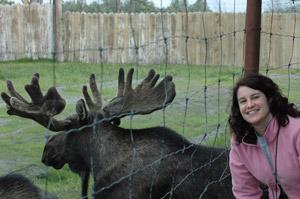 EPA Human Subjects Research Review Official, Toby SchonfeldI started at University of North Carolina at Chapel Hill as pre-med with a major in Biology. By the time I was a sophomore, I had switched my major from biology to chemistry to religious studies. I was still interested in health care, but I wasn't passionate about being a physician. A family member recommended Bioethics because it matched my studies in philosophy and religion and my interest in health care. So, while completing my undergraduate studies, I took a course on Bioethics. This course absolutely changed my life, and I knew that's what I wanted to talk about forever.
After grad school, there were three paths I could take. One: teaching in a university, which most likely would not include clinical work. Two: go straight to working at a hospital as the ethicist on staff. Three: working at a medical school, which would allow me to do education, clinical ethics work, and research ethics. I chose option three at the University of Nebraska, Medical Center, where I developed my passion for research ethics.
Eventually I moved to Emory University where I directed a master's program in Bioethics. It was amazing to train the next generation of Bioethicists, not just in research ethics, but to also give them the opportunity to see the variety of kinds of things that an ethicist can do.
At EPA, I've been doing similar work in terms of education and policy work, but in a very different environment, which is incredibly interesting.  I'm also helping put one, unified system in place, and the breadth and depth of science here is greater than I've ever seen. I also think that having a full career in academia before working in the government gives me a different perspective than others have, and I think that compliments the perspective of those who've been in government for 20 or 30 years. It enables us to work well together.
How does your science matter?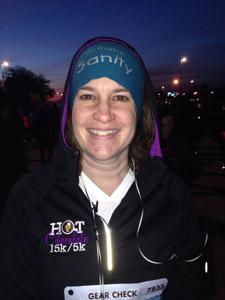 Even scientists need to clear their mind every once in a while.
I'm responsible for ensuring that all research that involves human subjects that the EPA either conducts by its own scientists or funds through grants, contracts, or cooperative agreements abides by regulations and our internal policies. Part of what I've been doing is developing a comprehensive education plan so that the folks who are designing and implementing the research across the agency know not just the letter of the law, but the foundation of it.
What do you like most about your research?
 I have always been interested in policy, but was never sure how to connect policy to things that actually make a difference. It seems to me that my work in research ethics actually does make a difference, especially in the way that research subjects are treated. EPA has some of the most rigorous policies and procedures in the world when it comes to human subjects research, but I know that I can help make it even better – for both the researchers and the research subjects.
When did you first know that you wanted to be a scientist?
There was one course at UNC called Medical Ethics or something like that. I took it, and it was life-changing. I remember sitting in that class and we were having a discussion. I raised my hand to make a point, and the TA said, "That's an interesting point." And then someone else raised her hand and made a completely different point, and I remember thinking, "Wow, I don't agree with her, but I never would have even thought of that if she hadn't brought it up. This is awesome!" From there, my path was set towards Bioethics, although I didn't really know what it was at the time or what it involved. I just knew that this is what I'm really passionate about, I love this stuff, and would love to talk about it forever.
If you weren't a scientist now, what would you be doing?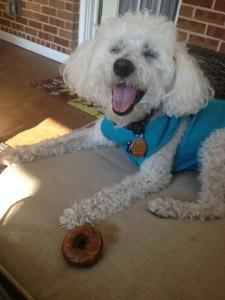 Toby's smiley dog Annie.There's a good chance I'd be a librarian or an editor for a publishing house. I'm really into writing and reading, so both of those jobs appealed to me. Of course these days, what I think I'd like to do is be a professional dog walker. But that's because I really like dogs.
What advice would you give students interested in a career in science?
Be cross-trained. In order to be successful in this market, it is no longer the case that you can be an expert in only one area. The more you're able to do and the more you're able to understand, the more successful you will be. Not to mention it will help you with the increasingly collaborative nature of research.
A second piece of advice I'd offer is make sure your science makes sense to non-scientists by connecting it to a real problem. Be able to see the broader perspective of what you're doing, and ask yourself the "so what?" question. The "what am I doing, and why should everyday people care?" is very important.
If you could have any superpower, what would you choose?
I wouldn't have a superpower, I would have a prehensile tail, like a lemur… although, maybe longer. Here's what it would do: you always want a third hand – think about when you're cooking, it could hold the cookbook for you. I've always wanted a reading aid: if you're lying in bed and you don't want to hold the book up, it would hold the book for you. And sometimes, you just really need to change your perspective by hanging upside-down. The tail would let you do that. I think it would be useful for all sorts of things. Think of the yoga poses that it would enable you to have!
If you were an animal, which animal would you be?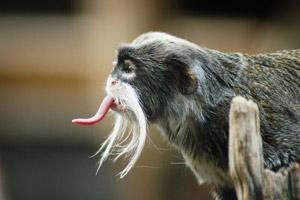 According to a Buzzfeed quiz, I would be a squirrel, which I simply reject. I am a little frenetic, but if I were an animal, I would be the Emperor Tamarin.
Prehensile tail: check
Fruit as favorite food: check
Constantly moving: check
Small social groups: check
Female-dominated society: check
Polyandrous society to ensure paternal involvement in child-rearing: check
Looking freaking awesome: double check
---
Editor's Note: The opinions expressed herein are those of the researcher alone. EPA does not endorse the opinions or positions expressed.