Microbial Source Tracking: How did that get in there?
Posted September 10, 2018
An estimated 90 million illnesses each year are caused by exposure to microbial contaminants in U.S. recreational waters, costing approximately $2.2- $3.7 billion in medical bills. Much of the contamination is a result of human or other animal feces getting into the water. 
In the Great Lakes Region, beaches are sometimes unsafe for recreational use due to elevated fecal contamination from combined sewer overflows, leaking septic systems, contaminated beach sand, pets, local wildlife, or nearby agricultural practices. Having a better understanding of the contamination sources can help resource managers mitigate the effects of the pollution or stop it from entering the water in the first place. This would decrease the risk of people being exposed to fecal pollution and minimize the community costs associated with closing and reopening beaches.
In response, EPA researchers have developed several tools to characterize the sources of microbial contamination. Among these microbial source tracking (MST) tools are host-associated quantitative Polymerase Chain Reaction (qPCR) methods, which can measure fecal pollution levels and identify the source of the pollution. Researchers use qPCR methods to make millions of copies of highly diluted fecal bacterial host-associated target genes found in a contaminated water sample to determine if a particular pollution source is present and at what level.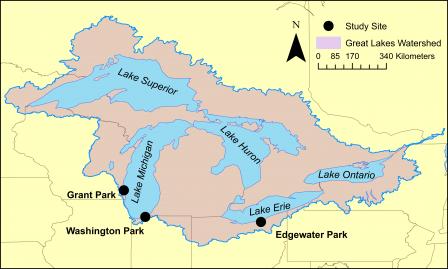 Great Lakes beach sample collection areas used for the ongoing MST study for Edgewater, Grant Park, and Washington Park study areas (ESRI. ArcGIS. Redlands, CA: Environmental Systems Research Institute).In an ongoing study, EPA is using host-associated qPCR methods to identify microbial contamination from key animal groups potentially contaminating recreational waters at three Great Lake beach areas (Edge Water, Grant Park and Washington Park) that tend to have high levels of fecal indicator bacteria (i.e., E. coli). Water samples were collected five days a week for 15 weeks encompassing an entire beach season. These water samples are currently being analyzed for human, ruminant (e.g., cattle, deer), avian (i.e., birds) and canine fecal pollution levels. The results of these analyses will be compared to local fecal and sewage samples to give EPA researchers an idea of source pollution trends and how well qPCR methods performed in identifying fecal pollution sources.
The EPA MST team has completed laboratory testing of samples for this project, and is now working on writing and publishing a final report detailing the research. The project's Principal Investigator, Dr. Orin Shanks, says that, "This research represents an important step towards the use of MST qPCR tools across the Great Lakes region to help local communities identify fecal pollution sources, clean-up contaminated beaches, and prevent future water contamination events. Great Lakes communities rely on clean and safe natural waters to protect public health and maintain a strong economy; MST methods can be a valuable approach in the water quality management 'tool box'."
Learn more:
EPA's Microbial Source Tracking Guide