National Coastal Condition Assessment
Published April 19, 2016
Coastal waters serve as significant hubs of activity for humans and wildlife alike. They are essential to industry, tourism, recreation, and the lifecycle of various species. This is why it's so important to monitor these waters for potentially harmful trends and to identify areas in good condition.
That is the purpose of the National Coastal Condition Assessment, which EPA conducts every few years. The first assessment report was published in 2001, and the latest, released in January 2016, is the fifth.  Based on the NCCA 2010, more than half of the nation's coastal and Great Lakes nearshore waters are rated good for biological and sediment quality, while about one-third are rated good for water quality. In almost all coastal waters, however, contaminants in fish tissue pose a threat to sensitive predator fish, birds, and wildlife. In addition, analyses of changes in condition from previous surveys to the NCCA 2010 indicate that water quality and sediment quality have both worsened over the last decade. This latest information shows that there is still work to be done to reduce pollution impacting our coastal waters and protect those in good condition. This evidence is backed by the rigorous science and extensive sampling that took place in order to produce the report.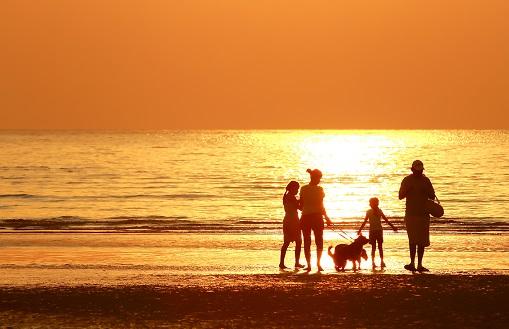 To accurately assess our coastal waters, EPA scientists and collaborators collected samples and analyzed data from 1,104 sites that were each sampled once during the summer of 2010. Researchers used a statistically-based sampling design to pick the sites across the five coastal regions: the Northeast, Southeast, and West coasts of the United States, as well as the Gulf of Mexico and the Great Lakes. This approach provided an accurate statistical snapshot of 35,400 square miles of coastal waters across the nation and in each region without having to take samples from every coastal mile. EPA and state partners used these data to estimate the percentage of coastal waters in good, fair or poor condition, based upon four different categories of ecological indicators.
Researchers rated the biological quality, water quality, sediment quality, and ecological fish tissue quality at each site. They combined site ratings to develop statistically valid regional and national estimates of current condition – as well as estimates of change in condition since previous surveys – for each category. 
Biological quality refers to the health of bottom-dwelling creatures—like clams and worms—in each region. Because these organisms are sensitive to chemical contamination and other disturbances, their condition offers insight into the overall health of the coastal ecosystem.
The water quality index reflects the levels of nutrients, algae, and dissolved oxygen, as well as water clarity—components that may indicate problematic eutrophication: when an ecosystem is overwhelmed with nutrients, which creates a lack of oxygen that can threaten wildlife.
Sediment quality combines data on sediment contaminants and sediment toxicity. Researchers use sediment as an indicator of quality because sediments can absorb and retain contaminants over time.
Ecological fish tissue quality assesses the threat that contaminated fish tissue poses to other wildlife. This is different from previous reports, where the threat to other wildlife was assessed using human health thresholds rather than ecological thresholds. The change is important because it offers a more complete picture of the potential risks that contaminants pose to other fish, mammals and birds.
The National Coastal Condition Assessment provides a foundation of knowledge about and tracks changes in our coastal waters, allowing us to effectively focus protection and restoration efforts. However, it is only one part of a bigger effort to understand our Nation's waters. EPA's National Aquatic Resource Surveys (NARS) assess not only the quality of our Nation's coastal waters, but also our lakes and reservoirs, rivers and streams, and wetlands. By providing data and tracking how our waters change over time, we can better target restoration efforts and preserve areas in good condition for future generations.
Learn More: