Nutrient Sensor Action Challenge Winners: Data and Decisions to Manage Excess Nutrients
Published October 22, 2019
Nutrients in the environment from excess nitrogen and phosphorous can result in negative impacts on water quality. EPA is improving nutrient management by incentivizing the development of low-cost technology solutions, such as nutrient sensors, in collaboration with the U.S. Geological Survey (USGS), the U.S. Department of Agriculture (USDA), the National Institute of Standards and Technology (NIST), the National Oceanic and Atmospheric Administration (NOAA), and the U.S. Integrated Ocean Observing System (IOOS). In one of these most recent competitions, the Nutrient Sensor Action Challenge, six teams deployed two or more low-cost nutrient sensors and collected data for at least three months. The teams then demonstrated how local communities and organizations intended to use the collected data to inform decisions about nutrient management.
EPA selected the following three teams for the challenge's prize ($50K each) in August:  
In Jo Daviess County, Illinois, the League of Women Voters demonstrated how an edge-of-field sensor system could support farmers in reducing nitrogen loss from their fields. The installed sensors provide real-time data to inform management decisions at the farm-scale.
The South Platte Water Renewal Partners in Englewood, Colorado, used sensor data to optimize wastewater treatment to meet more stringent nitrogen standards and improve watershed health.
In Durham, New Hampshire, a research team at the University of New Hampshire deployed low-cost nutrient sensors to assess amount and timing of nitrate fluxes through reservoirs.
Direct Data for Farm Nutrient Management
The League of Women Voters installed sensors on the farm of Steve Ehrler (pictured) to measure real-time nutrient levels. For Beth Baranski, a volunteer project coordinator for the League of Women Voters, the Nutrient Sensor Action Challenge provided an opportunity to address the need for continuous monitoring of excessive nutrients in her community of Jo Daviess County, Illinois.
"In the past, trying to discuss complex water quality issues could be very difficult because we would be looking to data that only represented a specific point in time," says Baranski.
Data from continuous monitoring can be critical for decision makers such as farmers who are increasingly concerned about nutrient loss from their land. 
For the Nutrient Sensor Action Challenge, the League of Women Voters used a sensor being developed by collaborator Dennis Busch, CEO of the Water Resources Monitoring Group. Sensors were installed on the farm of Steve Ehrler in Jo Daviess County to measure real-time nutrient levels. The sensors provided information to the farmer about how his current field practices are resulting in nutrient loss from his farm specifically, as well as general data from continuous monitoring to a larger group of farmers in the community. 
The Soil & Water Health Coalition, a farmer-led group brought together by the League of Women Voters, is using the results from the challenge period to test the current hypothesis that, given Jo Daviess County's topography and soils, the best way to address runoff and nutrient loss is to focus on using cover crops and no-till farming.
The challenge also proved rewarding in other ways.
"The challenge fits into efforts we are taking in our community to create layers of trust and spark larger conversations about issues like water quality," says Baranski. "Through this challenge, we were able to bring farmers and scientists together directly, which is changing the comfort level and allowing us to really make progress."
One way that the League of Women Voters plans to build on the success of the challenge submission is to recruit more farmers into their monitoring efforts and into the overall conversation about nutrient loss and best practices. Having a specific farmer who has been able to use the data collected from sensors to make changes on his land to address nutrient loss is an important selling point.
In-Plant Sensors for Nutrient Management
Anna Schroeder, an engineer at the South Platte Water Renewal Partners (SPWRP) in Englewood, Colorado, believes that the Nutrient Sensor Action Challenge allowed for a unique opportunity to showcase the importance of wastewater in nutrient management.
"Wastewater treatment is commonly misunderstood as a whole, yet we play a critical role in improving water quality," says Schroeder.
SPWRP is a water resource recovery facility that discharges wastewater into the South Platte River, which runs through Denver. SPWRP has the ability to monitor, treat, and control the nutrients in the wastewater that is discharged, but this ability has been impacted by increasing nutrient pollution. In the South Platte community, eutrophication is occurring in lakes—killing fish and wildlife and generally decreasing the quality of water in the waterways. This makes treating the now even further polluted wastewater more difficult.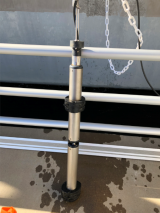 The low-cost sensor on site at the water resource recovery facility.For their challenge submission, SPWRP used low-cost nutrient sensors to make the treatment of wastewater at their facility more effective. The nutrient sensors were able to successfully provide real time feedback that allowed chemical dose control to better manage the chemicals used to treat the wastewater and enabled SPWRP to get more treatment for the same cost. 
SPWRP has continued to build on the challenge's success.
"Since the challenge, we have expanded our data collection into the upstream process and continue to push for better nutrient management practices," Schroeder says.  "A willingness to invest in infrastructure and treatment upgrades will help support changes and dramatically reduce the nutrients in the wastewater we discharge to the river."
Impact of Dam Removals on Nitrate Retention in Watersheds
Wilfred Wollheim, Associate Professor in the Department of Natural Resources and the Environment at the University of New Hampshire, lives in a community where nitrogen inputs from local watersheds to the Great Bay Estuary have increased over time, both due to sources from waste water treatment plants (WWTP), and other sources such as septic systems, fertilizers used in agricultural and urban environments, and atmospheric deposition. 
One potential factor that reduces this problem is human made reservoirs as they can help watersheds retain a substantial amount of nitrogen and keep this nitrogen out of estuaries like the Great Bay. However, the capacity to retain nitrogen of smaller coastal reservoirs more typical of New England, especially during storms, remains an unanswered question.
"This is an important question to answer because many of the dams that create these reservoirs are being removed, either because they are impaired or no longer serve their original purpose.  This could affect nitrogen exports to estuaries," says Wollheim.  
As nitrogen pollution continues to accelerate, widespread deployments of sensors in multiple types of water bodies can help to better understand sources of excess nitrogen from the landscape, and account for the role of retention within river networks. This, Wollheim believes, can only be done if sensor costs decrease.
"Currently, accurate and precise nitrate sensors are available but are very expensive. The Sensor Challenge offered the opportunity to test a newer generation of lower cost sensors to determine whether they are capable of providing similar high-quality data at a lower cost."  Wollheim says.
For the Nutrient Sensor Action Challenge, Wollheim and his team deployed low-cost nitrate sensors in two coastal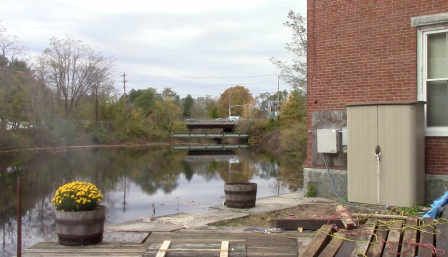 The location of one of the low cost nutrient sensors (in the small shed) at the Sawyer Mill Dam and Reservoir at the mouth of the Bellamy River watershed in Dover, New Hampshire. reservoirs of New Hampshire, one whose dam is expected to be removed this year, and the other whose dam is under discussion for removal. The aim of their submission was to demonstrate that low-cost sensors could be used to identify multiple sources of excess nitrogen, to determine whether New England reservoirs were effective at retaining nitrogen, and to inform stakeholders about the possible validity of low-cost sensors in decision-making. 
Wollheim's team was able to use the data to make decisions that could help mitigate nitrogen pollution. Specific decisions include where to prioritize non-point source reductions, which dams should be kept in place because they provide a significant nitrogen retention capacity, and whether to purchase low-cost sensors at this point in time.
Through challenges and other innovative mechanisms, EPA and partners are working together to facilitate technological breakthroughs, engage stakeholders, and build a community working together to solve nutrient management. The Nutrient Sensor Action Challenge is one challenge of many that will be used to further innovation to reduce excess nutrients in lakes, rivers, and coastal waters.