Partnering to Share EPA Expertise Around the World through the Embassy Science Fellows Program
Published June 22, 2020
EPA has a long history of partnering with countries around the world to share scientific expertise and resources. For the last fifteen years, EPA has participated in the Embassy Science Fellows (ESF) Program, a partnership between U.S. science agencies and the U.S. Department of State. The program provides expertise in science, mathematics, and engineering to support embassies, consulates, and the Department of State while providing international experience to EPA staff. The ESF Program solicits applications each year from EPA scientific and engineering staff to serve in one- to three-month technical assignments in U.S. posts abroad. 
Over the years, EPA has sent more than 110 EPA staff to U.S. Embassies and Consulates around the world to provide scientific and technical expertise on priority projects.
Fellows regard the ESF Program as an excellent opportunity to showcase EPA's expertise in another country. The program provides a unique opportunity for fellows to work with Federal agencies in other countries, network with environmental professionals who do similar work abroad, and learn about environmental issues that can inform their work in the U.S. Here are a few stories from recent participants in the ESF program. ​​​​​
Beth Hassett-Sipple, Embassy Science Fellow in Sarajevo, Bosnia and Herzegovina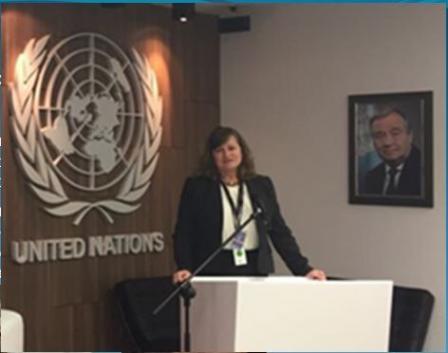 Researcher Beth Hassett-Sipple spoke at the UN Clean Air for All Conference during an Embassy Science Fellowship.Beth Hassett-Sipple is an environmental health scientist with a background in toxicology and public health. During her three-month fellowship at the end of 2017, Beth worked to increase awareness of the health impacts of air pollution, build and leverage partnerships to tackle air pollution challenges, and establish fine particle (PM2.5) monitoring equipment at U.S. Embassy Sarajevo.  
Air pollution is a significant environmental concern in Bosnia and Herzegovina (BiH) and leads to a number of adverse health impacts. During her fellowship, Beth spoke at the United Nations Clean Air for All Conference and gave several presentations to educate a wide range of stakeholders about the public health impacts of air pollution. In collaboration with the U.S. foreign service officer in Sarajevo, she organized an air quality working group with members from local and national public health institutes, international community partners, and non-governmental organizations that continues to meet to find solutions to the scarcity of air quality and public health data in BiH.
After her fellowship, Beth and three air monitoring experts from EPA's Office of Research and Development (Gayle Hagler and Bob Vanderpool) and Office of Air and Radiation (Tim Hanley) collaborated with Embassy Sarajevo on a one-year research study evaluating two different regulatory-grade PM2.5 monitors. The monitors were installed in May 2018. Beth returned to Sarajevo in January 2020 to share the initial monitoring study results with the air quality working group, embassy staff, and other stakeholders and is currently working with the team on a more extensive analysis of the PM2.5 monitoring project.  
Anand Mudambi, Embassy Science Fellow in Majuro, Marshall Islands
Researcher Anand Mudambi worked with the Republic of the Marshall Islands Environmental Protection Authority during an Embassy Science Fellowship to create an implementation plan for the bottle recycling program. Anand is a physical scientist with a background in chemistry. Anand embarked on a two-month Embassy Science Fellowship in March 2017 to the atoll of Majuro in the Republic of the Marshall Islands (RMI), where he worked with the Environmental Protection Authority (EPA) on a bottle recycling project. 
Anand assisted the RMI EPA in implementing a bottle recycling bill that had recently been passed by the RMI legislature. Since space is very limited and shipping waste off an island is expensive, sustainable waste management is crucial for small island countries to ensure that trash doesn't end up in the ocean.
Anand consulted with successful recycling programs on other islands, as well as colleagues back at U.S. EPA to draft a step-by-step implementation plan and propose amendments to the bottle recycling bill. Anand organized the first stakeholder meeting for the recycling program with members from RMI Customs, the Majuro Waste Management Authority, RMI EPA, and other ministries. 
The bottle recycling program has now been implemented in Majuro, and a levy is charged for every bottle that is imported into the country. Part of the levy goes to the RMI EPA as a handling charge, and the rest is given out when bottles are handed back to the recycling facility. Anand was told that the cash incentive has school children across the islands gathering bottles and cans to hand in for recycling!    
Neeharika Naik-Dhungel, Embassy Science Fellow in Canberra, Australia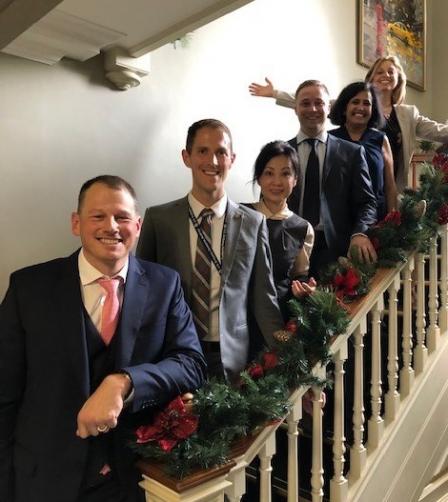 Neeharika Naik-Dhungel (pictured second from the right) and her Economic Affairs Office colleagues during an Embassy Science Fellowship in Canberra, Australia.Neeharika Naik-Dhungel is the program manager for EPA's Combined Heat and Power (CHP) partnership program. Neeharika traveled to Canberra, Australia, through the ESF Program at the end of 2018, and worked in the Energy and Economic Affairs programs at Embassy Canberra. She engaged with various stakeholders in the energy sector in Canberra, Melbourne, and Sydney to better understand challenges in the clean energy field and identify opportunities for the Department of State to collaborate on issues related to clean energy. 
Neeharika met with around 50 members of trade associations, the energy industry, federal agencies, and state agencies to better understand the challenges around clean energy, energy innovation efforts, and climate-economy linkages. At the end of her Embassy Science Fellowship, Neeharika produced a diplomatic cable outlining her activities. The cable provided key insights on how to further relationships between EPA and Australia's clean energy programs.
Learn More