Simulating Oil Spill Burns to Improve Clean Up and Protect Air Quality
Published June 18, 2018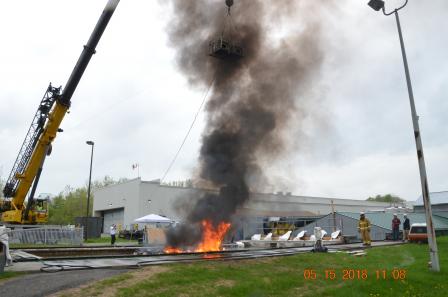 Testing under way at U.S. Army Corps of Engineers lab in New Hampshire.The practice of burning oil spills has been a fast and relatively safe way to reduce the impact on water quality and marine life. Of concern, however, is the formation of soot-laden smoke and oily residues resulting from incomplete combustion of oil. Burning oil can produce thick black plumes that disperse downwind as they rise into the atmosphere, potentially impacting air quality. Once the fires are out, oily residues in the water can cause environmental damage.
EPA experts are joining the U.S. Department of Interior's Bureau of Safety and Environmental Enforcement (BSEE) to investigate ways to improve oil burn procedures that can lead to more efficient burning and, thus, less emissions and residue. But improving burning practices in water is a challenging endeavor.  
Several new exploratory methods are being tested by BSEE at the U.S. Army Corps of Engineers Cold Regions Research and Engineering Laboratory in New Hampshire. The lab has a 60-foot- long concrete basin for fresh and saltwater investigations. Researchers will test new methods to reduce air emissions and oily residues using different types of materials during a burn, such as carbon fiber, and different systems for keeping water separate from the oil during burning. 
EPA's air emissions and combustion researchers are participating in the study to offer their expertise in measuring air pollutants and residues from oil spills. They will provide sophisticated, real-time air emission sensors for soot monitoring and residue characterization.  Two novel sensor packages developed by EPA will collect air quality measurements to determine how efficiently the fire burns when the new mitigation methods are used.  If emissions decline, that indicates more complete combustion and less environmental impact.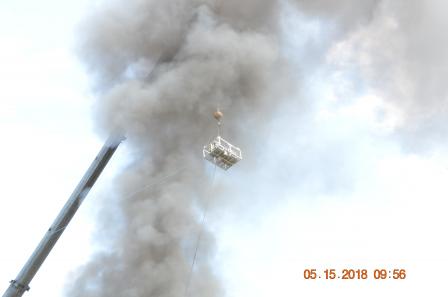 Crane lowers air sensor instruments into simulated oil spill burn at lab."There are a lot of unanswered questions about the environmental impact of burning as a clean-up procedure," says Brian Gullett, lead investigator of the research team conducting the air emissions study. "It is important to have data in hand so the next time there is an oil spill, the most appropriate measures can be taken to remediate the problem."
Once the oil in the water basin is ignited, the air sensor instruments will be lowered into the plume using a crane. Continuous real-time data will be collected, along with samples collected on filters and specialized absorbents that can be taken to the lab for analysis. EPA researchers will also collect residue samples for testing.
"BSEE is partnering with EPA to measure the efficiency of a new proof-of-concept burning system," says Karen Stone, BSEE's program manager for in situ burning studies. "Our goal is to improve an already efficient remediation method to reduce sooty emissions and residues."
The instrument system measures coarse and fine particulate matter, carbon monoxide, carbon dioxide, black carbon, volatile and semi-volatile organic compounds, and polycyclic aromatic hydrocarbons. The combined system is unique for its ability to comprehensively measure a wide range of combustion pollutants. 
Study results can help to develop recommendations for best burning practices during oil spill responses. The emissions and residue data collected can be used to predict quantities of oil during future oil spills and used in atmospheric models to predict downwind worker exposure or shore population exposure levels.
This study is contributing to a better understanding of how to reduce environmental and public health impacts when cleaning up an oil spill.