Study Assesses Long-Term Capabilities of Air Sensors
Published June 18, 2019; Updated January 6. 2020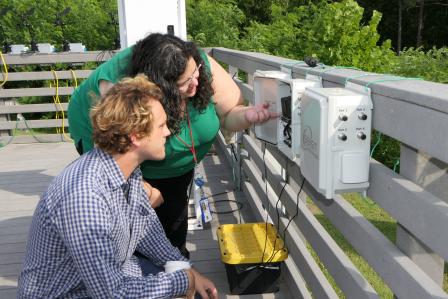 EPA's Andrea Clements, the lead scientist for the study, demonstrates one of the air sensors at the Air Innovation Research Site on EPA's RTP campus. New air sensor technology is offering ways for individuals, communities, and researchers to learn more about air quality, but many questions remain about sensor performance and reliability over time and under different climate conditions.
Commercial air sensors can be purchased for a few hundred to a few thousand dollars, depending on the measurements included, and offer user-friendly features that require little or no technical knowledge to start collecting data. These advances have resulted in air sensor systems being used by a wide variety of organizations from community groups to air quality professionals.  
Despite the opportunities low-cost sensors provide to better understand local air quality conditions, there are many uncertainties about the technology's operating and performance capabilities. Studies by EPA and others have shown that results from air sensors do not always compare well to high-quality regulatory monitors, which are used to implement the nation's air quality standards. These more expensive reference monitors have undergone rigorous independent scientific evaluation and testing.
EPA is filling the knowledge gap of air sensor performance by evaluating commercial sensors, working with developers, testing sensors in the lab and collaborating with partners to test sensors in communities. Previous studies primarily have been short-term, lasting weeks or a few months. Researchers recognize the need for long-term evaluations in a variety of seasons and conditions to gain better insight into the performance and reliability of sensors over time and under different conditions.
In July 2019, EPA began the Long-Term Performance Project to tackle questions about long-term use of air sensors, and their performance and capabilities. Researchers will evaluate six models of commercial air sensors, placing them in seven locations with diverse climates and air quality conditions across the country, including EPA's test site in Durham, North Carolina. The other locations are Wilmington, Delaware; Phoenix, Arizona; Atlanta, Georgia; Denver, Colorado; Edmond, Oklahoma; and Milwaukee, Wisconsin.
"Most sensor testing has been done in a few locations, but people want to measure air quality everywhere," explains Dr. Andrea Clements, the technical lead on the project. "If we want to use them with confidence in the results, they will have to be tested in more locations and under different conditions," she says.
The test sites all have reference monitors for comparison purposes and offer a wide variety of airshed conditions that may impact sensor accuracy and performance. Air quality is not the same across the country and is influenced by the types of air pollutants common in an area, particle size and composition, weather conditions such as high and low humidity, temperature, or rain, and geographic characteristics. 
The devices to be tested measure one or more pollutants (e.g., particulate matter, ozone, nitrogen dioxide) and meteorological conditions. The research project is the largest of its kind by EPA to compare different sensors at a variety of locations in the U.S., with the goal to provide independent scientific information about long-term use of sensors. Research questions include:
How accurate are the sensors when compared to reference monitors?
How well do they operate under different climates, including high and low humidity or temperatures and extreme weather events such as wildfires or dust storms?
What is the life expectancy of the sensors and what observations indicate sensor failure or malfunctioning?
What additional guidance can be developed to improve the reliability of data and performance of sensors during use?
While only six types of devices are being tested, the information gained can be applied broadly since similar sensor components are used widely by the air sensor industry. It is anticipated that data collected will be helpful to other manufacturers as well as those whose products are being evaluated.
An extension of the Long-Term Performance Project is an assessment of the PurpleAir sensor with participation from state and local agencies that are currently testing the device across the United States. All sensors being assessed for this project are collocated with reference monitors.  Response so far has been high with 29 partner air monitoring agencies in 17 states participating with >100 collocated sensors. The data provided to EPA will be analyzed and results will be published in the scientific literature.
"This project is especially exciting because it's leveraging work already being done by partner agencies, showing their enthusiasm for projects using low-cost sensors", says Dr. Karoline Johnson, ORISE postdoc working on the assessment.
The research will help to advance air sensor technology that is being used to supplement regulatory networks and provide more information to those who are using sensor devices so that more accurate air quality measurements can be collected.   
 Learn more about air sensor research at the EPA's Air Sensor Toolbox.