Study Explores Ways to Improve Accuracy of Air Sensors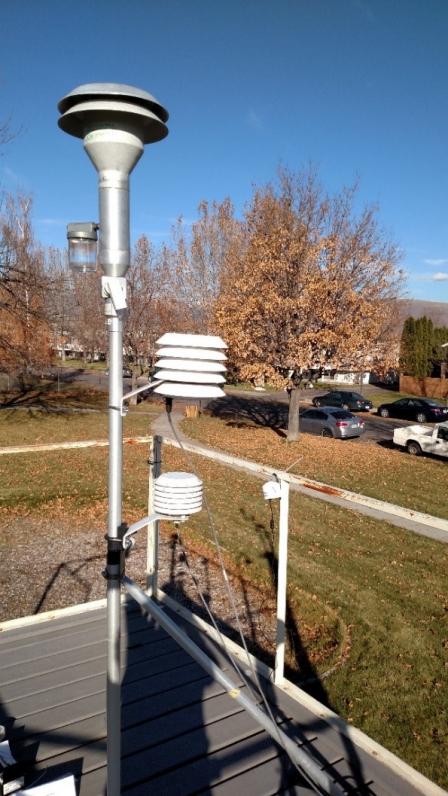 Air sensors operating in close proximity to regulatory-grade or other conventional air quality monitors in Iowa.Published May 6, 2020
Today, air sensors are widely available from a variety of commercial vendors, and their use has become increasingly popular with both researchers and the public. They have been used to fill the gaps in understanding of local air quality. Despite the opportunities these air sensors provide to measure air pollutants, questions regarding their operations and performance capabilities remain.
One challenge is that air sensors often overestimate or underestimate pollutant concentrations when compared to regulatory-grade instruments operated in the same location. This is because sensors can be affected by factors like environmental conditions such as temperature and relative humidity. EPA scientists aim to account for these factors and improve the accuracy of sensor data by generating mathematical equations to 'correct' the sensor data.
EPA researchers are developing correction equations for several kinds of fine particulate matter (PM2.5) sensors on the market today. In one project, EPA scientists are developing a scientific approach to produce regional and national corrections using a brand of sensor that is widely used across the U.S. The sensors are being assessed because their use has grown exponentially resulting in an extensive network of publicly reporting sensors worldwide. EPA and more than 30 state, local, and tribal air agency partners have placed these sensors side-by-side with highly robust and accurate regulatory monitors in more than 70 locations throughout the U.S. to evaluate their performance.  
"This project is especially exciting because it's leveraging work being done by partner agencies that will lead to the creation of a large dataset of sensors collocated at regulatory air monitoring sites. This kind of data will allow us to better understand these new technologies," says Dr. Andrea Clements, who is part of the sensor research team at EPA. 
"Based on this collocation data, we hope to provide a relatively simple equation that will adequately correct data across the U.S. allowing our partner agencies and the U.S. public to have more confidence in this data for a variety of uses," says Dr. Karoline Johnson Barkjohn, EPA Oak Ridge Institute for Science and Education postdoc who is conducting sensor research, along with colleagues.  
In addition, EPA is collaborating with the Interagency Wildland Fire Air Quality Response program to investigate how sensors perform during wildland fire smoke events. Sensors were placed next to highly accurate research monitors near several major wildfires in the western U.S. during the 2018 wildfire season.
"We were able to capture several weeks of very smoky conditions with these sensors and were surprised to find that the same adjustment for sensors developed at low PM2.5 concentrations are still valid during heavy smoke periods," says Dr. Amara Holder, wildfire research project lead.
Learn more about air sensor research at EPA's Air Sensor Toolbox.