Throwing Shade: Exploring the Benefits of Trees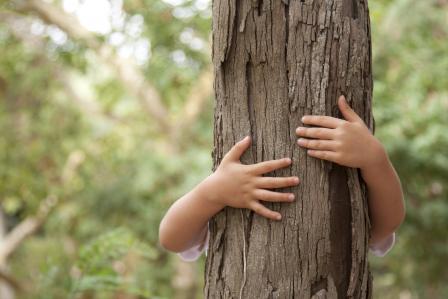 Published May 6, 2020
Just in time for Arbor Day, news organizations began sharing stories about how the Forest Service of Iceland is clearing roads of snow and encouraging people to get outside and hug trees as an anecdote to stress.
What is now an international day devoted to recognizing the aesthetic and ecological value of trees began to take root in the United States in the early 1870s, the brainchild of a Nebraska newspaper editor looking to share his passion for trees and encourage plantings. Some 100 years later President Richard Nixon—the same president who established EPA 50 years ago—designated the last Friday of April as National Arbor Day, "an observance that holds as much significance for the future as it does for the past."
EPA researchers are adding scientific rigor to help us better understand the value of trees beyond silviculture and forestry, which already have a long history in the United States of working to sustain critically important industries and environmental stewardship.
The research is part of a larger effort to identify and quantify direct links between natural ecosystems and the benefits they provide to people in the form of public health, resiliency, and community sustainability. An explicit goal is to help local communities reap such benefits, known as ecosystem services, through their planning, decision making, and actions. 
In honor of Arbor day, below are a few recent examples of how EPA researchers are helping local communities consider the benefits of trees.
Trees Help Drive Cleaner Air
EPA researchers have conducted a number of studies on the environmental and related health benefits linking planting trees along highways and other large roadways with reductions in air pollution. Results of the research are the foundation of Recommendations for Constructing Roadside Vegetation Barriers to Improve Near-Road Air Quality, a report summarizing research findings on the best practices for building roadside vegetative barriers. Their research results are also being put into practice for road-side tree planting projects in Oakland and Detroit.
Estimating Economic and Environmental Benefits of Urban Trees in Desert Regions
In this case study, EPA researchers assisted scientists in Qatar to assess the potential benefits of tree planting in an urban, desert environment: the capital city of Doha. They used i-Tree, a software application developed by the U.S. Forest Service, to estimate the economic benefits related to improved environmental conditions provided by three tree species common to desert regions, Acacia tortilis, Ziziphus spina-christi, and Phoenix dactylifera. "This information will be useful for urban planners, foresters and community leaders in prioritizing air pollution mitigation strategies and understanding the benefits of urban tree planting," the researchers note.
Planting Trees to Aid Salmon Recovery
Agency researchers are collaborating with the Snoqualmie Tribe of Washington on a pilot study of a Tribe-led community effort to restore 20 acres of riparian habitat along the lower Tolt River, in part to reverse years of declining populations of native fish, including key populations of endangered native salmon (Puget Sound chinook, coho, and steelhead). The researchers are using EPA-developed habitat and landscape models to estimate how increases in tree cover along the river can improve salmon habitat suitability in the form of shading (lower water temperatures), decreases in sediment, and improved streamflow. Their approach has drawn interest from various local stakeholders and is expected to provide a basis for future Puget Sound salmon recovery efforts.
Good Neighbors: The Impacts of Urban Forests
As part of a case study identifying the ways in which ecosystems contribute to the well-being of people living in the Willamette Valley of Oregon, EPA researchers modeled the impact of trees on public lands within the Urban Growth Boundary of Corvallis, Oregon. Impacts included reductions in four air pollutants, (O3, NO2, SO2, PM10), carbon sequestration, decreased stormwater runoff, building energy savings due to shading, and (thanks to city trees), increased real estate values.
Going Back to our Roots: EPA Researchers Help the City of Durham, North Carolina Site New Trees
A team of EPA researchers worked with the Durham Urban Forestry Department on a plan to maximize the benefits of planting 10,000 trees throughout the city. The researchers used EnviroAtlas, a public, online suite of interactive tools that allow users to discover, analyze, and download data and maps related to the benefits people receive from nature.
These studies and other ecosystem services research show how EPA scientists are working to identify some of the specific, quantifiable benefits we get from trees, adding to the many reasons why Arbor Day isn't they only day when we should celebrate the trees around us.
Learn more:
Recommendations for Constructing Roadside Vegetation Barriers to Improve Near-Road Air Quality
EPA at 50: Progress for a Stronger Future
Are Greenspaces Good for Your Heart? 
Sources and References Cited:
Baldauf, R. (2017). Roadside vegetation design characteristics that can improve local, near-road air quality. Transportation Research Part D: Transport and Environment, 52, 354-361.
de Jesus Crespo, R., & Fulford, R. (2018). Eco-Health linkages: assessing the role of ecosystem goods and services on human health using causal criteria analysis.Exit International journal of public health, 1-12. 
Halama, J. AND R. McKane. Modeling Long Term Effects of Riparian Restoration for Salmon Recovery in the Lower Tolt River. 2019 Northwest Indian Fisheries Commission (NWIFC) Habitat Conference, Skokomish, WA, October 23 - 24, 2019. See the EPA Science Inventory entry.
Isaifan, R. AND R. Baldauf. Estimating Economic and Environmental Benefits of Urban Trees in Desert Regions. Urban Forestry & Urban Greening.Exit Elsevier B.V., Amsterdam, Netherlands, NA, (2020). 
Phillips, D. L. Assessment of ecosystem services provided by urban forests: public lands within the Urban Growth Boundary of Corvallis, Oregon. Presented at City of Corvallis, Commission on Civic Beautification and Urban Forestry meeting, Corvallis, OR, May 05, 2011. See the EPA science inventory entry.
Wu, J., Rappazzo, K. M., Simpson, R. J., Joodi, G., Pursell, I. W., Mounsey, J. P., ... & Jackson, L. E. (2018). Exploring links between greenspace and sudden unexpected death: a spatial analysis.Exit Environment international, 113, 114-121.