Village Green Project Air Monitoring Stations A Success
Published May 7, 2019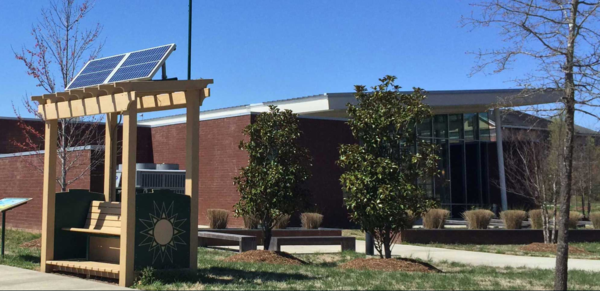 EPA is concluding its work on the Village Green project after more than five successful years and the development of eight community-based air quality monitoring systems built into park benches around the country. All the stations except the Durham, North Carolina station, which was the flagship station and continues to live-stream data, have been released to community partners to operate.
The Village Green project was an innovative community-based research effort to demonstrate near real-time air monitoring technology, engage the public in learning about local air quality, and collect high-quality data for research. Revolving around self-powered park benches that were embedded with air quality and meteorological sensors, Village Green began as a novel way to provide communities with additional local air quality monitoring data.
"This community research project captured the attention of thousands of teachers, students, and residents who visited the stations or went online to access the near real-time air quality data," says Ron Williams, one of the project's leads. "The research demonstrated the ability of new emerging sensor technologies to provide local information about air quality that had not been available in the past."
The historic data collected at each of the stations are now available on the Village Green Website, where each station has its own webpage. The historic data can be found under 'Explore the Data.' These data have undergone a more refined quality assurance review than the data that is live-streamed. Information about the review procedure is also available.
Communities typically have little or no direct access to local and real-time continuous air quality data.  Village Green's stations are in publicly-accessible areas so that people can visit the stations and interact with these emerging technologies, as well as access local air quality data for educational or research purposes. Stations are located in a zoological park, a botanic garden, outside a museum, a library, and similar public areas.
The stations in Philadelphia and Washington, DC will continue to live-stream data with support of EPA through 2019. While some of the Village Green stations are no longer operating, some of the new owners have developed their own data streaming portals or are considering relocating their station to meet a new purpose.
"The Village Green stations have operated for much longer than we anticipated when we first started this project as a result of interest and support from our partners and communities," Williams says. "The project exceeded its goal in bringing EPA's air quality science and technology to communities interested in air quality."