Winning Over the Heart: EPA's Dr. Wayne Cascio Recognized for Research, Outreach, and Collaboration for Investigating Links between Air Pollution and Heart Disease
Published November 19, 2018
Cardiovascular disease is the most common non-communicable disease in the world, according to the World Health Organization. Traditional recognized risk factors for heart disease include obesity, physical inactivity, high blood pressure, cigarette smoking, high cholesterol, and diabetes. The American Heart Association estimates that heart disease and stroke cost the nation an estimated $555 billion in health care costs and lost productivity in 2016.
But did you know worldwide ambient air pollution accounts for 25% of all deaths and disease from ischaemic heart disease? The World Health Organization estimates that 4.2 million premature deaths globally are linked to ambient air pollution, mainly from heart disease, stroke, chronic obstructive pulmonary disease, lung cancer, and acute respiratory infections in children.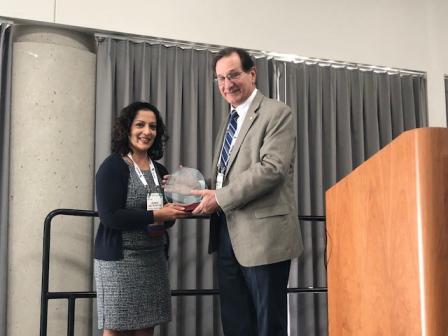 EPA's Dr. Wayne Cascio (right) was presented with the Homer N. Calver Award by Jyotsna Jagai, the Chair of the Environment Section, at the American Public Health Association annual meeting. Dr. Wayne Cascio- a cardiologist and director of EPA's National Health and Environmental Effects Research Laboratory initiated EPA's Healthy Heart program to investigate the problem of air quality and heart disease. Current treatment for heart disease requires people to change their behavior: for example, eating a healthy diet, exercising regularly, and taking medication. But what if we could improve prevention by reducing exposure to air pollution? What if we could change the broader social factors including community level actions, improved healthcare infrastructure, and improve environmental quality?
The goal of Healthy Heart is to translate public health information about the role the environment can play in cardiovascular health into clinical use by joining forces with other health institutions and agencies to address this problem. Healthy Heart is most interested in communicating the public health impacts of PM2.5:  a component of air pollution called particle pollution that is 2.5 microns in diameter. These particles can be emitted from all types of combustion, including motor vehicles, power plants, residential wood burning, forest fires, agricultural burning, and some industrial processes.
The timing of these efforts coincided with the recognition that wildfire smoke, composed of PM2.5, ozone, and other pollutants, can also have impacts on health. Dr. Cascio and Susan Stone from EPA's OAR teamed up with others across EPA, the US Forest Service, CDC, NIOSH, Lawrence Berkeley National Lab, Pediatric Environmental Health Specialty Units, California Department of Public Health, and the California Air Resources Board to develop the Wildfire Smoke: A Guide for Public Health Officials. This guide was developed to communicate to public health officials about wildfire smoke and PM2.5, the health impacts, and ways to reduce exposure during smoke episodes. This guide has been shared and referenced by federal, state, and local officials across the country.
In 2017, CDC's Million Hearts program recognized the Healthy Heart program and added exposure to particulate matter as a risk factor for cardiovascular disease. Partnering with Million Hearts is an epic success, as together they recognize and address the behavioral, social, and environmental changes necessary to reach the shared goal of reducing the burden of heart disease across the country. Together, EPA and CDC produced the Particulate Matter and Your Patients' Health web course which healthcare professionals can take for free and earn continuing education units.
To celebrate his work as a cardiologist, researcher, and public health advocate, and particularly for his role in leading EPA's work to focus global attention on the link between air pollution and heart disease, the American Public Health Association (APHA) awarded Dr. Wayne E. Cascio with the Homer N. Calver Award. This award from the Environmental Health Section of APHA is important recognition of the impact EPA's work has had to build federal and stakeholder partnerships to communicate environmental health risk to a wide range of audiences, including health care providers, patients, and federal, state, tribal, local, and non-governmental organizations.
Check out previous Science Matters Articles about Dr. Cascio and work with his colleagues at EPA.