Working with Communities to Solve a Big Problem in Small Water Systems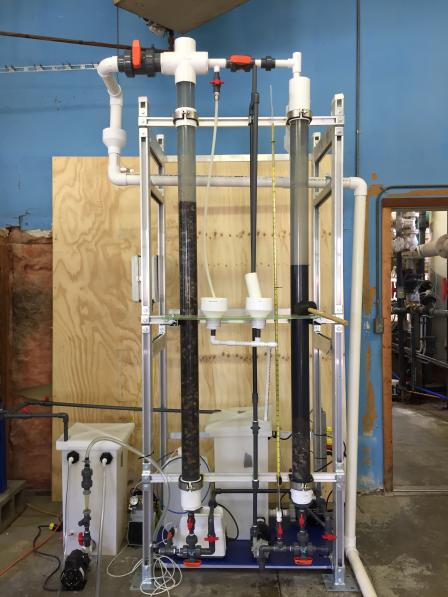 The NoMonia pilot system installed in the City of Gilbert, Iowa.Published May 21, 2018
Across the United States, ammonia is found at high levels in many agricultural areas where groundwater is the primary drinking water source. While ammonia itself is not a regulated contaminant, it can still be a problem for drinking water systems because of its effect on nitrate and arsenic. Ammonia can be a significant source of nitrate and when nitrate exceeds regulated levels, it poses significant health risks to infants. Ammonia can also make it difficult for water distribution systems to remove arsenic, another regulated contaminant that poses health risks.
To combat this problem, EPA researchers have developed new, affordable and easy-to-use biological drinking water treatment systems to implement in small drinking water systems. EPA researchers tested the treatment system to remove ammonia in Iowa and the surrounding region. The Iowa Department of Natural Resources helped EPA identify communities that might be interested in this work. With their help, EPA recently partnered with the community of Gilbert, Iowa, in a year-long pilot project to test the technology to remove multiple contaminants, including ammonia, from drinking water.
Darren Lytle, the lead EPA researcher on the project, says the work grew out of a recognition that ammonia needed to be addressed in these systems in order to resolve other contaminant issues.
"We saw communities struggling to remove arsenic when they had a lot of ammonia in the water," says Lytle. "There's a good scientific reason for why ammonia can interfere with effective arsenic removal. We thought about ways to help them get around this issue. The solution is we're eliminating ammonia by encouraging the biological oxidation of ammonia or nitrification in the treatment plant rather than in the distribution system. As a result, improved arsenic removal is observed and distribution system water quality problems associated with nitrification are eliminated."
The EPA-developed water treatment system uses naturally present bacteria to encourage nitrification. One group of bacteria converts ammonia into nitrite. Then, a second group of bacteria converts nitrite into nitrate at levels well below the maximum contaminant level that is allowed in drinking water. In the future, researchers hope to take the system further and develop a way to completely remove nitrate in the system.
"It's been rewarding to work with the community to solve a serious problem in a relatively simple way," says Lytle. "It gives me satisfaction to see the water treatment system operators and the community working with the system and being excited because they can see the benefits."
The biological treatment technologies developed by EPA engineers have also been tested at the pilot scale in Ohio, Illinois, and Indiana. The systems were tested under a number of challenging conditions for their ability to remove ammonia, as well as elevated iron, manganese, and arsenic levels. The treatment technology was recently patented by EPA and licensed to a private company.