SepticSmart Week 2017
<< Back to Main SepticSmart Week page
Each year, EPA holds SepticSmart Week with outreach activities to encourage homeowners and communities to care for and maintain their septic systems.
During SepticSmart Week, EPA seeks to inform homeowners on proper septic system care and maintenance, assist local agencies in promoting homeowner education and awareness, and educate local decision makers about infrastructure options to improve and sustain their communities.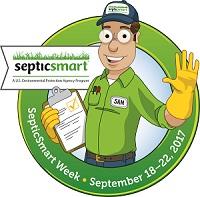 SepticSmart Week 2017 was held September 18-22, 2017.
---
Join the effort to raise awareness by:
Hosting an event or training
Getting your local and state decision makers involved
Participating in the conversation on social media #SepticSmartWeek
---
SepticSmart Week Proclamations
Check out the states and leaders who have declared SepticSmart Week 2017 in their communities:
Governor Holcomb, State of Indiana
Governor Brown, State of Oregon
Senate Resolution No. 171, State of Pennsylvania
Governor Scott, State of Vermont
Governor Inslee, State of Washington
Governor Otter, State of Idaho
Governor McAuliffe, Commonwealth of Virginia
Governor Snyder, State of Michigan
Governor Walker, State of Alaska
Governor Dayton, State of Minnesota
Northwestern Indiana Regional Planning Commission, Indiana
Board of Commissioners, Porter County, Indiana
Town Council, Town of Chesterton, Porter County, Indiana
House of Representatives, State of Michigan
Town Council, Beverly Shores, Indiana
---
Outreach Toolkit
Visit our Outreach Toolkit for more SepticSmart materials targeted to homeowners. All materials are free for download and contain print recommendations.
---
Septic Systems Can Impact Nearby Water Sources
How Your Septic System Can Impact Nearby Water Sources
Septic systems can impact local drinking water wells or surface water bodies. The extent of this impact depends on how well your septic system is maintained and if it is used properly. View interactive graphics to learn more about how septic systems interact with drinking water wells or surface water bodies and how to keep them healthy.
---
How State and Local Governments Promote and Proclaim SepticSmart Week
Moderator:

Kevin O'Donovan, MDB, Inc.
Zach Lowenstein, U.S. Environmental Protection Agency, Office of Wastewater Managment

Presenters:

Jeremy Simmons, Washington Department of Health
Gene McCabe, Alaska Department of Environmental Conservation

Susan Mihalo, Town of Ogden Dunes, Indiana

Presentation: