SepticSmart Week 2018
<< Back to Main SepticSmart Week page
Each year, EPA holds SepticSmart Week with outreach activities to encourage homeowners and communities to care for and maintain their septic systems.
During SepticSmart Week, EPA seeks to inform homeowners on proper septic system care and maintenance, assist local agencies in promoting homeowner education and awareness, and educate local decision makers about infrastructure options to improve and sustain their communities.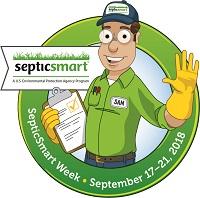 SepticSmart Week 2019 was held September 17-21, 2018.
This annual event focuses on educating homeowners and communities on the proper care and maintenance of their septic systems.
---
Join the effort to raise awareness by:
Getting your local and state decision makers involved
Participating in the conversation on social media #SepticSmartWeek
---
SepticSmart Week Proclamations
Check out the states and leaders who have declared SepticSmart Week 2018 in their communities:
Governor C.L. "Butch" Otter, State of Idaho
Governor Eric Holcomb, State of Indiana
Mr. Kevin Overmyer, Mr. Mike Delp, and Mr. Kurt Garner, Commissioners, Marshall County, Indiana
Governor Lawrence Hogan, Jr., State of Maryland 
Governor Rick Snyder, State of Michigan
Mr. Arthur Pelon, President, Michigan Association of Conservation Districts
Mr. Larry Stephens, President, Michigan Onsite Wastewater Recycling Association
Mr. Dave Snyder, President, Michigan Septic Tank Association 
Governor Mark Dayton, State of Minnesota
Mr. Vincent Radke, President, National Environmental Health Association
Governor Roy Cooper, State of North Carolina
Governor Kate Brown, State of Oregon
Mr. Nathan Ohle, Executive Director, Rural Community Assistance Partnership
Ms. Mary Clark, President, State Onsite Regulators Association
Governor Philip Scott, State of Vermont
Governor Ralph Northam, Commonwealth of Virginia
Governor Jay Inslee, State of Washington
---
SepticSmart Posters
Do you know of any parks, campgrounds, highway rest stops, or similar facilities, that use a septic system for their public restrooms? What about a restaurant on a site that is served by a septic system?
Use these informative posters to print and hang up outside of these facilities to illustrate the importance of safe waste disposal practices for those individuals or employees who might visit, or work at, a park, campground, rest stop, or restaurant that is served by a septic system.
---
Outreach Toolkit
Visit our Outreach Toolkit for more SepticSmart materials targeted to homeowners. All materials are free for download and contain print recommendations.
---
How State and Local Governments Promote and Proclaim SepticSmart Week
Moderator:

Kevin O'Donovan, MDB, Inc.
Zach Lowenstein, U.S. Environmental Protection Agency, Office of Wastewater Managment

Presenters:

Jeremy Simmons, Washington Department of Health
Gene McCabe, Alaska Department of Environmental Conservation

Susan Mihalo, Town of Ogden Dunes, Indiana

Presentation: