SepticSmart Week 2019
<< Back to Main SepticSmart Week page
Each year, EPA holds SepticSmart Week with outreach activities to encourage homeowners and communities to care for and maintain their septic systems.
During SepticSmart Week, EPA seeks to inform homeowners on proper septic system care and maintenance, assist local agencies in promoting homeowner education and awareness, and educate local decision makers about infrastructure options to improve and sustain their communities.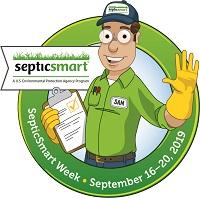 SepticSmart Week 2019 was held September 16-20, 2019.
---
2019 SepticSmart Week Highlights
View highlights from SepticSmart Week:
SepticSmart Week proclamations by governors, health departments, and Decentralized MOU partner organizations
State and local engagement
Superlative septic users
Social media participation
MOU partner newletter outreach
---
SepticSmart Week Proclamations
Check out the states and leaders who have declared SepticSmart Week 2019 in their communities:
Governor Brad Little, State of Idaho
Governor Eric J. Holcomb, State of Indiana
Governor Gretchen Whitmer, State of Michigan
Governor Christopher T. Sununu, State of New Hampshire
Governor Michelle Lujan Grisham, State of New Mexico
Governor Roy Cooper, State of North Carolina
Governor Doug Burgum, State of North Dakota
Governor Kate Brown, State of Oregon
Governor Gina M. Raimondo, State of Rhode Island
Governor Ralph S. Northam, Commonwealth of Virginia
Governor Jay Inslee, State of Washington
---
"Protect Your Septic System!" Magnet
Provide your customers with an easy reminder on what not to flush down their toilet or drain if they have a septic system, and when they should schedule their next service.
Click the link below, select "Get This Item", then select "Order a Hardcopy". Fill out the requested information, and click "Submit Order" to order the magnet(s). You can request more than one copy by typing your request in the "Special Instructions" box of the order form. This item is free of charge to the public. Contact the National Service Center for Environmental Publications (NSCEP) for more information/ assistance. NSCEP is available at 1-800-490-9198 during the hours of 11:00 a.m. – 3:00 p.m. (ET), Monday through Friday.
---
Owners of Rental Property
Do you own a vacation rental property with a septic system? Are you concerned about the well-being of your septic system while your home is being rented? Use these outreach materials to help educate your rental guests that your home is on a septic system, and tips on what to put (or not put) down the sink and/or drain: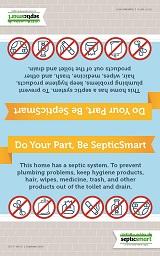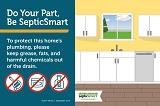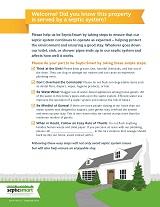 ---
Outreach Toolkit
Visit our Outreach Toolkit for more SepticSmart materials targeted to homeowners. All materials are free for download and contain print recommendations.
---
How State and Local Governments Promote and Proclaim SepticSmart Week
Moderator:

Kevin O'Donovan, MDB, Inc.
Zach Lowenstein, U.S. Environmental Protection Agency, Office of Wastewater Managment

Presenters:

Jeremy Simmons, Washington Department of Health
Gene McCabe, Alaska Department of Environmental Conservation

Susan Mihalo, Town of Ogden Dunes, Indiana

Presentation: