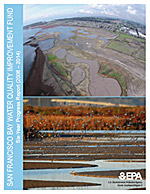 Since 2008, EPA has partnered with organizations across the nine Bay Area counties through the San Francisco Bay Water Quality Improvement Fund, using more than $58 million in EPA funding to leverage $168 million in additional funds for 49 grant awards that are making a difference by restoring streams, wetlands, and water quality from the Napa River in the North Bay to the salt ponds in the South Bay. In these reports, you will find summaries of the grants, recipients, and results of our regional partnerships.
See also: Environmental Results of Completed Projects
If you experience a problem reading a document with assistive technology, please
contact us
.
You may need a PDF reader to view some of the files on this page. See EPA's About PDF page to learn more.