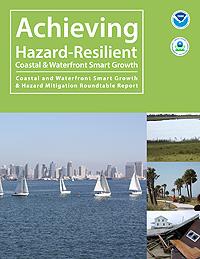 Coastal and Waterfront Smart Growth and Hazard Mitigation Roundtable Report
As part of a partnership to help coastal communities, the National Oceanic and Atmospheric Administration (NOAA) and EPA, along with the state Sea Grant College Programs of Hawaii, Rhode Island, and Texas, hosted a two-day roundtable meeting of national experts from the fields of smart growth, hazard mitigation, climate change adaptation, and coastal management in August 2011.
The roundtable brought together these experts to share ideas about how coastal and waterfront communities could improve quality of life, use land and other resources efficiently, and create environmentally and economically sustainable neighborhoods while minimizing risks from natural hazards related to coastal and waterfront flooding. This report provides an overview of ideas shared during the roundtable.
You may need a PDF reader to view some of the files on this page. See EPA's About PDF page to learn more.