Featured SmartWay Partners
Learn how partners in SmartWay are creating more efficient freight systems and helping advance sustainable transportation!
You may need a PDF reader to view some of the files on this page. See EPA's About PDF page to learn more.
Featured Partner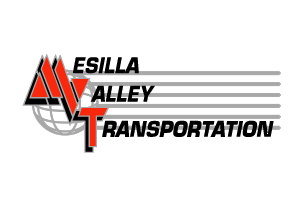 SmartWay Partner Profile: Mesilla Valley Transport (PDF) ( 3 pp, 220K, August 2018, EPA-420-F-18-015): Mesilla Valley Transportation (MVT), one of the largest privately-owned truck load carriers in the U.S., operates its fleet with a focus on driver performance, technology innovation and customer service. MVT joined SmartWay ten years ago in support of its larger goals to haul more freight, use less fuel, and monitor its environmental performance. Learn more about MVT and how SmartWay aligns with its goals! 
---
Past Featured Profiles
Organization Logo
Link to Profile Document
Organization Type
Specialty Graphic Imaging Association (SGIA) (PDF)

(2 pp, 208 K, May, 2018, EPA-420-F18-007)

Affiliate
Brown Trucking (PDF)

(2 pp, 614 K, EPA-420-F-17-7010)

Truck Carrier
North Central Texas Council of Governments (NCTCOG)(PDF)

(2 pp, 292 K, August 2016, EPA-420-F-16-038)

Affiliate
Walmart (PDF)

(2 pp, 291 K, August 2016, EPA-420-F-16-042)

Truck Carrier
Georgia-Pacific Consumer Products Group (PDF)

(2 pp, 277 K, May 2016, EPA-420-F-16-018)

Rail Carrier

Saddle Creek Transportation (PDF)

(2 pp, 225 K, May 2016, EPA-420-F-16-019)

Logistics Company