2017 WasteWise Regional Award Winners
Recognition is a key element of EPA's Sustainable Materials Management (SMM) Program and WasteWise.
The 2017 WasteWise regional award winners shared details and quotes about their wasted food prevention and diversion activities, and about their awards with EPA. Read about their accomplishments and how they achieved them. (Disclaimer: EPA does not endorse these entities nor their services).
On this page:
---
New England Region (Region 1)
Church Hill Classics
Monroe, Connecticut
"We're grateful to be a part of the WasteWise Program." 
— Joe Voves, Church Hill Classics
Church Hill Classics is a woman-owned manufacturer of diploma and certificate frames serving the collegiate and professional markets. For more than 25 years, the company has remained committed to environmental conservation efforts in its manufacturing operations. Since it joined WasteWise in 2008, Church Hill has prevented almost 35 tons of waste and recycled over 100 tons of wood scrap and cardboard and corrugated materials thanks to the innovative ideas of its 95 office and manufacturing employees.
Danbury Hospital
Danbury, Connecticut
In 2016, Danbury Hospital diverted over 360 tons of materials from disposal. The hospital's efforts included recycling over 220 tons of paper and over 132 tons of mixed recyclables. Danbury Hospital's 2016 waste diversion results represent an increase of almost 22 percent over its 2015 amounts.
Mohegan Tribe of Indians of Connecticut
Uncasville, Connecticut
"It is truly an honor to be recognized by EPA Region 1 with an achievement certificate for food recovery and diversion from incineration with a program that has been institutionalized with staff members for over two decades, having been established in 1995." — Jean McInnis, Environmental Protection Administrator for Mohegan Tribe
The Mohegan Tribe of Indians of Connecticut has lived in the region for centuries. After gaining federal recognition in 1994, the tribe established the Mohegan Suna—a casino, lodging, entertainment, and shopping facility. The facility has about 30,000 visitors per day and has more than 45 food and beverage locations. Mohegan Sun has a 23-year partnership with a piggery in Waterford, Conn., to take the casino's wasted food. In 2016, 647 tons of wasted food were diverted to animal feed. In 2017, the casino began shipping fry oil residuals to Connecticut's first permitted anaerobic digester, with a cost savings of 66 percent over the alternative method of disposal. These efforts are in line with the tribe's commitment to the Recycling, Sustainability and "Green Lodging" certification from Connecticut Department of Energy & Environmental Protection. 
United States Postal Service, Northeast Area
Windsor, Connecticut
In 2016, the United States Postal Service (USPS), Northeast Area diverted 43.5 thousand tons—over 56 percent of its landfill waste—to recycling and avoided over $4.3 million in disposal costs. USPS Northeast Area plans to increase that percentage each year. The 43.5 thousand tons of waste was mostly mixed paper, cardboard, and plastic. This achievement is due in part to the National Recycling Operation, USPS' unique nationwide transportation system to backhaul recyclables in empty trucks and mail transportation equipment to large recycling distribution centers and hubs on the return trips from transporting mail. In Fiscal Year 2014, USPS launched the five-year National Recycling Operation. No additional transportation is required for handling recyclables, and the recyclables are consolidated at the hubs to maximize commodity value. The National Recycling Operation uses updated dumpers and compactors at the recycling hubs, standardized recycling operation procedures, and training for employees. Once consolidated at the hubs, items are made available for sale to recyclers.
Hannaford Supermarkets
Scarborough, Maine
In 2016, Hannaford Supermarkets diverted over 86,000 tons of wasted food and materials from disposal. The efforts of the 180 stores located in Maine, New Hampshire, Vermont, Massachusetts and New York included donating over 11,000 tons of excess, wholesome food; recycling nearly 65,000 tons of corrugated boxes, paper, wood and other materials; and using over 10,000 tons of wasted food for composting and anaerobic digestion. Hannaford's 2016 results represent an 11 percent increase in waste diversion over the stores' 2015 amounts. 
University of Southern Maine
Portland, Maine
The University of Southern Maine (USM) has three campuses in southern Maine. There are just under 8,000 students and approximately 1,100 staff. USM has been recycling for over 20 years, and each year brings new and expanded efforts to reduce waste and increase recycling.
The more notable efforts include establishing waste stations that are uniform with clear signage,  minimizing waste through its "Tiny Trash" program and liquid diversion, tending waste stations during on-campus events and in its cafeterias, and collecting recyclables and donations through the campus' "Free-Cycle" and "Mindful Moveout" efforts.
USM has a group of about 20 Eco-Reps that assist with waste reduction programs and educational outreach. As a result of the combined efforts, USM averages a 50 percent recycling rate and reduces its waste cost by $30,000 to $40,000 a year.
Big Y World Class Markets
Springfield, Massachusetts
"EPA's WasteWise program provides Big Y with an incentive to track solid waste metrics every year, set goals, and quantify improvement in waste diversion programs."  — Sandy Giancola, Manager of Facilities Management, Big Y Foods, Inc.
In 2016, Big Y prevented and diverted a total of 19,898 tons of materials from landfills by donating 2,063 tons of surplus food and providing 3.5 million meals to people in need, donating 1,974 tons of wasted food to feed animals, composting 3,020 tons of wasted food, and recycling over 12,816 tons of materials. Big Y's Connecticut stores, and some Massachusetts stores, contract with a local farm that picks up wasted food from the stores to feed their animals.
Big Y has climbed the EPA Food Recovery Hierarchy and developed a robust food donation program at 72 locations in Massachusetts and Connecticut, making food recovery a part of its regular practice. Partnering with farms, haulers, and regional food banks over the last few decades, Big Y's food recovery program includes a food donation program to feed hungry people, an animal feed diversion program, and a composting program for food unfit for donation. Diverting wasted food to feed hungry people, feed animals and create compost makes Big Y's food recovery more efficient, and more economically and environmentally sustainable.
Central Massachusetts Mosquito Control Project
Northborough, Massachusetts
"Since 2009, we have partnered with the EPA's WasteWise program and report our data through their ReTRAC system.  This program has become a popular, important value-added benefit in our full suite of services available to residents in our member communities."  — Timothy D. Deschamps, Executive Director, Central Massachusetts Mosquito Control Project
The Massachusetts legislature created the Central Massachusetts Mosquito Control Project (CMMCP) in 1973. The Project has been instrumental in removing and recycling tires, resulting in a safer and cleaner environment for residences while promoting more sustainable materials management. Tires left in the environment provide a larval habitat for mosquitoes. Because of their shape and permanent nature, tires may hold water for long periods of time, even during drought periods. A single tire can produce hundreds or even thousands of mosquitoes per year. CMMCP has been able to fund the cost of the tire removal project, as well as the cost of recycling the tires through a combination of general operating funds and grant money that the Northeastern Mosquito Control Association has awarded to CMMCP. 
CMMCP has mapped nearly 600 tire piles in its Geographic Information System Program, of which over half have already been removed. As of November 1, 2017, it had recycled 24,538 tires from member cities and towns. This has saved an estimated 1,500 pounds of pesticide (primarily Bti) and 410 staff hours to inspect and treat the tires. Its success has generated interest and the creation of similar programs in other mosquito control districts in Massachusetts. CMMCP has reported its accomplishments at conferences and public meetings. In 2011, it received a Bronze certificate in the Institution & Non-Profit category from MassRecycle. In 2014, it was awarded an Environmental Merit Award from the EPA's Northeast office.  
UMass Memorial Health Care
Worcester, Massachusetts
UMass Memorial Heath Care is the largest health care system in Central and Western Massachusetts with over 12,000 employees and 1,125 beds. The health care system continues to improve its recycling programs throughout its facilities by increasing recycling bins in patient waiting areas, nurses' stations and nutrition rooms. Additionally, UMass Memorial Health Care uses recycling and trash signs to help patients, visitors and staff quickly identify what materials are included in its recycling program. Efforts across the health care system have resulted in the diversion of an additional 48 tons of material to recycling.
Hypertherm, Inc.
Hanover, New Hampshire
As a large manufacturer of industrial cutting systems in a remote area of New Hampshire, Hypertherm knew creative thinking was needed to make a WasteWise impact. The solution: engage its population of more than 1,100 New Hampshire-based associates to identify and eliminate waste. From 2010 through September 2017, Hypertherm has diverted nearly 17,000 tons (equivalent to 1,200 garbage truckloads) of material, sending only 1,259 tons (equivalent to 89 garbage truckloads) to the landfill, achieving a diversion rate of approximately 93 percent.
Additionally, the company partnered with Casella Waste Systems, a regional waste services provider, to create a recycling cooperative. Using space allocated by Hypertherm, Casella Waste Systems collects marketable materials from Hypertherm and other local businesses to create the volume it needs to sell on the commodities market. This has generated approximately $60,000 of revenue for Casella Waste Systems since 2016, while diverting an additional 502 tons of material generated by local businesses.
Newport Computer Services, Inc. (NCS Global)
Rochester, New Hampshire
"NCS Global has made the WasteWise program part of our Environmental Management Program since 2012, and every year we're excited to see the measurable impact we can make. Environmental responsibility is a crucial part of the services we provide to our clients, and the WasteWise program was a natural extension into our own operations. Seeing our goals and results continue to grow year after year shows how much difference any company can make not just in their local community, but to the global environment as well."— Anne M. McKivergan, Vice President Quality Management
In 2016, Newport Computer Services, Inc. reduced its waste by nearly 33 tons. The company's efforts included reducing the use of corrugated containers by nearly 17 tons, reducing the use of wood pallets by nearly 13 tons and reducing the use of batteries and office paper by 3 tons and 0.2 tons, respectively. Newport Computer Services, Inc.'s (NCS Global) 2016 waste diversion results represent an increase of nearly 15.5 percent over its 2015 amounts.
Stratton Mountain Resort
Stratton Mountain, Vermont
"When one of our largest summer events approached us to add composting food waste to their event, we had already begun our program and were able to support this event known for sustainability and conscious living. We diverted 29 percent of the event's total waste to our compost facility and 51 percent of the total waste for recycling." 
— Jeffrey Cavagnino, Environmental & Safety Manager, Stratton Mountain Resort
In 2016, Stratton Mountain Resort diverted 18.4 tons of wasted food to create compost. Because of its distance to a compost facility, Stratton's decision to compost its wasted food is less about economics and more about protecting the environment. The resort was an early adopter to sending its wasted food to a compost facility. The resort also works to teach its food and beverage team how important it is to make use of wasted food and sets goals for each location.
Stratton Mountain Resort was also among the first resorts in the nation to eliminate disposable cutlery and dishes in its cafeteria. Finally, the resort supports outside events held at its property to meet its own sustainability goals.
---
Northeast Region (Region 2)
Earth Friendly Products
Parsippany, New Jersey
Earth Friendly Products operates four sustainable manufacturing facilities across the United States, including one in Parsippany, N.J., a Region 2 WasteWise award recipient. Family owned and operated since 1967, the company has implemented rigorous recycling programs in all of its divisions to dramatically reduce its production and packaging waste. By separating all recyclable materials, being vigilant in reducing consumption, and working closely with suppliers and vendors to prevent waste, Earth Friendly Products has reduced its overall waste by 95 percent since 2010. Since 2011, the company has earned over $223,000 from selling recyclable materials and has reduced its trash disposal costs by over $115,000. In addition to this year's WasteWise Award, each of the company's facilities have won the Zero Waste Platinum certification from the U.S. Zero Waste Business Council.
Raritan Valley Community College
Branchburg, New Jersey
"Many of our students are passionate about reducing waste and improving recycling. When students analyze the contents of recycling and trash bins for the introductory Environmental Science course, they see room for improvement and brainstorm solutions. They have been the force behind our improved diversion rate."  — Susan Dorward, Sustainability and Energy Coordinator, Raritan Valley Community College
In 2016, Raritan Valley Community College collected organics from its kitchen, dining hall and café, and had them hauled to an industrial composting facility in Pennsylvania. An environmental science class analyzes annual recycling efforts on campus, and Raritan Valley Community College participates in Recyclemania. Its waste prevention, donation, recycling and composting actions resulted in a 40 percent diversion rate, including six tons of waste prevented, which is the strategy at the top of the food recovery hierarchy.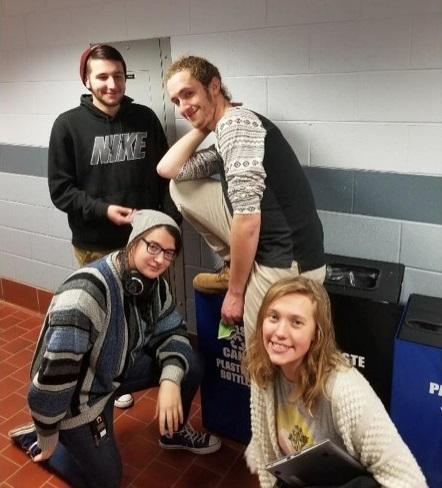 The U.S. Department of Energy's Princeton Plasma Physics Laboratory
Princeton, New Jersey
The U.S. Department of Energy's Princeton Plasma Physics Laboratory (PPPL) is located at Princeton University's James Forrestal Campus. The PPPL staff of approximately 500 people conduct collaborative scientific research in plasma physics to develop and demonstrate the application of fusion power as a sustainable global alternative energy source. 
PPPL increased its reuse and recycling from Fiscal Year (FY) 2015 to FY16. In FY16, PPPL reused 118 electronic units on site, while providing 233 units to UNICOR's Federal Prison Industries program. As part of its Infrastructure and Operational Improvements project, PPPL also recycled 98 percent of concrete and other debris from a project to renovate a building that once housed motor
generators. Recycled building materials included clean wood, scrap metal, wires and cables, asphalt, fill dirt and gravel. It also included equipment stored in dozens of trailers on the campus, which were cleaned out as part of the facility renovation project. Municipal solid waste trash collection totaled 33.9 tons. The building renovation project hauled away 3,765 tons of recycling, with just 114 tons of debris discarded. This construction and debris recycling rate, combined with PPPL's 69 percent recycling rate of municipal waste, resulted in a combined recycling rate of 97 percent by weight in FY16, compared to 84 percent in FY15.
PPPL's cafeteria vendor has embraced composting wasted food, purchasing only compostable cafeteria products, and establishing practices that minimize waste disposal. PPPL also has worked closely with the composting facility to ensure there is no waste sent to it that will contaminate its end product, even visiting the facility to review its operation. PPPL's sixth year of composting  yielded 19 tons of compost, more than double the amount of material composted in the first year. Single stream recycling accounted for 41.34 tons, and wasted food composted accounted for 19 tons of PPPL's municipal solid waste total.
The Valley Hospital
Ridgewood, New Jersey
"This work is always satisfying, knowing that our small part in a big world makes a difference." — Howard Halverson, Director, Environmental Services
The Valley Hospital is dedicated to ever-increasing accuracy in waste segregation. The hospital is monitoring waste streams through education and assistance from consulting sources. The Valley Hospital is also a member of Practice Green Health, which drives ideas and innovation into actions to create an environment for better health and safety.
The Valley Hospital has approximately 3,000 employees. In 2016, the hospital recycled 462 tons or 23.4 percent of all waste materials. The total pounds per patient per day was 33 pounds, the median metric is 46 pounds per patient per day, and the 90th percentile metric is 28 pounds per patient per day. The hospital is very proud of the continued work it does to reduce waste.
Great successes came from some of the smaller, harder to manage waste streams that added up to overall success. Examples are textiles, ink cartridges, medical instruments, metals, pallets and Styrofoam. The challenge is to keep waste stream segregation in front of staff continually through monthly audits, Green Team meetings, and lunch and learns.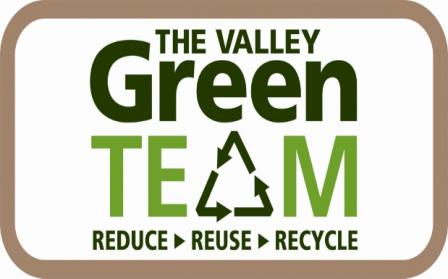 Curbell, Inc.
Orchard Park, New York
Building on past environmental successes, Curbell, Inc.'s two western New York facilities achieved a major objective in 2016: the company was able to cut its dumpster pick-ups from 104 to 52, a nearly 50 percent reduction. A main factor in the Curbell program's most recent improvement was the creation of an all-volunteer employee Green Team. The team is made up of a diverse group of individuals from all departments, from management to Facilities and Operations. The wide range of influence helped Curbell, Inc. implement single stream recycling and allowed the team to tackle many smaller projects that resulted in significant waste reduction. Projects included digitization/print management, in which many departments committed to using electronic records, resulting in a 75 percent reduction in ink costs. 
Based on an employee suggestion, Curbell, Inc. worked with a supplier to eliminate extra packaging. This effort resulted in an estimated 500 thousand plastic bags saved annually. Another suggestion led the company to negotiate with a supplier for custom-length cords, resulting in the elimination of 75 thousand feet of copper wire scrap per year. Curbell, Inc.'s Green Team meets regularly to share and encourage ideas, tackle waste reduction projects, and help ensure that the message of sustainability is embraced by the entire company.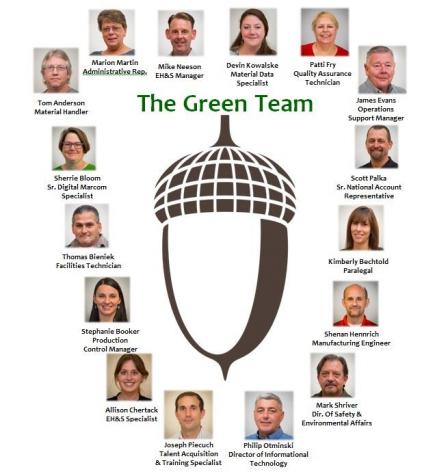 Estée Lauder
New York City, New York
"At the Estée Lauder Companies, our founding values inspire our commitment to corporate responsibility and environmental sustainability."   — Mike Jakitsch, Vice President, Global Environmental Affairs & Safety
The Estée Lauder Companies' (ELC) manufacturing facility in Melville, N.Y., demonstrates environmental sustainability every day through a variety of programs and initiatives. The Long Island facility employs approximately 1,500 employees, and ELC is proud to have been a member of the community for 50 years. The facility's employees are actively involved and engaged in waste diversion, reusing or recycling waste materials. Because of its dedication, the manufacturing facility has been a "zero waste to landfill" facility since 2003.  The facility's "Zero Waste" initiatives challenge employees to find creative ways of reusing and recycling materials, and the manufacturing facility celebrates "Earth Month" during April to encourage its employees to actively care for the environment.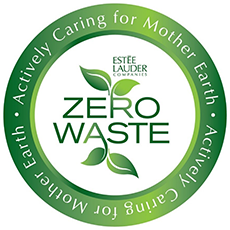 In 2016, the facility's waste reduction efforts included the reuse of wood pallets, plastic trays and shippers. The facility recycles many materials including cardboard, various types of plastics, glass, metal and others. In 2016, the facility also renovated its employee café by applying sustainability principles and reduced its solid waste by 60 percent. Some key initiatives included switching to fountain drinks, using reusable trays, and eliminating coffee grounds. The facility uses a simplified recycling system that encourages sorting at every level. In addition to these internal processes, ELC leverages the collaborative relationship it has with its vendors to encourage recycling outlets and to reduce the amount of materials and packaging. Finally, managing the company's environmental impacts is an ongoing effort, and ELC looks forward to always finding new ways to be waste wise.
Evelyn Hill, Inc., Liberty Island
New York City, New York
"At Evelyn Hill, we take sustainability seriously and we continually try to improve our performance each year to get to zero waste.  The EPA WasteWise program is a helpful support to get this done." — Bradford A. Hill, President, Evelyn Hill, Inc.
Evelyn Hill Inc., is a family-owned company that has provided visitor services for generations at Liberty Island, the location of the Statue of Liberty.  As part of an overall 'greening' effort, Evelyn Hill Inc. opened the Liberty Gift Pavilion, a LEED Platinum Certified building. The environmentally friendly construction features recycled materials, waterless urinals, LED lighting, a geothermal heating and cooling system, and rainwater recycling. Evelyn Hill Inc. also became a leader in concessionaire recycling methods, recycling over 94.2 percent of the solid waste produced by its operations in 2016. 
Just Salad
New York City, New York
Just Salad is a fast-casual restaurant committed to sustainability. The restaurant sells BPA-free reusable bowls to its customers for $1 at all of its 30 worldwide locations. With its 18 New York City locations, Just Salad saves the city of New York over 75,000 pounds of plastic waste every year with its unique approach to cutting waste. The restaurant's incentives program encourages individuals to purchase and use reusable bowls. The company offers free salad toppings each time a reusable bowl is brought back to a Just Salad location. Just Salad also offers a VIP program, where winners receive a black reusable bowl that allows them to skip the line anytime, in addition to free toppings every time a Black Bowl is brought back to a location.
St. John's University
New York City, New York
"Thank you EPA for leading, showing and providing tools so the St. John's University community can see problems, understand the work and take action."  — Tom Goldsmith, Director of Environmental and Energy Conservation, Office of Sustainability, St. John's University
As a Catholic, Vincentian, and Metropolitan institution, the values of sustainability are inherent to the mission of St. John's University (SJU). In 2016, SJU diverted more than 1,084 tons of municipal solid waste from being landfilled through donation, recovery, recycling and composting. With its emphasis on setting goals, assessing progress and evaluating results, WasteWise provides structure and framework for SJU.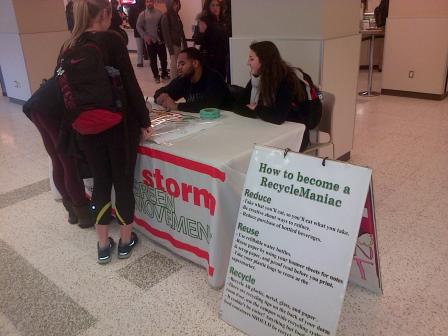 Town of New Paltz
New Paltz, New York
The Town of New Paltz' Sustainable Materials Management Program began in 2011 when EPA Region 2 representatives reached out and asked the Town to represent Region 2 in the national EPA Zero Waste Initiative Pilot Program. At that time, New Paltz' transfer station was sending out over 800 tons of garbage a year to a landfill four and a half hours away. In 2017, the transfer station, now marketed as the New Paltz ReUse and Recycling Center, sent out only 297 tons of garbage.
The Town of New Paltz embarked on an aggressive public education and outreach campaign to promote the New Paltz Zero Waste Action Plan, which was adopted in 2012. It conducted tabling at local events, public speaking at local schools and organizations, and improved educational material, including a website Exit. The zero-waste program created a new position to assist in outreach and operate the New Paltz ReUse Center that opened in 2012. The public provided significant input into the Action Plan, resulting in the Plan's expansion beyond "garbage only" to include a food recovery program that started with commercial composting and now includes the recovery of food to feed hungry people.
University at Albany
Albany, New York
"Our campus members play a vital role in being mindful about the waste they make as well as their choice of how they dispose of materials. I am happy to see our progress and strive to work with our community to make continuous improvements."  — Dr. Mary Ellen Mallia, Director of Sustainability
The University at Albany, State University of New York consists of approximately 18,000 undergraduate and graduate students, and over 4,000 employees, distributed across three campuses. Since instituting a recycling program in 2005, the University at Albany has worked to increase the amount of items it diverts from the landfill. The university achieved a breakthrough in these efforts in 2013 with the implementation of a composting pilot program.  Composting is now flourishing in all of the dining halls.
In 2016, over 660 tons of wasted food were diverted through composting. This diversion accomplishment could not have been achieved without the coordinated efforts of the university's facilities management, University Auxiliary Services; Sodexo dining services; and Empire Zero, a composting company. Additionally, a food recovery program was recently established in one of the dining halls. The food recovery effort resulted in over 4,000 pounds of food being donated to the Regional Foodbank of Northeast New York. Finally, the university has steadily increased the number and types of materials that are reused, recycled or otherwise diverted from the landfill, achieving a current diversion rate of 60 percent.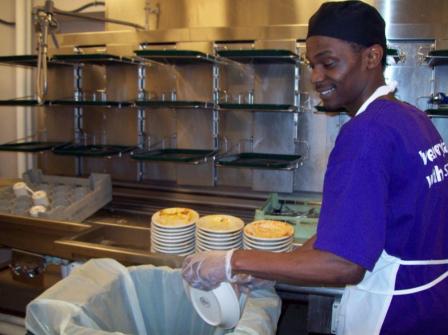 University of Rochester
Rochester, New York
The University of Rochester's University Facilities and Services Department took steps to ensure that 2016 would be a great year for waste diversion. As a result of a summer internship research program, which included a survey completed by 119 students and 122 staff, new labels were placed on recycling stations, and multiple signage options were created and placed throughout campus. Some other program highlights include:
The university ranked number 4 out of 78 schools nationwide in the 2016 GameDay Recycling Challenge (a zero-waste event), with a waste diversion rate of 91.2 percent. 
The New York State Association for Reduction, Reuse, and Recycling awarded the university a grant for a plastic bag reduction project created by a group of student EcoReps.
The Green Dandelion sustainability blog reached 1,000 articles.
A total of 672 pairs of eyeglasses were collected and donated to the Lions Club as a result of a departmental competition to create the most "eye-catching" collection box.
Shred Fest 2016 collected 18,220 pounds of paper to be recycled, making it the second largest paper recycling event to date.
E-Cycle Day 2016 collected a total of 28,132 pounds of material, outweighing 2015's total by more than 1,500 pounds.
As a result of these efforts and more, the University diverted 7,252 tons of material in 2016. The University-wide waste diversion rate was 44.1 percent, with a diversion rate of 66.6 percent at the River Campus and 21.8 percent at the University of Rochester Medical Center (including construction and demolition material). The diversion rate without construction has increased 22.2 percent since the arrival of a new Sustainability Coordinator.
---
Great Lakes Region (Region 5)
ComEd
Chicago, Illinois
Commonwealth Edison (ComEd) is a unit of the Chicago-based Exelon Corporation, a publicly traded energy utility. ComEd delivers electric service to 3.8 million customers across 11,400 square miles of northern Illinois, representing approximately 70 percent of the state's population.
In 2016, the company's office recycling program alone saved the equivalent of approximately 8.33 million kilowatt hours of electricity. Its office recycling metrics are tracked monthly with the help of its waste vendor. ComEd uses an electronic platform to track its annual performance of overall waste reduction.  The company has committed to protecting the environment and to continually assessing everything it does to discover new ways to be more efficient and environmentally responsible. It believes that its obligation to the environment extends beyond compliance with applicable laws, regulations, and requirements, and it aims to exceed its obligations. ComEd endeavors to lead its industry and community in addressing the environmental challenges that impact its company, its industry, its customers and its future. ComEd believes that its consistent and unflagging commitment to sustainability is vital to its shared success. Managing its waste is a major component of its commitment to environmental stewardship.
ComEd's cartridge/toner recycling numbers have steadily increased over the past three years, and in 2016, it recycled close to 3,000 cartridges/toners, which is nearly double what it achieved in 2014. Prior to 2013, ComEd did not have a consistent collection process and was not tracking its data. In fact, ink cartridges/toners were building up at some locations due to the lack of an established recycling process. By establishing a specific and consistent program across the ComEd system, the company was able to increase awareness of the recycling process, increase the correct handling of cartridges, and track and measure its recycling performance. 
The Clarke Group, Inc.
Saint Charles, Illinois
"To make meaningful and long-term improvements in your waste stream, you need to engage all areas of the business and remain vigilant." — J. Lyell Clarke III, President and CEO
In 2010, as an important element in its efforts to adopt sustainable practices and reduce its environmental impact, Clarke launched a comprehensive program to reduce waste and redirect waste from landfill. Through conducting waste audits, including annual dumpster dives at key locations, installation of strategically planned recycling stations at its facilities, adoption of technology to reduce paper use, employee training and new hire on-boarding programs, and the implementation of a waste-to-energy program for its Illinois facilities, Clarke's waste to landfill has gone from 245 tons per year to just 2 tons. It has reduced its total waste stream by 64 percent and is recycling or repurposing approximately 80 percent of all of its waste. The Clarke Group, Inc. has come to learn that if a company focuses on waste reduction, it greatly improves its chances of success. Maintaining waste performance requires constant vigilance. To keep on track and maintain its commitment, the Company has articulated goals for its operational waste reduction, recycling, and diversion from landfills, in addition to reducing its downstream waste impacts.
United States Postal Service, Great Lakes Area
Great Lakes, Illinois
In 2016, the United States Postal Service (USPS), Great Lakes Area diverted nearly 50 percent of its landfill waste to recycling, avoiding over $3.4 million in disposal costs. The government agency diverted 32,000 tons of waste from landfills—mostly mixed paper, cardboard and plastic. This achievement was due in part to the National Recycling Operation, which uses the USPS' unique nationwide transportation system to backhaul recyclables in empty trucks and mail transportation equipment to large recycling distribution centers and hubs on the return trips from transporting mail. In Fiscal Year 2014, USPS launched the five-year National Recycling Operation. Under the Operation, no additional transportation is required for handling recyclables, and the recyclables are consolidated at the hubs to maximize commodity value. The National Recycling Operation includes a five-year equipment deployment of updated dumpers and compactors to the recycling hubs, and standardized recycling operation procedures and training for employees. Once consolidated at the hubs, items are made available for sale to recyclers. USPS Great Lakes Area plans to increase the 50 percent recycling amount each year.
Madison Precision Products, Inc.
Madison, Indiana
Madison Precision Products (MPP) is dedicated to reducing its environmental impact and carbon footprint. It has pledged to meet and exceed applicable legal and other requirements, prevent pollution and promote continual improvement. One facet of its greenhouse gas reduction strategy is in waste prevention and diversion. MPP has virtually eliminated landfill use since 2014 due to recycling and sending the small amounts of garbage that cannot be recycled to a waste-to-energy partner where it is incinerated to create electricity. In 2016, MPP prevented and diverted enough waste to achieve environmental reductions equivalent to taking 306 automobiles off the road for a year. MPP is committed to finding new technologies and methods to prevent and divert waste, and will pursue any and all means that are beneficial to MPP and the community.
Kelly Services Headquarters Campus
Troy, Michigan
"The EPA WasteWise Program has excellent tips, which has assisted Kelly Services in its ongoing waste prevention activities, and we are delighted to be a participant in the program."
— David Walz, Director, Corporate Facilities
The Kelly Services' Corporate Campus is located in Troy, Mich., and consists of four facilities and over 1,000 employees. Kelly Services has a recycling program that includes concrete, asphalt, electronics and paper products.  Kelly Services also purchases recycled products and donates used office furniture to nonprofit groups. In 2016, over 2,000 tons of asphalt and concrete were recycled from construction demolition.
L Brands, Inc.
Columbus, Ohio
"We're proud to partner with WasteWise as we believe in doing what is right in our industry, our community and our world." — Greg Cunningham, AVP Global Compliance
L Brands' waste reduction and recycling program focuses on finding ways to reduce waste, increase recycling, reuse materials where possible, source from renewable materials/resources, and find alternative solutions to landfill disposal. The company is committed to working with its suppliers to source forest products from certified forestry operations, preferably those that meet Forest Stewardship Council standards. Examples of L Brands' 2016 efforts include:
Reused or recycled more than 31,000 pounds of outdated electronics;
Repurposed 176,000 pounds of liquid soap to be used as a component in commercial floor cleanser;
Partnered with a vendor to reuse or recycle more than nine million pounds of wooden pallets;
Recycled 170,000 pounds of batteries;
Donated $250,000 to United Way agencies in New York and Ohio from associate sample sales of discontinued and damaged products and displays.
Sunny D
Cincinnati, Ohio
The Sunny D Beverage Company improved its diversion efforts in 2016 by decreasing waste generation and increasing recycling efforts. In 2016, Sunny D recycled over 1,760 tons of materials, including over 700 tons of cardboard and mixed paper, 353 tons of wood, nearly 500 tons of plastics, and 154 tons of metals. Through its recycling efforts, the company avoided nearly $308,000 in landfill fees and generated over $72,000 in recycling revenues.
The Kroger Company
Cincinnati, Ohio
In 2016, Kroger launched an aggressive goal to become a zero waste company by 2020. As  the third largest retailer in the world, Kroger has the opportunity to create a ripple effect throughout the global supply chain and create a lasting impact on reducing waste in the world. In 2017, the company expanded its commitment to waste reduction through Kroger's Zero Hunger/Zero Waste plan, which aims to eliminate wasted food across the company by 2025.
In 2016, Kroger diverted more than 2.4 million tons of waste from its stores, manufacturing plants, distribution centers, and construction projects. This represents a diversion rate of 78 percent, putting Kroger well down the path to achieve its goal of zero waste. The company accomplished this success through initiatives such as a robust food donation program, composting wasted food at more than 1,440 stores, and using a network of more than 120 million reusable plastic shipping containers.
Kroger is also helping customers reduce waste by optimizing its product packaging, offering in-store plastic bag recycling and selling reusable shopping bags. In 2016, Kroger began rolling out a new lighter-weight milk jug in its dairy operations. The new milk jug is made of the same 100 percent recyclable high-density polyethylene as the current design. However, the new, innovative design uses about 10 percent less plastic while providing the same performance.
Youngstown State University
Youngstown, Ohio
"The YSU Recycling Program has been and continues to be an excellent model for other institutions, and we wouldn't have the success that we have without our dedicated student recycling staff."— Daniel J. Kuzma, Manager, YSU Matierals Exchange & Recycling
Youngstown State University (YSU) has approximately 13,000 students, and 2,000 faculty and staff. The recycling program employs one full-time staff member and three part-time employees. Waste reduction duties are also included in approximately 15 other employees' job descriptions, mainly regarding waste hauling contracts, surplus and the moving of surplus items.  Everything is measured with a mixture of actual weights and volume-to-weight estimates based on visual capacity over a period of time. In 2016, YSU diverted approximately 816 tons of materials, with a 66 percent recycling rate. YSU has an aggressive recycling program for paper and publications, cardboard, cans and bottles. The university also composts wasted food and recycles electronic waste, pallets, scrap metal, and ink and toner cartridges. 
YSU tries to reduce waste as much as possible using an internal surplus system based on reuse first. Departments can access YSU's surplus program for furniture, certain office supplies, and electronics. YSU Information Technology Services (ITS) has a policy that all electronics purchased, used, and discarded go through them first. YSU ITS keeps as much of the used electronic items on campus as possible, such as computers and accessories, monitors and other equipment. It follows a procedure based on whether the electronics can easily be maintained by its staff. If so, the equipment stays on campus for reuse. If it is still working, but not needed on campus, it is sold at a surplus auction or donated to a nonprofit organization. Anything that is considered obsolete is recycled. A similar procedure is followed with surplus office furniture.
The University's biggest challenge is reducing contaminants in general recycling. YSU has not overcome this issue completely, but it has upgraded trash receptacles and created waste stations so that there is always a recycling receptacle next to a trash receptacle. This prevents lone recycling receptacles from being used for trash. 
Great Big Pictures, Inc.
Madison, Wisconsin
Great Big Pictures, Inc. improved its recycling efforts in 2016 by achieving a diversion rate of 76 percent. Some of the materials recycled included 259,200 pounds of wood and 148,158 pounds of plastics. Other materials recycled include cardboard, metals, paper, electronics, bulbs and textiles. Through its efforts, the company recycled almost 300 tons of materials and landfilled 89 tons of materials.
---
Midwest Region (Region 7)
Perishable Distributors of Iowa
Ankeny, Iowa
"WasteWise is an instrumental resource that enables PDI to demonstrate environmental stewardship as a company, to our employees, and the community." — Joe Harms, Environmental Facilities Manager
Perishable Distributors of Iowa (PDI) is a food distribution company servicing the retail grocery industry. PDI has long been a company that recycles, but after making a Zero Waste commitment, landfill diversion results have been substantial. In 2016, PDI's landfill diversion rate was over 98 percent, keeping 24,018,995 pounds of waste out of landfills. One of the keys to achieving this diversion rate was the successful diversion of organic wastes. Wasted food made up 799,723 pounds of PDI's waste diversion. Organic waste diversion is a significant challenge for an operation like PDI. It carries 7,400 fresh and frozen products, from live lobsters to specialty cheeses, eggs, salads and juices. This product diversity comes with its own inherent diversion challenges, along with the many different types of product packaging.  PDI is proud of its ability to overcome this.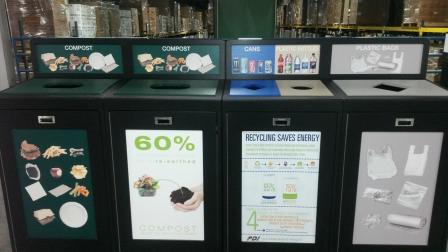 PDI achieved Platinum level Zero Waste status through the United States Zero Waste Business Council. It accomplished this through a comprehensive Zero Waste program and multiple areas of focus on materials throughout its company, including redesigning, reducing, reusing, recycling, composting, anaerobic digestion, reporting metrics, upstream management, leadership, training, waste analysis, hazardous waste prevention, closed loop practices and innovation. The biggest key to the success of the program is the top leadership's commitment to Zero Waste.
PDI joined the EPA's WasteWise program after hearing about the annual climate profile and other tools available to partners. The company believes that the ability to understand and share the environmental benefits of its waste diversion is essential to the ongoing success of its Zero Waste Program.
---
Pacific Southwest Region (Region 9)
Las Vegas Sands Corporation
Paradise, Nevada
The Venetian Resort, The Palazzo Resort and the Sands Expo care about the environment and have worked over the years to incorporate sustainable practices into their daily operations. The Las Vegas Sands Corporation, the resorts' and expo's parent company, is very proud of its waste management—the collection, transportation and management of garbage and other waste products. Las Vegas Sands Corporation's Las Vegas campus is the birthplace of Sands ECO360, the corporation's global sustainability program. The Venetian diverts more than 30 million pounds of material through its recycling programs every year, a little over half of all the waste generated at the resort. That's the equivalent of forty 747s worth of waste that the resort is glad to divert from landfills. Its annual average recycling rate is 55 percent, which is 21 percent more than the national average. 
The Venetian, The Palazzo, and the Sands Expo expanded their recycling programs to include plastic, paper, cooking oil, glass, amenities, wood, plants, and computer hardware, as well as additional materials. Some efforts span across all departments, including paper, food in the kitc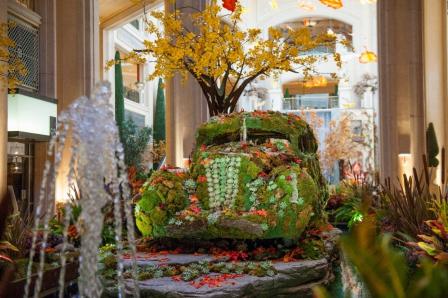 hens and dining areas, bathroom amenities, light bulbs, paints, and metal in facilities' shops. The Venetian was one of the first resorts on the Las Vegas Strip to offer a unique profit-sharing incentive program, which rewards recycling dock staff who sort the garbage to achieve higher recycling rates.                
The Las Vegas Sands Corporation's goal has always been to integrate waste management into community outreach through partnerships with nonprofit organizations. Several food donation programs are in place at the Las Vegas properties to help those in need. All unused and unprepared banquet food is donated to local nonprofit agencies such as Three Square Food Bank and Catholic Charities. In addition, the resort works with Chefs to End Hunger to provide unserved, leftover meals from employee dining areas to the Las Vegas Rescue Mission. Additionally, nonperishable food items that are close to expiration are sent to Harvest Time, a nonprofit dedicated to feeding hungry people.