2018 WasteWise National Award Winners
Recognition is a key element of EPA's Sustainable Materials Management (SMM) Program and WasteWise. EPA awards select WasteWise partners for their exemplary waste prevention and reduction activities. Partner awards are based on self-reported data in the categories of waste prevention, recycling and disposal.
The 2018 WasteWise national award winners shared details and quotes about their wasted food prevention and diversion activities, and about their awards with EPA. Read about their accomplishments and how they achieved them.
Disclaimer: EPA does not endorse these entities nor their services. These stories and quotes were provided by the 2018 WasteWise national award winners.
On this page:
---
L Brands
Columbus, Ohio - Very Large Business Partner of the Year
"We're proud to partner with WasteWise, as we believe in doing what is right in our industry, our community and our world."— Greg Cunningham, AVP Global Compliance, L Brands
L Brands, Inc.Exitbelieves in conducting business in an environmentally responsible way. The organization is always looking for ways to reduce its environmental impact through the better management of natural resources. The company's waste reduction and recycling program focuses on finding ways to reduce waste, increase recycling, reuse materials where possible, source from renewable materials and resources, and find alternative solutions to landfill disposal. Highlights of the company's 2017 efforts include the following:
Diverted waste to create new products or to facilitate reuse:
Sent 83,000 pounds of outdated electronics for refurbishment and reuse.
Worked with a vendor partner to convert 162,000 pounds of unusable liquid soap product into a new product as a commercial floor cleaner.
Partnered with a vendor to recondition and reuse more than five million pounds of wooden pallets.
Recycled large amounts of materials, including:
164,000 pounds of alcohol from alcohol-containing waste.
246,000 pounds of metal from capital projects.
22 million pounds of corrugated cardboard and paper from L Brands, Inc.'s supply chain and operations activities.
---
Kohl's Department Stores
Menomonee Falls, Wisconsin - Very Large Business Honorable Mention
Kohl'sExit is an omnichannel retailer—a retailer that integrates the different methods of shopping available to consumers—with more than 1,100 stores in 49 states. With such a large retail footprint, Kohl's is in a unique position to make resounding impacts in sustainability areas such as waste management. By seeking solutions that encourage long-term sustainability, Kohl's tries to leave a smaller footprint.
In 2017, Kohl's achieved an 83 percent diversion rate through initiatives including plastic and cardboard recycling, paperless billing, and beauty product and fabric scrap repurposing. Kohl's recycles more than 130,000 tons (260,000,000 pounds) of material each year, including more than seven million pounds of plastic and 230 million pounds of cardboard. Kohl's has been a voluntary partner and active participant of the EPA WasteWise program since 2007 and has earned multiple WasteWise awards. Furthermore, Kohl's has committed to increasing its diversion rate from 83 percent to 85 percent.
View Kohl's website for more information about Kohl's waste management programs.Exit
---
Commonwealth Edison
Oakbrook Terrace, Illinois - Large Business Partner of the Year
"At ComEd, we take our environmental responsibility seriously. We continuously evaluate and improve our environmental performance. Tracking, measuring and reducing our waste stream is a critical component of reducing our environmental impact, and aligns with our commitment to be the Utility of the Future."— Tim Bulthaup, Manager, Environmental Services Department, Commonwealth Edison
Commonwealth Edison (ComEd)Exitis a unit of the Chicago-based Exelon Corporation, a publicly traded energy utility. ComEd delivers electric service to 3.8 million customers across 11,400 square miles in northern Illinois, representing approximately 70 percent of the state's population.
ComEd is committed to protecting the environment and continually looks for new ways to be more efficient and environmentally responsible. Managing its waste is a major component of ComEd's commitment to environmental stewardship. In 2017, ComEd's office recycling program alone saved approximately 7.77 million kW hours of electricity, 213,191 gallons of oil, 12.20 million gallons of water, 6,100 cubic yards of landfill airspace (gained volume in the landfill by diverting recyclable materials), 20,917 mature trees, and accounted for 5,544 metric tons of total greenhouse gas reduction (the equivalent to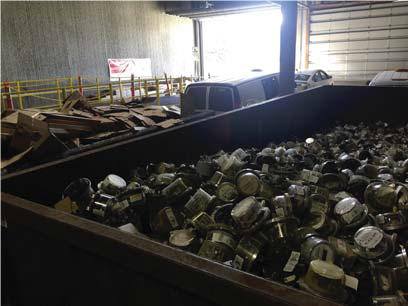 1,015 passenger cars not driven). ComEd's office recycling metrics are tracked monthly with the help of its waste vendor. The company uses WasteWise as a platform to track its annual waste reduction performance.
ComEd also installed smart meters throughout its service territory as part of the company's pathway to "Utility of the Future." Advanced Metering Infrastructure (AMI) meters allow for the measurement of energy use, provide the ability to interact in real time with other systems and devices, improve reliability, and reduce truck deployments for troubleshooting through remote resolution opportunities. In addition to AMI's operational efficiencies, AMI's deployment practices have been instrumental in environmental stewardship, specifically landfill diversion practices. In 2017, the AMI program recycled over one million pounds of aluminum and cardboard. Two AMI smart meter locations recycled 75 percent of the waste generated (approximately 398 tons of meters, meter seals, locks, snap rings, cardboard, plastic and paper). Over the entirety of the AMI program, more than a million (meter) boxes, 300,000 meter batteries, and over four million meters have been recycled.
---
Perishable Distributors of Iowa
Ankeny, Iowa- MidSize Business Partner of the Year
Perishable Distributors of Iowa (PDI)Exitreceived third-party certification as a Platinum Level Zero Waste business in September 2016. PDI's pursuit of zero waste is part of its commitment to manage wastes in a way that maximize resource value while minimizing environmental impacts. The organization aspires to eliminate all of its waste going to landfills and incinerators.
PDI continues its landfill reduction efforts by utilizing the TRUE Zero Waste program, administered by Green Business Certification Inc. (a sister organization to the U.S. Green Building Council). Since beginning its zero-waste journey, PDI has increased its diversion rate and reduced its residual waste to landfills each year. Since receiving its certification, PDI's diversion rate has climbed from 98.33 percent to 99.06 percent. As a result, the company's residual waste to landfills has fallen by an additional 27 percent, and by 73.6 percent over its baseline year. PDI has realized this success while growing its business, expanding its facility, increasing the number of employees working on-site, and battling challenging recycling markets. Senior leaderships' commitment to Zero Waste, ongoing waste and recycling analysis, and a commitment to continual improvement has helped PDI maintain its success.
Throughout much of 2018, PDI's focus was on helping other distribution centers within the company move toward Zero Waste. In 2018, two of these distribution centers earned third-party Zero Waste certification, and the other centers are in the process of aligning themselves to become Zero Waste facilities.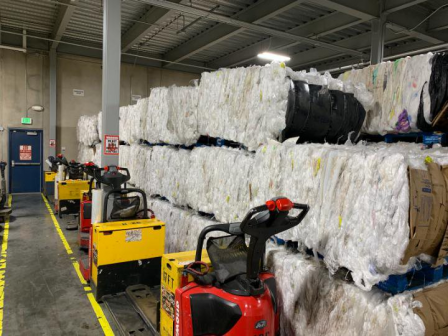 ---
Urban Chestnut Brewing Company
St. Louis, Missouri - Small Business Partner of the Year
Urban Chestnut Brewing CompanyExit has made sustainability a major focus of its business plan since its inception in 2011. Whenever possible, the company implements sustainable design and sustainable processes at the point of installation. One example is the brewery's award-winning LEED (Silver) Certified production facility. The industrial processes and associated technological investments have enabled the brewery to minimize its waste footprint.
In 2017, Urban Chestnut Brewing Company prevented and diverted 1,038.44 tons of solid waste. Since 2016, the company has diverted 96 percent to 97 percent of its solid waste as a result of recycling and repurposing. The materials were: spent grain (1.7 million pounds), wood pallets (approximately 30,000 pounds), cardboard and other recyclable wastes (300,000,000 pounds), and high-density polyethylene (HDPE) plastic barrels (500 pounds). In 2019, the company partnered with Center Ethanol, and the brewery now diverts 220,000,000 pounds of spent yeast out of the municipal waste stream and gives it to Center Ethanol to make ethanol. Additionally, kitchen operations generate more than 30 tons of organics each year that are diverted to compost.
Urban Chestnut also utilizes a full enterprise resource planning (ERP) software package and a pilot, cloud-based monitoring system as a way to further improve the tracking and monitoring of processes. Data from the ERP will deliver more accurate and meaningful cost savings numbers.
There are ongoing opportunities to improve as the brewery expands. The company finds that its greatest challenge continues to be having the time to monitor all of its waste management processes effectively. In all, Urban Chestnut Brewing Company is very proud of its efforts and successes. The company believes that participating in WasteWise enables it to communicate and share its approach in the hope that its message may assist others in craft brewing and other industries.
---
City of Urbana
Urbana, Illinois - Local Government Partner of the Year
"As zero waste is the ultimate goal, City of Urbana staff have exceeded expectations to attain that objective. Recycling and environmental sustainability habits are instilled in the work culture at the City of Urbana, and I am proud of the accomplishments that City staff have achieved for their reuse and recycling efforts."
— Courtney Kwong, Recycling Coordinator, City of Urbana
The City of Urbana's Public Works DepartmentExit consists of 80 employees and six divisions, including administration, arbor, engineering, environmental sustainability, fleet and operations. Each division tracks monthly data on recycling and reuse efforts, and has been tracking data since 2012. The materials tracked include items such as batteries, oil, antifreeze, tires, solvents, landscape materials, concrete, asphalt, lamps and scrap metal. In 2017, the Urbana Public Works Department recycled more than 9,600 tons of materials, including construction and demolition debris, and achieved a 90 percent diversion rate.
---
University of Massachusetts at Dartmouth
Darmouth, MA - College/University Partner of the Year
The University of Massachusetts at Dartmouth's (UMASS Dartmouth) Dining Services Exitadvocates for sustainability changes. In 2017, Dining Services led a team of interested students, the Facilities Team, and the Campus Sustainability Team to achieve success in reducing food waste.
UMASS Dartmouth's Dining Services utilizes EPA's Food Recovery Hierarchy in its effort to reduce food waste. The team begins with the proper management of purchasing and food production to minimize leftovers.
UMASS Dartmouth's Dining Services measures, collects and diverts food trimmings and other appropriate food leftovers. In 2017, by using Chartwells Dining production management programs, Dining Services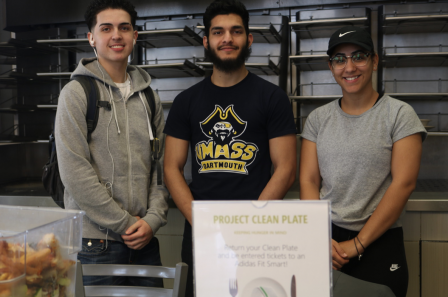 prevented 160 pounds of waste from being generated. In the same year, Dining Services also coordinated with a local farmer to provide over 62,000 pounds of food scraps for use as animal feed.
UMASS Dartmouth's Dining Services donates unsold, prepared packaged foods weekly during the school year to local liturgical ministries serving the homeless. In 2017, Dining Services unveiled a new program called Meals with Dignity, in which student volunteers work with the chef to package meals made with wholesome, leftover food from the dining hall on a biweekly basis and to deliver meals to the on-campus food pantry. The recipients of the surplus food are very enthusiastic about the two efforts, which have significantly helped fight local food insecurity. The donation programs are the most impactful efforts on campus, as they are the most local. Notwithstanding the success of the two donation programs, Dining Services' goal continues to be to reduce leftover food.
UMASS Dartmouth Green Navigators, a group of students on campus with a commitment to sustainability, also assist in the university's sustainability success. In 2017, the Green Navigators helped implement the "Project Clean Plate" program to demonstrate the impact of plate waste to all student guests. The Green Navigators also play a key role in preparing food for the Meals with Dignity program.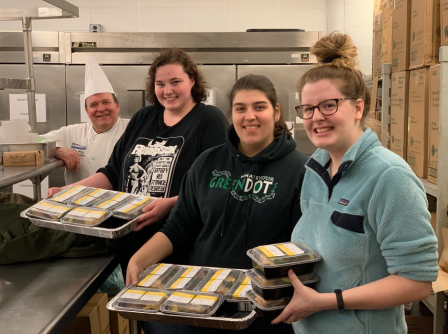 UMASS Dartmouth's Dining Services also grows its own lettuce in the on-campus, hydroponic freight farms, leafy greens machine. Dining Services has the ability to produce over 5,000 heads of lettuce per semester, and uses the lettuce in the resident dining hall, for catering events, and at a retail salad restaurant on campus.
In 2019, UMass Dartmouth's Dining Services introduced a new composting program, and it provided approximately nine tons of coffee grinds and food pulper residue to a local farmer for use as a soil enhancement. Dining Services also recycles 68 tons of fats and oils, cardboard, glass, aluminum cans, meal cans, and some plastics annually.
Through student engagement, UMASS Dartmouth's Dining Services continues to undertake new challenges to reduce food waste.
---
Georgia State University
Atlanta, Georgia - College/University Honorable Mention
"This generation of students truly understands the importance of waste diversion and drives our constant desire for improvement in our programs."
— Jenni Asman, Manager of Sustainability Initiatives, Georgia State University
In 2017, Georgia State UniversityExit grew exponentially when it consolidated with its perimeter campuses, increasing the student population by 25,000. The Office of Sustainability Initiatives combatted the associated waste surges by taking a holistic approach to diversion. Georgia State University's recycling program collects cardboard; e-waste; mixed paper, including shredded paper from the university's secure document shredding program; as well as other materials. The desire to maintain a high diversion rate during the campus consolidation catalyzed the university's commitment to waste prevention and diversion. Maintaining a successful program during the consolidation required drastic measures in proper education and awareness. In the beginning of 2017, Georgia State University implemented a university-wide signage and bin standardization effort, which improved student engagement.
In 2017, Georgia State recycled 546 tons (63 percent of the waste stream) and composted 270 tons (31 percent of the food waste stream). Through these efforts, Georgia State University saved $33,758 in avoided landfill costs, and the Office of Sustainability Initiatives received $13,317 in revenue from recycling materials.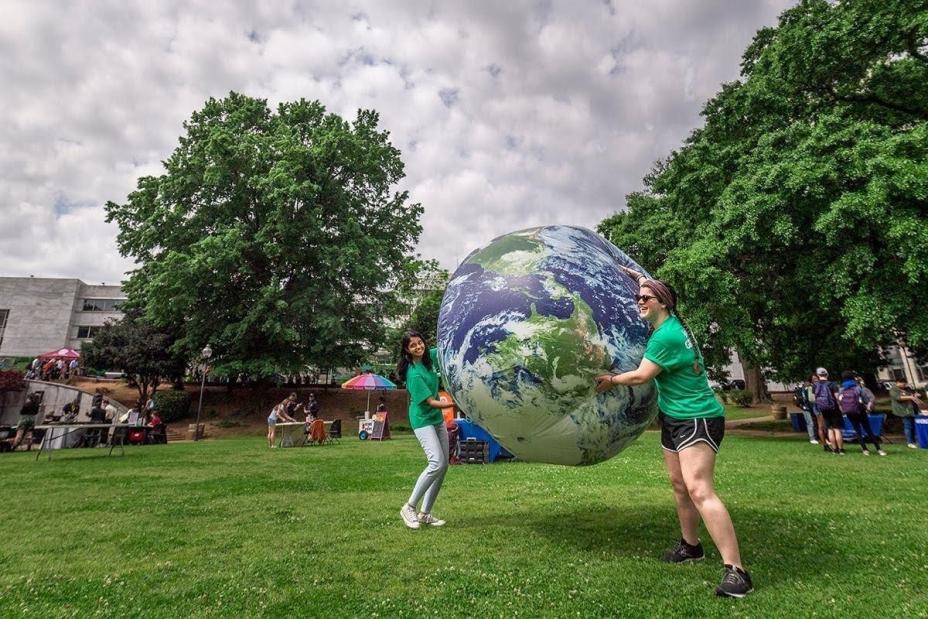 Also, in 2017, the Office of Sustainability created an in-house document destruction program, resulting in savings for university departments and generating recycling revenue due to an increase in valuable fibrous material in the recycling stream. The Office also partnered with Georgia State Athletics and Civic Engagement to begin the Trash Talker's Initiative, in which 150 student volunteers attend home football games, helping with tailgate recycling and managing tri-stream bins in an opportunity to educate attendees. The Athletics Department recognizes the students for their commitment during halftime of games.
The Office of Sustainability Initiatives learned that diversion increases when the recycling process is simplified and convenient for students. As convenience can be conducive to contamination, the Office utilizes technology that increases efficiency and allows for more opportunities to eliminate contamination.
The Office of Sustainability Initiative devotes itself to engaging the student body and creating waste reduction programs that will benefit the university and the environment.
---
Pasco County Schools
Land O' Lakes, Florida - School/School District Partner of the Year
Pasco County SchoolsExit have continued to increase in both staff and student size, thus creating additional schools annually. At the same time, the schools have decreased their solid waste through waste prevention and recycling efforts. The schools reduce waste in several ways, including through expanding the types of materials collected for recycling, increasing the level of outreach and education for the program, and by opening surplus stores to sell items that are no longer of use.
The Pasco County School District has five daily routes that service all sites for recycling. Using EPA weight conversion numbers and logs from the drivers, the school district can determine how much of each recyclable material the schools and sites are collecting and keeping out of landfills. In the 2017-2018 school year, the school district increased its recycling rate from the previous year, recycling over 1,800 tons of materials, or 3.6 million pounds. These materials generated over $65,000 in revenue and over $200,000 in cost savings. Finally, Pasco County School District's Conservation and Recycling Program works closely with the schools in delivering presentations and special events.
One message that is consistently reiterated through these waste reduction efforts is that environmental stewardship does not take away from the students' education and learning. Rather, implementing environmental projects and programs can enhance students' learning experience by engaging them in efforts that demonstrate their interconnectedness to the world around them, along with ways they can make a positive impact in their daily lives.
---
The Valley Hospital
Ridgewood, New Jersey - Non-Profit Organization Partner of the Year
The Valley HospitalExit actively pursues ways to reduce its environmental impact in its day-to-day operations in the areas of utility usage, supplies procurement, sustainable food sourcing and waste diversion, while continuing to provide exceptional patient care.
In 2017, Valley Hospital tracked 26 different waste streams, ranging from municipal solid waste and mixed recycling to smaller waste streams such as ink cartridges and batteries. The hospital's robust Green Team implements its waste prevention and diversion programs. Below are some accomplishments from 2017.
The hospital diverted more than 830,554 pounds of material from landfills and incinerators.
The Construction Team and Project Team collaborated to successfully keep mixed metals separate from all other bulk waste and construction debris. As a result, mixed metals collection increased by 12 tons between 2016 and 2017.
The hospital increased its single-stream recycling by 10 tons from 2016 to 2017 by improving access to bins, creating a special sort center, and focusing more on employee education and engagement. The hospital also performed waste audits and placed educational tables in high traffic areas to increase awareness of Valley's efforts and successes.
To further reduce waste, the Green Team provided a plastic film recycling bin and a clothing and textile drop-off for donations.
Finally, in 2017, Valley Hospital partnered with a sustainability organization to further support the hospital's sustainability efforts. The partnership began with a site assessment and the identification of next steps. As a result of this assessment, for example, the hospital began using a color-coded recycling system that utilizes labels, bins and signage to facilitate the recycling process.