2018 WasteWise Regional Award Winners
Recognition is a key element of EPA's Sustainable Materials Management (SMM) Program and WasteWise.
The 2018 WasteWise regional award winners shared details and quotes about their wasted food prevention and diversion activities, and about their awards with EPA. Read about their accomplishments and how they achieved them.
Disclaimer: EPA does not endorse these entities nor their services. These stories and quotes were provided by the 2018 WasteWise regional award winners.
On this page:
---
Northeast Region (Region 2)
Ravitz Family Markets
Camden, Cherry Hill, Marlton, and Mount Laurel, New Jersey
"Source reduction is achieved through very careful purchasing. We buy right so you can shop right."
— Ken Brahl, Senior Director of Labor Relations, Ravitz Family Markets
Ravitz Family Markets is a chain of six family-owned supermarkets in New Jersey. The Markets have been a member of the Wakefern Food Corporation since 1984, and they work collaboratively with Wakefern to achieve the highest environmental results possible. The six stores' waste management practices are similar, with some local differences. The supermarkets adhere to a basic four-step process when dealing with waste:
If food is still safe to eat, it gets donated to the South Jersey Food Bank.
If the food can no longer be eaten, it is sent to Organic Diversion to be composted.
Cardboard and other commodities that have markets are sold.
Waste with no markets is sent to a landfill or an incinerator, depending upon the individual store.
In 2017, each store increased its waste diversion by five percent or more compared to 2016. The number of tons diverted per store are as follows:
Ravitz Family Markets, Shoprite: Mount Laurel Supermarkets, Inc., Cherry Hill, NJ—688 tons of waste diverted.
Ravitz Family Markets, Shoprite: Cherry Hill Supermarkets, Inc., Cherry Hill, NJ—771 tons of waste diverted.
Ravitz Family Markets, Shoprite: Evesham Rd., Cherry Hill Supermarkets, Inc., Cherry Hill, NJ—521 tons of waste diverted.
Ravitz Family Markets, Shoprite: Marlton Supermarkets, Inc., Cherry Hill, NJ—957 tons of waste diverted.
Ravitz Family Markets, Shoprite: Union Mill Rd., Mount Laurel Supermarkets, Inc., Cherry Hill, NJ—391 tons of waste diverted.
Ravitz Family Markets, Price Rite Supermarkets, Inc., Cherry Hill, NJ—292 tons of waste diverted.
Additionally, Ravitz Family Markets has a community-friendly way of avoiding wasting fruit. Stores maintain baskets containing bananas and pears that are either bruised or too ripe for sale that anyone can take for free.
---
Cummins Inc.'s Jamestown Engine Plant
Lakewood, New York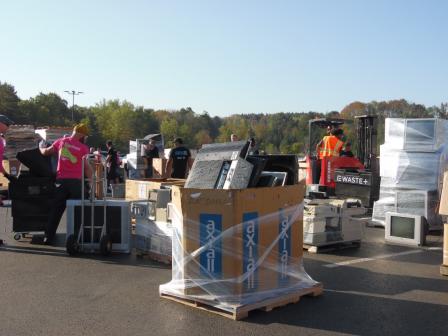 Cummins Inc. is a manufacturer of diesel engines, headquartered in Indiana. Its products are installed around the world in a variety of applications. The Jamestown Engine Plant, located in Lakewood, New York, was founded in 1974 and has shown continuous growth over the past 45 years, gradually adding new products, new customers and additional production floorspace.
The Cummins' mission demands that everything the company does leads to a cleaner, healthier and safer environment. Cummins' leadership facilitates attaining this mission by providing the necessary resources and information to meet aggressive improvement targets in the areas of pollution prevention and natural resources conservation. In 2017, the Jamestown Engine Plant facility diverted up to 11,848 tons of materials.
The Jamestown facility is actively engaged in creating a comprehensive Zero Waste program by focusing on product packaging reduction and the use of returnable packaging. The plant's Environmental Champion Team works very closely with its suppliers and waste vendors to ensure strict compliance to its standards and to drive further improvements in recycling and waste minimization.
EPA's WasteWise is a resource that helps the Cummins' Jamestown Engine Plant demonstrate environmental stewardship to its employees and to the local community. In addition to its recycling efforts as a facility, the plant implements an annual Community Recycling Day for the local area, in which various waste streams, including electronics, fluorescent light bulbs, batteries, tires, used oil, and oil-based paint are collected, free of charge.
---
Curbell, Inc.
Orchard Park, New York
As is natural for a growing company, Curbell, Inc. has seen its overall waste poundage steadily increase. But thanks to a top-down commitment to sustainability, which is woven into the fabric of the entire 20-location company, Curbell stood up to the challenge and now finds its waste-to-energy and municipal solid waste numbers decreasing, even as expansion continues.
To accomplish this, Curbell and its two core businesses, Curbell Plastics and Curbell Medical, together embarked on major waste reduction initiatives in 2017. For example, Curbell introduced single-stream recycling at its two Orchard Park, New York, facilities, including its corporate headquarters, which is already a zero-landfill facility. The implementation of single-stream recycling helped Curbell divert over 2.2 million pounds of waste from landfills in 2017, generating more than $130,000 in profits.
Also, in 2017, to practically eliminate waste while completing a comprehensive lighting overhaul at corporate headquarters, Curbell donated over 1,000 replaced lightbulbs to a local school, recycled all metals and wiring, and donated chrome-plated troffer lenses for reuse. Many Curbell Plastics branches donated scrap material to high school and college science students for use in robotics education, including in Western and Central New York, Ohio, Virginia, Texas, and California. Accounts Receivable went paperless and replaced over 20,000 paper folders with online resources. The company also formed a Green Team, an interdisciplinary group focused on engaging all employees in waste reduction and recycling through educational and logistical support.
---
Evelyn Hill
New York City, New York
"Evelyn Hill continuously strives to improve our performance and reduce our environmental footprint. We are grateful for the support from EPA Region 2."— Bradford Hill, President, Evelyn Hill
Evelyn Hill Inc. operates the food and gift concessions at the Statue of Liberty on Liberty Island, and also on Ellis Island in New York City. Evelyn Hill Inc. is a family run business in its 88th year of operation at the Statue of Liberty. Over 4.2 million visitors visit the two islands annually.
Starting in 2000, the company made major steps to reduce its impact on the environment. Since 2009, it has made the commitment of being a zero-waste facility. Evelyn Hill Inc. has been involved in zero waste longer than any other concessioner and is a leader in the National Park Service for its zero-waste program.
In 2017, the concessioner diverted over 366 tons of food scraps, cardboard, plastic, glass and aluminum from the landfill. Evelyn Hill accomplished this by reviewing all of the items it received to ensure they all are recyclable or compostable. To meet this goal, hundreds of products have been substituted with more sustainable alternatives.  The actual amount of garbage going to landfill per  day is less than one garbage tote.
From cardboard to coffee cups to potato chip bags, every item is scrutinized so that it can be optimally managed. In addition to the usual plastic and paper items, Evelyn Hill Inc. diverts wood pallets, batteries, light bulbs, fryer oil and even potato chip bags from landfills. Additionally, an on-site food digester processes some food on-site.
Evelyn Hill Inc. also prides itself on having a LEED Platinum gift pavilion that was constructed in 2010, as well as having a zero-carbon footprint through the purchase of Renewable Energy Certificates (RECs) for wind power.
---
Ombligo
Brooklyn, New York
Ombligo is an information technology (IT) service company focused on used and out-of-service IT hardware. The company finds markets for refurbished IT hardware, thereby reducing the production of new hardware and saving natural resources. Ombligo also reuses electronics equipment in more ways than originally intended. One example of this practice, also known as upcycling, is to use a server chassis as a desk. Ombligo recycles computer products only when the company cannot use the products responsibly.
In 2017, Ombligo expanded its work space and its business, which can add to waste. But, through an increased focus on sorting and organizing its waste, Ombligo minimized its landfill disposal and more than tripled its recycling, diverting 6.5 tons, or 13,000 pounds, from landfills.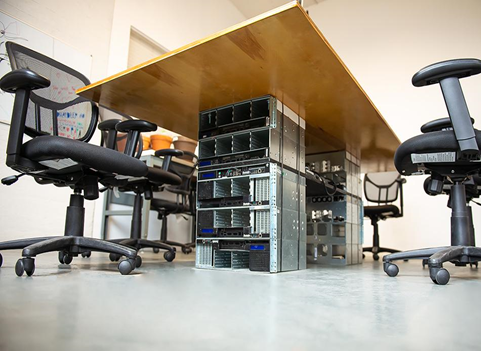 ---
Great Lakes Region (Region 5)
The Kroger Company
Cinncinati, Ohio
"I can promise you that we are not letting our foot off the accelerator. We have big plans for this year and, together, there is nothing we can't do."  — Jessica Adelman, Group Vice President for Corporate Affairs, The Kroger Company
The Kroger CompanyExit is uniquely positioned to address the connection between hunger and waste. As part of its Zero Hunger | Zero Waste social impact planExit, Kroger committed to end hunger in its communities and eliminate wasted food across the company by 2025. The national grocery chain launched this goal in the belief that, in addition to creating positive social and environmental changes, working to end hunger by eliminating wasted food will increase efficiency inside the business and encourage customers to shop at Kroger stores. In 2019, Kroger celebrated a four percent increase from 2017 on its wasted food diversion rate—the largest jump since the company began reporting waste data to EPA.
In 2018, Kroger locations across the country rescued 100 million pounds of food through its Zero Hunger | Zero Waste Food Rescue program. Coupled with $192 million in funds directed to help end hunger, Kroger donated a total of 316 million meals, which was enough to feed 80,000 people three meals a day for an entire year. In 2018, Kroger also announced its plans to eliminate single-use plastic bags from its stores by 2025. Quality Food Centers (QFC) Exitin the Pacific Northwest was the first to accomplish this goal in early 2019.
Finally, through its newly launched Zero Hunger | Zero Waste Innovation FundExit, Kroger will provide one million dollars in grants for innovative solutions to reduce wasted food in Kroger communities in 2019.
---
Evergreen Credit Union
Neenah, Wisconsin
Evergreen Credit UnionExit is a full-service financial institution. In 2015, Evergreen took on a new mission to be the most environmentally responsible credit union in the nation. As part of that mission, the credit union created four sustainability goals: carbon neutrality, energy self-sufficiency, water conservation and zero waste. In 2017, the credit union achieved zero waste status through recycling, on- and off-site composting, and reuse. It also diverted 1,733 pounds of waste from landfills through these initiatives. In partnership with a local farm, Evergreen also composted 324 pounds of materials, including bathroom hand towels.
Employee training has been an important part of Evergreen's zero waste strategy. Every new employee learns how to handle office waste, including putting appropriate food items in the compost bin. Evergreen also has a limited number of trash cans in the building. The credit union also partners with local organizations to recycle the organizations' special events items, such as plastic film and holiday string light recycling.
A key aspect of the credit union's waste management program is that most waste is the byproduct of provided services. Evergreen Credit Union actively seeks waste reduction efforts such as utilizing less paper, refraining from providing money envelopes, purchasing products produced with recycled content, and eliminating unneeded office supplies. To support the organization's efforts, Evergreen employs a Sustainability Manager who meets routinely with the executive team. The credit union's leadership team supports all of the waste management initiatives. In addition to tracking internal waste, the credit union has also begun to monitor external waste such as paper statements.
---
Midwest Region (Region 7)
Faultless Brands
Kansas City, Missouri
"With the assistance of a local environmental advocate, Bridging the Gap, and the support of local solid waste vendors, our Zero Waste to Landfill program was an exercise of common sense." — Scott Brown, General Counsel, Faultless Brands
Faultless Brands is a 132-year-old family owned consumer products manufacturer. In 2015, championed by its employees, officers and ownership, Faultless began its Zero Waste to Landfill program. The company diverts solid waste from its operations through avoidance, reduction, reuse and recycling.
In 2017, Faultless collected over 167 tons of waste. Only 1.68 percent of the waste was sent to landfills. The company saved $21,556 as a result of rebates, tonnage savings, and avoiding hauling and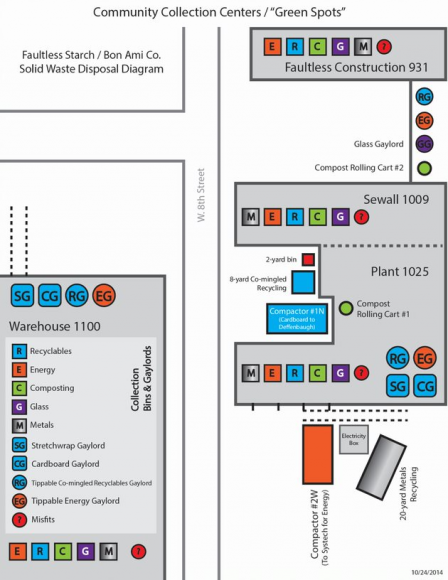 container expenses. In addition, diversion of the wastes from landfills resulted in a greenhouse gas savings of 509 metric tons of Carbon Dioxide Equivalents (MTCO2E) as calculated using EPA's Waste Reduction Model. This is equivalent to taking 108 passenger vehicles off the road for one year. Faultless used the wastes as alternative fuel to generate electricity, reducing the burning of coal and increasing energy efficiencies.
Faultless Brands found that the challenge in implementing the Zero Waste to Landfill program was encouraging employees to embrace small changes and to understand how to make the most of the economic and environmental impact of their efforts. Once employees were able to see measurable results, individuals who did not understand the benefits of the program at first were able to recognize its success and became engaged in making the program better. By observing the successful waste management practices, Faultless associates were more likely to adopt better practices in other areas of the company.
Faultless and its employees are proud of their accomplishments and have shown that being open-minded to new technologies and opportunities will help their community in thinking globally and acting locally.
---
Northern Natural Gas
Omaha, Nebraska
The Northern Natural Gas Company (Northern) provides natural gas transportation and storage services on a 14,700-mile pipeline system stretching across 11 states, from the Permian Basin in Texas to Michigan's Upper Peninsula. The Company has been a WasteWise partner since 2014, but the company's documented recycling efforts extend back more than a decade to 2008.
Environmental respect is one of Northern's six core business principles. The Environmental RESPECT Policy includes Responsibility, Efficiency, Stewardship, Performance, Evaluation, Communication and Training. Each of Northern's 917 employees receive training on corporate recycling procedures and proper waste management.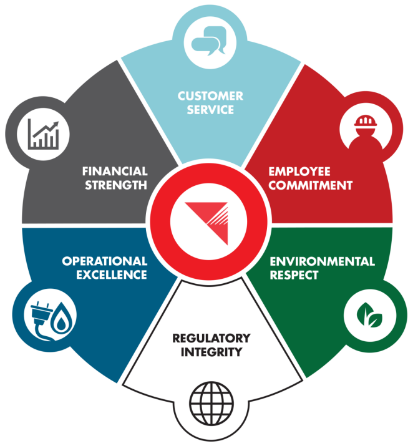 In 2017, Northern diverted more than 1.97 million pounds of material from landfills for recycling or other types of reuse. In addition to recycling paper, cardboard, aluminum, plastic and other typical materials in office and warehouse environments, Northern's recycling efforts extend across its pipeline system and include the recycling of used oil, glycol and solvents. Northern also recycles steel piping that is removed during maintenance and construction projects.
In 2019, Northern diverted more than 7,900 pounds of steel from an industrial waste landfill by decontaminating presumed PCB-contaminated small-diameter piping, substantially reducing waste volume, and allowing the steel piping to be recycled.
---