2019 WasteWise National Award Winners
Recognition is a key element of EPA's Sustainable Materials Management (SMM) Program and WasteWise. EPA awards select WasteWise partners for their exemplary waste prevention and diversion activities. Partner awards are based on self-reported data in the categories of waste prevention, recycling and disposal.
The 2019 WasteWise national award winners shared details and quotes about their waste prevention and diversion activities, and about their awards with EPA. Read about their accomplishments and how they achieved them.
Disclaimer: EPA does not endorse these entities nor their services. These stories and quotes were provided by the 2019 WasteWise national award winners.
On this page:
---
CenturyLink Field
Seattle, Washington - Very Large Business Partner of the Year
"CenturyLink Field continues to be one of the most environmentally-friendly and sustainable sports and entertainment facilities in the world. In the past few years, the Seahawks and First & Goal Hospitality (FGH) have announced partnerships covering composting – with payback in organic vegetables – ongoing energy and water usage reduction, food donations to the Salvation Army, and sustainable seafood supplies." David Young, Senior Vice President of Business Operations, Seattle Seahawks and General Manager
In 2018, CenturyLink Field hosted two million guests on 185 event days and diverted 94 percent of its waste (1,167 tons) from going into the landfill through reuse, recycling, and composting. The waste diverted included 5.83 tons of food donated to Pacific Northwest hunger relief organizations, 3.34 tons of items donated to Goodwill Industries, 8.74 tons of metal scrap recycled locally, and 518.35 tons of organic material (wasted food and compostable serviceware) were composted. At the October 4, 2018 Seahawks game, the field served 3,000 pounds of french fries made from potatoes grown at Sound Sustainable Farms, owned and operated by Cedar Grove Composting. The potatoes were grown using local Cedar Grove compost, which in turn was made from CenturyLink Field's wasted food and compostable serviceware. In recognition of its efforts, CenturyLink Field received the Global Stadium Business Awards' Sustainability & Community Excellence Award in June 2018.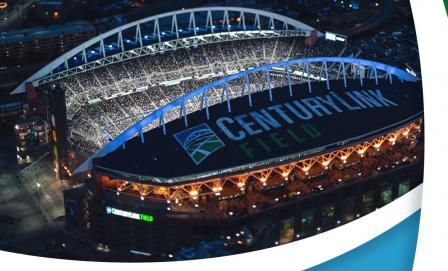 CenturyLink Field began its sustainability programs in 2006, with the purpose of tracking waste and educating its employees and guests. The stadium has grown the program from a three percent diversion rate from the landfill to an average of a 95 percent diversion rate each year. In 2012, the field made substantial strides by implementing single stream recycling. In 2013, it established partnerships to increase its use of compostable items used in food service delivery. Implementation of these actions resulted in sustained success for the field's sustainability efforts.
One of the biggest challenges CenturyLink Field faces is educating its cyclical and seasonal staff, including the concession stands. To meet this challenge, the sustainability team is engaging with its stakeholders to develop concise training materials that can be used on game days for the over 2,000 stadium staff. Use of the training materials will ensure compliance and adherence to CenturyLink Field's sustainable practices and procedures.
---
L Brands, Inc.
Columbus, Ohio - Very Large Business Honorable Mention
"We're proud to partner with WasteWise as we believe in doing what is right in our industry, our community and our world." Greg Cunningham, AVP Global Compliance
L Brands believes in conducting business in an environmentally responsible way and is always looking for ways to reduce its environmental impact through better management of natural resources. L Brands started its sustainability journey nearly 20 years ago by pursuing resources and partnerships in an effort to establish a waste reduction program. In 2004, the retailer joined WasteWise which helped to increase its waste diversion and recycling rates and to expand its efforts to purchase recycled content materials. Since that time, the company has increased recycling by 60 percent and grown its diversion rate from 73 percent to 85 percent. L Brands has also actively pursued initiatives to reduce waste through programs such as the Associate Sample Sale, in which discontinued or surplus merchandise is diverted from landfills and made available for purchase by the company's associates. One hundred percent of the Associate Sample Sale proceeds are donated to fund cancer research.
In 2018, L Brands accomplished a large number of significant reuse and recycling actions. The company diverted waste to create new products or facilitate reuse by sending 41,000 pounds of outdated electronics for refurbishment and reuse, working with a vendor partner to convert 201,000 pounds of unusable liquid soap product into a commercial floor cleaner, and partnering with a vendor to recondition and reuse more than 5.5 million pounds of wooden pallets. The retailer continued to recycle large amounts of materials, including 315,000 pounds of alcohol recovered from alcohol-containing waste, 587,000 pounds of metal from capital projects, and 22 million pounds of corrugated cardboard and paper from its supply chain and operations activities.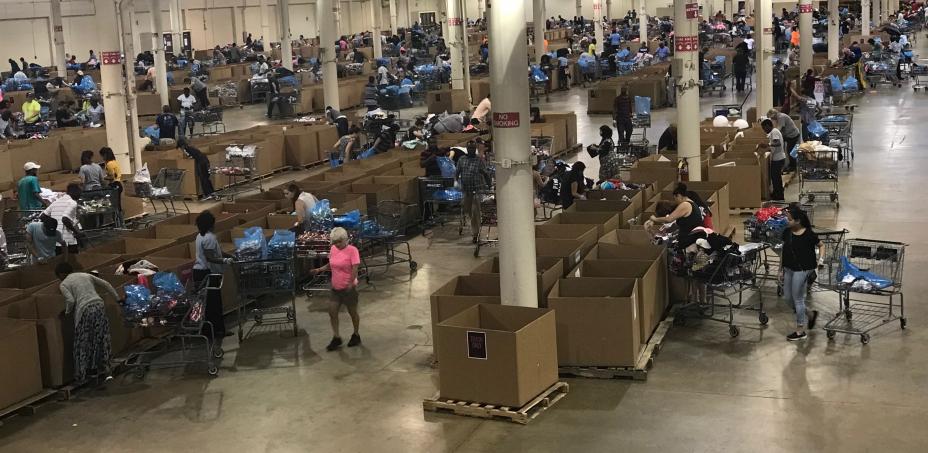 ---
Rooms To Go
Seffner, Florida - Large Business Partner of the Year
"At Rooms To Go, going green is more than just a fad, it's a way of life. From the corporate level to the individual associate, Rooms To Go employees are proud of our corporate philosophy advocating the positive effects of recycling. Each team member can have a positive and sustainable impact on our environment." Bill Gavin, Director of Recycling
Rooms To Go began its recycling program in 1992 by recycling cardboard to reduce landfill costs as well as to reduce its carbon footprint. In 1996, the furniture company began recycling plastics. In 1999, Rooms To Go instituted a wood recycling program and in 2006, the company continued its recycling growth by recycling EPS (Styrofoam). By growing its program over time, Rooms To Go continues to be successful in reducing its carbon footprint, saving money on landfill costs and hauling fees, while generating revenue on the commodities being recycled.
In 2018, Rooms To Go entered its 28th year of recycling and sustainability. It prevented over 31,932 tons of material from entering landfills and saved $2,106,538 in avoided landfill fees. Since its inception, Rooms To Go has kept over 369,000 tons of material from hitting landfills in over five states. The corporation has always had a "top down" philosophy with its recycling program and every associate takes pride in the recycling efforts.
As of 2018, Rooms To Go's recycling program encompassed six distribution centers and 266 stores, including the Adult, Kids, Patio, Express, and Outlet stores. Rooms To Go's recycling departments receive recyclables from its retail stores and home delivery trailers and process the materials including electronic waste, metal, and industrial batteries in the recycling centers.
In dealing with the nation's current recycling challenges, Rooms To Go achieved great accomplishments and experienced significant challenges in 2018. The challenges included how to continue its recycling program without interruptions or having to divert recyclables to landfills as recycling markets became inundated with materials. The furniture company successfully overcame these challenges by partnering with companies which have the infrastructure and ability to process these materials under extreme market conditions. The benefits of these partnerships demonstrate the commitment and responsibility Rooms To Go has to the environment. The company believes that its obligation to make a positive impact on the environment will continue indefinitely.

---
Peace Dining Corporation
Philadelphia, Pennsylvania - Large Business Honorable Mention
"The sustainability commitments from the top management and the team members' continued help and desire towards reducing, reusing and recycling is the key to achieve our waste management goal." Ganesh Pokhrel, Environmental Specialist
Peace Dining Corporation (PDC) is committed to achieving complete corporate sustainability including resource conservation and waste management. The corporation began implementing its Environmental Management System (EMS) in 2015 to improve its environmental performance. PDC received ISO 14001 EMS certification in 2016 for identifying, measuring and managing its environmental impacts through the continuous improvement process.
In 2018, the corporation achieved a 73 percent waste diversion rate. It diverted 105 tons of waste from the landfill by preventing 20 tons (14 percent) of corrugated cardboard and wood pallets from being generated in the first place and recycling 85 tons of mixed recyclables and mixed organics (59 percent). The company also implemented bio-digester technology at its central kitchen to manage its organic waste and no longer sends any organic waste from its central kitchen to landfill. With these actions, PDC saves approximately $8,000 in hauler fees annually.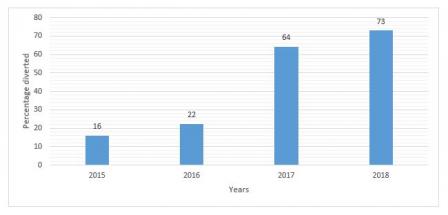 In 2015, PDC identified waste generation as one of its major environmental components and started tracking waste generation data. It announced a public goal to increase its waste diversion rate by 15 percent by 2018 compared to its 2015 baseline. Since then, the company has undertaken many initiatives to achieve this goal, including implementing an integrated waste management approach. The goal of the approach is to handle each element of the company's waste in the most effective, cost-efficient, safe, and environmentally sustainable manner wherever practical. To increase waste diversion rates, PDC developed waste management guidelines for its major facilities. In 2018, the corporation implemented full recycling at its warehouse at Allentown, PA and at its central kitchen at Long Island City, NY. It also implemented toner cartridge recycling in all of its facilities and started reusing cardboard boxes and wooden pallets in all of its warehouses. Approximately 80 team members from the dining corporation's headquarters office, warehouse, and central kitchen received waste management training. PDC also provided additional recycling bins in its facilities in order to provide easy recycling access to all its team members. With all these initiatives, PDC exceeded its 2018 waste diversion goal and increased its diversion rate by 48 percent from 2015 to 2018.
---
Ravitz Family Markets, Price Rite Supermarkets, Inc.
Camden, New Jersey - Small Business Partner of the Year
"Waste reduction is just the way we do things now. Newer employees have never known another way of conducting business." Ken Brahl, Senior Director of Labor Relations Markets
Ravitz Family Markets is a chain of six family-owned supermarkets in New Jersey. As a result of its 2018 waste management accomplishments, Ravitz Family Markets, Price Rite Supermarkets, Inc., Camden, New Jersey achieved the highest ranking in the WasteWise small business category. Ravitz Family Markets, Price Rite Supermarkets, Inc., Camden, New Jersey donated 53 tons of excess food to local food banks, composted 36 tons of food, and recycled 118 tons of assorted recyclables.
Ravitz Family Markets have been a member of the Wakefern Food Corporation since 1984, and they work collaboratively with Wakefern to achieve the best environmental results possible. The stores' waste management practices are similar, with some local differences. The six supermarkets adhere to a basic four-step process when dealing with waste:
If food is still safe to eat, it gets donated to the South Jersey Food Bank.
If the food can no longer be eaten, it is sent out to be composted.
Cardboard and other commodities that have markets are sold.
Waste with no recyclable value is sent to a landfill or an incinerator, depending upon the individual store.
Ravitz Family Markets also has a community-friendly way of preventing wasted fruit. The grocery stores maintain baskets containing bananas and pears that are either bruised or too ripe for sale that anyone can take for free.
---
Home Market Foods
Norwood, Massachusetts - Small Business Honorable Mention
"At Home Market Foods, we are dedicated to operating an environmentally responsible company. We owe this environmental focus to our employees, our customers, our consumers, our community and the future." Wesley Atamian, President
For over 50 years, Home Market Foods has provided food products as a major specialty provider of fully cooked meal entrees, appetizers, and snacks. Home Market Foods sets goals to reduce the environmental impact of materials through their entire life cycle, adheres to sustainable purchasing guidelines, and proactively participates in conservation and recycling efforts. It integrates waste minimization and recovery opportunities into its manufacturing processes. For example, Home Market Foods' food wastes are collected and repurposed for beneficial reuse as biofuel. Wastewater residuals and manufacturing by-products are sent to an anaerobic digestion facility for conversion into renewable energy.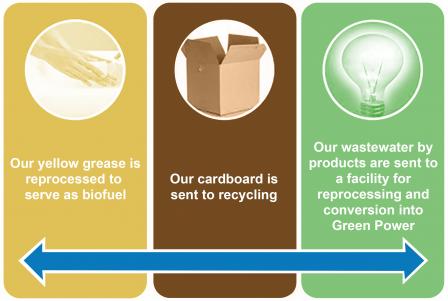 In 2018, Home Market Foods' accomplishments to reach its goal of zero waste to landfill resulted in the waste diversion rate rising from 61 percent in 2012 to 93 percent. In 2018, the food manufacturer diverted 14,472 tons of waste including 10,561 tons of food waste sent to anaerobic digestion and 1,336 tons of fats, oils and greases sold for reuse. The company recycled 1,349 tons of waxed and unwaxed cardboard and reused 1,044 tons of wooden pallets. Home Market Foods participates in community outreach by donating surplus edible food products and donated 150 tons of food to a local food bank. In addition to the environmental benefit of the waste diversion program, Home Market Foods realized $1,080,000 in economic benefit from recycling revenue and avoided disposal costs.
As a growing company, finding environmentally sustainable outlets to handle large volumes of waste is a challenge. Home Market Foods monitors advances in recycling capacity and looks for opportunities to improve waste diversion efforts by actively engaging with disposal contractors, environmental consultants, regulatory agencies, and policy makers to identify and promote innovative methods to increase waste diversion opportunities. Sustainability is a team effort and Home Market Foods' success would not have been possible without data analytics and strategic support from ESS Group, organic food waste recycling options from E.L. Harvey, Baker Commodities and other valued vendors from the waste disposal community. It is important to note that the Massachusetts Department of Environmental Protection's commercial food materials disposal ban served as a pivotal driver in creating markets for organic waste recycling.
---
City of Chesapeake Garage
Chesapeake, Virginia - Local Government Partner of the Year
The City of Chesapeake's Central Fleet Management Department has a goal to set the example for practicing environmental stewardship for the City of Chesapeake. The department has forty-one employees responsible for the life-cycle care of 1,500 vehicles and 1,200 off-road/construction pieces of equipment. Central Fleet also manages six fueling stations providing gasoline, diesel, propane, compressed natural gas, and E85 fuels for the fleet. Since 2005, the Fleet Management Department has documented and tracked data monthly on its recycling and reuse efforts. Data is captured for waste oil, antifreeze, used oil/fuel filters, tires, solvents, aerosol cans, scrapped metal, recycled paper, and cardboard.
In 2018, the garage recycled 113,800 pounds of paper/cardboard and 106,436 pounds of scrapped metal. As a result of its actions, the garage earned $8,034 on its recycling efforts and saved $7,158 in avoided city landfill tipping fees. After taking into account funds spent on recycling efforts, the garage saved a total of $9,239. Also in 2018, the Central Fleet Management Department placed additional emphasis and training on environmental stewardship. It reviewed the entire repair process for vehicles and analyzed the best ways to recycle waste lubricants; retread, sell, or dispose/recycle more old tires; and sell or recycle old used parts. Finally, as a result of the department's analysis and subsequent actions, the garage increased workforce participation in its environmental stewardship actions.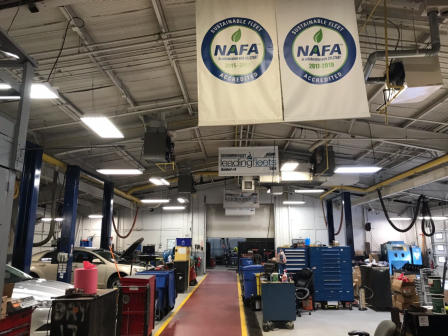 ---
Sand Creek Station Golf Course
Newton, Kansas - Local Government Honorable Mention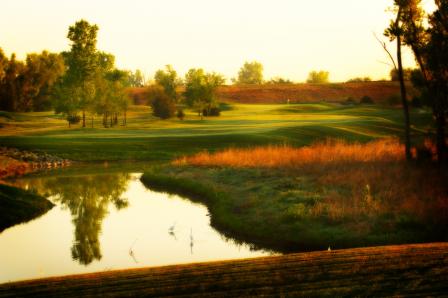 Sand Creek Station Golf Course has a waste management program involving recycling of aluminum, cardboard, glass, plastic, and paper, as well as reuse and composting. The City of Newton provides recycling bins for placement and pickup.
In 2018, Sand Creek diverted 4.5 tons of materials, including one ton of golf cart batteries sent back to the battery provider for reuse, .25 tons of recycled aluminum cans, .25 tons of donated aluminum cans, and three tons of grass composted on site. Only .5 tons of the golf course's waste went to a landfill.
A KemperSports property, Sand Creek joined the WasteWise program in 2009. KemperSports takes an active role in waste management. All properties are asked to recycle. Under KemperSports' program "Green to a Tee," all golf courses are required to disperse grass clippings over the courses rather than bagging. When asked about Sand Creek's decision to recycle, Chris Tuohey, KemperSports Regional Manager, said "The real question should be why not recycle? We have an overwhelming garbage crisis and by administering a mandatory recycling program we will help reduce unnecessary waste."
With more than 26,000 annual visitors, Sand Creek Station Golf Course promotes Sustainable Materials Management in a visible way. In April 2019, it hosted an Earth Day golf tournament. Mr. Tuohey says the golf course's biggest challenge is managing trash placed in recycle bins. To mitigate the problem, outside staff sifts through recycle bins and moves trash to trash bins. Sand Creek is setting a companywide example to all public golf courses to encourage higher recycling rates.
---
Chumash Casino Resort
Santa Ynez, California - Tribal Government Partner of the Year
 "As the original stewards of the Santa Ynez Valley, our tribe understands the importance of minimizing our impact on the environment by any means necessary. The casino's Facilities Department has taken our recycling efforts to another level, and it has required a lot of cooperation throughout our resort to get us where we are today." Kenneth Kahn, Tribal Chairman for the Santa Ynez Band of Chumash Indians.
Since winning the WasteWise Tribal Partner of the Year Award in 2015, the Chumash Casino Resort, owned and operated by the Santa Ynez Band of Chumash Indians, doubled down on its efforts to decrease its waste stream. It formed key community partnerships and sought out innovative recycling solutions. In 2018, the resort diverted more than 1,497 tons of materials, 90.94 percent of its overall waste stream, from local landfills in an effort to reach its zero-waste goal by 2019.
The resort's partnership with Veggie Rescue is key to its waste reduction success. Veggie Rescue is a non-profit organization that collects fresh fruits, vegetables, and prepared food from local farms, farmers markets, backyards, and businesses and delivers the food to non-profit recipient organizations and schools to feed community members in need. In 2018, Veggie Rescue accepted more than four tons – 8,478 pounds – of prepared food from the resort's buffet for use at a senior center in Buellton, California and the city's Meals on Wheels program.
Chumash Casino Resort also recycled 1.52 tons of styrofoam cups through Dart Container Corporation's CARE (Cups Are REcyclable) program. The resort collected the cups, compressed them, and sent them to Dart. Dart reprocesses Polystyrene (PE No. 6) into picture frames, crown molding and other products.
---
Central Michigan University
Mount Pleasant, Michigan - College/University Partner of the Year
"Having an opportunity to be involved in making CMU a more sustainable campus allows me to make an impact in ways I never thought I could." Paige Pokriefka, Sustainability Chair (Senior at CMU)
With more than 19,000 students, Central Michigan University's (CMU's) waste prevention and diversion efforts are a student-led priority. In 2010, university students began a food recovery project collecting kitchen waste. The kitchen waste, combined with yard waste, created the first campus compost pile. The resulting compost was given away for use in student gardens. After 10 years and with the help of Aramark and Morgan Composting, the program now composts over 330 tons of food scraps per year.
"Students on campus understand that taking the extra time to ensure that little to no waste ends up in landfills is something we had to prioritize on campus. There is still more to do!" Kalli Walz, Student Government (Senior at CMU)
The university buys back some of the finished compost to complete the cycle. The food recovery project is one of many student-led sustainability initiatives on campus. CMU students also work with campus facilities to collect styrofoam, plastic grocery bags, and pizza boxes. For example, students collect plastic stretch film and turn it into 250-pound bales. The bales are sold to Petoskey Plastics, and the resin is used to create trash can liners. The university purchases the liners, completing the cycle.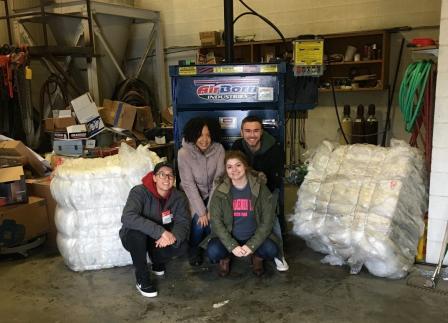 The university's sustainability program has grown significantly since its start in 2010. In 2018, CMU's waste prevention and recycling efforts saved the equivalent of 1,992 metric tons of carbon dioxide. This savings is equivalent to removing the emissions of 423 vehicles for one year, saving 224,600 gallons of gasoline or saving the electricity for 347 homes for one year.
The university is fortunate to have great partners in Aramark, a U.S. 2030 Food Loss and Waste Champion; Waste Management; Isabella County Municipal Recycling Facility; Petoskey Plastics; and Morgan Composting. None of these efforts would be possible however without CMU students. The university's sustainability programs represent the students' thoughts, desires, and actions.
---
Beth Israel Deaconess Medical Center
Boston, Massachusetts - Non-Profit Partner of the Year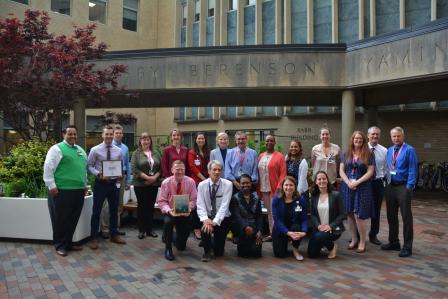 Click this image to view a larger version.Beth Israel Deaconess Medical Center (BIDMC) recognizes its responsibility to reduce its carbon footprint in the greater Boston area. To ensure a healthy future for patients, their families, and its staff, the center has had an environmental stewardship program in place for over 20 years. The program includes waste reduction, sustainable food purchasing, green commuting, energy and water conservation, and healthy buildings.
In 2018, Beth Israel had an extraordinary year in reducing its carbon footprint. It tracked and reduced 18 waste streams that resulted in diverting 3,610 tons from waste-to-energy incineration. The center hired a new sustainability program manager who has a clear understanding of the center's waste streams, allowing for more accurate measurements and further waste reductions. The center's Environmental Sustainability Committee has grown to include 22 representatives. In 2018, waste reduction programs across the medical center targeted excess packaging, disposable batteries, laboratory waste, office supplies, single-use medical devices, and operating room surgical trays, among other areas.
"At BIDMC, we regularly evaluate our sustainability practices to ensure that 'we do no harm' for the future of our patients and staff." Walter Armstrong, Senior Vice President of Capital Facilities and Engineering
"Increasing engagement and awareness of our sustainability programs is a key priority. By leveraging the support of our leadership, the Environmental Sustainability Committee and our employees, we can implement longstanding changes to reduce our carbon footprint." Avery Palardy, Sustainability Program Manager