G7 Alliance on Resource Efficiency: U.S.-hosted Workshop on the Use of Life Cycle Concepts in Supply Chain Management to Achieve Resource Efficiency
Date and Time
Tuesday 03/22/2016 12:30PM EDT

to

Wednesday 03/23/2016 9:15PM EDT
Add to Calendar
Details
Background
The leaders of the G7 nations held their annual Summit on June 7-8, 2015, in Germany. Shortly afterward, the G7 leaders released their final Summit Declaration and Annex. These documents established the G7 Alliance on Resource Efficiency to serve as a forum to share knowledge, create information networks across G7 countries, and encourage collaboration with large and small businesses and relevant stakeholders to advance resource efficiency, promote voluntary best practices, and foster innovation. The Summit Declaration's Annex proposed using a series of workshops to further these goals.
---
Purpose and Anticipated Outcomes of the U.S.-Hosted Workshop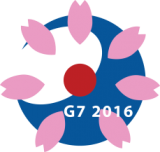 The planned U.S.-hosted invitation-only (non-public, closed press) workshop will provide a forum for sharing best practices and for exploring key issues that promote or prevent the use of life cycle concepts in sustainable supply chain management. It will use the auto sector as an example and include participation from other industry sectors. The key themes that emerge from the shared best practices and identified key issues will be captured in a findings report in a way that is transferable across sectors and countries. This will enable nations and industries to synthesize the results of the workshop and apply them to their own settings. It is hoped that the dialogue during the workshop and the findings report will help advance the resource efficiency work of participating organizations, provide insights for governments to enhance resource efficiency policies and programs, and lay the foundation for future collaboration.
---
Participation
Senior officials from the United States and other G7 countries will attend to engage with anticipated attendees. Seeking robust dialogue between and among the public and private sectors, the U.S. is inviting representatives from the following groups:
G7 member country governments
Auto manufacturers, suppliers, and trade associations in G7 countries
Companies involved in reuse, remanufacture and recycling related to the auto sector
Other sectors engaged in or seeking to be engaged in sustainable supply chain management
Non-G7 countries with strong ties to auto manufacturers or suppliers
Civil society groups and non-governmental organizations working to infuse sustainability and life cycle concepts into supply chains
Academic institutions conducting work related to sustainable supply chains and resource efficiency
---
Links