On this page:
---
Description:
Thursday, October 15, 2015 from 1:00pm - 2:30pm EST
There is no question, that plastics recycling is confusing, even for the most avid recycler.  But it doesn't have to be.
Join us for this webinar to learn best practices for communicating with your residents about plastics recycling and to discuss the best way to communicate about the commodities you collect with haulers and material recovery facilities.
Experts will explain why acceptable plastics for recycling are different from town to town. The terms used for plastic recycling are unclear and contradictory, which means consumers are often puzzled about which plastics to put in the recycling bin.
In this webinar, we will:
Discuss the need for a common set of terms for plastics recycling;
Take a tour of the Terms and Tools resource on RecycleYourPlastics.org, an interactive tool created to walk you through the new terms, provide royalty-free images, and help you create free educational flyers; and
Hear how a common set of descriptive terms can improve communication, increase participation, and improve quality of plastics collected.
Together, we can make plastics recycling less confusing and recycle more plastics.

Video: Does Plastics Recycling Need To Be So Confusing? Exit
---
Speakers:

Tonya Randell, Project Manager, Moore Recycling Associates - Tonya Randell joined Moore Recycling Associates, a consulting and management firm that specializes in plastic package recycling, in the summer of 2011. She currently works as a Project Manager for the Wrap Recycling Action Program, a public/private partnership to increase plastic bag and film recycling in the US; and the Plastics Recycling Terminology Project, created to improve plastics outreach, data collection, and communication between plastics buyers and sellers. She supports project logistics by combining attention to detail and efficiency.
Ms. Randell received a B.A. from Duke University in Environmental Science and Policy. She currently serves on the Board of the Carolina Recycling Association and lives in Chapel Hill, NC.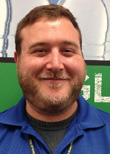 Alex Arnett, Waste Reduction Supervisor, City of Greensboro - Alex Arnett has been with the City of Greensboro's Field Operations Department for two years working to maximize the city's solid waste recycling and diversion. He supervises the city's recycling education and outreach, solid waste inspections and code enforcement, and new program development. Most recently Greensboro has unveiled its "Recycle First. It Matters" recycling campaign, which was designed and implemented after significant data gathering and analysis. Before working for the City of Greensboro, Mr. Arnett was a conservation educator at Walt Disney World's Animal Kingdom Park.
Mr. Arnett is a native of Greensboro, and has a bachelor's degree in Environmental Studies from the University of North Carolina at Wilmington.
---
Slides:
You may need a PDF reader to view some of the files on this page. See EPA's About PDF page to learn more.