On this page:
---
Description
Thursday, July 12, 2018 from 1:00-2:30 p.m. EDT
In this webinar, EPA announced a new resource in the fight against food loss and waste: the Excess Food Opportunities Map. This national, interactive map can help you save money, feed people, and keep food out of landfills. Version 1.0 of the map identified more than 500,000 potential generators of excess food (e.g. correctional facilities, educational institutions, healthcare facilities, hospitality industry, food manufacturers and processors, and food wholesalers and distributors) and estimated generation quantities, as well as over 4,000 potential recipients of excess food (e.g. anaerobic digestion and composting facilities, food banks).
The map can help users identify:
potential sources of food for rescue;
potential feedstocks for compost and anaerobic digestion;
potential infrastructure gaps for managing excess food; and
alternatives to sending food to landfill.
The map is intended to give users the tools to understand the potential magnitude of excess food in their communities, and help make connections between generators and recipients such that more food is diverted from landfills and put toward more beneficial uses.
This demonstration of Version 1.0 of the map and discussion of methodology was accompanied by a presentation about how this data can be used at the community level.

Video: Introducing the U.S. EPA Excess Food Opportunities Map Exit
---
Speakers
Melissa Pennington, Sustainability Coordinator, EPA Region 3  

Melissa Pennington spent the first 22 years of her EPA career as a project manager in the Superfund Division specializing in cleanup implementation and enforcement. This time was divided between Region 3 (Philadelphia) and Region 9 (San Francisco). In July 2011, she switched gears and dove into voluntary programs as a Sustainability Coordinator in the Office of Materials Management. Her overall focus is to build capacity for organics recycling in Region 3 and at the national level through collaboration with strategic partners. Most notably, Melissa assembled and leads the Core Anaerobic Digestion (AD) Technical Team. This team includes individuals from many different EPA offices and Regions with technical expertise in AD systems. The nature of this team demonstrates EPA's desire to break down silos and to develop consistent AD policy. Team projects include: a white paper on the basics of AD, an ongoing data collection project, and development of EPA's AD website.
Claudia Fabiano, Sustainable Management of Food Team, EPA Headquarters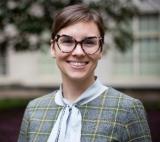 Claudia Fabiano joined the Environmental Protection Agency's Office of Resource Conservation and Recovery in 2016. In her role on the Sustainable Management of Food team, she leads EPA's food waste measurement methodology revisions and co-leads development of EPA's Excess Food Opportunities Map. She also works with Canada and Mexico on the Steering Committee for the Commission for Environmental Cooperation project, Measuring and Mitigating Food Loss and Waste, and leads EPA's Food: Too Good to Waste peer network. Prior to this, Claudia was a team leader in EPA's Office of Water working on water quality policy and regulations. Outside of her work at EPA, she is an active member of Washington DC's Food Recovery Working Group.
---
Slides
You may need a PDF reader to view some of the files on this page. See EPA's About PDF page to learn more.