On this page:
---
Description:
Thursday, November 17, 2016 at 1:00pm - 2:30pm EST
Marketing departments are largely to thank for the latest national study on recycling. For years, industry has substantiated claims of package recyclability with "access to recycling rates" – the percentage of consumers with a recycling program accepting the package. If the rate is high, then the package may be considered recyclable, and a number of studies have been produced to gather these important figures. The Sustainable Packaging Coalition (SPC), a broad industry working group led by the sustainability non-profit GreenBlue, has centralized industry efforts and released findings from a new study collectively funded by thirteen packaging trade associations and non-profit organizations.
The SPC Centralized Study on Availability of RecyclingExit went beyond its driver of "access to recycling rates" and gathered new information on the prevalence of residential recycling programs across the United States and the key characteristics of those programs. The study findings shed new light on the diversity of recycling collection programs and the prevalence of quality, convenient collection programs that are likely to be used. The top-level finding that 94 percent of Americans have a recycling program available to them is encouraging, but a deeper dive into the characteristics of those programs suggests all is not well.
During this webinar Adam Gendell, Associate Director of the Sustainable Packaging Coalition, gave an overview of the study findings and paint a new national portrait of the types of recycling programs made available to Americans and the types of packaging accepted by those programs. Kelly Cramer, Senior Manager of the Sustainable Packaging Coalition, gave an overview of How2Recycle, the Sustainable Packaging Coalition's labeling system for package recyclability. Learn how How2Recycle leverages the study findings and provides recyclability messaging to hundreds of packages from a number of leading brands.

Video:  Recycling Collection Programs - A Bigger Pinch Point Than We Thought Exit
---
Speakers:
Adam Gendell, - Associate Director, Sustainable Packaging Coalition -Adam is Associate Director of the Sustainable Packaging Coalition, the flagship project of the industry-facing sustainability non-profit GreenBlue. Adam's work with the packaging value chain touches on goal-setting, design considerations, and integrating life cycle thinking into packaging decisions. Adam has developed and delivered training seminars for hundreds of packaging professionals, and he oversees the Coalition's annual Fall conference SPC Advance. He is a frequent speaker and writer on packaging sustainability.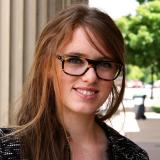 Kelly Cramer, -Senior Manager -Sustainable Packaging Coalition -Kelly is leading one of its fastest growing programs, How2Recycle. Ultimately, she wants to promote creative change in how people conceptualize their relationship to the earth — and is interested in using the art of strategy and information to effectuate that goal. Kelly holds a J.D. in Environmental Law from Lewis & Clark Law School in Portland, Oregon and an undergraduate degree in psychology and Spanish from the University of Tennessee. Previous experience includes a judicial clerkship for the State of Oregon's trial court in downtown Portland, as well as time spent at Earthrise Law Center, Northwest Environmental Defense Center, and San Diego Coastkeeper. Areas of interest include risk analysis, geopolitics, design, and systems thinking.
---
Slides:
You may need a PDF reader to view some of the files on this page. See EPA's About PDF page to learn more.