Engage the Public
The long-term success of a source water protection program requires the coordination and participation of the local community and support of key decision makers. It is important to involve stakeholders throughout the assessment and planning process. A collaborative planning process, where a broad spectrum of community members is invited to share concerns, contribute ideas and expertise, and define mutual goals, can help foster a sense of ownership in the program and commitment to carrying out the actions necessary to protect the source(s).
Form an Advisory Committee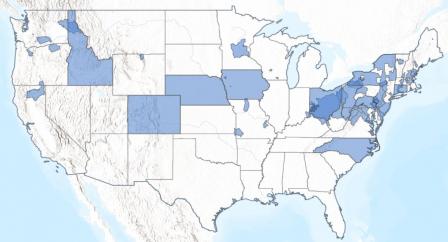 The national Source Water Collaborative publishes an interactive map with locations and descriptions of source water collaborative partnerships. Click the image to access the map. Many communities choose to form an advisory committee or planning team comprised of interested stakeholders to guide the assessment and planning process and steer implementation of the action plan. Advisory committees often include individuals and organizations with responsibility for water quality and land use planning at the local level and persons with expertise in water resources. Community organizations, conservation districts, business owners, planning board members, water utilities, and regulatory agencies can all provide expertise, resources, or local knowledge that contribute to the feasibility and effectiveness of a source water protection program.
Learn more about the roles and responsibilities of partnerships in source water protection.
Form a Collaborative
The formation of a collaborative association at the local, regional, or watershed level can provide a forum to engage a wide range of stakeholders and a vehicle for coordinating resources and action. Developing a strong local group of champions will help raise the profile of source water protection and can lead to greater investment and interest from key decision makers and partners.
The National Source Water Collaborative developed an extensive collaboration toolkit to help communities initiate or enhance partnerships to protect drinking water sources. This resource includes a map displaying locations of source water collaboratives across the U.S.  These locations can also be viewed in Drinking Water Mapping Application to Protect Source Waters (DWMAPS) and accessed via the DWMAPS Data Layers.
Build Awareness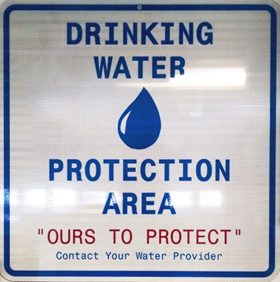 Road signs are a simple way to increase public awareness about the importance of source water protection and encourage good stewardship of the rivers, streams, lake sand aquifers that supply our drinking water.A well-informed and engaged public is critical to the success of a source water protection program. As more people become aware of the importance of protecting their drinking water source and what they can do to help, the more likely protection efforts are to succeed.
An initial step towards building awareness and support is to distribute a summary of the source water assessment report explaining the implications of the findings and what actions individuals can take to help protect the water supply. Utility Consumer Confidence Reports (CCRs) often include information from an assessment and about the utility's water source. Various tools are available for sharing source water information in compelling and widely accessible formats. For example, EPA worked with partners to publish the results of the 2016 Regional Source Water Assessment. The tool dynamically blends text, images, charts, and maps to tell the story of Source Water Protection in the Potomac River BasinExit, including Washington, DC.
Holding workshops or meetings to solicit input from community members is another effective approach for building public interest and organizing action. Check local community boards or the Source Water Collaborative's events calendar for workshops and meetings scheduled in your area.
________________________________
Learn about the actions that you can take to protect sources of drinking water.