Lean & Chemicals Toolkit: Chapter 1
Introduction
Learning to See Chemical Wastes
Chemicals play an important role in manufacturing and service products and processes across diverse sectors of the U.S. and world economy. Chemicals can also be a major source of environmental waste, risk, and impacts. Many chemicals have properties that can significantly affect human health, safety, and the environment. Chemicals can affect worker health through exposure in the workplace or customer health through exposure during product handling or use. Chemicals can also affect human health and ecosystem health through releases to air, water, or land during production activities or after products are discarded.

What is chemical waste? As considered in this toolkit, chemical waste is any unnecessary or excess use of a chemical substance that could harm human health or the environment when released to the air, water, or land. When thought about in a Lean context, chemical wastes include any aspects of chemical management and use that do not add value to meet customer needs. Chemical waste is a subset of "environmental waste" described in EPA's Lean and Environment Toolkit as an unnecessary or excess use of resources or a substance released to the air, water, or land that could harm human health or the environment. Specific types of chemical waste can include:
Use of more chemicals than necessary to add value
Use of chemicals with attributes that can harm human or ecosystem health or create safety risks
Chemicals that are purchased but never used and must be discarded
Chemical by-products and waste streams
While there may be some chemical waste savings on the coattails of more traditionally targeted wastes in Lean events, other types may go unnoticed. This toolkit examines key tools for helping organizations to see—and eliminate—chemical wastes.
Benefits of Addressing Chemicals with Lean
Lean provides powerful tools for delivering value to customers in a manner that minimizes waste, risk and adverse impacts from chemical

wastes. Explicit consideration of chemical waste and risks during Lean implementation can create significant value for an organization helping to deliver quality products and services that customers want, when they want them. Research sponsored by EPA and others shows that some chemical use and waste reduction benefits typically ride the coattails of Lean efforts, yet other opportunities to reduce wastes, risks, and non-value added activity associated with chemicals may be overlooked. There are three key benefits of addressing chemicals with Lean, as listed in Box 1 and further described below.

Considering chemical wastes, risks and impacts during Lean efforts can increase value, accelerate Lean implementation, decrease material costs, and reduce liability and the risk of compliance violations. Box 2 illustrates the types of compelling results that can be achieved when chemical wastes and risk are considered during Lean implementation.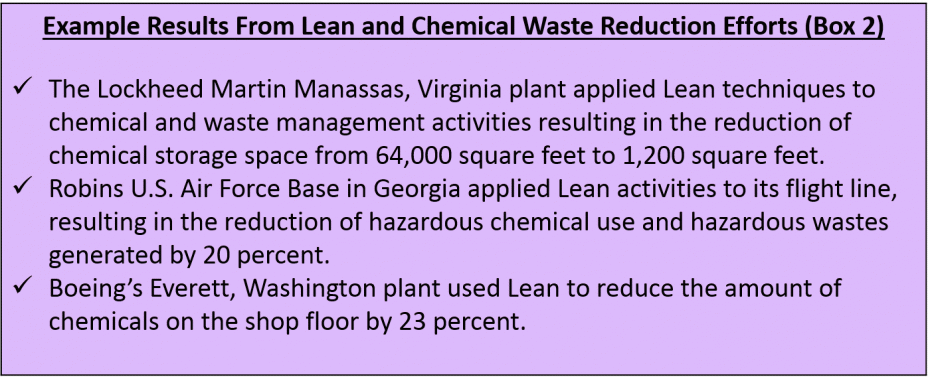 Learn to See Hidden Chemical Wastes and Hazards

Learning to see and eliminate waste is a cornerstone of Lean initiatives. Chemical wastes are often a sign of inefficient production, and they frequently indicate opportunities for saving costs and time. Lean's focus on eliminating non-value added activity is excellent at driving down the volume of chemical use and wastes, producing important competitiveness and environmental benefits. However, some aspects of chemical wastes—including health, safety and environmental risks posed by toxic chemicals—often go unaddressed (or under addressed) by Lean initiatives.
When grouped together, wastes associated with chemicals can result in huge costs to business. These costs include raw material and disposal costs, as well as costs for compliance management activities and pollution control processes and equipment. Learning to see environmental wastes during Lean efforts can open significant business improvement opportunities, further strengthen Lean results, and improve environmental performance.

Companies have found that as much as 40 percent of their chemical supplies were going unused and directly becoming hazardous waste as they expired on the shelf or became obsolete1. Furthermore, Lean tools such as 6S (5S + Safety), standard work, and visual controls can be used to ensure that chemicals and hazardous wastes are handled and disposed of properly. Using Lean principles to improve chemical and hazardous waste management processes can have big pay-offs for environmental performance and bottom-line results.
Several types of chemical waste costs are often hidden from view and buried in overhead or support cost centers. These "hidden" costs include:
Regulatory Compliance Requirements: Chemical use can require significant regulatory compliance, permitting, and reporting activity, depending on the amount and types of chemicals used. Chemical use and wastes can trigger diverse reporting requirements, such as those under the Emergency Planning and Community Right to Know Act (EPCRA) and Toxics Release Inventory (TRI). Chemical use can also drive the need to prepare Risk Management Plans under the Clean Air Act and Storm Water Pollution Prevention Plans under the Clean Water Act. Regulatory permitting, compliance and reporting activities can have direct costs related to fees, fines, consultants, and compliance management tools, as well as significant staff labor costs.
Costly Pollution Control Equipment: Chemical use can require costly hazardous waste management and pollution control equipment and processes. For example, the need for wastewater treatment facilities and air pollution control devices may be driven by a business' use of a small number of chemicals. Also, personal protective equipment may be required for workers; this can be costly and, in some cases, can hinder worker productivity.
Raw Material and Disposal Costs: Raw material and disposal costs associated with chemical use can be substantial. While direct use of chemicals in a process may be visible, potential future costs such as disposal of hazardous wastes, expired chemicals or off-specification chemicals in inventory may not be readily visible during a Lean event. Also, not readily visible, is the money saved by not having to purchase the quantity of materials.
Chemical substitution, process changes, and other strategies can reduce the need for such non-value added activities. For these reasons, learning to see and eliminate chemical wastes can greatly improve the time, quality, and cost results of Lean initiatives.
Enhance the Effectiveness of Lean Techniques
Explicit coordination of Lean and chemical waste reduction initiatives can lead to compelling organizational and environmental improvement results. For example, shifts to just-in-time production and "right-sized" chemical procurement can eliminate many of the spill prevention and regulatory compliance burdens of storing large amounts of chemicals on-site. Lean thinking can also be applied to various environmental processes, such as chemical and waste management.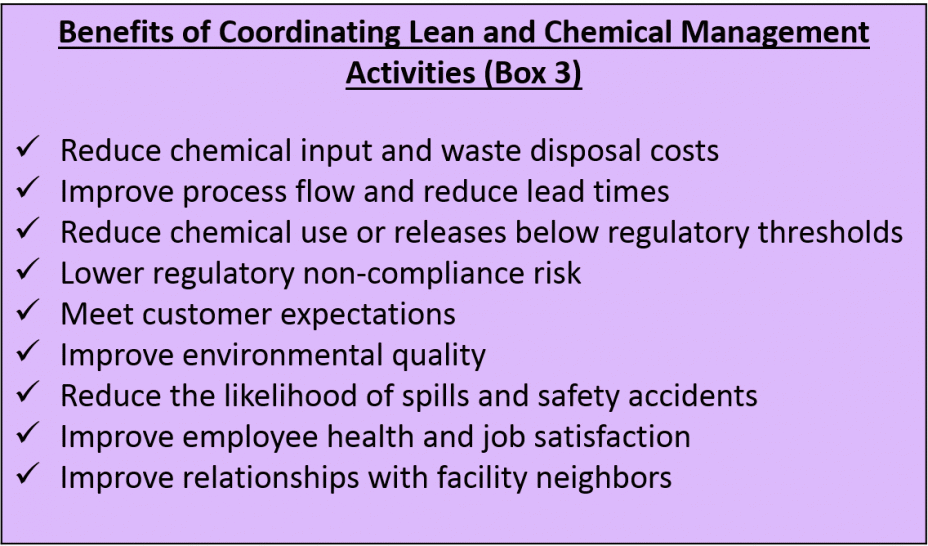 Proactive Lean and environment coordination can also anticipate and ease environmental constraints to leaning "monument" processes, thereby enabling large performance gains.

Monuments are production processes or process steps that are difficult to "Lean." Monuments often involve large equipment that can have environmental permitting, or regulatory constraints. These constraints are typically driven by the chemicals used in these processes—and can make these monuments difficult or costly to move. Monuments can complicate Lean efforts and significantly hinder performance improvement. Typical monuments include painting, parts cleaning, and metal finishing processes.
Shifting to smaller equipment that can be incorporated into manufacturing cells better supports Lean principles such as one-piece flow. This transformation, however, typically requires careful coordination to ensure that regulatory compliance, safety protection, and pollution control requirements driven by chemicals are anticipated and addressed. EHS personnel can help to identify environmentally friendly alternatives, and ensure that process changes can be made as quickly as possible.
Deliver What Customers and Employees Want
Most customers do not want to buy products that contain toxic chemicals. Public pressure to reduce the presence of toxic substances in products is increasing, enhanced by news reports of hazardous substances in products ranging from toys to toothpaste. Regulatory pressures in some U.S. States, and from the RoHS and REACH directives in the European Union, are increasing the scrutiny of industrial chemical use (see Box 4). At the same time, eco-labeling and certification programs provide incentives to reduce the use of toxic chemicals.

Companies that can deliver products and services with fewer chemicals have the potential to capture significant competitive advantage, provided that there are not significant sacrifices in time, quality, or cost. In many markets, products that are made with non-hazardous and non-toxic chemicals can attract new customers.

Explicit consideration of chemical waste in Lean initiatives can also improve the work environment for employees and address neighbors' concerns. Eliminating or reducing chemicals in the workplace can reduce worker exposure to toxic substances, decrease noxious odors and irritants that can affect productivity and job satisfaction, and create a cleaner and safer workplace. Efforts to reduce toxic chemicals in the workplace can pay big dividends with regard to employee morale and productivity, while fostering good relationships with facility neighbors.
Getting Started with Lean and Chemicals
There are many ways for an organization to get started with reducing chemical wastes to improve the health of employees, consumers, and the environment. Implementing Lean can also improve business results. While the possibilities can be overwhelming, the important thing is to get started, even if the effort is small. Here are some ideas for beginning a Lean and chemicals effort at your company.
Begin the Conversation
As a first step, Lean champions or operations managers should connect with facility EHS personnel to discuss opportunities to reduce chemical wastes with Lean. Even brief conversations can enable EHS personnel to bring valuable information and expertise to the table during Lean events, helping Lean teams to see chemical waste that may be hidden in overhead and facilities accounts.
EHS managers can quickly identify process areas and steps that have the greatest impact on chemical use, risk, and waste. By cross-walking this information with Lean event schedules, managers can prioritize opportunities for involving EHS personnel in value stream mapping and kaizen events.
Make Chemicals and their Costs Visible
Consider trying out some of the strategies and tools in this toolkit to make chemical waste more visible during Lean events. Start measuring chemical use and hazardous waste generation along with Lean metrics. Calculate the costs associated with chemical procurement, chemical handling and management, pollution control equipment, and compliance and reporting activities from using chemicals, and map these costs to specific value streams, product lines, or processes. The data does not need to be precise to be useful. Even order of magnitude estimates can help pinpoint areas to look for chemical waste during Lean initiatives.
Piggyback on Lean Visual Management Efforts
Look for opportunities to incorporate chemical management and waste reduction opportunities into Lean visual management efforts. Here are a few quick hints:
Identify places where proper chemical handling, management, and disposal practices can be incorporated into Lean standard work procedures. Too often, environmental management procedures are separate from standard work procedures and are not readily available where the work is done.
Use clear, easy-to-understand floor markings and placards to identify chemical point-of-use storage stations and containers for collecting hazardous and non-hazardous wastes. Make it easy for shop floor workers to know what they need to do.
Add items to 6S (5S + Safety) workspace audit checklists to make sure that workers routinely check to ensure that chemicals are properly labeled, stored, used, and disposed.
While these represent a few simple steps to get started with Lean and chemical waste-reduction efforts at your organization, there are multiple ways to be successful. The next chapter provides background information about chemicals, while Chapters 3–6 of this toolkit outline opportunities to reduce chemical wastes using Lean principles and methods. Feel free to choose which of these strategies and tools to start with depending on what is best for your organization.
To Consider
Are chemicals responsible for major costs, wastes, or risk in your organization? If you don't know, how would you find out?
How has Lean affected your organization's use of chemicals?
How could your company benefit from efforts to reduce chemical use or wastes using Lean? (Think about time and cost savings, reduced risks and liabilities, added value to customers, etc.)
What ideas do you have for reducing chemical wastes using Lean methods?
---
Footnotes
1 U.S. EPA, "Lean Manufacturing and the Environment: Lean Manufacturing and the Environment: Research on Advanced Manufacturing Systems and the Environment and Recommendations for Leveraging Better Environmental Performance," October 2003, p. 25.
---
Toolkit Navigation