Lean & Chemicals Toolkit: Chapter 4
Chemical Management in the Lean Organization
Lean Strategies and Chemical Use
Classic Lean manufacturing strategies typically involve the conversion from batch-and-queue production with large material inventories to right-sized manufacturing cells with one-piece flow and just-in-time material delivery. This fundamental reconfiguration of production activities has major consequences—and improvement opportunities—for chemical use and management.
In this context, four Lean strategies can be used to dramatically reduce chemical use, waste, and risk while supporting core Lean goals. These include cellular manufacturing and right-sized equipment, just-in-time delivery, right-sized containers and kitting, and point-of-use storage.
Cellular Manufacturing and Right-Sized Equipment

Cellular manufacturing refers to the arrangement of production work stations and equipment in a sequence that supports a smooth flow of materials and components through the production process with minimal transport or delay. Rather than processing multiple parts before sending them on to the next machine or process step (as is the case in batch-and-queue, or large-lot production), cellular manufacturing aims to move products through the manufacturing process one-piece at a time, at a rate determined by customers' needs.

To make the cellular production work, an organization must often replace large, high volume production machines with small, flexible, right-sized equipment and machines to fit well in the cell. Using this approach, production capacity can be incrementally increased or decreased by adding or removing production cells.

The conversion to cellular manufacturing and right-sized equipment can dramatically reduce the amount of chemicals used in a production process. First, one-piece flow of products through the process minimizes overproduction and enables workers to catch defects quickly, limiting chemical use to amounts needed to meet customer needs.
Second, right-sized equipment typically requires only a fraction of the chemical inputs of conventional equipment. Conventional manufacturing equipment is often over-sized to accommodate the maximum anticipated demand. Since purchasing a new large piece of equipment is often costly and time-consuming, engineers often design in additional buffer capacity to be sure that the equipment does not bottleneck production. Conventional, oversized equipment can lead a company to use significantly more chemicals than needed to get the job done. For example, a facility with one large, 1000-gallon part cleaning and degreasing tank may only wash a few small parts in each batch. A shift to much smaller, 10-gallon, right-sized parts cleaning tanks may be all that is needed to get the actual work done, saving hundreds of gallons of chemicals.
Just-in-Time Delivery

Just-in-time (JIT) delivery refers to an inventory strategy implemented to reduce in-process inventory and its associated carrying costs by coordinating material deliveries to better align with process consumption. Applying JIT to chemical management typically means that fewer chemicals are stored on-site, and that chemical suppliers deliver chemicals more frequently in smaller batches. In a JIT

system, the need for a delivery is typically signaled by actual use of a material. The signaling system, called kanban in Japanese, can involve electronic messages, note cards, or reusable containers that tell suppliers more materials are needed. In practice, some buffer inventories may be kept to insulate against spikes in demand or to ensure adequate supplies of difficult to procure materials.

JIT creates opportunities for reducing chemical risk and wastes. Small chemical inventories can significantly reduce the volume of chemicals that must be stored on-site. This has several advantages:
Lower likelihood of a large chemical spill or accident
Reduced need to purchase and maintain chemical storage tanks
Reduced space needed for storing chemical inventories
Reduced need for chemical spill prevention equipment and measures
Elimination of certain regulatory, permitting, and reporting requirements, including the need to develop and implement Risk Management Plans required by Section 112(r) of the Clean Air Act (see example in Box 12)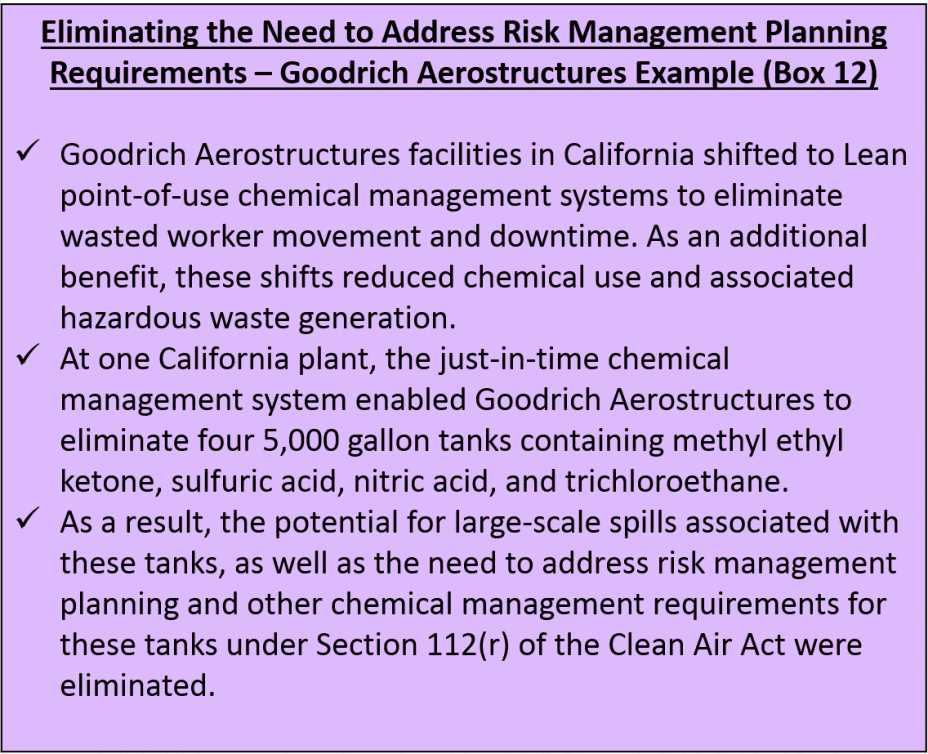 Small chemical inventories can also reduce the amount of chemicals that enter a facility's hazardous waste stream without ever being used. It is easier for chemicals in large on-site inventories to expire, go out of specification (become obsolete), or be contaminated before use. This poses a significant cost burden, as an organization pays to purchase, store, and dispose of chemicals without deriving any value from them. Some organizations have found that prior to moving to JIT chemical deliveries, as much as 40 percent of their chemical inventories were being sent to their hazardous waste stream without ever being used1.
While moving to JIT chemical deliveries can increase the per-unit cost of chemical purchases, many organizations find that the total system cost advantages are significant, driven by the benefits discussed above.
Right-Sized Containers and Kitting

Right-sized containers offer an important Lean chemical management strategy. Right-sized containers are typically associated with "unit of use ordering," which involves purchasing chemicals in quantities and packaging that makes it easy to use them in a manufacturing cell or Lean workspace. Right-sized containers can also limit the amount of a chemical that may expire or become unusable due to contamination or spoilage. Right-sized containers, which are often reusable, can be used to limit the need to transfer materials from larger cribs or containers into smaller ones, reducing potential for spills. A potential environmental tradeoff with right-sized containers, however, is that there can be additional packaging waste. In some cases, it may be useful to consider purchasing chemicals in bulk to eliminate excessive packaging, especially if the packaging is considered hazardous wastes, or to look for alternative solutions to eliminate the wastes.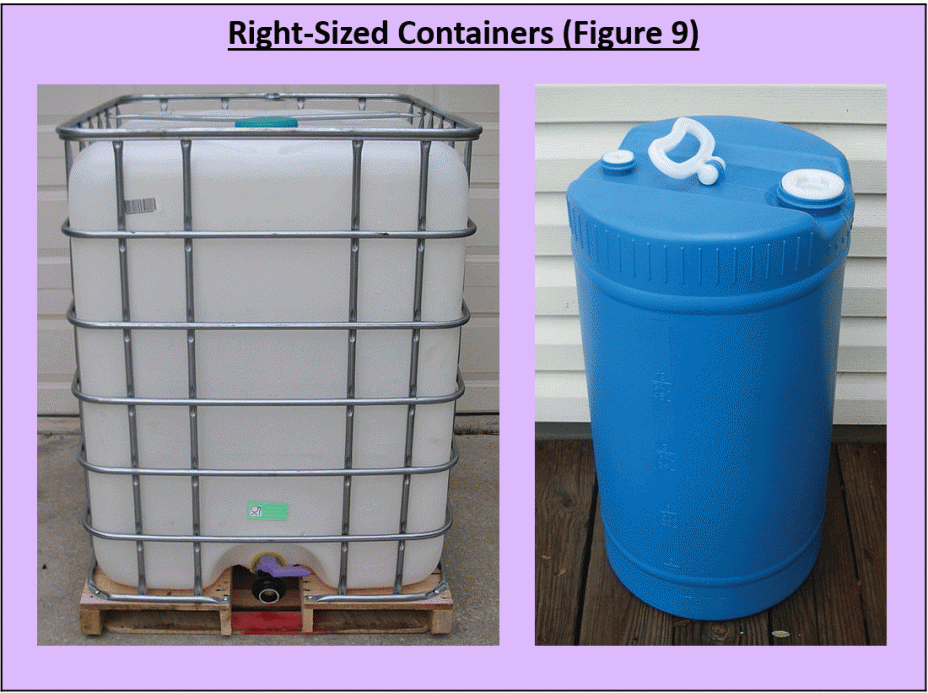 Kitting

is a technique that involves the gathering of all the parts and materials needed for a particular manufacturing or assembly process step and issuing the kit to the manufacturing line at the right time and in the right quantity. Kitting is sometimes viewed as a waste in the Lean context, as it may require excessive material handling that could be better accomplished through the use of kanban

and point-of-use storage (see below). Kitting can be particularly useful, however, in right-sizing chemicals needed in a production process, particularly when right-sized containers are not available. Kitting can prevent the excess use or over-mixing of chemicals by only providing chemicals in the amount needed to do the job. For example, kitting of chemical adhesives can improve the consistency of the amount and quality of adhesives used, while eliminating the need to dispose extra adhesives as hazardous waste.
Point-of-Use Storage

Point-of-use storage (POUS) refers to the storage of small amounts of inventory in right-sized containers at the point in a manufacturing process where the materials are used—such as in or near a manufacturing cell. POUS typically involves a shift away from large, centralized stockrooms. POUS stations and cabinets are particularly useful for getting smaller parts and smaller volumes

of chemicals and materials to the point of use. In some Lean organizations, material handlers known as water spiders travel around a facility to keep POUS stations and cabinets stocked sufficiently to meet short-term production needs. Other organizations opt to have vendors or suppliers directly stock POUS stations throughout a manufacturing facility on a routine basis.
POUS systems dramatically reduce the time and walking distance employees must devote to obtaining chemicals and materials needed for

their work. POUS systems can also substantially reduce overall material handling and support costs at a facility. POUS systems support efforts to reduce chemical use and wastes by supporting JIT chemical delivery strategies. POUS stations and cabinets provide a mechanism for efficiently getting right-sized containers and kits to where they are needed, reducing both the amount of chemical used and the amount of chemicals entering hazardous waste streams.

If not implemented properly, POUS systems can lead to potential regulatory issues or create unnecessary hazards to worker health and safety. See Chapter 5, Managing Chemicals in Lean Workspaces, for best practices for POUS systems as well as additional information on the set up, organization, and visual management of POUS stations.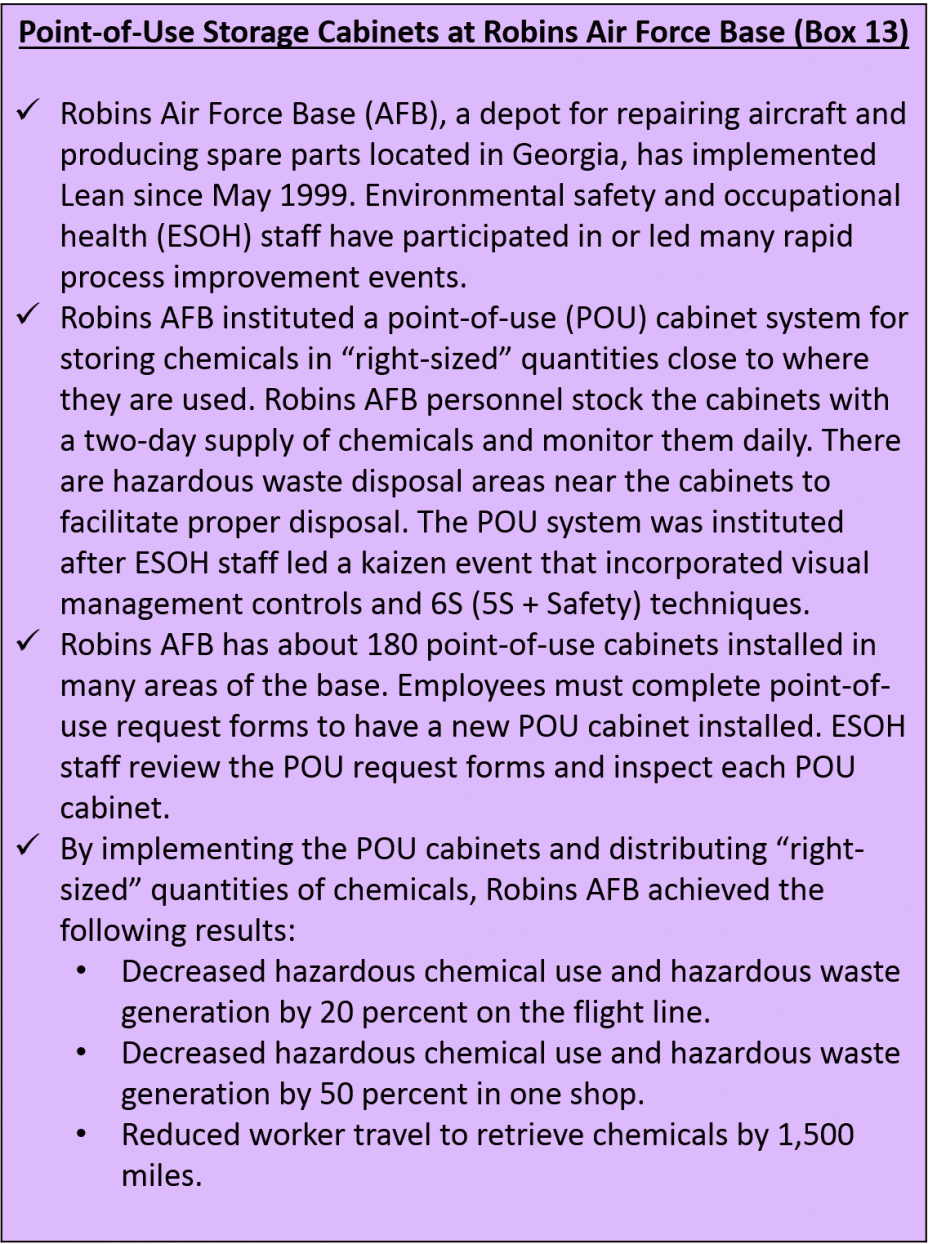 Lean Approaches to Chemical and Hazardous Waste Management
Lean thinking and methods can also transform how an organization approaches chemical and hazardous waste management. First, some companies have turned to their supply chain or external partners for strategic chemical and waste management services. By "servicizing" chemical procurement, some Lean companies have increased focus and incentives for eliminating the non-value-added aspects of chemical use. Second, some companies have used Lean methods, such as value stream mapping and kaizen events, to directly improve chemical and waste management work processes.
Chemical Management Services

Chemical management services (CMS) is a business model in which a customer purchases a chemical service, rather than a chemical product. Chemical management service contractors support an entire system for managing chemicals and chemical wastes. For example, if a company needs a chemical to remove paint, it can contact a chemical management service provider who will not only provide a chemical to remove paint but they will also deliver it, track inventory and MSDS information, implement process efficiency improvements, collect data for environmental reporting, and recycle or dispose of chemicals. Chemical management services can encompass all areas of the chemical lifecycle from manufacturing to disposal and recycling (See Figure 3, Chemical Lifecycle). By applying a chemical management service approach, a company can reduce the costs and risks associated with those chemicals.

Cost reduction is usually a key reason for applying CMS. According to research conducted by the Chemical Services Partnership, the cost of traditional chemical management can range from $1 to $3 for every dollar of chemical purchased2. For example, if a facility spends $1 million to purchase chemicals, it will have to spend an additional $1 million to $3 million to manage those chemicals. These high costs can be attributed to activities associated with chemical use, such as compliance, safety, disposal, and floor space. By applying CMS, a manufacturer can bundle all of its chemical needs into one service, which ultimately helps the manufacturer use chemicals more effectively and efficiently. CMS providers accomplish this by providing a company with the most appropriate quantities of chemicals. In addition, a CMS system has numerous other benefits including reducing emissions, wastes, accidents, and liabilities (see Box 14 for more CMS benefits).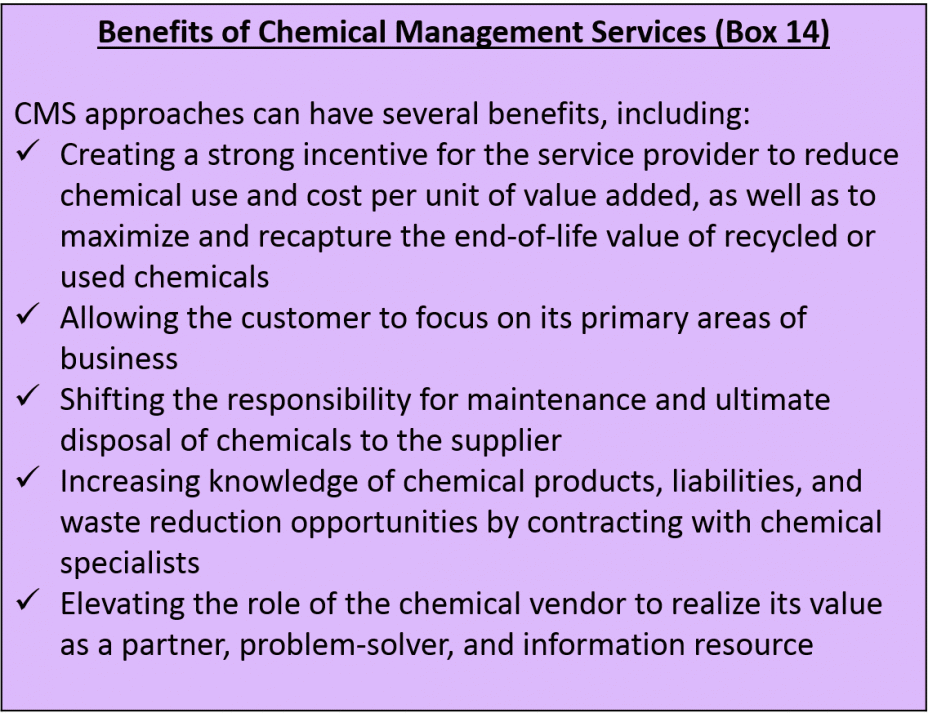 Applying Lean Methods to Chemical and Waste Management
Some companies have focused Lean value stream mapping and kaizen events specifically on chemical and hazardous waste management support processes. Lean events can be used to streamline and improve a variety of EHS support functions that relate to chemicals and hazardous waste, including:
Chemical selection and procurement processes
Chemical handling and inventory management
Management of Material Safety Data Sheets
Chemical handling and hazardous waste training activities and tracking
Hazardous waste labeling, manifesting, and recordkeeping procedures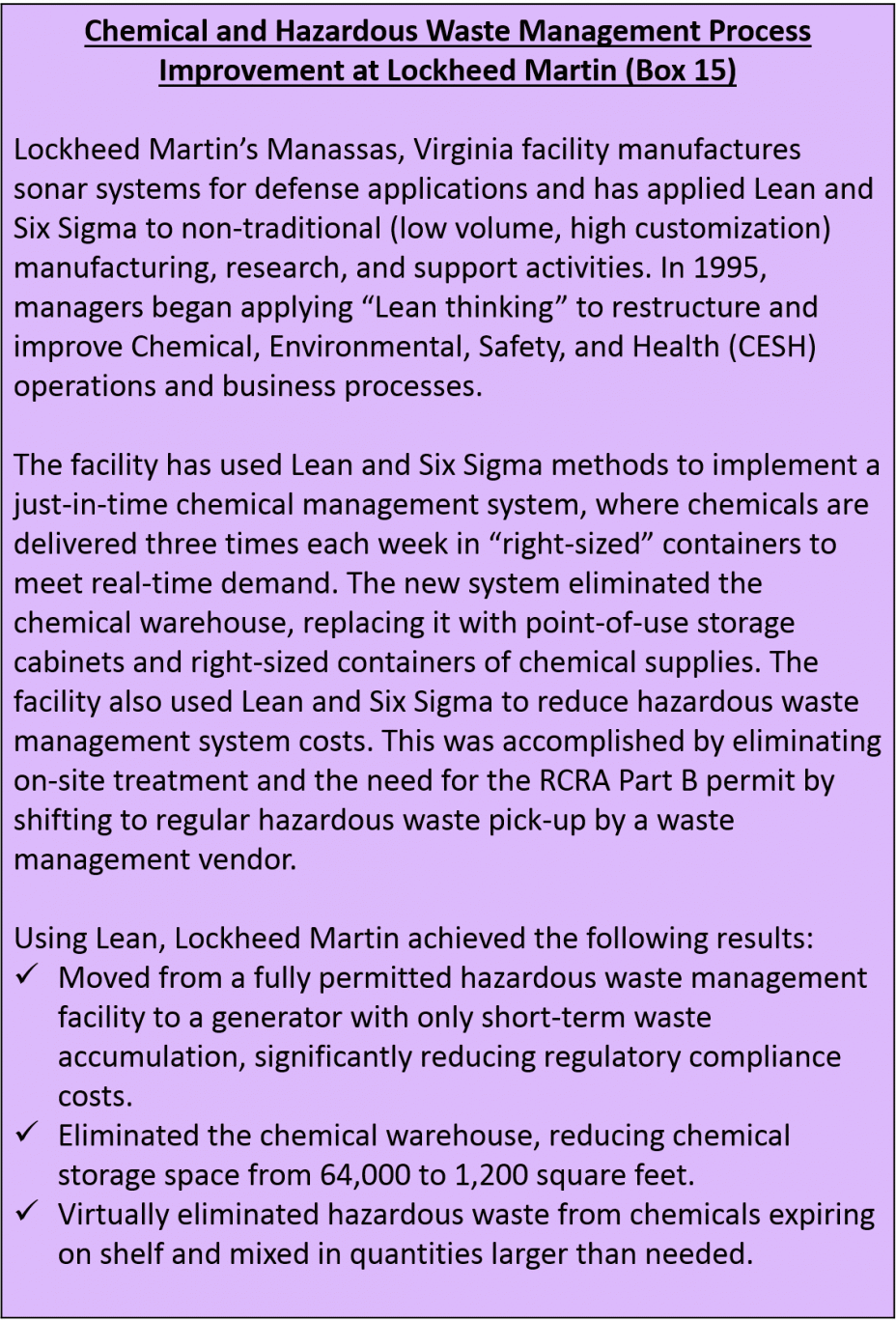 Lean events can drive waste and inefficiencies out of chemical and hazardous waste management support processes, as illustrated in Box 15. Other Lean tools, such as Total Productive Maintenance (TPM), standard work, and visual controls, can ensure efficient and safe management of chemicals and waste on an on-going basis. These Lean tools are explored in Chapter 5.
To Consider
What Lean strategies and methods are being used in your company? Is your facility shifting to manufacturing cells, right-sized equipment, and just-in-time delivery of inputs?
How has implementation of these Lean strategies affected the total amount of chemicals used at your facility?
Would using just-in-time delivery, right-sized containers, and/or kits improve how you manage and use chemicals at your facility?
What chemical and hazardous waste management processes could be targeted with Lean events at your facility?
---
Footnotes
1 U.S. EPA, "Lean Manufacturing and the Environment," October 2003, p. 25.
2Chemical Services Partnership, "What is CMS?"
---
Toolkit Navigation
Chapter 4: Chemical Management in the Lean Organization