Lean & Environment Toolkit: Chapter 4
Kaizen Events
Introduction to Kaizen Events
This chapter looks at one of the main vehicles for change in Lean, kaizen or rapid process improvement events, and discusses how to find environmental improvement opportunities, mitigate regulatory constraints, and implement new waste-reduction tools through kaizen events on processes in the value stream.
Definition of Kaizen

Kaizen means continual improvement in Japanese. Kaizen events—also known as rapid process improvement events—are a team activity designed to eliminate waste and make rapid changes in the workplace. They are a primary means of implementing other Lean methods, ranging from 6S (5S+Safety) to cellular manufacturing. See Appendix A for more information about kaizen events.
What This Chapter Will Help You Do
The rapid and fundamental process changes that occur during kaizen events create powerful windows of opportunity to reduce material wastes and pollution, but they also can result in regulatory compliance violations and/or cause health and safety hazards for workers if they are not properly managed. This is especially the case for the 10 Common Manufacturing Processes with Environmental Opportunities in Chapter 3.
This chapter presents strategies and tools to help accomplish two objectives:
Develop a change management system for kaizen events to prevent regulatory compliance issues and maximize waste-reduction benefits; and
Find opportunities to enhance Lean results and environmental outcomes by asking key questions and deploying new process-improvement tools.
How to Establish a Lean and Environment Change Management System
Overview of Process Steps

In addition to involving EHS staff in value stream mapping teams (see Chapter 3), there are four steps your company could take to make sure that process changes from kaizen events do not cause unwanted EHS impacts:
Train Lean team leaders to recognize EHS impacts.
Identify an EHS contact for kaizen event teams.
Use an EHS Checklist for Lean events to identify EHS needs.
Proactively involve EHS staff in Lean events.
Step 1: Train Lean Team Leaders to Recognize EHS Impacts

While a key strategy for effective Lean and environment integration is to involve EHS staff in planning for and conducting Lean events on

processes with environmental opportunities, it is useful for all staff to recognize what process changes can trigger EHS impacts. Simple training can go a long way to help kaizen event team leaders and team members identify issues and operational changes that may require additional EHS expertise. As described in more detail in Chapter 2, consider adding slides to Lean training presentations about how to identify environmental wastes and issues during Lean activities.

Use the list of Common Operational Changes That Trigger EHS Involvement below as a guide for when to seek additional EHS expertise for Lean events.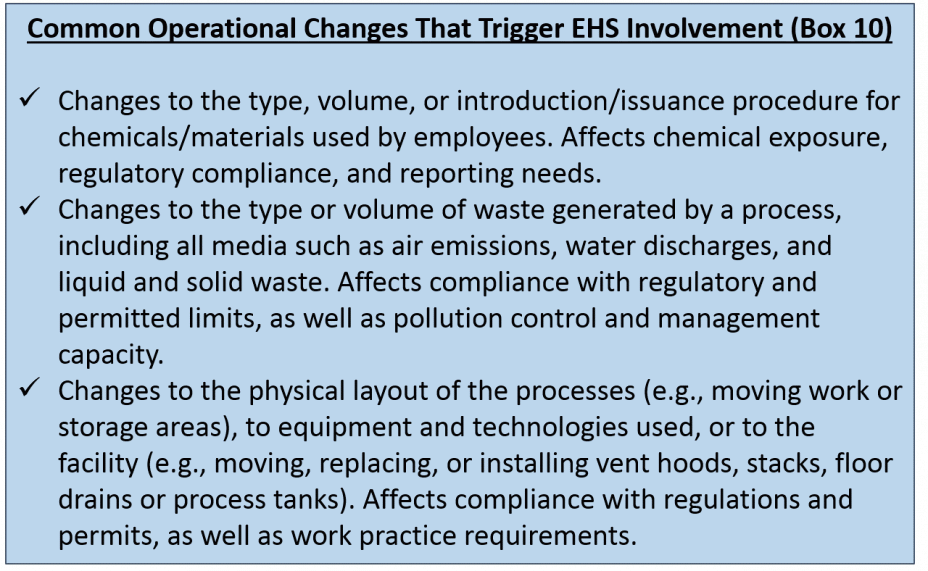 If not properly conducted, these types of operational changes could harm the health and safety of workers, or cause violations of EHS regulations. For example, moving hazardous waste collection areas from central locations to work cells could affect compliance with the Resource Conservation and Recovery Act. Similarly, replacing existing, permitted air pollution control equipment with right-sized equipment would require permit modifications under the Clean Air Act.
Step 2: Identify an EHS Contact for Kaizen Event Teams
Lean managers and kaizen team leaders need to know who to contact with EHS questions and needs. Since EHS specialists cannot participate in all Lean events, it can be helpful to assign a general EHS contact to address unexpected issues and concerns that arise during kaizen events.
Your company may wish to have a single EHS contact for all events, or assign EHS staff to specific production areas. Here are a few things to keep in mind when identifying an EHS contact.
Keep it simple. Have a single point of contact for the event.
Provide EHS contact information. Give kaizen event team leaders information on how to reach the EHS contact.
Assign EHS contacts who can be highly responsive. Even a one-day delay in response to a question or issue can disrupt progress in an event.
Step 3: Use an EHS Checklist for Lean Events to Identify EHS Needs

An EHS checklist for Lean events is a simple tool you can use to identify operational changes planned during a kaizen event that may cause an EHS impact. Checklists are particularly useful when there is no team member with EHS expertise involved in an event. They also reinforce training information.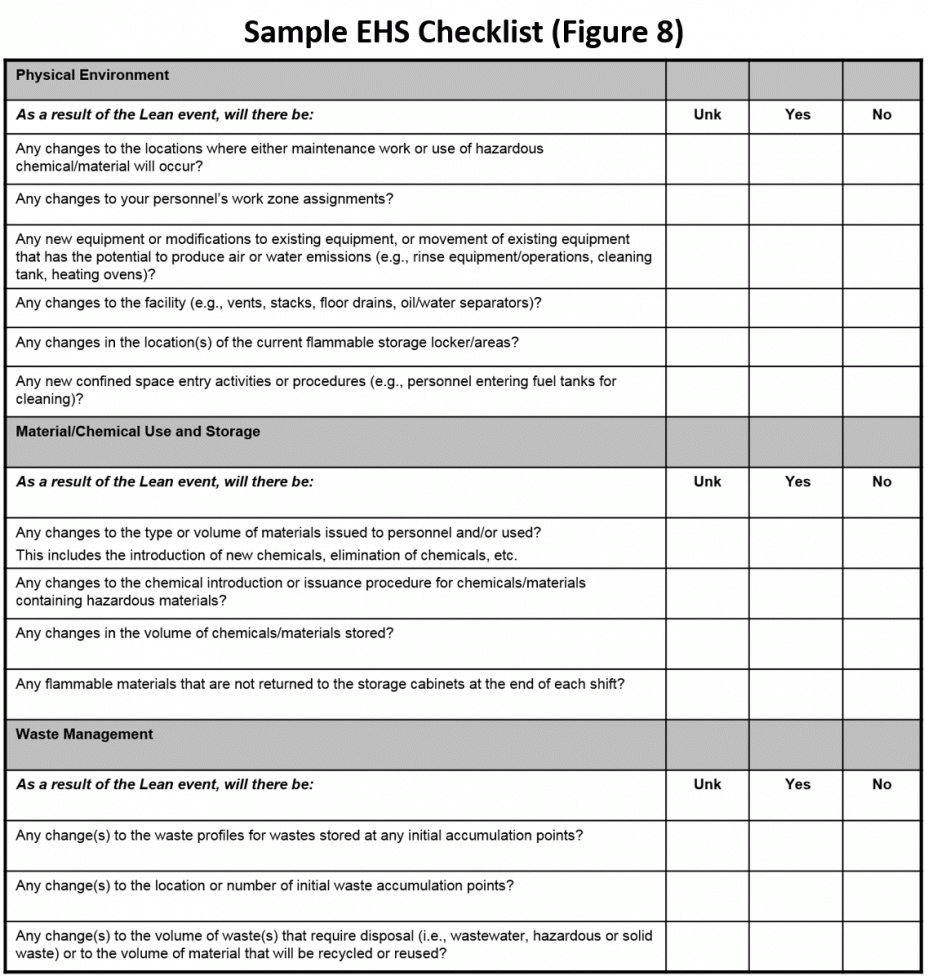 Appendix C has more information on EHS Checklists. If your company has other checklists or forms used during Lean events, you could add EHS-related information to them. You may also want to include questions that prompt team members to look specifically for environmental improvement opportunities.
Step 4: Proactively Involve EHS Staff in Kaizen Events
In Chapter 3, you learned how to identify processes with environmental opportunities on value stream maps and that you should involve EHS

staff in Lean events on those processes. The Lean Event EHS Checklist can also serve as a trigger for EHS involvement. Kaizen event teams should consult the EHS contact immediately during an event if any EHS involvement flags are triggered when completing the checklist. Failure to involve EHS staff can result in risks due to unsafe work conditions or non-compliance with regulations.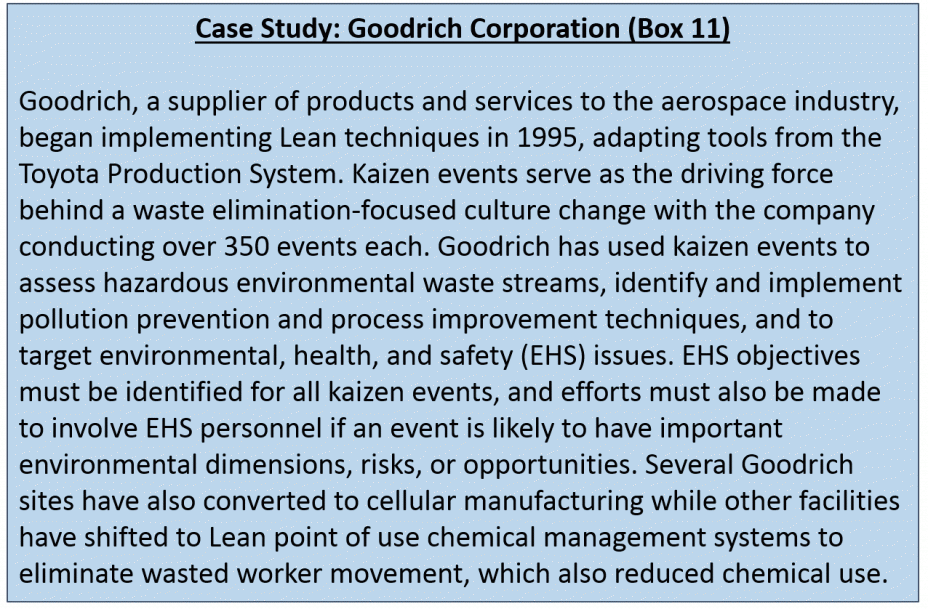 While involvement of EHS staff can sometimes result in the identification of constraints to making certain operational changes, their participation can also expand the solution set. In some cases, EHS staff may even be able to work with regulatory agencies to tailor permit requirements and compliance strategies to accommodate your plant's Lean operating environment. Check with your state agencies for more information on flexible air permits.
To Consider
What EHS issues and questions have arisen during kaizen events in your organization? Which ones have recurred?
Identify at least three ways to improve coordination between Lean and EHS personnel regarding kaizen events.
How to Identify and Find Solutions for Lean and Environment Opportunities in Kaizen Events
While the previous chapter described how to identify processes with EHS opportunities in value stream maps, this chapter presents several tools and resources for finding Lean and environment opportunities within specific processes targeted for kaizen implementation. These resources include:
Questions to Identify Lean-Environment Opportunities;
Hierarchical Process Mapping to Drill Down from Value Stream Maps; and
Process-Specific Pollution Prevention Resources.
These kaizen implementation resources can help Lean teams discover ways to improve environmental and operational performance. They are particularly useful when planning for kaizen events and during initial brainstorming activities.
1. Questions to Identify Lean-Environment Opportunities

Asking the right questions when preparing for and conducting a kaizen event can uncover hidden waste reduction opportunities, such as chemicals that could harm human health and the environment, water and energy utilities, and compliance support infrastructure and costs that may be buried in facility overhead.

The Key Questions for Identifying Lean-Environment Opportunities listed below can assist your kaizen team to explicitly identify and consider opportunities to boost environmental performance while also enhancing operational performance.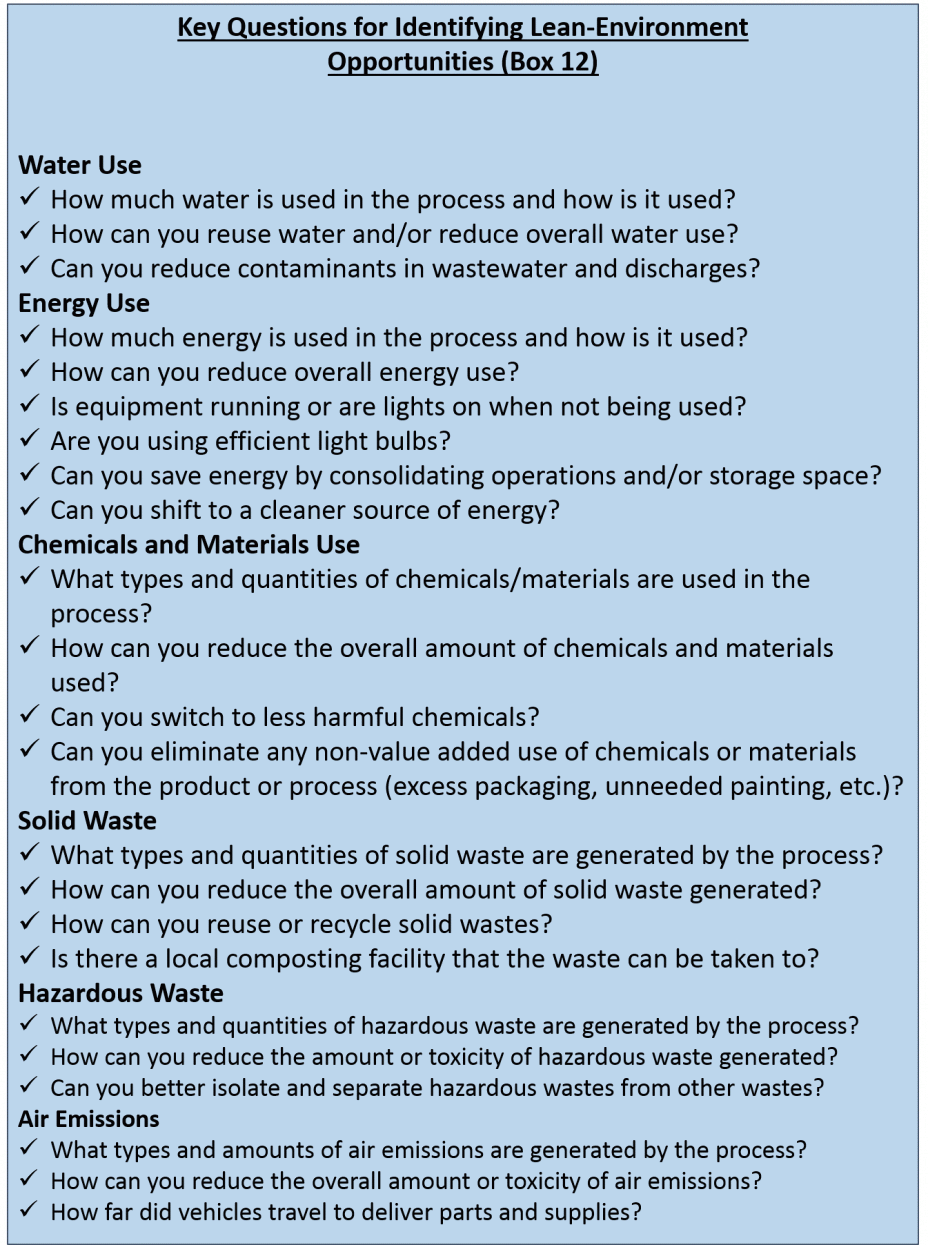 2. Hierarchical Process Mapping to Drill Down from Value Stream Maps
The value stream mapping tools described in Chapter 3 can help identify which processes generate large amounts of environmental wastes. Sometimes, however, it is useful to drill down further to identify the specific sources of waste within a single process. This detailed information can be particularly useful when preparing for or conducting a kaizen improvement event. Hierarchical process mapping is one tool to conduct this more detailed analysis and thereby uncover new waste-reduction opportunities.

Hierarchical process mapping is a tool that creates a workflow diagram to bring forth a clearer understanding of steps within a specific process1. For example, a plating process might involve several individual operations. A hierarchical process map presents process steps in tiers—it presents a high-level map of up to six process steps, and then maps the specific steps that lie within each high-level step, and so on with tiers of increasing detail. The figure below shows how hierarchical process mapping can be used to drill down within a process in a value stream.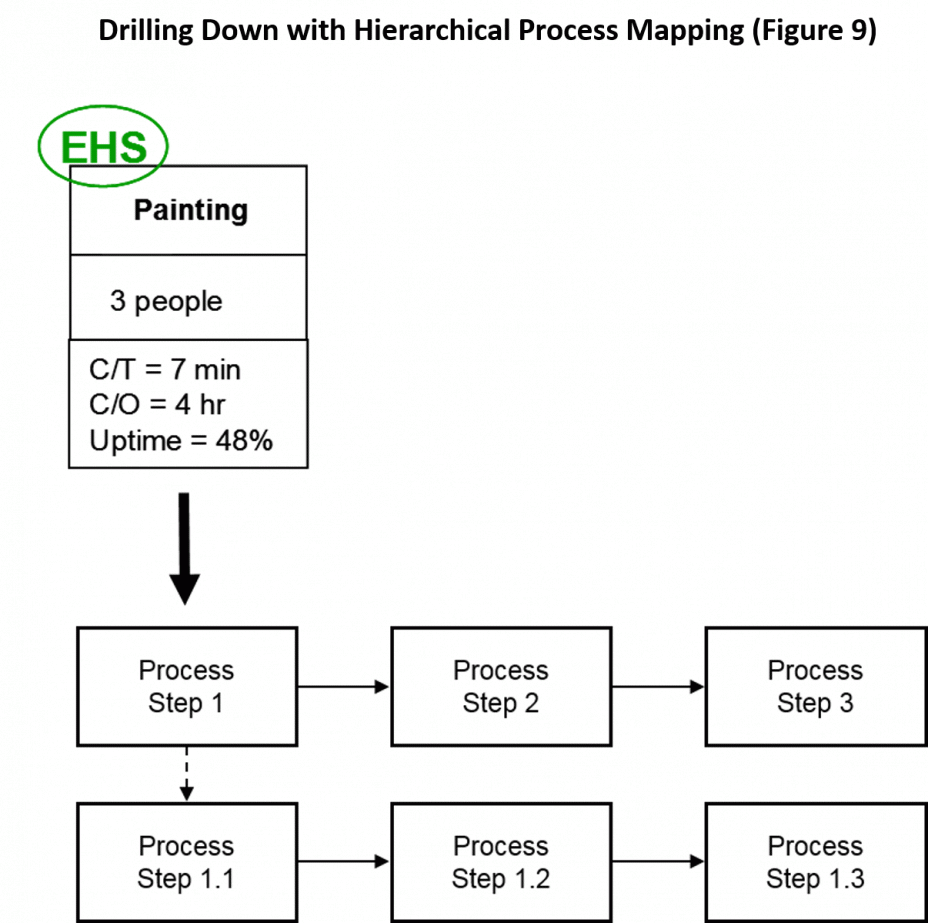 There are six main steps associated with process mapping:
Select the target process and determine map perspective and boundaries.
Collect information.
Draw the top-level map, and then draw more levels as needed.
Verify the map of process steps with employees and revise as needed.
Develop process step description and accounting sheets for process steps at the lowest level of the map.
Feed hierarchical process mapping information into improvement events.
At the lowest level of the hierarchical process maps, it can be useful to collect information on:
Resource inputs and non-product outputs such as pollution and scrap for each process step;
Resource and cost accounting data; and
Regulatory issues and requirements.

Process mapping captures this information in Process Step Description and Accounting Sheets, as in the template and example below.
Your Lean implementation team can use process mapping sheets based on this template to collect data about one or more processes in a value stream, find the root causes of environmental wastes, and understand the full costs and requirements associated with these wastes. With that information, you can target kaizen events on the specific process steps that are the largest sources of waste.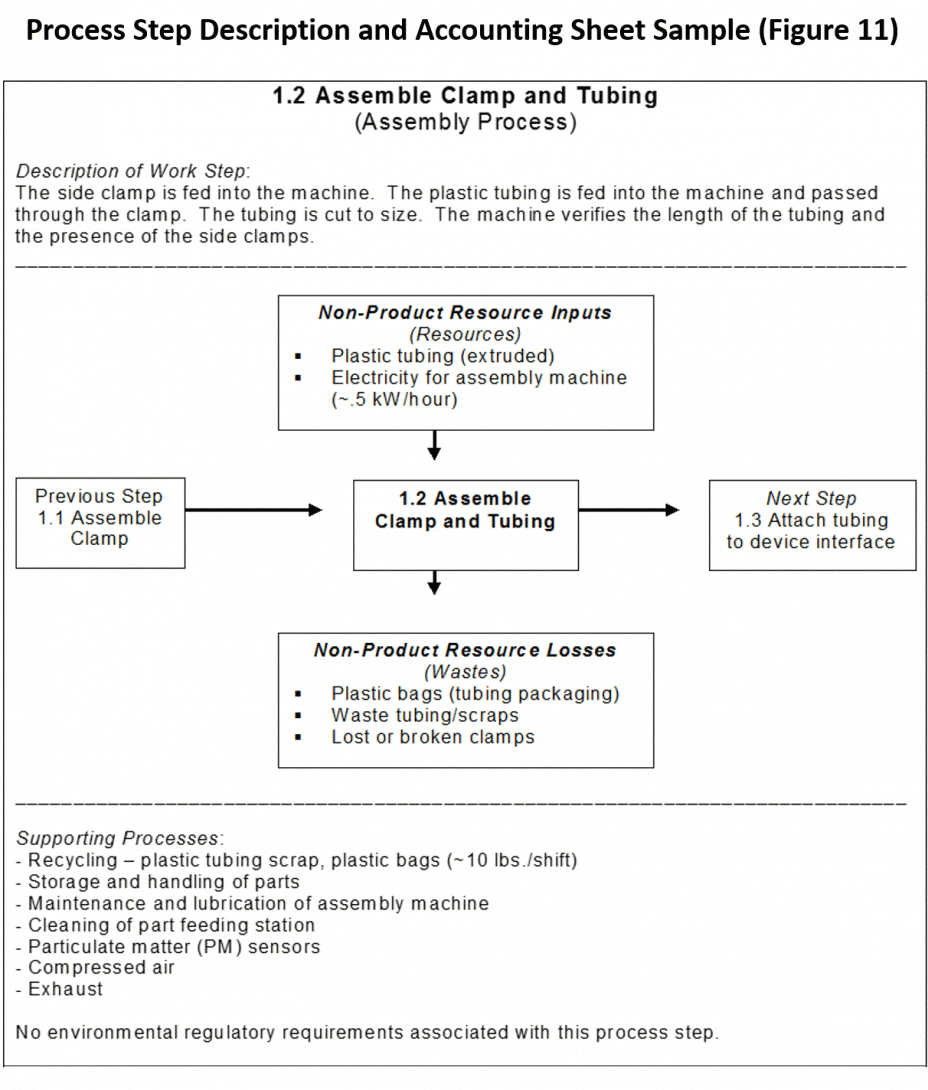 To Consider
What three processes at your company could benefit from hierarchical process mapping?
Who would you need to talk to about doing hierarchical process mapping on those processes?
3. Process-Specific Resources for Kaizen Implementation

Over the past 20 years, manufacturing assistance programs and environmental agencies have assembled vast libraries of information on process-specific technologies, tools, techniques, and work practices that can improve your operational performance and cause less harm to worker health and the environment. These resources are particularly relevant to the 10 manufacturing processes with environmental opportunities described in Chapter 3.
Conclusion
Summary
Kaizen events are team-based activities designed to eliminate waste and make rapid changes in the workplace through the targeted use of Lean methods. If not properly managed, the operational changes made through kaizen events could harm the health and safety of workers or result in violations of regulatory compliance requirements.
To prevent these problems, it is important to establish an effective EHS change management system for Lean events. This can involve four steps:
Train kaizen event team leaders to identify operational changes that may trigger EHS involvement. These include changes that affect chemical exposure, compliance with regulations and permits, pollution control management capacity, and work practice requirements.
Identify a responsive EHS contact that Lean managers and kaizen team leaders can contact with EHS questions and needs.
Fill out a Lean Event EHS Checklist for each Lean event. This simple tool identifies operational changes planned during a kaizen event that may warrant the involvement of EHS expertise.
Involve EHS representatives in Lean events early on to anticipate and address potential EHS compliance issues and avoid risks to workers.
Tools to support the planning and implementation of kaizen events include:
Questions to identify Lean-environment opportunities in kaizen events;
Hierarchical process mapping, which can drill down from value stream maps to uncover specific sources of waste within a single process; and
Process-specific pollution prevention resources to improve business results and cause less harm to human health and the environment.
Your Thoughts
Now that you've finished this chapter, reflect on what you read by answering these questions:
What did you learn in this chapter that was particularly useful?
Do you need any more information to fully understand how to integrate environmental, health and safety considerations into kaizen events? Would any other tools be helpful?
What other ideas do you have to improve the environmental performance of your company with kaizen events?
---
Footnotes
1This section draws on pioneering work on process mapping by Robert B. Pojasek (www. pojasek-associates.com). See Robert B. Pojasek, "Mapping Information Flow Through the Production Process," Environmental Quality Management, 13 (3), 2004.
---
Toolkit Navigation