Lean & Water Toolkit: Chapter 1
Introduction
Importance of Water to Industry
Companies worldwide identify water issues as a critical business concern. Water is essential for a range of industrial processes and support functions, facility operations, and as an ingredient for many products. Water use is increasing much faster than population growth, and regional and seasonal differences in water availability can lead to shortages and even water-related conflicts. The World Economic Forum reports that 44 percent (2.8 billion) of people currently live in areas of the world that are water stressed, and, if present trends continue, water scarcity will affect the livelihood of one-third of the world's population by 20251.

Corporations are recognizing the important role they play in addressing water resource challenges, and companies are responding by engaging in efforts to measure, report, and reduce their water use. In a survey conducted by the Carbon Disclosure Project of 302 of the world's largest 500 companies, 89 percent of responding companies had developed specific water policies, strategies, and plans, and 67 percent indicated that responsibility for water-related issues lies at the Board or Executive Committee level2. The United Nations' CEO Water Mandate, launched in 2007, is designed to help companies develop, implement, and report on water sustainability policies and practices. Industry-led associations such as the World Business Council for Sustainable Development and the Global Environmental Management Initiative also have major water initiatives.
One key reason why companies choose to use water more efficiently is to improve their relationship with the communities that surround industrial facilities. Water use is of paramount importance to a facility's relationship with its surrounding community. Facilities that use less water in drought-prone areas leave more water available for residential use. Some companies even risk being forced to withdraw from regions where water is a scarce resource, a problem that is likely to recur as water scarcity increases in many regions around the globe. In some cases, communities around industrial facilities show much greater concern for the amount of water a facility uses than the amount of energy it uses.
This toolkit provides strategies and tools for addressing water issues within the context of Lean manufacturing and other business process improvement methods.
Benefits of Addressing Water with Lean

Lean provides powerful tools for delivering value to customers in a manner that minimizes waste and risks from unnecessary water use. Explicit consideration of water waste during Lean implementation can create significant value for an organization, helping to deliver quality products and services that customers want, when they want them. Research sponsored by EPA and others shows that some water use and waste reduction benefits typically ride the coattails of Lean efforts, yet other opportunities to reduce wastes, risks, and non-value added activity associated with water may be overlooked. There are three key benefits of addressing water with Lean, as listed in Box 1 and further described below.

Uncover Cost Savings and Operational Improvements

Learning to see and eliminate waste is a cornerstone of Lean initiatives. Water waste is often a sign of inefficient production and non-value added activity, and it frequently indicates opportunities for saving costs and time. Lean and water strategies can help you to uncover cost savings and improvements in areas of your facility's operations that may not have received as much attention in your Lean efforts. For production processes that are highly dependent on water or that have water-intensive support processes such as wastewater treatment, the operational and environmental benefits from Lean and water efforts are even more significant.
Learning to see water and other environmental waste during Lean efforts can reveal significant business improvement opportunities, further strengthen Lean results, and improve environmental performance. Box 2 provides several examples of how companies have used Lean and Six Sigma methods to reduce water use, save costs, and improve their performance.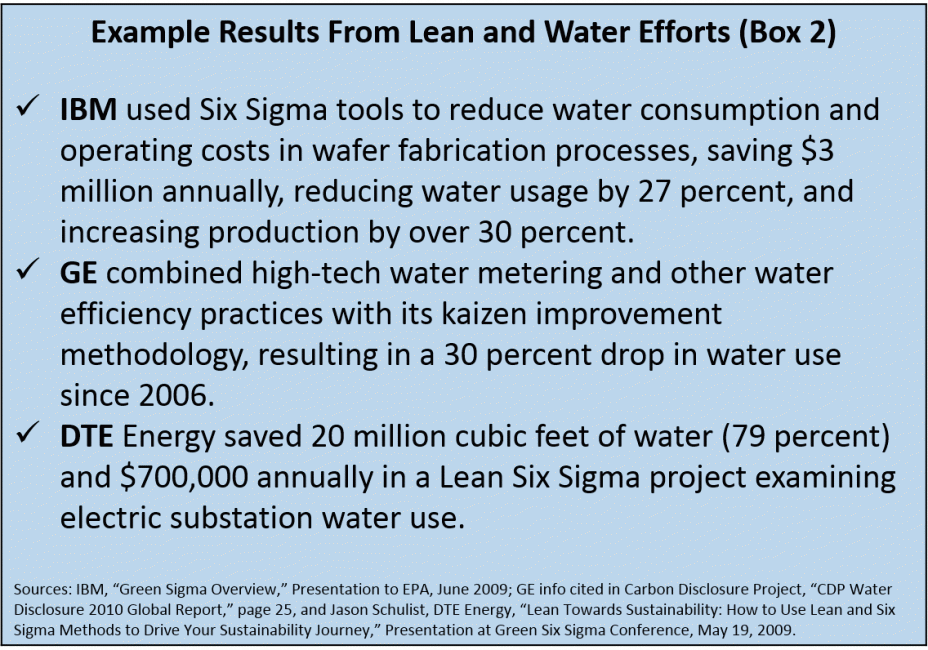 While many places have very low direct costs for water and wastewater, there are also indirect costs to water use. These costs can be significant, yet they are often hidden in overhead or support cost centers (see Box 3 for examples of how facilities have uncovered water waste and costs). Examples of water costs include:
Raw Material Costs: Costs of measures to ensure that purchased water supply is of sufficient quality for use at a facility. For example, some facilities may bear costs for labor, equipment, and materials needed to improve water quality before use (e.g., when water is a key product ingredient), as well as for chemicals and other raw materials needed to treat and manage water at the facility and before discharging it. Water treatment costs associated with deionized water and reverse osmosis can be substantial.
Energy: Costs for the energy required to heat and cool water, pump or transfer water, operate water-consuming equipment, treat water and wastewater, and other functions.
Pollution Control: Wastewater service costs paid to a utility, and/or industrial pretreatment costs, for the energy, labor, materials, equipment, and chemicals needed to treat wastewater before discharging it from the facility.
Regulatory Compliance: Costs for regulatory compliance activities such as completing permit applications and tracking and reporting wastewater discharges to regulatory agencies. In the United States, industrial, municipal, and other facilities must obtain National Pollutant Discharge Elimination System permits if the facilities discharge water pollutants directly into U.S. waters. Pretreatment regulations govern industrial facilities that discharge into municipal sewer systems. Also, in some food and consumer product industries, water use may be important to address Food and Drug Administration sanitation requirements.
Lean and water strategies such as those outlined in this toolkit help to reveal these costs and identify process improvement solutions. The next chapter provides more information about water end uses and costs.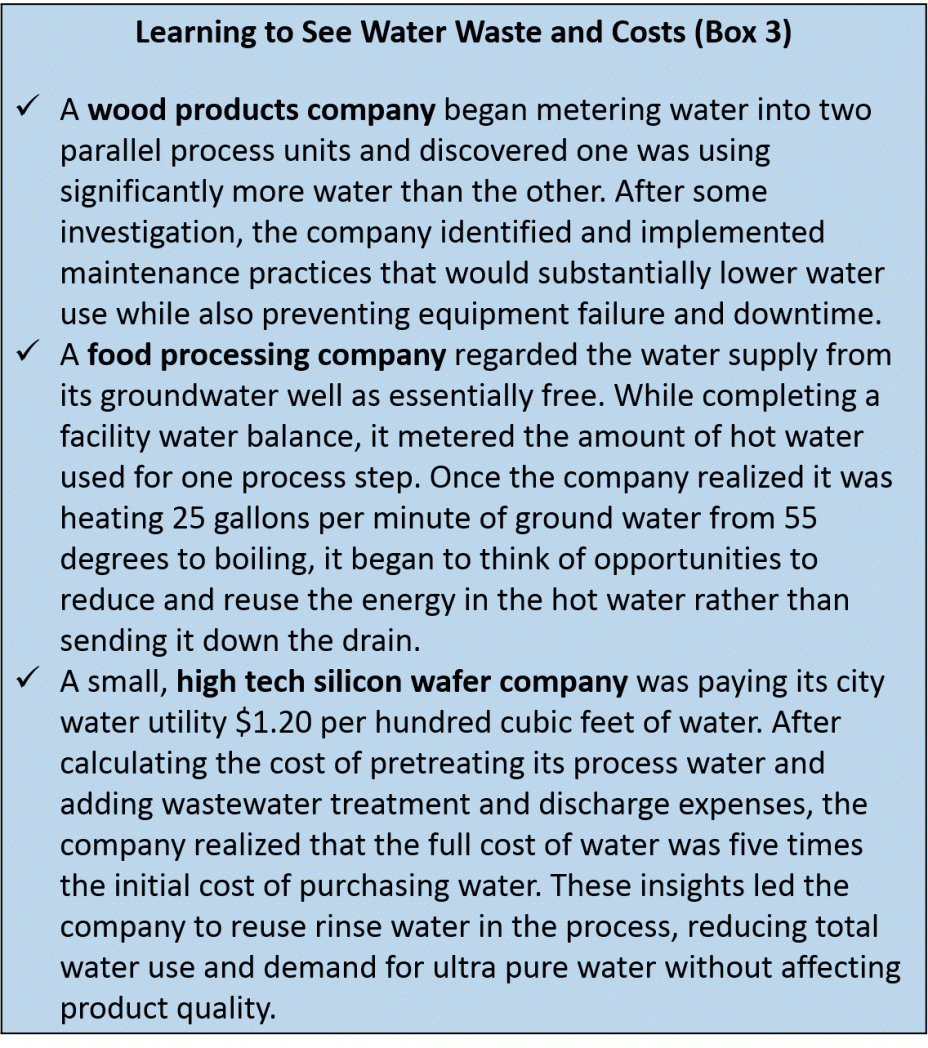 Reduce Water-Related Business Risks
Lean provides an effective platform for reducing facility water use and the associated water-related business risks. While the specific risks that individual facilities face vary, examples of water-related risks include water shortages and reliability issues, water quality issues that drive the need for additional water treatment, increasing water costs, and supply chain interruptions. In some waterscarce regions, there may be challenges with meeting basic human needs for clean water and sanitation; competition for scarce water resources may be intense between uses associated with public water supply,

agriculture, industry, and fisheries. Climate change is predicted to exacerbate many of these water risks—increasing global temperatures will likely lead to increases in water demand, water scarcity, more vulnerable ecosystems, and more frequent extreme weather events3. How companies respond to water risks can also have important implications for how local communities and customers perceive those companies.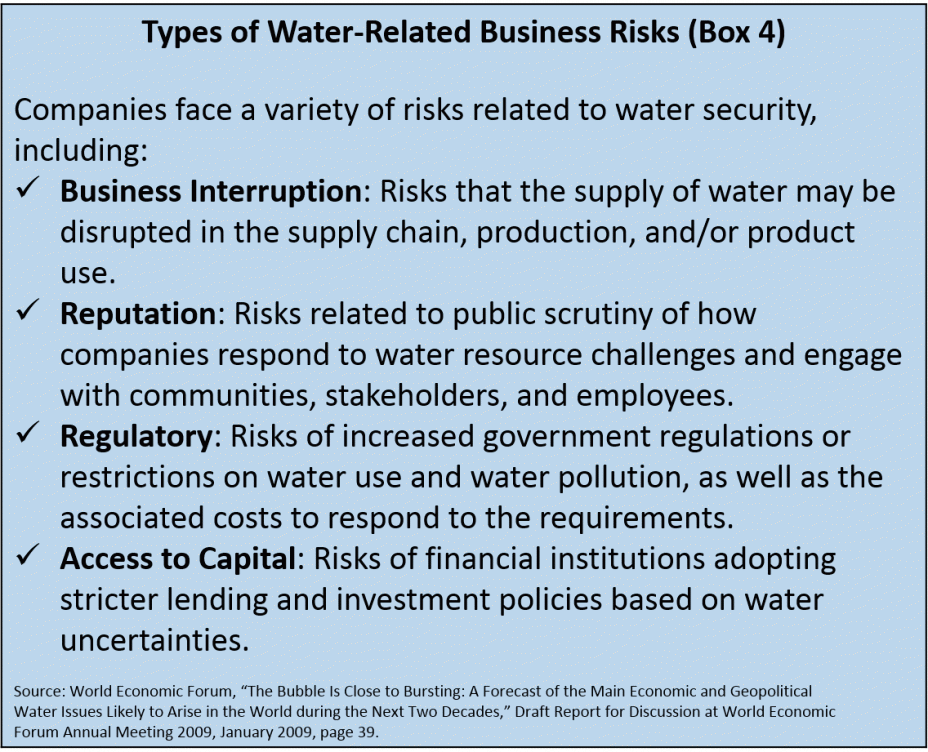 Reducing non-value added water use is a key strategy for mitigating water risks. Integrated Lean and water strategies offer practical solutions that support multiple business objectives such as increased efficiency, reduced costs, improved customer responsiveness, and decreased water and energy use. By engaging employees in teams to identify and eliminate sources of water waste in your facility—alongside other production wastes such as over processing, defects, and delays, your facility can proactively reduce water risks while also supporting operational goals. Proactively engaging with local utilities and communities to collaboratively address water resource challenges can provide additional opportunities to reduce business risks and increase value. These efforts will make your facility less vulnerable to risks and better positioned to succeed given changes in water supply, demand, and quality.
Deliver Value for Customers and Employees
Reducing water use and risks through Lean, Six Sigma, and other process improvement methodologies can foster a competitive advantage for some businesses. Customers and employees may view proactive environmental improvement efforts as an important attribute, affecting customer loyalty and the ability to attract and retain employees. In some market segments, "green" attributes are an important factor that can give a product or company competitive advantage. People around the world view water issues as a key sustainability challenge. For example, more than 90 percent of the 32,000 people polled in 15 countries for a GlobeScan and Circle of Blue survey in 2009 perceived "water pollution" and "freshwater shortage" to be serious problems (70 percent considered them very serious problems)4. Some companies can tap into significant market niches by providing customers with water-efficient choices and solutions.
Participation in international or national water sustainability programs or local water efficiency efforts can provide businesses with public recognition and a competitive advantage for their water management achievements. For businesses that manufacture water-using appliances, parts, or products, companies can use design methods to make their products as water-efficient as possible throughout their lifecycles, from manufacturing to use and disposal. These methods can allow companies to cater to the steadily growing markets for green building and green products. There are also awards and competitions that provide recognition and media publicity for water-related innovations and efficiency accomplishments.

Reducing your facility's water use and the water that your products require during use can add value for your "downstream" customers—saving them water and energy costs and helping them meet their water-efficiency goals. Business interest in gathering and disclosing water use and risk information, through initiatives such as the Global Reporting Initiative and the Carbon Disclosure Project's Water Disclosure Initiative, may increase in the coming decade as water becomes a more critical business issue in some supply chains and industry sectors. Chapter 5 discusses ideas for engaging with customers, suppliers, and communities on Lean and water efforts, as well as incorporating water issues into Lean product design.
Getting Started with Lean and Water

There are many ways for a facility to get started with reducing water waste and finding Lean and water improvement opportunities. While the possibilities can be daunting, the important thing is to begin, even if the effort is small. Consider starting out with small steps, such as tracking water use as a metric at your facility with the goal of reducing use. This can be a great strategy for smaller facilities. Here are some ideas for initiating a Lean and water effort.
Learn More About How Your Facility Uses Water
A key first step is learning how your facility uses water and identifying the process areas, support functions, and facility operations that have the greatest water waste and improvement opportunities. Strategies include beginning to track water metrics as part of Lean and process improvement activities and installing water meters on processes that use large amounts of water. Box 5 lists examples of water metrics that facilities can use. It is helpful for facility managers and Lean champions to track water usage regularly, and to share this information with floor staff. Regularly monitoring water use data can help you determine the impact of peak periods (e.g., during summer and/or busier production months) and help you spot variations that could be signs of problems.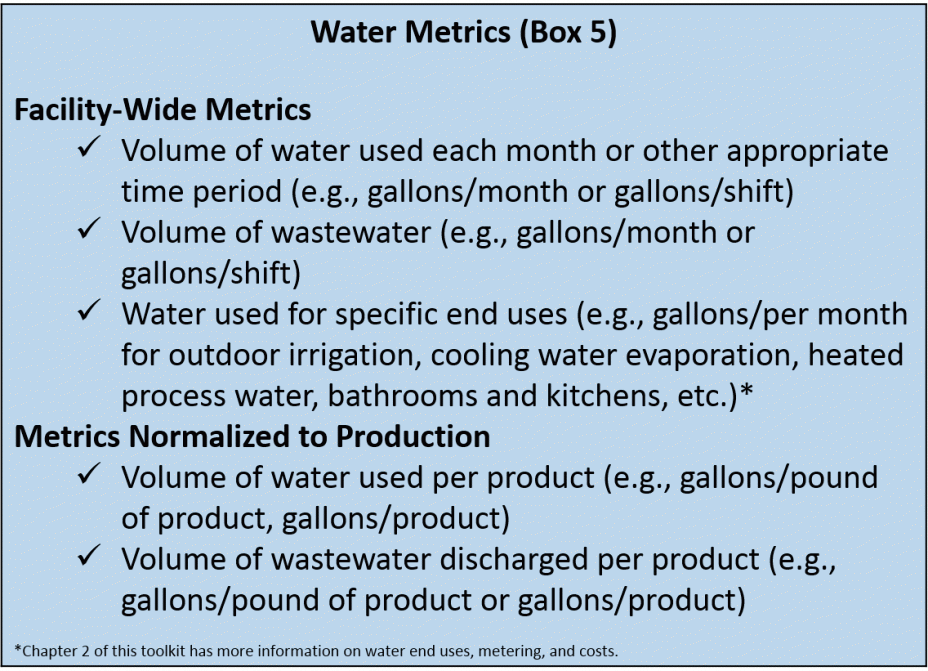 To be most effective in Lean and water implementation efforts, Lean champions or operations managers should connect with environmental and facilities personnel early on to discuss plans for Lean and water efforts. Environmental Health and Safety (EHS) personnel can assist with developing water balances and other assessments of facility and process water use, including gathering data on water use and costs, as well as helping prioritize Lean and water activities.
After completing an initial water assessment, managers can consider it in the context of other planned Lean events and prioritize opportunities for involving EHS personnel in value stream mapping and kaizen events based on when their environmental expertise will add the most value.
Engage Employees in Lean and Water Improvement Efforts
Lean provides a solid framework to empower cross-disciplinary employee teams to identify and eliminate excess water use and other production waste, thereby realizing both environmental and Lean gains. Most likely your efforts to examine water use and waste will generate numerous ideas for process improvements and potential solutions. Ideas could include water efficiency and reuse opportunities and/or Lean events to improve water-intensive processes.
Motivate employees and managers by communicating corporate sustainability goals and incorporating water efficiency into performance targets and incentives.
Consider trying out some of the Lean and water improvement ideas in this toolkit, but don't limit employee teams to those ideas—encourage their creativity and initiative.
Train employees on how to identify water waste and improvement opportunities, building their capacity to problem solve and help meet your facility's water use reduction targets.
Actively solicit employee suggestions for kaizen events or other improvement projects, by inviting ideas in meetings and conversations and/or by using a suggestions board or box.
A significant benefit of involving employees throughout your facility in Lean efforts is the opportunity to create a culture of continuous improvement. When employees are engaged in identifying ways to improve water efficiency, they are more likely to note these opportunities and areas of water waste throughout their normal day-to-day operations. You might find that improved water efficiency becomes a continual trend at your facility, and not just something that happens within the confines of a specific Lean exercise or event.
Focus your facility's initial Lean and water efforts on high-impact, easy-to-implement strategies, in order to achieve the highest likelihood of success. An

Impact-Difficulty Matrix such as the one in Figure 1 can be useful for prioritizing among process improvement and implementation options. Lean event participants can plot their ideas onto the four quadrants in the matrix based on whether or not an idea would have a large or small impact (either in terms of operational and/or environmental objectives) and whether or not it would be difficult to implement. This process lets people see visually which projects are most "ripe" for Lean.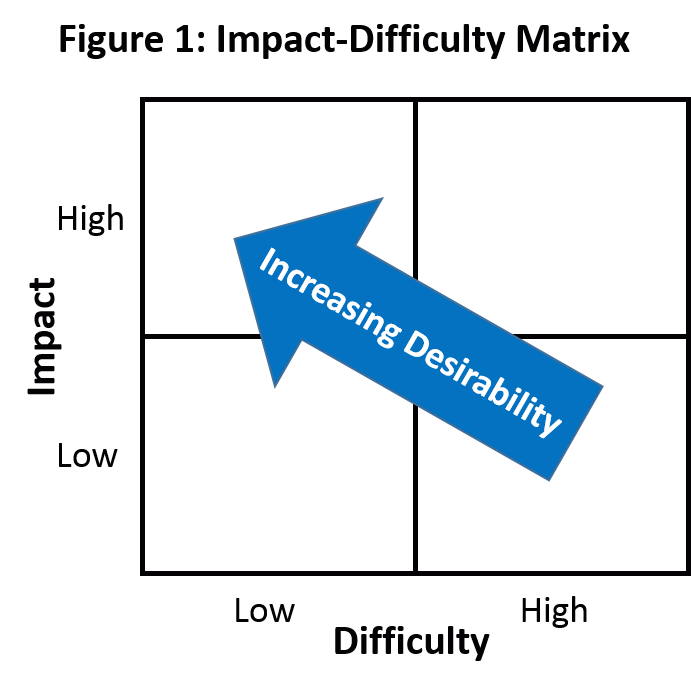 Connect Lean and Water Efforts to Sustainable Water Management Strategies
Lean and Six Sigma provide operational tools that can support a broader corporate water sustainability strategy. Lean's focus on performance measurement, continual improvement through employee engagement, waste elimination, improved efficiency, increased profits and customer satisfaction can be leveraged to support corporate water management efforts to measure and report water use, factor water into business decisions, and implement the practical and effective solutions. If your organization already has a sustainability policy and/or specific water efficiency goals, consider how Lean and water strategies could be used to enhance and accelerate those efforts.
Risk-Based Water Sustainability Strategies
Depending on the importance of water to your business, it may be worth developing a risk-based water sustainability strategy and then seeing how Lean and water efforts could support implementation. This toolkit complements broader water sustainability strategy resources by exploring practical opportunities to leverage facility Lean and Six Sigma and similar process improvement initiatives to reduce water waste.
True North Goals and Targets

Lean experts often extol the motivational power of setting goals and targets that represent the "True North" for operations. As noted by Lean expert Robert Hall of the Association of Manufacturing Excellence, "True North is what we should do, not what we can do, the ultimate ideal for the overall process, and for every sub-process within it.5" True North goals, targets, and metrics are powerful tools for inspiring and focusing employee attention and creativity to both continuously improve and find breakthrough solutions. Consider what the True North target is for water use in your facility. For many facilities, the True North targets may be zero wastewater and zero water use that is not incorporated into the product.
Examining the Full Value Chain

To achieve sustainability goals, it's important to look beyond a facility's direct operations. Lean methods can support water use and risk reduction efforts not only at areas within the direct control of a manufacturing or industrial facility, but also throughout the lifecycle or extended value chain for a product or service—from the extraction and processing of raw materials, through production processes, and onto product distribution, use, and disposition. While the primary focus of this toolkit is on reducing water use at your facility, Chapter 5 discusses opportunities to extend Lean and water techniques to other areas. Figure 2 provides an illustration of how the content of the toolkit links to a value chain.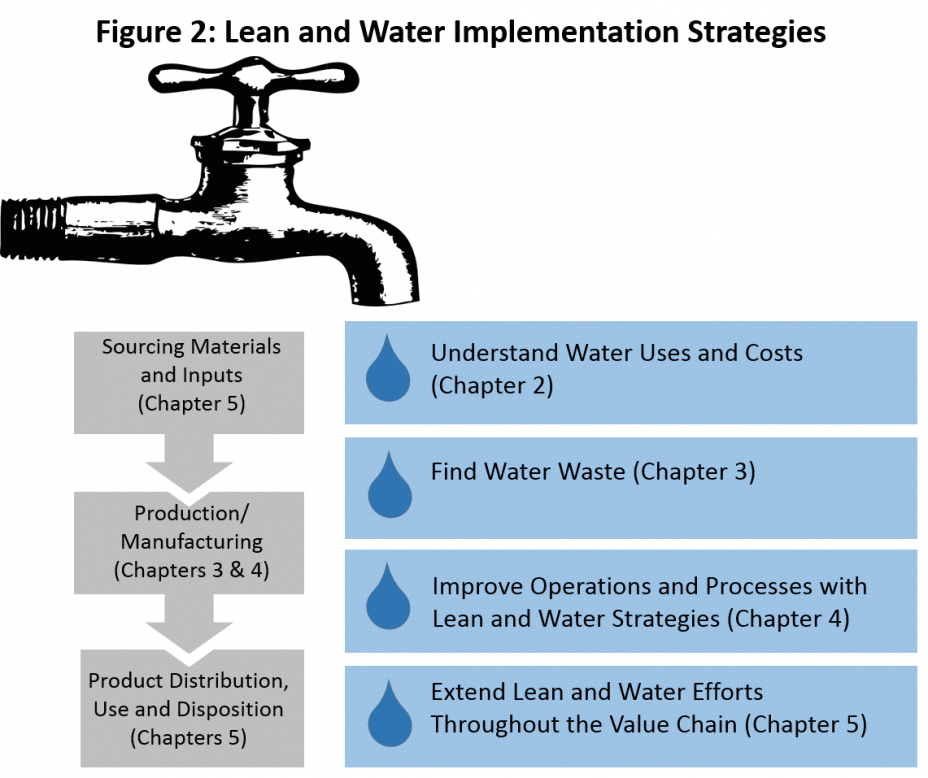 To Consider
Is water use responsible for major costs, waste, or risk at your organization? If you don't know, how would you find out?
How has Lean affected your organization's use of water?
How could your organization benefit from efforts to reduce water waste using Lean? (Think about time and cost savings, reduced risks and liabilities, added value to customers, etc.)
What ideas do you have for reducing water waste using Lean?
---
Footnotes
1 World Economic Forum, "The Bubble Is Close to Bursting: A Forecast of the Main Economic and Geopolitical Water Issues Likely to
Arise in the World during the Next Two Decades," Draft Report for Discussion at World Economic Forum.
2 Carbon Disclosure Project, "CDP Water Disclosure 2010 Global Report."
3 For more information on water and climate change, see CERES and Pacific Institute, "Water Scarcity & Climate Change: Growing Risks for Businesses & Investors," February 2009. For a discussion of business perspectives on the connections between water, energy and climate change, see World Business Council for Sustainable Development, "Water, Energy and Climate Change: A Contribution from the Business Community," March 2009.
4 GlobeScan and Circle of Blue, "Water Views: Water Issues Research," August 19, 2009.
5 Robert Hall, "The Toyota Production System Seeks True North," Lean Directions e-Newsletter, 2011.
---
Toolkit Navigation