Lean & Water Toolkit: Chapter 5
Lean and Water Beyond the Factory Floor
Lean and Water Efforts in Your Supply Chain

Depending on your industry sector, the greatest opportunities for water use reduction may be in your supply chain, rather than your facility's own operations. As discussed in chapter 1, companies whose suppliers have water-intensive operations may feel pressures from customers or other stakeholders to reduce water use within their supply chain. It is important for your business to understand water use and risks throughout the value chain—including upstream in supplier operations and downstream in customer activities. In particular, the water needed to extract and process raw materials may be significant in some sectors, while other stages, such as product-use, are more
important for others.
Some water impacts in the supply chain can be addressed by engaging your suppliers in your Lean and water efforts. The techniques in this toolkit can be applied at both large and small companies. Here are some ideas to get started:
Ask suppliers about their water use and their water efficiency efforts.
Invite customers and/or suppliers to participate in a Lean and water value stream mapping event, water gemba walk, or water kaizen event at your facility to learn from your experience and share their perspectives.
Offer to participate in your customer's and/or supplier's Lean events if your business has relevant expertise.
Share training materials you've developed, best practices, and success stories of your Lean and water efforts to educate suppliers on these efforts.
Invite suppliers to participate in training sessions with your employees. For example, the furniture manufacturer Steelcase invites its suppliers to attend workshops covering Lean and environment topics at its "Steelcase University."
Start a dialog with your suppliers about Lean and water projects to initiate together.
Encourage suppliers to develop and share short- and long-term water reduction goals and report progress against the goals.
Provide incentives, recognition, and/or financial support for suppliers to conduct Lean and environmental improvement efforts and/or for suppliers that help you meet your water efficiency goals.
Consider focusing first on suppliers that are located in water-scarce areas, where reducing water consumption can have the greatest positive impact on community relations.
For some smaller companies, working with your supply chain may be more challenging than is the case for larger companies. One option for smaller facilities is to inform your suppliers that they may access resources available through local utilities, such as technology rebates or free or subsidized water audits.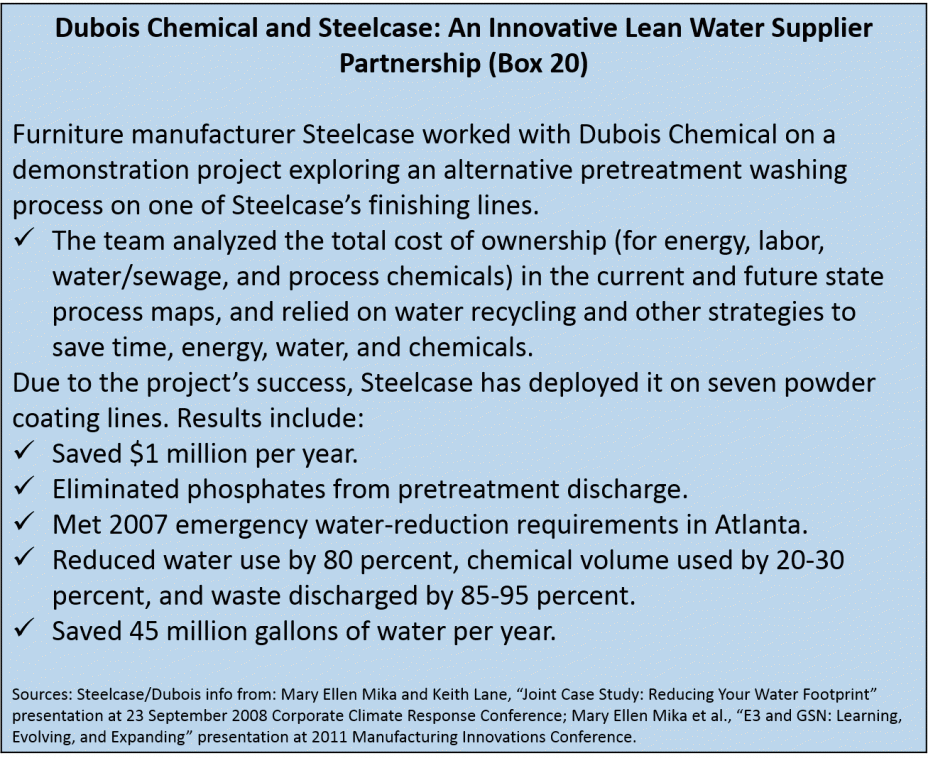 Some companies participate in Lean supply chain initiatives that focus on environmental objectives, such as water use reduction. For example, in the U.S. Green Suppliers Network Program, Lean service providers at Manufacturing Extension Partnership centers partner with environmental specialists to deliver "Lean and Clean" process assessments for companies in the supply chains of larger organizations on a fee-for-service basis (see Box 21). The assessments use value stream mapping with an added focus on environmental metrics and costs to identify opportunities for improvements in resource use. Many of the assessments include support for implementation. A similar program called E3 (Economy, Energy, and Environment) incorporates Lean, environmental, and energy technical assistance and also involves local utilities as partners. Companies should encourage their suppliers to consult their local water and energy utilities to find rebates or incentives for efficient technologies and process improvements.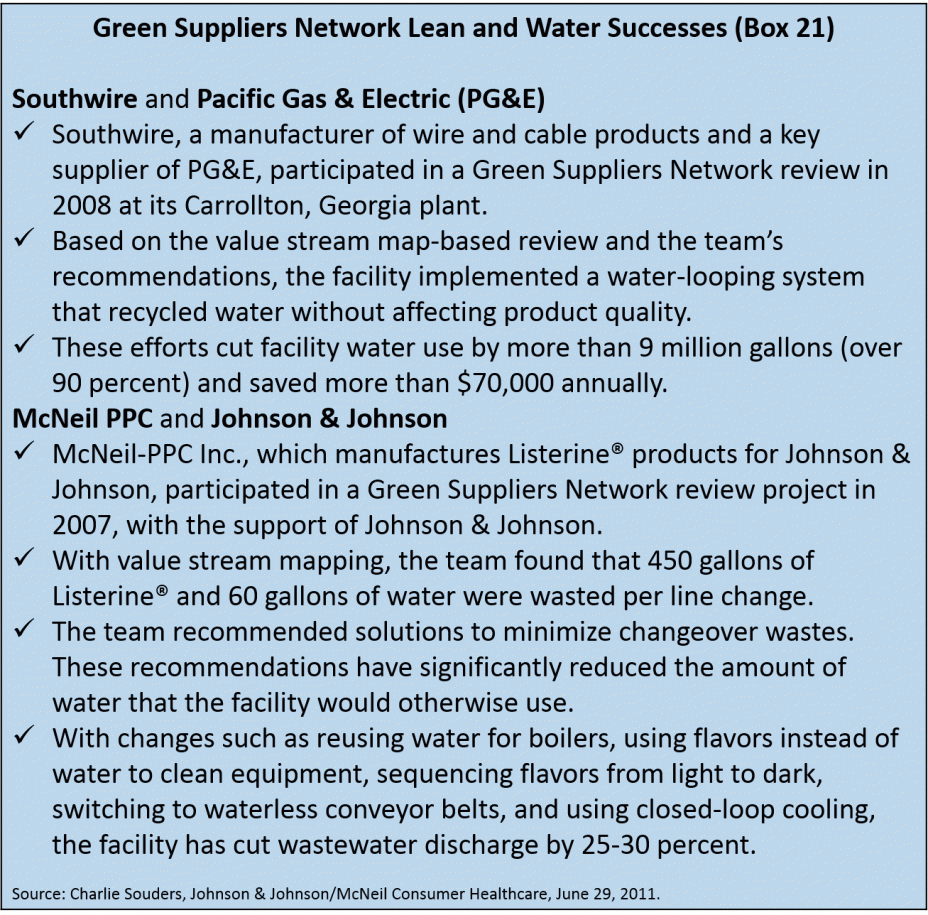 Another way that companies can influence supplier actions is through policies and programs that encourage water efficiency. Examples include:
Procter & Gamble (P&G) has adopted a Supplier Environmental Sustainability Scorecard, which produces annual supplier sustainability performance ratings for suppliers based on environmental data and qualitative assessments the suppliers provide, which include data on water use. Suppliers receive higher ratings for contributing to P&G's environmental initiatives, and P&G recognizes suppliers receiving the highest rating in the process.
PepsiCo has a Supplier Sustainability Outreach Program, in which suppliers regularly submit metrics to track their progress toward short-term and long-term goals in energy, water, and waste efficiency. The program prepares suppliers to join ENERGY STAR, which is required for all U.S.-based suppliers. Suppliers gain access to PepsiCo resources, training, tools, and an invitation to the Global Environmental Sustainability Summit. Fuel, electricity, and water savings from the program totaled $1.2 million as of the third quarter of 2010. Forty co-packers and suppliers across 102 manufacturing sites participate, and the program continues to expand in the United States and globally.
Levi Strauss & Co. is adjusting its policies to allow more water recycling and reuse at contract finishing facilities—it now allows reclaimed water to be used at finishing facilities through onsite treatment, internal recycling, or from a nearby treatment facility. Uses for reclaimed water include landscaping, toilets, and heating, ventilation, and cooling systems.
Wal-Mart provided over 100,000 suppliers with a sustainability survey to collect information about their environmental performance. The survey includes questions on the total water use of facilities that produce products for Wal-Mart, as well as guidelines for conducting a water footprint and improving water efficiency at facilities. Future phases of Wal-Mart's "Sustainability Index" project include the development of a database of information on product lifecycles and a tool to help merchants and customers understand the sustainability of products.
Consider the following five strategies to promote Lean and water efficiency efforts with your suppliers, keeping in mind that some of these might be less feasible or applicable for small facilities.
Require reporting from suppliers: Requests for reporting on water use and efficiency efforts sends a message to supply chain businesses that the company cares about water. It may also help you understand business risks and opportunities to assist suppliers in reducing water use or risk. Benchmarking of water metrics (e.g., water intensity ratios that relate water use to production levels) may be useful to set goals and performance targets. Companies can encourage suppliers to utilize ENERGY STAR's Portfolio Manager or other tools to track environmental performance.
Examine product specifications: Evaluate how procurement requirements affect the amount of water required to produce or transport the product to facilities. Some companies may be able to reduce the water used in their supply chains by changing their sourcing specifications.
Provide recognition, awards, and/or incentives: Recognizing supply-chain water and environmental initiatives can raise awareness of and encourage water use reduction and best-practice sharing among suppliers. Stories of water-saving efforts may also be of interest to customers.
Consider supplier requirements: It may be appropriate to consider water-related performance in the selection of suppliers, particularly in water-intensive parts of your supply chain. Performance targets or certification requirements (e.g., ISO 14001) could also be incorporated into procurement requirements or partnership agreements. Consider developing sector-specific standards to reduce overall environmental impacts (e.g., the Business and Institutional Furniture Manufacturers' Association Sustainability Standard).
Provide, subsidize, or make referrals for technical assistance: Companies can provide technical assistance or training on Lean and water approaches to supply chain partners. Alternatively, encourage participation of supply chain partners in "communities of practice" to share information on water efficiency and environmental improvement opportunities. Manufacturing Extension Partnership centers provide support for Lean training and can help you integrate water efficiency considerations into your supply chain. Organizations can also make suppliers aware of water efficiency resources and services available from local utilities and other sources.
Collaborate on joint Lean and water projects: Collaborate with your suppliers and/or your customers to develop approaches to reduce water use and risks, or to capture new market opportunities. Consider using the ideas, strategies, and tools in this toolkit as a starting point for a discussion about Lean and water opportunities to pursue.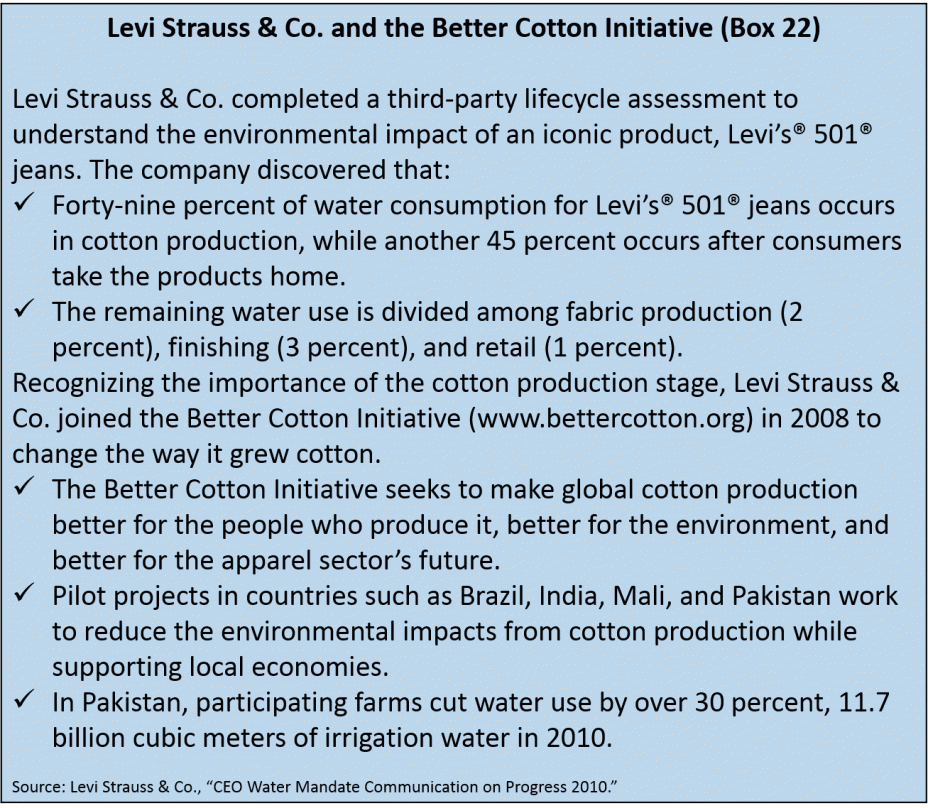 Engaging with the Community
In many cases, water stewardship is a key component of a facility's ability to operate in a community. Depending on where your facility is located, your business and the surrounding community may face different types of water resource challenges—such as water scarcity, infrastructure, or pollution concerns. Especially in water-scarce regions or during droughts, people in the community may have an increased interest in what your facility is doing to reduce its impacts on local water resources. Indeed, community engagement is recognized as a key pillar of water resource management by the United Nations CEO Water Mandate, which assists companies in developing and implementing sustainable water policies and practices. Engaging proactively with your community on water conservation can be an effective way to mitigate water-related business risks as well as reduce your organization's overall water footprint.
Two key strategies for effective community engagement include:
Educate and engage your employees in water-efficiency efforts at your facility, and encourage them to adopt similar practices at home (e.g., check for leaks, use efficient appliances and faucets, turn off water when not in use, etc.). Build the capacity of employees to spot water waste and problem solve throughout their daily activities, on the job and off.
Partner with community members and local organizations to conduct projects that improve water use, water quality, and/or water infrastructure resources in the community. Consider using Lean methods—such as a waste walk, kaizen event, or even a Lean design event—to rapidly brainstorm and test improvement ideas for projects, and include community stakeholders in those efforts.
Along with the value of community engagement, these strategies can have the benefit of partially or fully "offsetting" impacts the facility may have on local water resources. That is, a facility can support efforts that replenish the local water supply by at least the amount of water the business uses directly. In India, PepsiCo has achieved a positive net water balance in this way (see Box 23).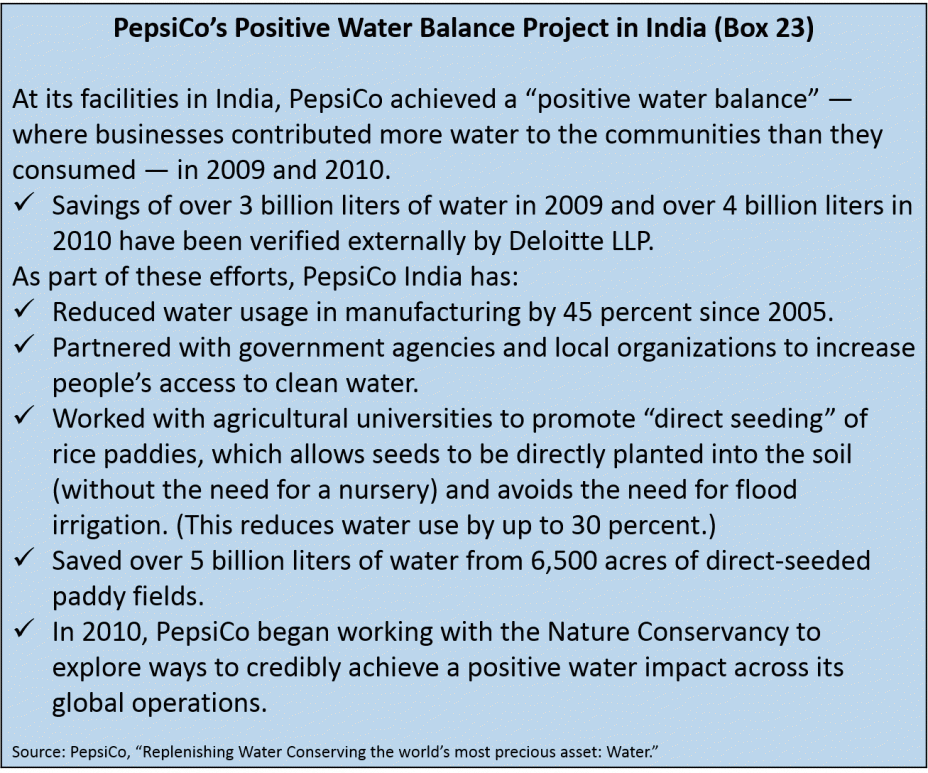 Businesses can use Lean tools to engage with communities in collaborative problem solving to achieve social, economic, and environmental goals, such as water efficiency. For example, DTE Energy—a Detroit, Michigan based electric utility—has used tools including gemba walks, value stream maps, and "critical-to-sustainability" trees (a modification of "critical-to-quality" trees) with Detroit area businesses and community members to tackle the following projects:
Partnered with a non-profit to manage combined sewer overflows by planting thousands of trees to reduce the stormwater runoff in Detroit.
Found a new use for the buffer land around substations as community gardens, with thousands of pounds of produce harvested at each substation and donated to food pantries.
Created a community-supported agriculture business model based on a gemba walk with the community that identified issues such as urban blight, meaningful work, neighborhood connectivity, and healthy living.
In areas where water scarcity and drought are issues, facilities can engage with communities to share knowledge, work toward solutions, and build goodwill. Here are two examples of companies who engaged in collaborative dialogue with their communities in response to problems with water scarcity in areas where their operations were located:
Coca-Cola partnered with the United Nations Development Programme and Chinese government representatives to improve water efficiency in response to a severe drought threatening sugarcane growers. The first phase will be completed in 2011, and will focus on improving infrastructural facilities that support the farmers' work and life directly, such as optimizing irrigation facilities and recycling treated wastewater from sugar plants to improve farm production and water use efficiency. This first phase will provide approximately 500 million liters of water to rural residents and directly benefit 100,000 rural sugarcane farmers in the region. In future phases, this collaboration will pursue improvements in water efficiency in business operations, and will seek to ease pressure on local water supplies through continuing community water partnerships.
The chemical manufacturer Sasol identified water scarcity as a risk to its operations in South Africa, and pro-actively approached the problem by organizing a joint dialogue with community stakeholders, representatives of water-intensive industries in South Africa, government and non-governmental institutions, and local research institutions. The dialogue promoted cooperation among the stakeholders and between Sasol and its surrounding community, as the sharing of knowledge and experiences coalesced toward the formulation of several ideas for collective action toward improved water efficiency.
Lean Product Design

Lean design methods are a group of Lean tools and techniques that aim to:
Design (or redesign) high-quality products that meet customer needs with the least amount of waste (aspects that do not add value); and/or
Design (or redesign) processes and equipment that add value to products using the least amount of time, material, and capital resources.
Taking a close look at the parts and processes that go into the creation of a product can help you to identify wastes, including water waste, and improve product quality, reduce costs, and potentially gain market advantage.

Lean product design methods often rely on a set of criteria to evaluate the best alternatives. Incorporating efficient water use as a design criterion for product development can reduce water waste throughout the entire life cycle of the product. Consider raw materials, synthesis, production, customer use, and the ultimate disposal or recycling/remanufacturing of the product when considering water use.
As with other aspects of Lean implementation, product design is most effective when it incorporates "whole systems" thinking focused on eliminating all forms of waste. Be sure to consider traditional Lean goals for both the product and the manufacturing process, such as product quality, customer service, cost, and time, when you incorporate water efficiency into the Lean product design process. Improving water efficiency should not mean lowering the quality of your finished product or decreasing the productivity of your facility. Note that sometimes design alternatives that improve water efficiency can present trade-offs in which decreasing water use results in increased energy or chemical use; such endeavors may not be worthwhile depending on the overall impacts. You can help ensure that your product quality remains high by adhering to product quality design standards, such as the U.S. Green Building Council's LEED standards for buildings, EPA's Water-Sense program standards for certain water-consuming products and appliances, and sector-specific product standards.
There are several Lean tools to help design (or redesign) a product in a way that reduces wastes. Some of these tools are described in Table 7, below. For more information about these tools and an explanation of which tools to use in various product design stages, see chapter 6 of The Lean and Chemicals Toolkit.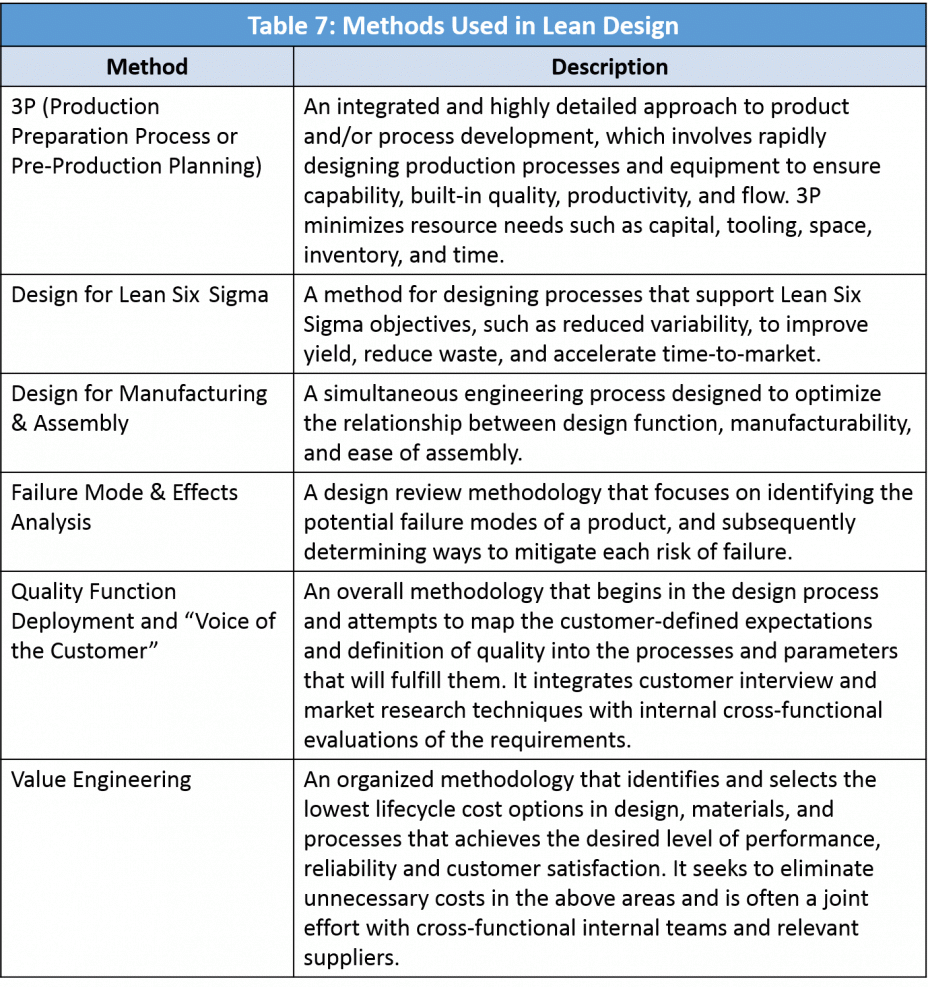 Table 8 lists examples of questions to ask when evaluating product design alternatives to identify ways to reduce water waste during all phases of the product life cycle.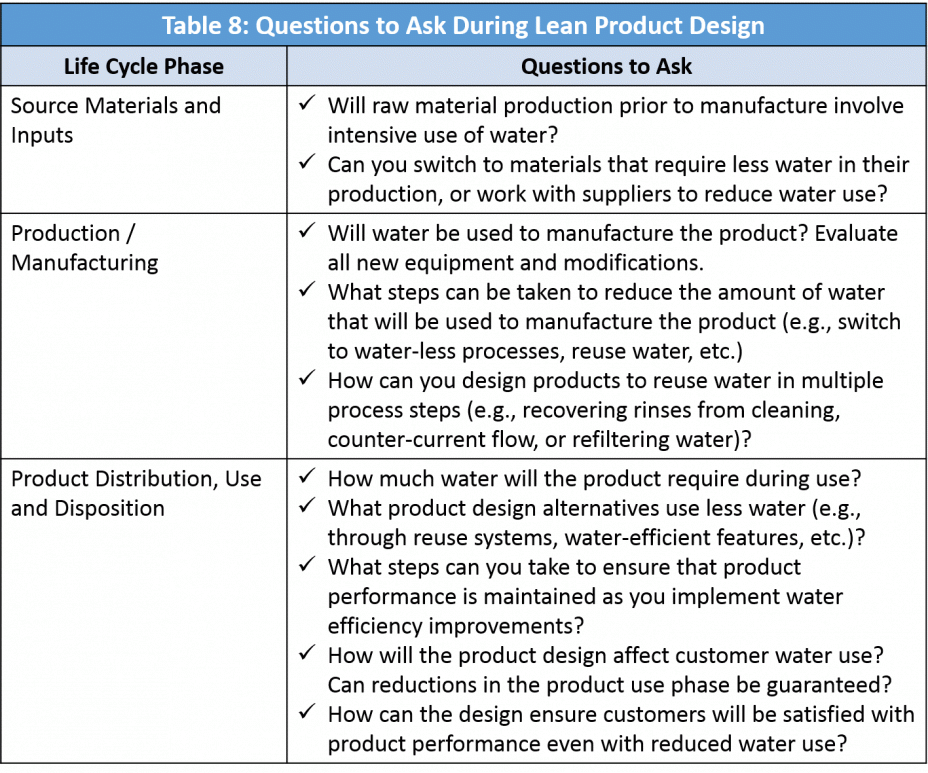 Some companies report that the "seven ways" method provides a useful means to identify a more diverse, creative set of improvement options to address specific water-related needs. This method is often used in the Lean design process. This method typically involves brainstorming of seven alternative approaches for addressing a specific improvement opportunity. Sometimes teams are encouraged to look at how similar tasks are accomplished in the natural world to spark creative thinking on alternatives. The team then scores the seven alternatives using pre-established, weighted criteria to select the preferred solution. Consider incorporating water efficiency into these criteria (water used to manufacture and/or full life-cycle water use) to ensure that product design alternatives are evaluated according to your Lean and water efficiency goals.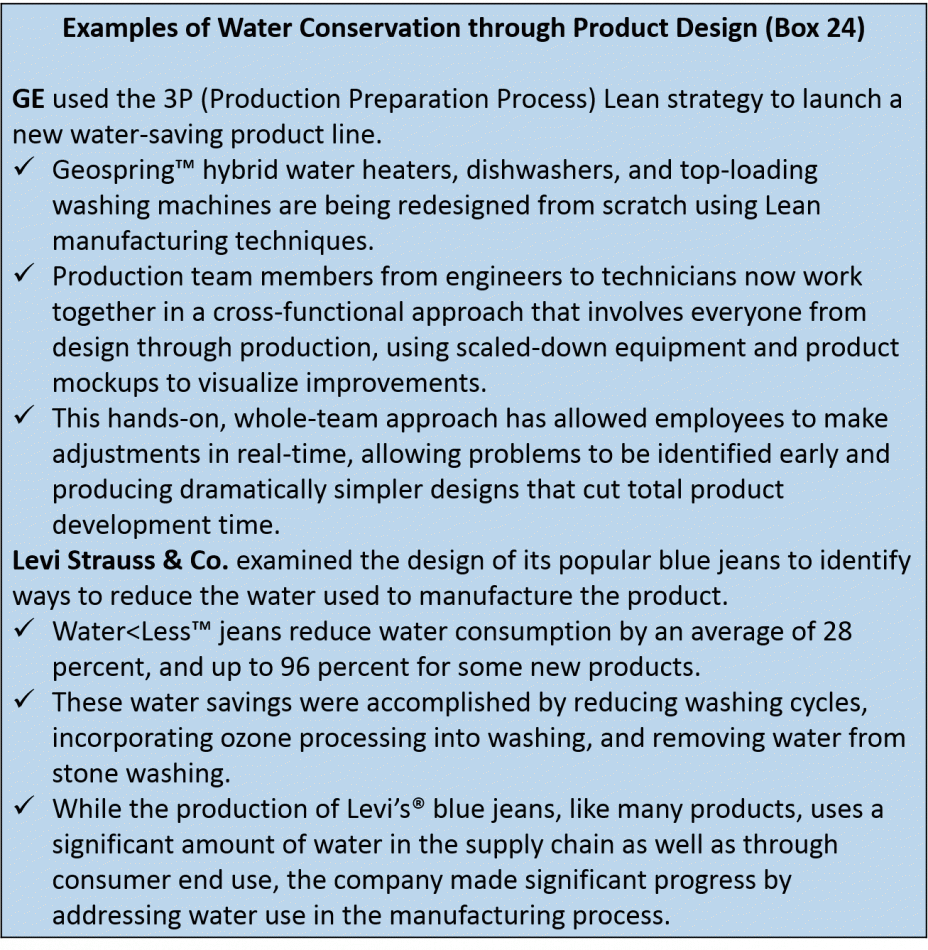 As described earlier in this chapter, there is great potential for water savings throughout a product's supply chain, including the acquisition of

resources and raw materials, as well as the water that customers will use with the product or service. However, if you are just getting started with Lean, consider focusing first on water use within your facility before branching into your supply chain and customer-use considerations.
To Consider
What parts of the extended value chain of your enterprise use the most water? If you don't know, how will you find out?
Have you talked with any of your suppliers about Lean and environmental improvement efforts?
What opportunities are there to offset water impacts and improve water resources for the local community?
What changes could you make to the design of your products to reduce water wastes?
---
Toolkit Navigation
Chapter 5: Lean and Water Beyond the Factory Floor