Lean & Water Toolkit: Preface
​How to Use This Toolkit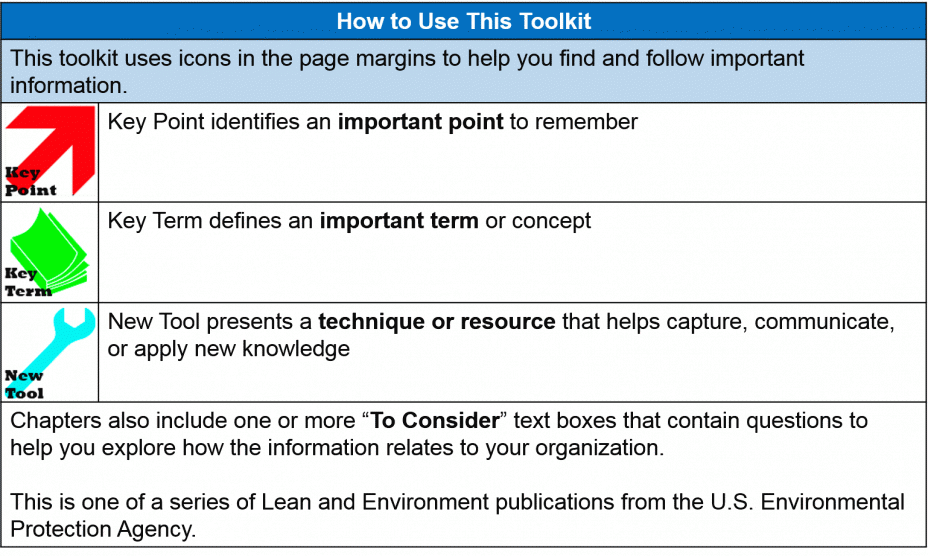 Purpose of This Toolkit

The Lean and Water Toolkit offers Lean implementers practical strategies and techniques for improving common Lean results related to time, cost, and quality, while also reducing water use, costs, and risk. Environmental Health and Safety professionals will also find useful information in this toolkit for how to leverage Lean and Six Sigma business improvement methods to eliminate water waste. Finally, the toolkit introduces Lean practitioners to the wide array of water efficiency resources available from EPA and other organizations.

The "Lean" methods discussed in this toolkit are organizational improvement methods pioneered in the Toyota Production System. Lean production and Lean manufacturing refer to a customer-focused business model and collection of methods that focus on the elimination of waste (non-value added activity) while delivering quality products on time and at a low cost. Six Sigma is a business model that focuses on improving quality by eliminating variation; it is often combined with Lean.
The toolkit assumes that you are familiar with Lean methods. For those who want to learn more about Lean, see the Lean Methods page.
Key Questions Addressed by This Toolkit
Lean works well when it focuses on identifying and eliminating waste. This toolkit contains strategies and techniques that can enable Lean practitioners to easily identify water waste and improvement opportunities alongside the myriad other wastes and improvement opportunities uncovered by Lean. To accomplish this, the toolkit aims to answer the following questions:
What is water waste?

Water is required in substantial quantities to produce goods from food products to silicon chips. Water waste is water that is used beyond the point at which it ceases to add value to the customer. Excess water use often leads to wastewater, which can harm human health and the environment through the pollutants it collects, and overdrawing water resources in certain regions can exacerbate water scarcity concerns. Water can be wasted in the supply chain, through facility operations, and in product use and disposal. This toolkit will help you to recognize water waste so that you can work to reduce it.
Why should you address water waste with Lean?
Substantial water savings can ride the coattails of Lean improvement. By eliminating manufacturing wastes, such as unnecessary processing and cleaning, businesses also reduce the water and associated labor and energy costs needed for cleaning, conveyance, cooling, and heating. Chapter 1 describes benefits of combining Lean and water efficiency efforts and discusses how to get started. Chapter 2 provides an overview of industrial water use, including information on water uses, water metering, and water costs.
How do you know how much and where water is used in your facility?
A key step in effective Lean and water efforts is determining where to target water efficiency improvement activities. Chapter 3 discusses techniques for measuring water use and identifying opportunities to reduce water use in the context of Lean. Methods include gemba walks, water balance, value stream mapping, and root cause analysis.
How can you reduce water use with Lean methods?
Chapter 4 examines specific opportunities for using Lean methods to improve water efficiency, including kaizen events, standard work, visual controls, 5S, and total productive maintenance. These strategies present ways that you can integrate water efficiency principles and practices into the practical, implementation-based tools of Lean manufacturing and the waste-elimination culture fostered by Lean.
How can you use Lean to pursue water efficiency opportunities beyond your facility's operations?
For many companies, water costs and risks may be driven by factors and activities beyond the facility fence-line. Similarly, opportunities to capture market value and win customers may require considerations upstream to manufacturing activities. Chapter 5 explores strategies to leverage Lean initiatives and methods to reduce water risks in your supply chain and to engage the local community in water saving initiatives. Chapter 5 also discusses how Lean product design methods can be used to improve water efficiency and add value by addressing customer water needs.
Acronyms and Abbreviations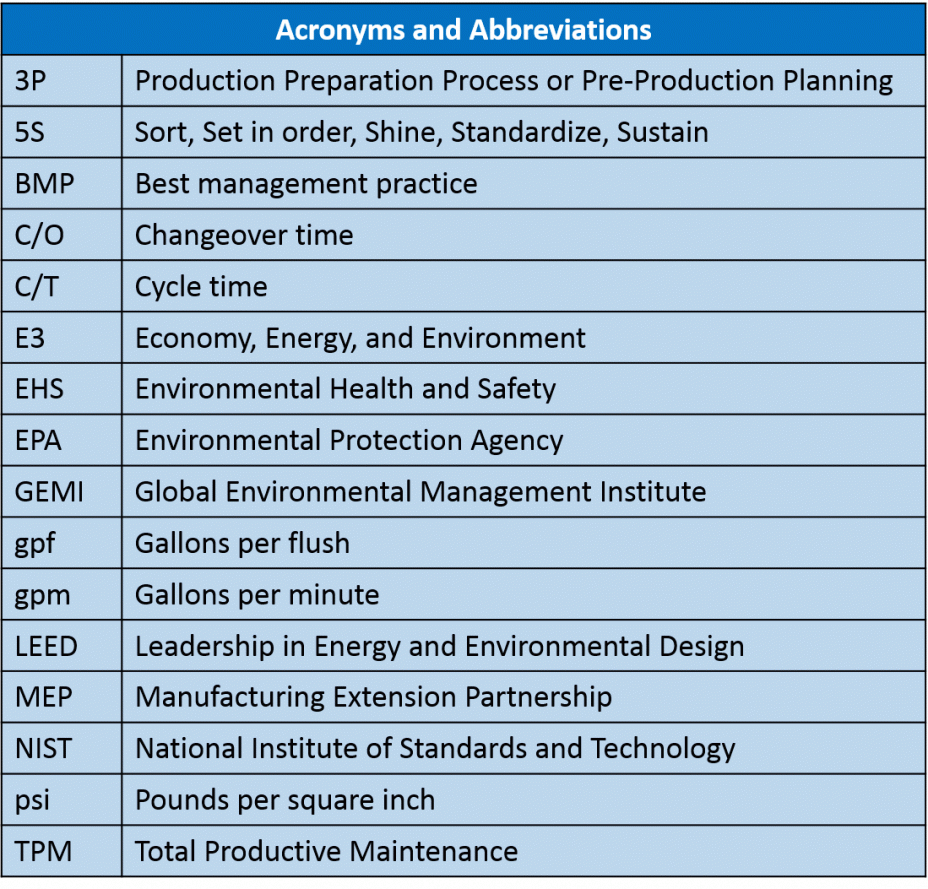 ---
Toolkit Navigation