About the 2017 Food Recovery Challenge National Award Winners
The 2017 Food Recovery Challenge national award winners shared details and quotes about their wasted food prevention and diversion activities, and about their awards with EPA. Read about their accomplishments and how they achieved them.
On this page:
---
Sprouts Farmers Markets 247 and 276
Store 247, Carlsbad, California - Data-driven Winner, Grocers
Store 276, Daly City, California - Data-driven Winner, Newcomer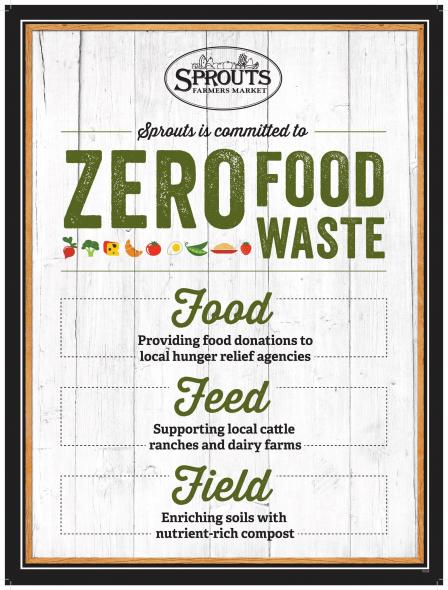 Sprouts acts on their commitment to Zero Food Waste through their Food Rescue and Food Waste to Farms programs, and through customer engagement, removing more than 31 million pounds of wasted food from landfills and avoiding more than $1.5 million in landfill fees in 2016.
Sprouts' Food Rescue Program uses guidelines for donation of product that may not be in retail condition, yet is still wholesome for food banks' clients to consume. Team members participate in training on the importance of food donations in the community, proper shrink management, and guidelines for donations. Stores have signage in each department that visually illustrate the Food Rescue Guidelines and indicate where food rescue items should be staged until their food bank partners arrive. Food bank partners report the pounds of product received from Sprouts on a monthly basis. In 2016, Sprouts was able to provide more than 19 million pounds of nutritious foods to their communities, resulting in nearly 16 million meals.
When product pulled from shelves does not meet Sprouts' Food Rescue Guidelines, it is sent to local cattle ranches and compost facilities through the Food Waste to Farms program. Sprouts has partnered with Quest Resource Management to establish agreements with local haulers to pick up wasted food on a weekly basis. These trucks also have scales on board which provide Sprouts with data on the pounds diverted to cattle feed and compost facilities on a weekly basis. In 2016, Sprouts diverted more than 12 million pounds of wasted food to cattle feed and compost facilities.
Through their various initiatives, Sprouts has developed successful business to business and non-profit relationships that illustrate the power of partnerships to reduce environmental impacts and eliminate hunger in their communities.
---
University of Houston
Houston, Texas
Data-driven Winner, Colleges/Universities
The University of Houston primarily utilizes two food recovery programs on campus: Food Recovery Network and Campus Kitchens. Both organizations recover food from residential halls and retail locations on campus. In 2016, the university donated a total of 39,763 pounds and composted 71 pounds for use on the campus community garden. Recovered food is donated to the campus' surrounding neighbors, an area which is a food desert and where fresh, healthy food is in great need. Dining halls, retail locations, and the campus community garden donate to food pantries or kitchens that will serve food for immediate use.
The garden and residential halls will be partnering together to expand the composting system both in the garden and residential halls over the next year. The university will train all residential dining employees on what can be composted. The university continues to implement and improve several strategies in order to combat wasted food such as made-to-order meals, trayless dining, portion control and recipe design.
---
Ramona High School
Ramona, California
Data-driven Winner, K-12 Schools
Ramona High School's Eco-Leaders are a small group of students who participate in a Functional Skills program and are committed to making change in the world. In collaboration with the County of San Diego and the Ramona Unified School District, the Eco-Leaders run a district-wide, collaborative wasted food reduction and composting program. Students weigh, measure, chart and keep accurate data from eight school sites. The data is sent electronically to the County each day.
The Eco Leaders are the first high school students in California to participate in the EPA's Food Recovery Challenge. Nutrition staff reported revisions to their food preparation practices after seeing how much food was going to waste. Prepared food suitable for donation is placed in a walk-in freezer and collected weekly by a local pantry, the Ramona Food & Clothes Closet. This food is distributed to the underserved in the community. Vegetable peels, salad bar leftovers, and bakery food scraps designated for animal feed go into marked buckets, put into a walk-in refrigerator, and delivered to Ramona High School Ag Department's farm the next morning.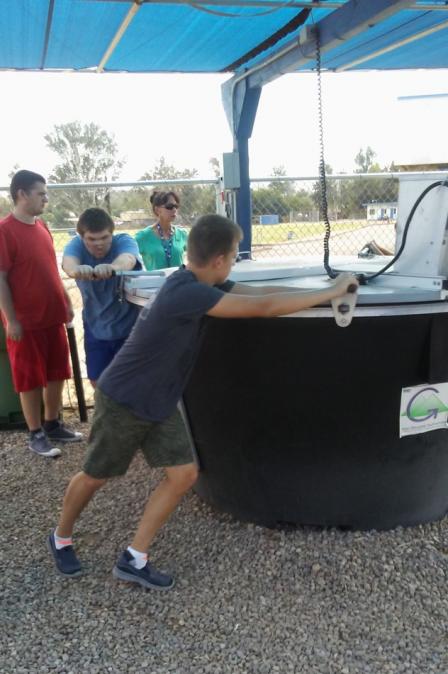 Material that can't be served to humans or animals goes into specially marked buckets, also placed in the walk-in, and collected the following morning for incorporation into the Earth Tub. The finished compost is used in the high school's designated garden where students develop their gardening and culinary skills. The produce and resulting meals feed students, their families, school staff and is also given back to the community.
By the end of December 2016, the Eco Leaders source reduced 5,664 pounds, donated 11,555 pounds to charity, fed 6,097 pounds to farm animals on campus, and composted 8,191 pounds of food - returning valuable nutrients to the garden soil. Finally, the activities practiced within the Eco-Leaders program help to fulfill every element of the Career Ready Practices of the Common Career Technical Core, "a state-led initiative to establish a set of rigorous, high quality standards for Career Technical Education."
---
Kay Bailey Hutchison Convention Center Dallas
Dallas, Texas
Data-driven Winner, Venues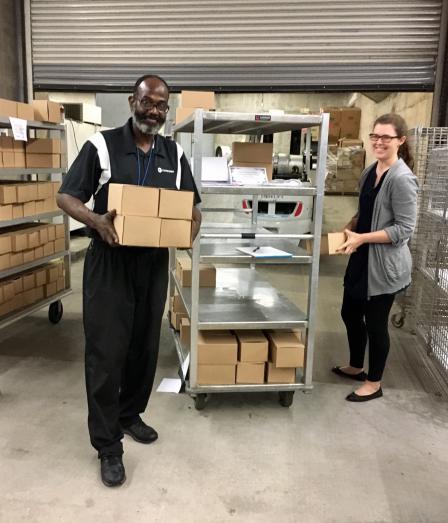 As part of its ongoing commitment to sustainable practices and waste reduction, the City of Dallas' Kay Bailey Hutchison Convention Center Dallas created the Good Neighbor Program (GNP) in 2015. Working with Centerplate, the Convention Center's exclusive caterer, the GNP was created as a way to donate unconsumed food items to nearby nonprofits serving homeless individuals and children in the Downtown Dallas area - no donation is too small or too large.
Additionally, the Convention Center makes it easy for clients and exhibitors to leave usable items, such as registration bags, T-shirts, toothbrushes, pens and other consumer items with the Center. Those items are then matched and donated to appropriate non-profit organizations. Since its inception, the GNP has diverted over 7.6 tons of food from the landfill to individuals in need.
---
Xanterra Parks and Resorts at Zion National Park Lodge
Springdale, Utah
Data-driven Winner, Hospitality
The Xanterra Parks and Resorts at Zion National Park Lodge joined the Food Recovery Challenge in 2013. Currently, staff weigh every single pound of pre- and post-consumer wasted food.  Lodge employees ensure that wasted food does not go into the landfill, but is shredded, spun, and dehydrated. It is then composted along with landscaping and grass clippings. Once the process is finished, quality compost is then donated to local community gardens and residents.
The Lodge is continually providing updated support, education and training for staff and guests about reducing overall wasted food in the first place, controlling portions and the importance of composting. In 2016, the Lodge prevented 28,802 pounds of wasted food from going to the landfill, saving about $3,000 in disposal costs. Through partnerships with the National Park Service, vendors and others, Xanterra Parks and Resorts at Zion National Park Lodge is working hard every day to reduce waste, save resources and benefit the environment.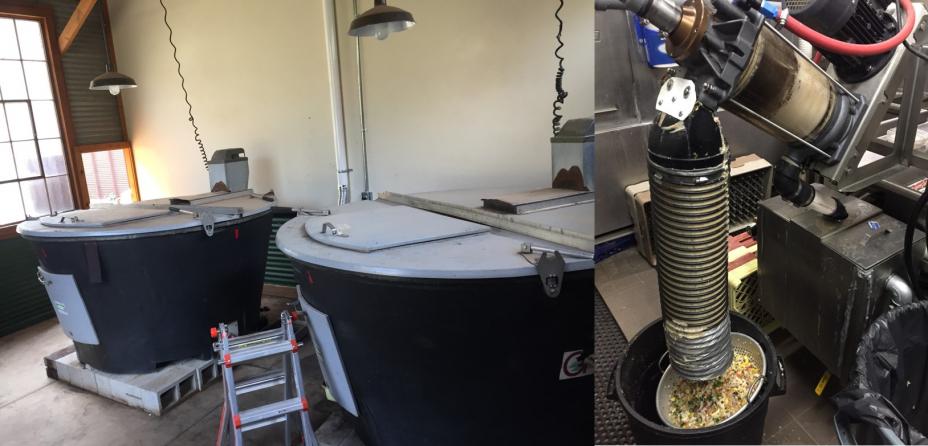 ---
Café de Novo
Dallas, TX
Data-driven Winner, Restaurants and Food Service Providers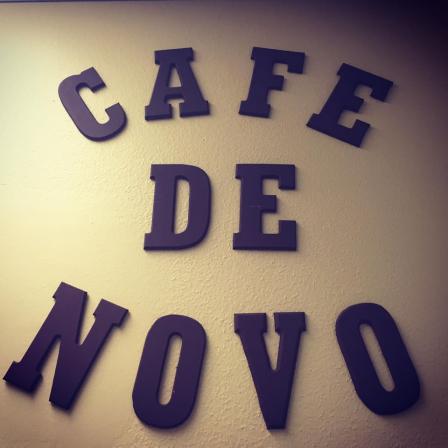 In 2016, Café De Novo assessed their current operations, made a few changes and decided it was simple to reduce food waste! The café now diverts roughly 1,200 pounds of food annually, formerly thrown away, into the hands of their employees and their families. This practice helps employee families, as well as reduces the waste the café generates for the Earl Cabell Courthouse. The café also coordinates with a grease recycling service, which takes about 5,000 pounds of used grease annually, and processes it for repurposing.
"Participating in the Food Recovery Challenge was much easier than expected. I would tell prospective businesses considering the Food Recovery Challenge, don't be afraid, assess what you currently do, and perhaps you may already be engaging in procedures that will qualify under the Challenge!" - Zachary Davis, Owner, Café de Novo
---
Town of New Paltz
New Paltz, New York
Data-driven Winner, State/Tribal/Local Government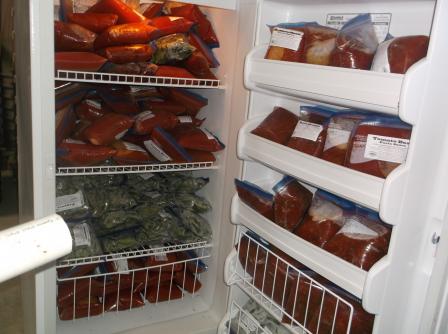 The Town of New Paltz's Food Recovery Program coordinates with several local organizations. In December 2016, the Town entered into a partnership with Rescuing Leftover Cuisine (RLC), a 501(c)(3) organization that solicits food donations from local food service providers, restaurants and local businesses for drop off at local charities. New Paltz's food recovery program has coordinated donations and volunteers to pick up excess food for food recipients, e.g. food pantries, as well as tracking associated weights. The Town's successful partnership with RLC is due to the dedication of many reliable volunteers. This incredible step to feed our hungry helped the Town move up the EPA Food Recovery Hierarchy and move into its long term goals for the New Paltz Zero Waste Plan.
Zero waste goals can only be achieved through the dedication of many committed community volunteers. In 2016, New Paltz also partnered with the Food Insecurity Collaborative (Rondout Valley Growers Association, Family of Woodstock and Ulstercorp), one of five food recovery hubs in Ulster County, New York for gleaned and/or overproduced fresh produce. The New Paltz hub is one of the largest hubs in the county. Currently, two "recovered" freezers are on site at the New Paltz ReUse Center to store gleaned produce that was processed in certified kitchens and frozen to extend the availability of produce through the winter months.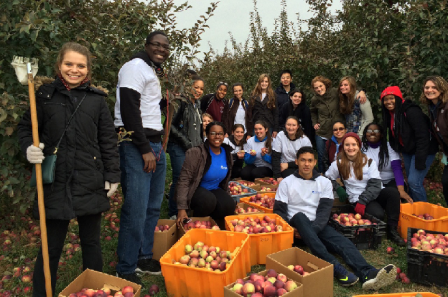 To date, the Town of New Paltz recovered 6,530 pounds of food to feed hungry people through the RLC program, with the latest reports of gleaned produce from the Food Insecurity Collaborative reaching 20,000 pounds. Finally, in February 2017, as part of State University of New York (SUNY) New Paltz's Feed the Hungry campaign, Sodexo of SUNY New Paltz's dining hall agreed to provide excess food to New Paltz's food recovery program. The dining hall has donated everything from single serving sandwiches and salads to trays of frozen food.
"The New Paltz Food Recovery Program expects to triple the volume of food collected and fill the pantries of Ulster County." - Laura Petit, Recycling Coordinator and author of the New Paltz Zero Waste Plan
---
Food Forward
North Hollywood, California
Data-driven Winner, Non-Profit
Food Forward, a three-time Food Recovery Challenge awardee, rescues fresh local produce that would otherwise go to waste, connecting this abundance with people in need and inspiring others to do the same. Produce is collected from over 750 private backyards, 22 weekly farmers markets, and the downtown Los Angeles Wholesale Produce Market.
Food Forward has become a leader in the food recovery field through its Wholesale Produce Recovery program, which was started in 2014. Surplus produce is collected by the truckload from the downtown Los Angeles Wholesale Produce Market.
In 2016, the Wholesale Recovery program rescued over 13.7 million pounds of fresh fruits and vegetables. This produce would have otherwise been sent to landfill at a great financial and environmental cost. One hundred percent of the recovered food is donated, within hours, to hunger relief agencies across eight counties in Southern California. In 2016, Food Forward helped feed 1.25 million individuals facing food insecurity.

---
Signature Breads, Inc.
Chelsea, Massachusetts
Data-driven Winner, Food Manufacturing
Signature Breads, Inc. has had a longstanding commitment to reducing its impact on the environment, starting with a reduction in waste going to landfills. Over the years, the company has worked with various contractors who repurposed dough and bread waste into compost or livestock feed. In 2016, Signature Breads, Inc. donated close to 12 tons of frozen breads and composted or processed into animal feed 2,368 tons of bread and dough, at the same time avoiding up to $117,879 in associated hauler fees.
Signature Breads, Inc. believes that understanding how much waste they produce, and knowing where it comes from allows the company to target its reduction efforts more accurately. The company is also using this data in several Lean Manufacturing initiatives that target waste. Signature Breads, Inc. uses EPA's data management system to track its waste and set goals, as well as utilizing software in its waste handling stations that records waste amounts.
Signature Breads, Inc. also installed a new waste compactor with an integrated scale to measure its waste. The scale has the capability to record data about the source and type of waste to help identify areas that would benefit most from waste reduction efforts. When the company found out that many food banks cannot manage bulk-packed frozen foods, it organized a team of volunteers to re-pack its breads into more family-friendly portions.
All bread and dough waste produced at Signature Bread's facility is recovered by Baskin Livestock, Inc, of Batavia, New York and is processed into livestock feed. Baskin provides Signature Breads, Inc. with equipment to weigh and identify the wasted food according to type and source. Signature Breads, Inc. also partners with local hunger relief organizations, and donates finished bread, that would otherwise be wasted, for them to distribute.
Signature Breads, Inc. believes that its customers are demanding a higher level of transparency and environmental responsibility. Having data to support its waste efforts has been beneficial.
---
Cherokee Point Elementary School, San Diego Unified School District
San Diego, California
Narrative Category Winner, Source Reduction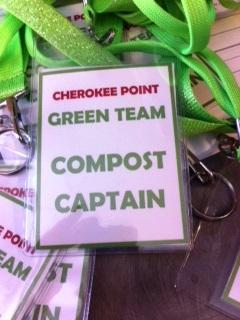 Cherokee Point Elementary School is one of 117 elementary schools in the San Diego Unified School District, and a leader when it comes to wasted food source reduction and diversion. With an enrollment of approximately 400 students and 100 percent free and reduced price meals, the District's Food & Nutrition Services staff at Cherokee Point is committed to reducing wasted food at the source by implementing the following practices:
Accurately forecasting the amount of food needed for student meals based on an understanding of meal preferences and attendance fluctuations.
Utilizing the "offer versus serve" menu planning model across all meal service (breakfast in the classroom, lunch, and after school supper program), which allows students to decline some of the items offered that they don't intend to consume.
Recovering certain foods and beverages back into another meal service after initial offering to students.
Reducing salad bar pan size.
Although students at Cherokee Point are not always aware of the behind-the-scenes food source reduction activities taking place in their school's kitchen, they do their part by source-separating their food scraps at lunch so it can be sent off-site for composting. These wasted food reduction strategies and composting efforts help make Cherokee Point Elementary School a model "green" school in San Diego.
---
City of San Diego
San Diego, California
Narrative Winner, Leadership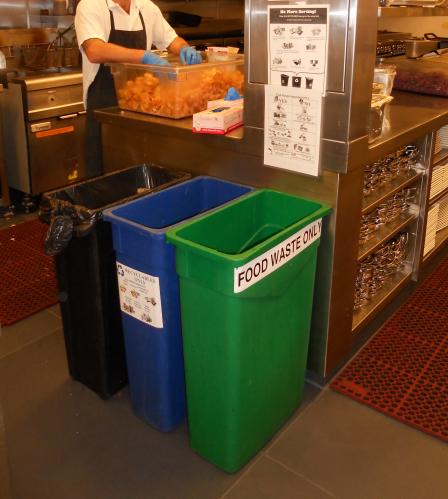 As an endorser in the EPA's Food Recovery Challenge, the City of San Diego's Environmental Services Department's Commercial Food Waste Diversion Program has a comprehensive food recovery education program for commercial food providers. The program had over 80 participants in 2016, composting nearly 8,000 tons of wasted food. Participants included the largest generators of food waste in the City, and all its larger venues, such as the San Diego International Airport, Convention Center, Zoo, Safari Park and SeaWorld San Diego, three main university campuses, two large military bases, four hospitals, several grocery stores, and the City's largest hotels. Smaller generators participating include corporation cafeterias, street restaurants and delis, medium size hotels, institutions, and schools.
All participants are recognized annually with the program's seal of participation, to be displayed for their customers' view. Most of the larger generators donate food to people and roughly one third of them use "imperfect produce" in their kitchens. During 2016, 17 of the larger generators alone increased their food donation by over 3,000 pounds per week. The program's participants have been presented as models for the whole region and State and some of its participants have been pioneers and leaders for their specific industries.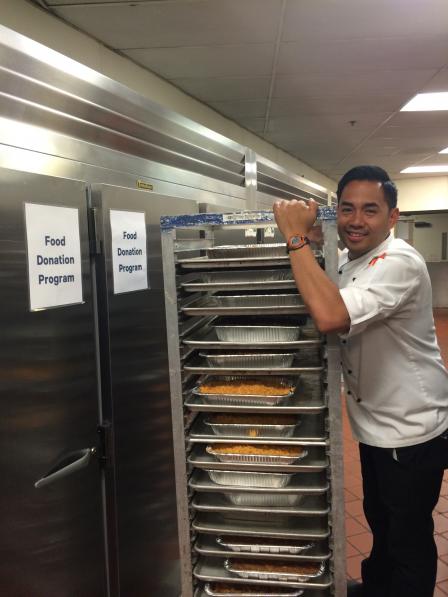 Specific program efforts include meetings with owners and managers of food provider establishments, where a wasted food assessment is conducted, and site specific suggestions for decreasing wasted food are made. The program also provides information to their participants on various topics, such as source reduction, donation of excess food to hunger relief organizations, liability protection for food donation and safety concerns with respect to expiration dates, as well as EPA's Food Recovery Challenge. They also facilitate contact with a food bank to set up of a food donation program. In addition, participant sites are included in the commercial wasted food composting program, assisting with identifying the best wasted food collection logistics for the sites, and providing training for their staff. In 2016, approximately 400 workers participated in the wasted food diversion program training.
---
Honesdale Roots & Rhythm Music & Arts Festival
Honesdale, Pennsylvania
Narrative Winner, Innovation
In 2010, the Honesdale Roots & Rhythm Music & Arts Festival Board reached out to a local waste consulting firm specializing in wasted food recovery, to help develop and coordinate the festival's green efforts. A major shift in the festival's waste collection efforts began to emerge, and after researching various options, a local farmer agreed to accept the festival's food waste for on-farm use, and landfilling the festival's wasted food became a thing of the past.
With materials donated from local businesses, well-marked stand-alone waste reclamation stations were constructed and dispersed throughout the festival since 2011. Professionally printed double-sided picket signs with ground stakes are now located near entrance points and by all of the collection stations throughout the park, reminding festival-goers to "THINK, BEFORE YOU THROW." Color coded and labeled signs are hung above the disposal containers, with the wasted food container lined with a compostable bag. Food vendors are mandated to use either compostable or recyclable service-ware. Sustainability volunteers are recruited and trainings conducted to help them guide and educate festival-goers while sorting their festival waste. They are provided with brightly colored t-shirts and stationed at each waste reclamation station in shifts throughout the day, helping educate festival-goers about sustainability and ensuring the sorting process goes smoothly.
In 2016, approximately 1,100 pounds of wasted food/compostables, 480 pounds of recyclables, and only 360 pounds of trash/landfill were collected, representing an over 90 percent increase in sustainable materials being successfully diverted from the landfill when compared to the 2008 festival.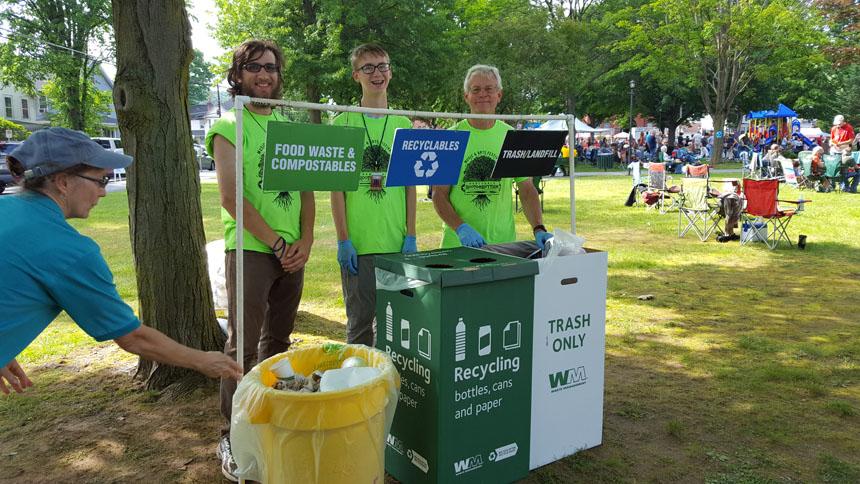 ---
San Diego International Airport
San Diego, California
Narrative Winner, Innovation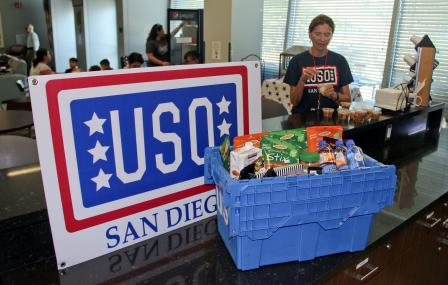 The San Diego International Airport provided service to over 20 million travelers in 2016. In 2013, the San Diego County Regional Airport Authority collaborated with one food service provider to collect coffee grounds and fruits for composting at the City of San Diego's Miramar Greenery Composting Facility. In 2014, the airport's program expanded to include 40 restaurants and coffee shops that were collecting and composting all their pre-consumer food scraps. This marked the beginning of the airport's Food Recovery Program – a collaboration with airport concessionaires; Flagship Airport Services (the airport's janitorial service provider); Bradford Airport Logistics (the airport's receiving and distribution service provider operating a fleet of refrigerated vehicles); Republic Services, the airport's waste hauler; and the City of San Diego. By the end of 2015, three prep kitchens, the Airport's United Service Organizations' Neil Ash Airport Center, and three of the Authority's break rooms were participating in the program.
In 2016, the Food Recovery Program began a pilot project to collect post-consumer wasted food in all seven restaurants. The pilot program was a success and the airport now collects post-consumer wasted food as part of its program. By separating food from the waste stream, the airport has reduced the volume of material disposed as trash, diverting 340 tons of non-edible food waste to Miramar Greenery for composting. Additionally, the donation program for edible food items saved the community approximately $100,000 by providing nearly 5,000 meals.
---
Spoiler Alert
Boston, Massachusetts
Narrative Winner, Education and Outreach
Spoiler Alert is a Boston-based software company that helps food businesses, such as grocery stores, manage unsold inventory. Spoiler Alert was founded in 2015 out of the Massachusetts Institute of Technology on the concept that not all surplus, unsold food inventory is unsaleable, and that not all unsaleable food product or byproduct needs to end up as waste. Product goes unsold often as a result of uncontrollable circumstances, such as customer demand fluctuation, weather, or warehouse damages. These products are often perfectly safe and edible, just lacking a market. In other cases, there are nutrient-rich organic byproducts of the manufacturing process that can be used for recycling opportunities such as compost or for animal feed.
Spoiler Alert is currently focused on working with large food manufacturers, distributors, and grocery retailers throughout the United States. Spoiler Alert's platform provides insights into a company's existing waste reduction and diversion activities, while also helping identify and access outlets (like discounted sales or donation partners) that recover value from unsold inventory before it goes to waste. Recently, the company aligned its platform with the Food Loss and Waste Accounting and Reporting Standard (FLW Standard), enabling users to track unsold inventory across every destination included in the globally recognized standard. (The FLW Standard is a multi-stakeholder effort that developed the global accounting and reporting standard for quantifying food and associated inedible parts removed from the food supply chain.) In New England, Spoiler Alert also operates an online marketplace to facilitate coordination of food donations and discounted food sales.
---
Corporate Waste Consultants
Greentown, Pennsylvania
Narrative Winner, Endorsers
Corporate Waste Consultants (CWC) is an independent, certified solid waste management consulting firm headquartered in Greentown, Pennsylvania that has been specializing in wasted food diversion from landfills since 2009. CWC's food waste generator client sites include grocery stores, residential communities, resorts, school districts, restaurants, music and arts festivals, gas station mini-marts, and management properties. CWC provides their clients with practical and environmentally conscious solutions for reducing wasting food as well as their bottom-line. They perform in-depth audits of waste streams, conduct ongoing market research, cultivate relationships with strategic partners, provide ongoing client education, design and implement targeted training programs, and monitor outcomes.
Approximately 30 boxes of unsellable but edible food from local market loaded in van ready for transport to St. Vincent's Soup Kitchen.CWC's wasted food generator client sites are located throughout Northeast Pennsylvania, including many in rural areas without routine access to commercial composting. Despite this, CWC has been able to redirect a substantial amount of wasted food from landfills by helping feed the hungry in two soup kitchens (an average of 52 banana style boxes of edible but not sellable produce, baked goods and dairy per week between three markets), and establish wasted food composting programs for on-farm use at multiple client sites (an estimated 15.4 tons in 2016 at just one site). CWC also helped a local school district apply for and obtain a state-of-the-art, on-site composting system through a Pennsylvania Department of Environmental Protection grant, providing educational opportunities for students K-12 that wouldn't otherwise be possible.