About the 2019 Food Recovery Challenge National Award Winners
The 2019 Food Recovery Challenge national award winners shared details and quotes about their wasted food prevention and diversion activities, and about their awards with EPA. Read about their accomplishments and how they achieved them.
On this page:
---
Keene State College
Keene, New Hampshire
Data-driven Winner, Colleges/Universities
Keene State College (Keene State) modified its food waste composting program in its common dining area in December 2017 to include all kitchen waste and post-consumer food waste. This significant expansion of collected and composted food waste was a critical step toward achieving the school's ambitious goal of qualifying as a zero-waste campus by 2030.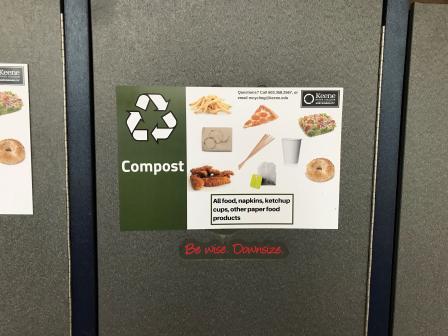 The effort cut across all sectors of campus and required the cooperation of several departments, including grounds, dining services, custodial services, student affairs, physical plant, purchasing, and sustainability. The collaboration even extended across state lines. Since New Hampshire state guidelines restrict the composting of meat and dairy, the college's Office of Sustainability partnered with the Windham Solid Waste Management District (District) in nearby Brattleboro, Vermont. The District provided approved industrial composting, which allowed Keene State to expand its food waste composting program and provide a finished compost to be used for campus landscaping.
The changes needed to expand the composting program included: converting a rented compactor from landfill waste to organics waste; training staff on new procedures; installing a rolling cart lifter for the compactor to ensure workers' safety; negotiating hauling and vendor scheduling transport to Vermont; and negotiating and signing contract agreements with the District.
In a year, Keene State more than doubled the amount of food waste composted. The weight of compost collected increased from 41.76 tons in 2017 to 110.66 tons in 2018. The reduced cost for composting, compared to landfilling, saved the school $4,324. As a result, Keene State College expanded composting to other food service vendors in the Student Center beginning the summer of 2019.
"Keene State College is thrilled with the success of its expanded composting program. Not only does it move the college forward in attaining its ambitious zero-waste by 2030 goal, but it saves money and models full-circle composting—we love that compost generated from KSC food waste is returned to our campus landscaping as a nutrient-rich finished compost. The program is a "win-win" all around!" - Dr. Cary Gaunt, Director of Campus Sustainability, Keene State College
---
Signature Breads, Inc.
Chelsea, Massachusetts
Data-driven Winner, Food Manufacturing
Signature Breads has had a commitment to reducing its impact on the environment through reducing its waste since the 1980s. Over the years, the company has worked with its contractors to divert dough and bread waste to composting operations or livestock feed. In 2018, Signature Breads processed over 3,000 tons of bread and dough into animal feed. The company also uses a food waste compactor with an integrated scale to measure its waste. The scale records data about the source and type of waste being produced and thus helps identify opportunities for improvement in the bakery's operations.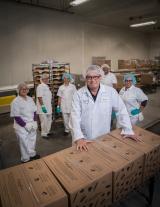 Signature Breads works with food banks and other local hunger relief organizations to find creative ways to donate excess bread. They have donated over 4 tons of frozen bread to hunger relief organizations. As a foodservice manufacturer, Signature Breads packages its bread in bulk cases which makes it challenging for charities who are more accustomed to receiving food in retail packaging. The company has learned that it takes a little more effort and persistence to find ways to donate this type of product, but in doing so, they have been able to use excess food to feed people in need. 
As a Certified B Corporation since 2016, Signature Breads strives to be good stewards of the environment and place importance on "Business as a Force for Good." 
---
Katherine Lee Bates Elementary School
Wellesley Hills, Massachusetts
Data-driven Winner, K-12 Schools
In 2016, Katharine Lee Bates Elementary School (Bates) students partnered with local organizations to ascertain what was being wasted in their cafeteria and how to reduce that waste. A fifth-grade leadership team formed and developed recycling areas and signage, as well as taught fellow students about waste reduction and sustainable waste management at a school assembly. The students worked with the town's Sustainable Energy Committee, Natural Resources Commission, and Health Department, as well as with the Wellesley public schools administration, facilities management, and food services to do a cafeteria waste assessment and create a program for single-stream recycling and food waste diversion in the cafeteria.
After the assessment, in Fall 2016, Bates began diverting unused liquids to an anaerobic digestion facility; donating unopened food to Bates classrooms and the Wellesley Food Pantry; and recycling plastics, cardboard, aluminum, and paper. During 2018, per week, the school donated about 29 pounds of excess food and diverted about 84 pounds of liquid food waste from the trash. 
The Bates program has helped inspire other food recovery efforts in Wellesley. Three additional Wellesley elementary schools have since replicated all or part of the Bates program. Additionally, since December 2017, Bates has been part of a network of Wellesley public schools and area colleges that has donated kitchen leftovers to Food For Free, a non-profit that provides dinners to people in need. Wellesley Public Schools also held a 2018 Food Waste and Food Rescue Workshop for seven communities and helped initiate food recovery programs in neighboring towns.
In January 2019, Whitsons Culinary Group, Wellesley public schools' food service operator, began sending kitchen scraps from school meal preparation at their kitchen facility to an anaerobic digestion facility. In October 2019, Wellesley Middle School launched a pilot to divert post-consumer food waste, with a high school pilot planned for March 2020.
"I love that the concept and passion for the Food Recovery Program came from our students, as a fifth grade Student Council project. Our whole school community and town enthusiastically supported the idea and four years later continue to work hard to sustain this initiative. Our students are proud to participate in the Food Recovery Challenge." -Toni Jolley, School Principal
---
Captain's Galley Restaurant at Pickwick Landing State Park
Counce, Tennessee
Data-driven Winner, Restaurants and Food Service Providers
It is important to Captain's Galley Restaurant at Pickwick Landing State Park to lead the way in being stewards of our natural environment. As a part of the Tennessee Department of Environment and Conservation and as a Tennessee State Park, the restaurant demonstrates actions that can be taken to reduce food waste and protect the environment. It weighs, tracks, and records all its food that is disposed of, recovered, and composted. Restaurant staff keep three separate food waste logs: one maintains records of each individual food item disposed of, how much it weighs, and the reason it was disposed; a second is for source reduction or diverted food; and a third is for compostable food scraps from kitchen prep and post-consumer waste.
Staff weigh each item that would have previously gone to waste due to bulk ordering, improper storage techniques, or inability to re-serve. They find a way to reuse this food in other recipes or repurpose it into something new. The restaurant also has separate containers in the kitchen to collect all compostable pre- and post-consumer waste, which is then weighed and taken to on-site composting. The waste logs are submitted monthly to the Tennessee Department of Environment and Conservation's Office of Policy and Sustainable Practices. Training provided by the Office of Policy and Sustainable Practices has taught source reduction techniques to prevent food waste from being generated; improvements in overall efficiency of processes to further reduce unnecessary waste; and repurpose/reuse techniques to capture any remaining food waste.
Some of the most successful food reduction methods the restaurant has implemented include regular waste tracking and prep planning, developing menu specials to utilize food close to the end of its shelf life, and consistent monitoring and coaching of staff to improve work processes to achieve better food waste control.
In 2018, with 73,568 visitors, the restaurant was able to divert 22 tons of food waste from landfills through participation in the Food Recovery Challenge: 1.5 tons of through diversion and recovery and 20.5 tons through on-site composting.
---
Savor...Chicago at McCormick Place - South Building
Chicago, Illinois
Data-driven Winner, Sports and Entertainment Venues
 "At SAVOR… we find that most people want to do the right thing for our environment, and our job is to have in place an easily understood and effectively communicated process that supports reduced waste diversion." -Doug Bradley, Vice President of Culinary at Savor…Chicago at McCormick Place
In 2018, SAVOR…Chicago at McCormick Place (Savor) continued to identify ways to improve their waste diversion success. They kept successful programs such as the proprietary Green Angels post-consumer waste sorting plan and continued to hold recurring stand-up meetings that focus on waste reduction for in-house teams, emphasizing the importance and operations of waste sorting.   

The next step was to develop signage guiding customers at Savor…Chicago at McCormick Place customers to place specific waste in designated streams. The signage was designed to be easily updated as items change and to provide user-friendly graphics to all customers. 
During this time, Savor deepened its relationship with the Resource Center (a Chicago based composting company), an alliance that led to improved waste diversion and separation. This partnership allowed the Savor…Chicago at McCormick Place South Building to increase composting and donation by 166 percent from 2017 to 2018. 
Finally, Savor increased efforts to partner with various events at McCormick Place. When stakeholders work together, the facility can achieve significantly improved results. One example of that took place at Greenbuild International Conference and Expo 2018, during which McCormick Place achieved an 89 percent diversion rate for all four of its buildings.
---
MGM Resorts International - Bellagio Hotel and Casino Las Vegas
Las Vegas, Nevada
Data-driven Winner, Hospitality
"MGM is one of the largest multi-concept restaurant owners in the world, and as such we believe it is our responsibility to manage food waste responsibly and effectively," said Yalmaz Siddiqui, Vice President Corporate Sustainability at MGM. "As a U.S. Food Loss and Waste 2030 Champion, we are committed to supporting the national goal to reduce food loss and waste by 50 percent by 2030, and we look to the EPA Food Recovery Hierarchy to help prioritize our efforts."
MGM Resorts International - Bellagio Hotel and Casino Las Vegas (Bellagio) actively supports the MGM Resorts Social Impact & Sustainability Strategy to be "Focused on What Matters: Embracing Humanity & Protecting the Planet." As part of that commitment, they have comprehensive programs to manage food waste responsibly and, whenever possible, donate unserved food from their resorts to people in need.  
In 2018, the Bellagio diverted over 3,700 tons of food waste from landfills, 26 percent more than in 2017. Most of this food waste, over 2,000 tons, was comprised of food scraps that were sent to a local pig farm. The second largest volume, over 1,400 tons, was brown and yellow grease that was collected and converted into biofuel.  
Through one of MGM Resorts International's most important and innovative programs, Feeding Forward, the Bellagio donated 24 tons of unserved food from the resort to people in need. This included perishable prepared food from events, perishable unprepared food from kitchens, and non-perishable food from warehouses and minibars. This success was enabled by a strong partnership with Three Square Food Bank and active support from the Bellagio's culinary and catering teams.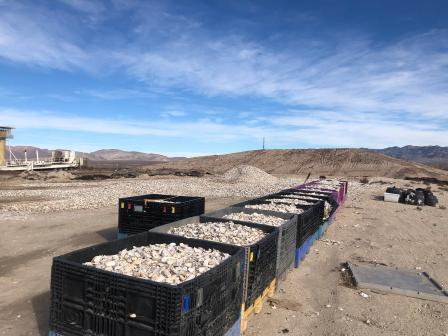 Also, in 2018, the Bellagio collected over 10 tons of oyster shells from its restaurants and banquets, dried them, and then shipped them to support oyster replenishment efforts for ecosystems in the Chesapeake Bay.
In addition to these food waste diversion efforts, Bellagio has implemented multiple source reduction programs to avoid food waste being generated at the start. This includes, but is not limited to, food waste analysis, portion and plate size reduction, and employee and client communications to encourage responsible consumption.
---
Los Angeles County Department of Public Works, Environmental Programs Division
Los Angeles, California
Data-driven Winner, State, Tribal and Local Government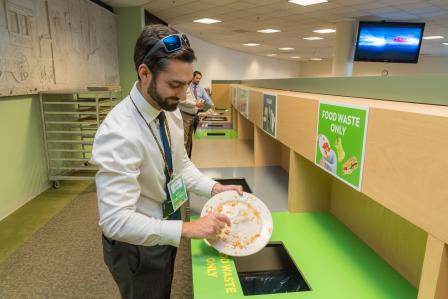 As a regional entity serving 88 cities and a population of more than 10 million people, the County of Los Angeles (LA) continually pursues ways to make its communities more resilient. This commitment drives the need to identify new ways to address greenhouse gases, waste generation and pollution.
The 'Scrape Your Plate' pilot program was launched in 2017 to help LA County Public Works employees divert food waste from area landfills through organics recycling. At the program's inception, food waste was collected in the cafeteria and dining area of the agency's headquarters in Alhambra, California. A year later, 'Scrape Your Plate' expanded to include 20 on-campus breakrooms and special events at field facilities across LA County.
LA County Public Works collaborated with LA County Sanitation Districts to use existing anaerobic digestion infrastructure to convert 13,700 pounds of food waste to electricity. Worm composting bins diverted an additional 1,200 pounds of food waste and another 340 pounds were source reduced by improved planning by kitchen staff. 
"LA County Public Works has a vision for vibrant, waste-conscious communities served by cutting-edge 21st century infrastructure," said LA County Public Works Director Mark Pestrella. "That includes developing programs and innovative approaches to waste reduction in partnership with local cities and under the guidance of our Board of Supervisors." 
Getting employees and visitors to properly separate food waste, trash and recycling was a challenge at first. But the project team significantly reduced cross-contamination by increasing on-site signage and peer-to-peer outreach. To further encourage these new social behaviors, an educational video was developed. LA County Public Works is now working to expand the program to recycle other types of organic waste, including food-soiled paper.
"We hope the success of the organics recycling effort here at LA County Public Works can serve as an example to other agencies, businesses and institutions," Pestrella said. 
---
ProduceGood
Encinitas, California
Data-driven Winner, Non-Profits
In 2018, ProduceGood achieved a sustainable fresh produce recovery practice throughout San Diego county with a scalable model, which includes community engagement, sustainable partnerships, program innovation and data-driven programming. With 153,967 pounds of excess produce rescued in 2018 from 90 growers (farms and residential orchards), ProduceGood diverted 76.98 tons of edible fruits and vegetables from landfill. Through the efforts of 600 volunteers participating in 260 food recovery events from over 90 growers, ProduceGood upcycled 461,901 servings of nutritious produce to food system to benefit the food insecure of San Diego or for zero-waste processing.
The nonprofit food recovery organization increased its sustainable revenue by 10 percent over 2017 and added a custom app (created by a ProduceGood board member) to streamline food recovery operations at four Sunday farmers markets each week in San Diego, California, providing an average of 1,500 pounds of surplus produce to 22 local feeding agencies. Working on a decentralized, community-driven model, ProduceGood secured a contract with the City of Oceanside, California to help achieve the zero waste goals set by California's recently passed legislation to reduce organic waste and reduce greenhouse gases caused by methane emissions from food waste in landfills.
---
Sprouts Farmers Market Store #407
Alhambra, California
Data-driven Winner, Grocers
"At Sprouts, we integrate food waste diversion programs across store operations so we can alleviate hunger in our local communities and return valuable nutrients back to the soil. We're proud to participate in EPA's Food Recovery Challenge and are grateful for our food bank and business partners who join Sprouts in eliminating food waste in the U.S." -Justin Kacer, Sprouts Sustainability Specialist
Sprouts Farmers Market is committed to eliminating food waste. In 2018, Sprouts Farmers Market store #407 in Alhambra, California donated 59 tons of its surplus food to support local families in need. That food would have otherwise gone to a landfill. The store also composted an estimated 57 tons of food scraps, helping to recycle nutrients and avoid landfill emissions. Store #407's combined 2018 food donation and food scraps composting efforts were 222 percent greater than they were in 2017. 
In 2018, the approximately 300 Sprouts Farmers Market stores across the country donated 27 million pounds of food to local banks (the equivalent of 23 million meals) and diverted 35 million pounds of food to animal feed and compost facilities.
---
Tennessee Department of Environment and Conservation
Nashville, Tennessee
Narrative Category Winner, Endorser
The Tennessee Department of Environment and Conservation (TDEC) works to enhance the quality of life for residents of Tennessee and be stewards of the natural environment. In 2018 TDEC made significant commitments to food recovery, waste reduction, and diversion by developing programming, providing technical assistance, and conducting education and outreach.
TDEC leads by example, enrolling five of its resort state park restaurants in the Food Recovery Challenge. In 2018, those five parks reduced, recovered, and diverted 178,972 pounds of food through composting and through reuse or donation of food. TDEC office locations across the state continued the employee-led organics collection programs after a successful pilot year.
TDEC staff presented about food waste, recovery, and diversion at 17 different events in 2018, engaging a wide variety of audiences around the country and reaching a total of 72,081 individuals. In addition to presentations, staff assisted several schools with conducting food waste audits and providing education to students regarding food waste and how to avoid it. Beyond providing audits, TDEC programming also helped schools with food waste diversion, donation, and composting across the state.
A key initiative supporting the Food Recovery Challenge (FRC) goals is a statewide initiative, 'Get Food Smart TN.' The program includes an interactive website to promote education and outreach, a recognition program, technical assistance resources, and a link to the FRC. This program promotes FRC goals to grocery suppliers, restaurants, schools, businesses, and consumers. As of December 2018, 145 entities had joined the Get Food Smart TN recognition program. In the program's inaugural year, participants diverted a total of 32,051,282 pounds of food from landfilling through composting and donations.
---
Firekeepers Casino Hotel - Nottawaseppi Huron Band of the Potawatomi
Battle Creek, Michigan
Narrative Winner, Leadership
"This is the culmination of a plan to simultaneously create a successful restaurant product while also helping the community in an impactful way. It has been incredible to see our team members embrace this initiative and to continually get involved, greatly increasing numbers year after year." -Michael McFarlen, Vice President of Food and Beverage/Executive Chef FireKeepers Casino Hotel
FireKeepers Casino Hotel (FireKeepers) is a food destination for Michigan residents and guests from across the region. With eight restaurants and a full-time banquet kitchen, food waste amounts can be astronomical. After a few years of operation, FireKeepers team members realized the vast amount of waste and began developing a waste prevention plan. FireKeepers purchased blast chillers to reclaim food from the buffet and banquet events, as the food had been prepared but not served. At the end of an event or serving, the untouched food is blast chilled to quickly bring down the temperature to a safe temperature, and the food is then repackaged and distributed to those in need in the community. The amount of food diverted through FireKeepers donation efforts in 2018 totaled 4.02 tons. That number continues to rise through employee education and awareness.
FireKeepers also works with area food banks to prevent waste through the Fresh Food Initiative (FFI). FireKeepers and the South Michigan Food Bank partner to provide an average of four FFIs events each month. At these events, fresh produce is distributed to neighbors in need. To prevent produce from being wasted, the FireKeepers Culinary Team develops easy recipes using the produce distributed and provides samples to encourage clients to utilize all the items they receive.
FireKeepers has sent representatives to multiple events, local and national, on food reclamation and sustainability. FireKeepers has also hosted local groups to educate them on how to reduce food waste in hopes of increasing awareness and spreading the mission. As a company, FireKeepers Casino Hotel is highly focused on community support and outreach. From the frontline staff, to the ownership, all are involved in making the community a better place for future generations. This process has created a snowball effect throughout the business resulting in new, best practices for food handling and processing, purchasing, and utilization.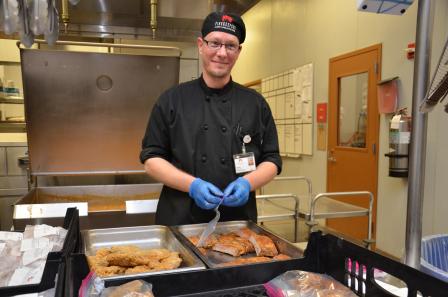 ---
Wylie ISD Harrison Intermediate School
Wylie, Texas
Narrative Winner, Honorable Mention - Leadership
In 2018, Wylie Independent School District introduced a program to teach students how to dispose of their lunchroom waste. In addition, unopened, packaged food and drinks were collected and placed at a share table. First year measurements indicated a 9.92 percent reduction in food waste and a 9.85 percent reduction in liquid waste.
The Future Problem Solvers (FPS) Club at Harrison Intermediate School heard that the program was coming to its campus and wanted to incorporate a worm composting component into a project for a state competition. Their goal was to produce rich soil to use in their campus' learning garden. The FPS students wanted to learn what food items were compostable and how to best collect them. They also wanted to help teach the steps to their classmates.
Working alongside the training team, students volunteered at the waste collection stations, specifically sorting out food scraps from the recycling and trash. Their instructor collected the food scraps bucket at the end of the day to take home and feed the contents to her worms. The worm castings were eventually brought back to the school for use in the school garden. 
Harrison Intermediate School reduced their food waste in 2018 by 6,377 pounds using composting along with kitchen inventory and menu management. Due to a strong student-led effort at the school, the program continues to be a viable method to divert food and liquid wastes and generate advocacy for sustainable practices.
"The students at Harrison were able to see the end result of the food recovery program from the cafeteria to the compost bucket, to the red worms then back to the campus." -School Instructor, Aimee Schepps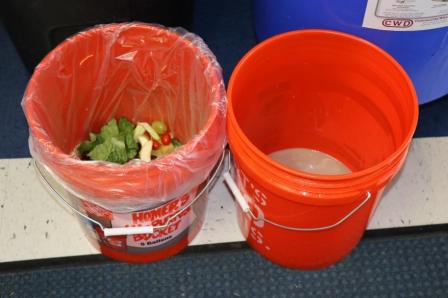 ---
Wylie ISD Birmingham Elementary
Wylie, Texas
Narrative Winner, Source Reduction
In 2018, Wylie Independent School District (ISD) enrolled in the Food Recovery Challenge and created a strategy to reduce their food waste (specifically addressing source reduction) using the EPA Food Recovery Hierarchy.
Through its Share, Shake and Stack (SSS) program, Wylie ISD encouraged students to select only those items from the cafeteria they would enjoy and consume. Also, any unopened, packaged food and drinks purchased were placed at a share table. Wylie ISD introduced these practices to 9 of its 20 campuses in 2018 including Birmingham Elementary. First year measurements indicated a 9.92 percent reduction in food waste and a 9.85 percent reduction in liquid waste.
Birmingham Elementary realized the largest gain in solid food and liquid waste reduction. In advance of implementing the SSS program at its campus, the school principal and assistant principal created a video that was broadcast on the campus news channel, sharing with students that milk is not a required food component to receive a reimbursable meal, thus reducing the amount of wasted milk.
In addition, the District's Student Nutrition Department upgraded its menu planning/inventory control software program to identify and track meals consumed in the cafeteria. This allowed them to prepare an adequate quantity of meals while maintaining a reduced, yet realistic inventory of food.
These three approaches to source reduction at Birmingham Elementary School: share table, menu planning, and student education resulted in a reduction of post-consumption waste by 7,830 pounds in 2018.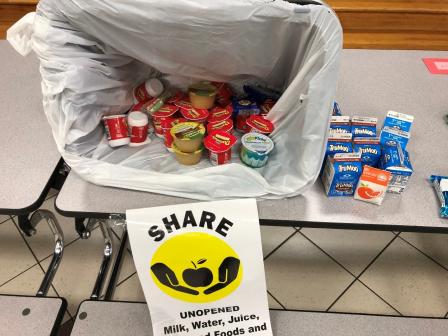 ---
Windward Zero Waste School Hui
Kailua, Hawaii
Narrative Winner, Innovation
The Windward Zero Waste School Hui continues to support zero waste and food waste composting at its five core schools. Over 2,300 students are engaged and educated with five staff members. From 2017 to 2018, their food waste diversion increased from 62,198 pounds (31.1 tons) to 85,076 pounds (42.5 tons), and they were able to add two new schools to the program. These schools saw 100 percent food waste recovery on day one of the program, thanks to their scalable, efficient, and innovative protocol.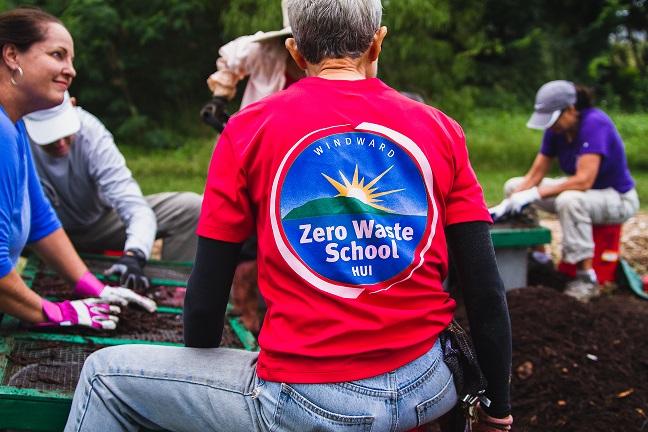 The program has become the model for Hawaii schools determined to rescue valuable resources from its landfills and incinerators. The school believes their system can be adopted complex-wide and eventually state-wide, with every Hawaii school achieving a 90 percent campus waste reduction, saving millions of dollars. They are proud of their role in supporting Hawaii schools and modeling innovative resource recovery systems.
 "Our campus has become a life-giving resource where food waste is converted into rich organic soil and vermicompost. The school garden literally has become a living laboratory where students apply theoretical knowledge to real-world problems, and more importantly, solutions. Becoming a Zero Waste school has changed the conscious landscape of our students' mindset and has empowered them to think creatively as our future leaders." -Dr. Noh, Ka'ohao School Director
---
Los Angeles County Department of Public Health
Los Angeles, California
Narrative Winner, Education and Outreach
The Los Angeles (LA) County Food Redistribution Initiative (LACFRI) is a county initiative housed within the LA County Department of Public Health (DPH) which aims to provide resources to the public about safe methods to prevent, donate, and recycle excess food, as well as support policies that divert food from landfills. LACFRI Steering Committee members include several county departments, businesses, community members, and nonprofit organizations.
In response to rising interest in sustainability and state organic waste reduction mandates in 2018, DPH, in collaboration with the Public Health Alliance of Southern California, created and provided trainings to 483 LA County health inspectors (also known as Registered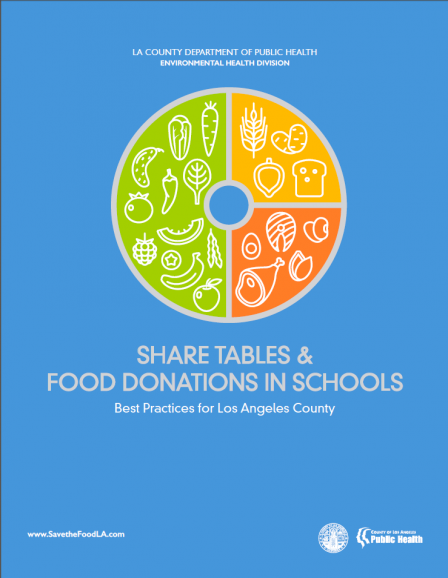 Environmental Health Specialists (REHS)), the LA County Commission on Government Services, 60 employees of a waste hauler, and staff from one school district (15 individuals). To address rising concerns of food waste in public schools, DPH published a guide in 2018 for schools interested in reducing their organic waste titled, "Share Tables and Food Donations in Schools - Best Practices for LA County."
The training for the 483 DPH staff also included interested individuals from businesses and municipalities (26 individuals) and was titled, "Safe Surplus Food Donation." The training was tailored for REHS continuing education units and covered food waste metrics, the Food Recovery Hierarchy, source reduction strategies and success stories, EPA's Food Recovery Challenge, environmental impacts, expiration date labels, local and national food insecurity, food donation liability laws, and best practices for food donations. The presentations to the LA County Commission on Government Services, the waste hauling company, and school district staff were adapted from the DPH training for staff. The LACFRI presentations and trainings have been well received and continue to be a popular request to this day.