About the 2019 Food Recovery Challenge Regional Award Winners
Read about the 2019 Food Recovery Challenge Award winners' accomplishments and how they achieved them.
On this page:
---
New England Region (Region 1)
Center for EcoTechnology, Inc.
Hartford County, Connecticut
"CET is honored to receive this recognition for our work to reduce wasted food in partnership with EPA and many Connecticut and Hartford government agencies and businesses. The pioneering work among these partners is helping to advance better management of wasted food as a regular way of doing business in the region and across the country." -John Majercak, CET president
The Center for EcoTechnology (CET) helps people and businesses save energy and reduce waste. With projects throughout the Northeast and other states, CET deploys Wasted Food Solutions to act as a catalyst to accelerate the development of a vibrant marketplace to divert wasted food from the commercial and institutional sectors. With support from the 2018 EPA Healthy Communities Grant, CET helped reduce and divert wasted food across Hartford County, Connecticut.
Through its Help Hartford County's Hungry project, CET learned that one of the biggest barriers to donating edible food is liability concerns from businesses, schools, hotels, and other institutions that have significant food waste. CET worked with the Connecticut Department of Public Health, Department of Energy and Environmental Protection, Department of Education, and others to produce "Food Donation by Connecticut Schools," a document with guidelines to help K-12 schools identify opportunities to donate food internally and externally. CET collaborated with the state agencies to ensure consistency across agency policies. The document consolidates federal and state regulations on share tables and partnerships with external food rescue organizations, including information on liability protection and health codes.
Through the Help Hartford County's Hungry project, CET aligned advice and assistance with EPA's Food Recovery Hierarchy, guiding commercial generators and institutions, as well as haulers and processors, to reduce, donate, and compost as much wasted food as possible. Throughout the project, CET contacted over 230 businesses and provided technical assistance to more than 18 businesses and institutions. CET estimates that these businesses will divert about 136 tons of food waste per year. Projects like these have made it possible for CET to keep over 115,000 tons of food waste out of the trash, facilitate the donation of 17 million meals and avoid about 24,000 tons of C02 emissions since 2013.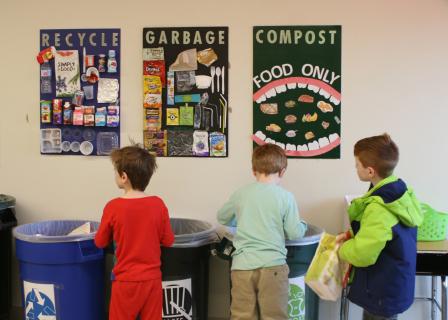 Island Grown Initiative
Vineyard Haven, Massachusetts
The Island Grown Initiative's Food Waste Reduction and Redirection Project is an island-wide effort on Martha's Vineyard that works with food that was once taken away as waste and gives it to the hungry or composts it. The project, funded partially by an EPA Healthy Community Grant, created a community report explaining the cost to municipal budgets and to the environment of disposing food waste off the island. The project also helped residents, schools and businesses reduce food waste and separate significantly more food waste from trash. As a result of this project, all town transfer stations now accept food waste, tripling food waste collection from the previous year.
Successes were clear in classrooms, homes and businesses. Martha's Vineyard students learned about food waste, and the curriculum was put online for teachers. When high school students learned that two-thirds of cafeteria waste was food, they began diverting food waste and came up with a plan to redesign the waste system in the cafeteria to capture more food waste and reduce contamination. This included more targeted signage and involved students who built a new 4-bin composting system. The 600-student school recovered 1.34 tons of food waste for compost in 2018. 
Expectations for the project were far surpassed. By September, the initiative had collected 233 tons from businesses and institutions, nearly twice what was predicted for the year. The four-day agricultural rair, which draws 35,000 people, diverted six tons, three times what organizers anticipated. Working with other food equity organizations, the initiative received some 600 pounds a week of edible food from grocery stores and turned it into soups and baked goods, distributed it through various hunger relief organizations, fed it to chickens, or composted it. 
Four years ago, all of Martha's Vineyard food waste was shipped off the island as trash. The drastic change is largely due to the efforts of the Initiative and the island community which rallied around the idea that food waste is a valuable resource that can feed the island's hungry, hens, or soil.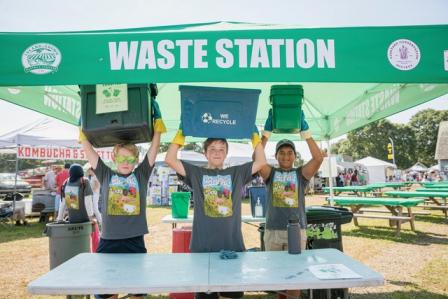 Rhode Island Department of Health
Providence, Rhode Island
The Rhode Island Department of Health launched the Rhode to End Hunger Initiative in 2018 to promote food donation during department inspections and other outreach opportunities to restaurants and other food service organizations. Through its Rhode to End Hunger Initiative, the department became the first state agency to use the MEANS Database, a nonprofit food rescue platform. The statewide effort connects food donors with local organizations to eliminate food insecurity. The department's trained food safety inspectors continue to partner with public health scholars, community partners and the MEANS Database team on the Rhode to End Hunger.   
The MEANS Database is a free online platform that helps divert excess food to nearby food banks and pantries. When organizations have excess food to donate, they post to the website and nearby emergency feeding systems are notified. Twenty-three Rhode Island licensed kitchens have signed up as donors and 52 nonprofit organizations have signed up as receivers. Together they aim to reach the 13 percent of Rhode Islanders (56,000 households) experiencing food insecurity. 
In 2018-2019, Rhode Island Department of Health food inspection reports were updated to include an invitation to restaurants and other food service organizations to participate in the Rhode to End Hunger and the MEANS Database. Dr. Nicole Alexander-Scott, director of the Rhode Island Department of Health, says "Rhode Islanders deserve access to healthy, wholesome food, no matter what zip code they live in."
This initiative simultaneously feeds the hungry while reducing the amount of food waste in Rhode Island. It prevented 30,680 pounds of food from being disposed in Rhode Island's Central Landfill in 2019. This effort has been successful due to connections built with local and national agencies; the story being shared on a local news station, outreach through phones, in-person, mail, and e-mail; and environmentally focused events. The organization's next challenge is securing sustainable, safe transportation of food items from donors to those recipients who have identified transportation as a barrier to participating.  
Central Vermont Solid Waste Management District
Montpelier, Vermont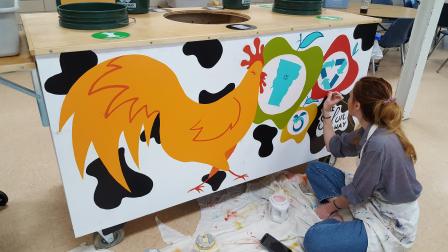 Since 2004, the Central Vermont Solid Waste Management District (CVSWMD) has worked with its 27 schools to implement food scrap hauling and food waste prevention services. While most food scraps made it into the compost bucket, the amount of whole edible food being tossed by students was staggering. CVSWMD's 2019 EPA funded project, Food Waste Reduction for Greener Schools in Central Vermont, focused directly on reducing wasted edible food and milk in schools in 5 Vermont towns: Barre Town, Bradford, East Montpelier, Montpelier, and Williamstown. 
With funding from the EPA's Healthy Communities Grant program, the CVSWMD school program staff helped schools start share tables and upgraded waste sorting stations, that encouraged students to waste less food. Students were engaged in both the food waste education component and in measuring the tray waste. Over the course of the 2018-2019 school year, participating schools decreased food waste by an average of 17.4 percent and milk waste by 41 percent. Every school surveyed also reduced the portion of food disposed of in their trash, and participating schools as a group decreased the weight of food in the trash by 45 percent.
During the year ahead, project leaders hope to create a School Food Waste Reduction Guide that could steer efforts to measure and reduce food waste in other local schools. 
"This project helped us refine our methods for measuring wasted food and showed that several strategies for reducing waste can actually work. We look forward to bringing these successes to more schools in the future." -Brenna Toman, School Zero Waste Coordinator
---
Northeast Region (Region 2)
Rock it and Wrap it Up!
Cedarhurst, New York
Rock and Wrap it Up (RWU!)Exit is an anti-poverty think tank that has been rescuing leftover food to feed the hungry for 29 years. RWU! identifies potential donor organizations who have wholesome, surplus food; analyzes the organizations' ability to donate food efficiently; requires donors to have health certificates issued by their respective municipalities; and pairs donors with local food rescue services. It has recovered over one billion pounds of food since 1991. Currently, RWU! works with musical bands, educational institutions, the hospitality industry, sports teams, hospitals, and TV/film shoots throughout North America. In 2018, its participating entities donated over 145,000 pounds of food. RWU! has a presence in all fifty states and estimates that its donors rescue at least 20 million pounds of food each year.
RWU! developed a Whole Earth Calculator app that translates donor organizations' food donations into the number of meals for the hungry, gallons of water saved, and greenhouse gases averted, and allows an organization to tweet these statistics directly to social media.
In 2018, RWU! also created a new project called the Andy Parise Veterans' Toolkit, a searchable app that allows veterans to find food pantries, colleges and educational institutions that will serve them donated food in all 50 states. Syd Mandelbaum, Founder and CEO of RWU! says of his work, "One man gathers what another man spills."
These RWU organizations are receiving awards for their efforts to feed hungry people in 2018:
The Cincinnati Reds (sports team) diverted 20,134 pounds of food from the landfill in 2018.
Costco of the Five Towns diverted 71,650 pounds of food from the landfill in 2018.
Golub Corporation (Price Chopper, Market 32, Market Bistro)
Schenectady, New York
"We're proud that our entire team is engaged in efforts to combat food waste and feed our hungry neighbors. And it's good to see quantitative evidence that our efforts are paying off."-Pam Cerrone, Director of Community Relations
The Golub Corporation operates 132 Price Chopper and Market 32 grocery stores in New York, Vermont, Connecticut, Pennsylvania, Massachusetts, and New Hampshire. The American owned, family-managed company prides itself on innovative food merchandising, cooperative employee relations, community service, and food waste reduction efforts.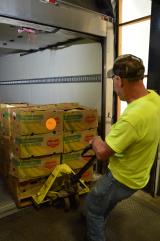 A team of professionals focus on shrink (loss of product inventory) best practices and protocol, with daily review to ensure maximum shrink management while neutralizing sales impact. The Fresh Recovery program engages over 13,000 store teammates in the collection of tons of non-saleable but edible fresh food for Feeding America food banks, providing millions of meals to those in need. Food salvage and produce spoils are also donated to local farmers for use as animal feed.
In 2018, 1,728 tons of food was donated; 16,193 tons of food waste prevented; and 5,756 tons of compost produced in Price Chopper and Market 32 stores, totaling 23,677 tons of food waste diversion from landfills - a 14 percent improvement over 2017.
Wegmans Food Markets
Rochester, New York
Wegmans Food Markets has been reducing food waste since the 1970s. The company continues to expand its efforts aimed at minimizing all forms of waste at the store level, with food waste front and center.
Following the EPA Food Recovery Hierarchy, Wegmans first aims to minimize food waste at the source by using imperfect produce in its culinary operations. Next, unsaleable perishable food items are picked up at Wegmans stores throughout the week by local food pantries and food banks and distributed to those who are in need. Next, food scraps are diverted from landfills by offering them as feed for local livestock. Finally, food scraps are sent for anaerobic digestion to be turned into energy or for composting.
In 2018, 98 Wegmans stores diverted more than 28,896 tons of food waste through its diversion programs, which included donating 10,161 tons of food and composting 18,735 tons.
 "We have programs in place at all our stores aimed at minimizing waste, but when we reviewed those programs five years ago, we knew we could do more. In 2016, we piloted enhancements to our existing programs at our Canandaigua, NY store, and by the end of 2018, rolled those enhancements out to 21 stores. We've seen how helping our employees understand the programs, why they're in place, their importance, and how they benefit the environment, community, and the company, increases our success. We've also learned the importance of focusing on one major area. As part of our bigger goal to reduce all waste, we're concentrating on food waste reduction, where we can make the most significant change, not only for what's ending up in the landfills, but for our communities as well." -Jason Wadsworth, Wegmans Packaging and Sustainability Manager
Ravitz Family Markets
Cherry Hill, New Jersey
Ravitz Family Markets, a member of the Wakefern Food Corporation cooperative and led by a family of second and third generation grocers, owns and operates six stores in southern New Jersey. Ravitz Family Markets has been part of the Food Recovery Challenge since 2011 and works to reduce its food waste through a combination of source reduction, donation, and composting. 
They have an innovative program that incorporates elements of both source reduction and donation. All Ravitz store locations offer kids pieces of overripe fruit, free of charge.  This prevents the need to dispose of this fruit and is a more beneficial use for the fruit than composting.
In 2018 Ravitz Family Markets, Price Rite Supermarkets, Inc. diverted 53 tons of food waste from the landfill through donation, plus 36 more tons through composting;
Ravitz Family Markets, Shoprite: Cherry Hill Supermarkets diverted 77 tons of food waste from the landfill through donation, plus 50 more tons through composting;
Ravitz Family Market, Shoprite: Union Mill Rd., Mount Laurel Supermarkets, Inc. diverted 50 tons of food waste from the landfill through donation to people and animals, plus 56 more tons through composting; and
Ravitz Family Market, Shoprite: Marlton Supermarkets diverted 89 tons of food waste from the landfill through donation to people and animals, plus 210 more tons through composting. 
Raritan Valley Community College
Branchburg, New Jersey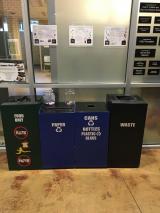 In 2018, Raritan Valley Community College (RVCC) diverted 7.65 tons of organic waste (90 percent food, 10 percent paper) from across campus and 1.63 tons of fat, oil, and grease from its kitchen. The organic waste was hauled by a third party to an industrial composting facility and a farm in Pennsylvania. The initiative was a continuation of an existing program. The Student Life department, responsible for overseeing student club and government activities, ensured that at campus events compostable service ware was used and food waste was collected. RVCC's cafeteria kitchen also collected all food waste.
RVCC's greatest challenge in 2018 was collecting paper trays in the cafeteria. The trays take up a lot of room in the collection containers and require housekeeping staff to collect from these bins twice a day. Another ongoing challenge was to ensure that students knew how to sort their food waste.  RVCC is a two-year institution, and therefore has a high student turnover, making frequent educational and outreach efforts necessary. A student intern designed new informative, visual signs, which have helped.
"RVCC is proud of its environmental sustainability record. Our students want to be environmentally friendly; so it's important to create effective communication strategies to better educate students and the entire College community about how to be a sustainable campus." -Sue Dorward, RVCC's Sustainability & Energy Coordinator
---
Mid-Atlantic Region (Region 3)
Towson University
Towson, Maryland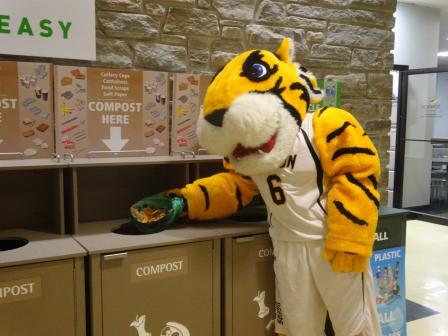 Food diversion is an integral part of Towson University's (TU) sustainability initiative. After identifying food waste as a significant contributor to landfill collections, the university began a rigorous expansion of its back-of-house composting program to include front-of-house retail dining locations in 2015. In 2018, TU made composting available in all its residence halls. The broadening program contributed to TU composting over 293,000 pounds in food waste mixed organics in 2018. 
Towson University introduced a Zero Waste events initiative to reduce food waste stemming from the thousands of annual events held on its campus. The Zero Waste events initiative incorporates compostable service ware, bulk beverages, and right-sized food portions to reduce or eliminate waste.  At the events, informative signage shares the benefits of going Zero Waste and helps attendees successfully sort compost and recycling. "With support from student Eco-Reps, and promotion through flagship events like our Environmental Conference, Zero Waste events are now the norm on campus," said Assistant Director of Sustainability Patricia Watson. By the end of 2018, more than 13,000 campus students, faculty, staff and visitors had attended one of the more than 3,000 zero waste events on TU's campus.
TU's students take an active role in diverting food waste by taking surplus items from campus dining facilities and transporting it to local non-profit organizations. The program initially presented a challenge because of the short window of time between when food needs to be picked up and dropped off. Students overcame this challenge by partnering with student organizations and athletic teams, whom each take responsibility for a single facility's collection and whose group members ensure availability during the time allotted. With this challenge solved, the surplus program expanded in 2018 to collect food from retail dining facilities as well as dining halls. The increased contributions enabled more than 6,135 pounds of edible surplus food to be donated to hunger relief organizations, further reducing the campus waste stream in 2018.
---
Great Lakes Region (Region 5)
Stella's Lounge - Barfly Ventures
Grand Rapids, Michigan
I think what helps Stella's stand out is the staff members truly care about the restaurant's footprint and are willing to take a little extra time to sort appropriately.  At the end of each night, staff put gloves on and sort through all compost, recycling, and trash receptacles so there is no room for error. We're always correcting and informing to keep our team in the know. - Emilie Walker, General Manager of Stella's Lounge
Since 2013, Stella's Lounge has been making strides to not only divert food waste from the incinerator, but also to switch their single-use products to those made from renewable resources. In 2018 alone, 32 new staff were trained to sort all pre- and post-consumer food scraps into green compost bins and buckets located throughout the dining room, behind the bar, and in the kitchen. Compost bins were also placed in restrooms so guests could properly sort their paper towels after drying their hands. These efforts contributed to a 50 percent increase in composting from 2017 to 2018.
The staff at Stella's has also worked hard to ensure that any single-use item that goes out to their guests (straws, napkins, cups, & to-go boxes) is made from renewable resources and is compostable.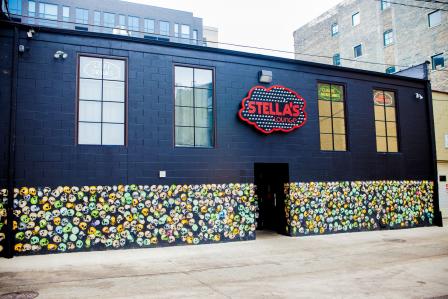 ---
Midwest Region (Region 7)
Food Rescue Partnership
Quad Cities, Iowa and Illinois
The Food Rescue Partnership (FRP) is a Quad Cities coalition that promotes rescuing food for its best possible use to achieve a vision of a Quad Cities community dedicated to eliminating food waste. The FRP aims to do so by providing food rescue education and awareness to professional food establishments, retail food stores, and the community-at-large.
As a community coalition, they have a very limited budget. The majority of FRP outreach activities and materials have been provided through the volunteerism, in-kind donations or grants from its stakeholders and community partners. Motivated to spread the food recovery message, FRP stakeholders strategized new and unique marketing opportunities to highlight local establishments participating in food recovery efforts.  A video and public service announcement (PSA) seemed like an ideal platform to effectively inform and engage a much wider audience in the Quad Cities.
In 2018, the FRP was selected to participate in a program offered by Fresh Films – the chance to work with Quad Cities teens who created a video and PSA in five days over their spring break.  The FRP received full copy rights and the 30 second PSA received free advertising time on a local news station.  The FRP also hosted a second food rescue workshop, toured an anaerobic digestion operation, and facilitated food rescue donations in 2018.
The focused expansion of the communication reaches various community organizations that are not typically involved in food, waste, or hunger relief.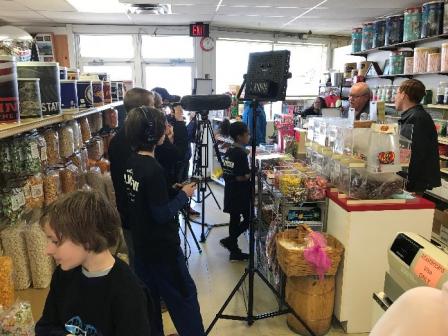 Rising Star Elementary - Shawnee Mission School District
Lenexa, Kansas
Rising Star Elementary is a leader in cafeteria composting and recycling in the Shawnee Mission School District. As an early adopter school, Rising Star Elementary was among the first 15 innovative schools to envision and implement food waste education in the district between 2008 and 2015. They set in motion a process that resulted in all 48 district schools and the Center for Academic Achievement administrative center participating in the program by the spring of 2018.
A school-wide culture of sustainability at Rising Star Elementary contributed to its success. Principal Kristie Darby credits the Rising Star Elementary food service and cafeteria staff. "My staff does an amazing job. They lead the way." They help assure students take what they want, eat what they take and dispose of waste in the proper bins. In turn, the staff credits the teachers, students and parents for their commitment to sustainability. During 2018, compost from the school cafeteria was added to the school's newly established gardens to grow more food, bringing their food waste full circle (as seen in this school video). Exit
Custodial Supervisor Judd Remmers notes the contribution of custodial staff in maintaining the system. "The custodial staff at Rising Star Elementary has served an integral role in the success of their composting and recycling program. It provides custodians with an opportunity to connect day-to-day school operations with what students are learning in the classroom and they really enjoy that part of it." 
The Shawnee Mission School District Food Service helps the school succeed. Styrofoam was eliminated in 2007, followed by plastic straws in 2017. Food is served on durable trays with reusable flatware. Milk and juice cartons are recycled.
Through the combined efforts of the entire school community, Rising Star Elementary saw an improvement in its food recovery efforts from 13,875 pounds composted during 2017 to 27,000 pounds recovered in 2018.
Johnson County Department of Health and Environment
Olathe, Kansas
 Johnson County has almost 60,000 residents who are food insecure and may not know where their next meal is coming from, while at the same time we have an abundance of food going to waste.  We want a county where people are fed before landfills.-Renee Bryant, Food Policy and Advocacy Coordinator, Johnson County Department of Health and Environment
Johnson County Department of Health and Environment (JCDHE) continues to be very active in educating the public about food waste prevention, preservation, creative reuse, and use as feedstock for compost as an alternative to landfilling.  The Johnson County Food Policy Council (JCFPC) works in conjunction with JCDHE.
JCDHE supports the Shawnee Mission School District in over 40 district buildings and facilities. JCDHE has worked to educate 800 middle school students on using reusable flatware and trays to minimize unnecessary waste.  They promote a "take what you want, eat what you take" approach to maximize nutrition for the students and to reduce food waste. Composting is offered as an alternative option to trash in over 40 district buildings and facilities. In 2018, school district compost totaled 771,250 lbs. diverted from local landfills and 750 cubic yards of compost was returned to district projects and gardens. Students develop an awareness that wasting food is wasting valuable resources. These efforts would not be possible without the Shawnee Mission School District, PTA (parent teacher association) parents, the support of county leadership and Missouri Organics partnerships.
In conjunction with the JCFPC, JCDHE has recruited regional municipalities, academic entities, and healthcare organizations to encourage awareness of individuals about the importance of food waste prevention. JCDHE is partnering with the Ad Council and the Natural Resources Defense Council's Save the Food campaign to educate individuals on food waste prevention techniques, storage, and composting.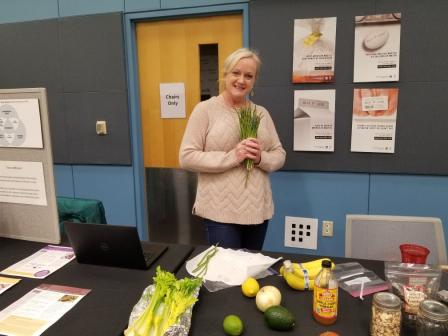 JCFPC has successfully advocated to county officials to incorporate reduction of food waste efforts into the Johnson County Solid Waste Management's five-year strategic plan.  Through collaboration and alignment of community organizations and resources, JCFPC will be launching 'Save The Food Johnson County.'  This initiative will include a social media campaign, educational community events, and identification and promotion of food waste champions in the community.
JCDHE's Green Business Program also supports minimizing food waste through educating local governments and businesses. Participating organizations are taught the importance of source reduction, minimizing food waste at events, and are provided diversion options to feeding agencies and/or composting resources. JCFPC will work with the program to educate the community about the connection between food waste and food insecurity.
St. Louis Cardinals
St. Louis, Missouri
The St. Louis Cardinals have a proven track record of promoting sustainability and making a positive impact on their community. Since 2010, they have worked with concessionaire Delaware North and Operation Food Search to keep almost 44 tons of unused food from going to the landfill. Annual food donations doubled in 2018 from 4 tons to almost 10 tons, and composting increased from 157 tons to almost 216 tons. Efforts in 2018 to reduce food waste as part of the Food Recovery Challenge resulted in the ability to provide an estimated 13,000 meals in conjunction with Operation Food Search.
Since the launch of #4AGreenerGame in 2008, the St. Louis Cardinals have diverted nearly 6,500 tons of solid waste from local landfills, 1,600 tons of yard waste, and more than 1,400 tons of composted organic material. In 2018 the St. Louis Cardinals hosted its 9th annual Green Week at Busch Stadium by highlighting a list of activities designed to reduce waste and promote recycling and energy efficiency both inside and outside of Busch Stadium.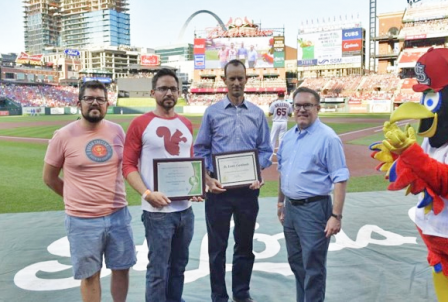 In an on-field ceremony at the St. Louis Cardinals' home game on July 30, 2019, U.S. EPA Administrator Andrew Wheeler recognized the St. Louis Cardinals President William DeWitt III for "A Decade of Partnership in Sustainability". 
"Sustainability is an important part of our daily and event operations at the ballpark. With each event comes unique ways to challenge and grow our sustainability efforts, so we can continue making an impact in our community."  -Hosei Maruyama, Director – Facility Operations
Mid-America Regional Council Solid Waste Management District
Kansas City, Missouri
The Mid-America Regional Countil (MARC) Solid Waste Management District serves the Kansas City Metropolitan Area including nine counties and 119 city governments. Its primary goal is to disseminate information through its website, social media channels, and district meetings. In 2018,  the MARC Solid Waste Management District hosted a viewing of the film "Wasted" with community outreach tables. It also coordinated the annual Missouri Recycling Association Conference where two sessions on food waste were held with more than 40 people in attendance as well as a Food Recovery Challenge recognition award event.
The MARC Solid Waste Management District was able to fund a series of food waste education banners that are used by the Missouri Recycling Association. These banners provide food waste statistics and simple tips to reduce food waste. The banners have been displayed at the Missouri State Fair and at the Missouri Recycling Association Conference.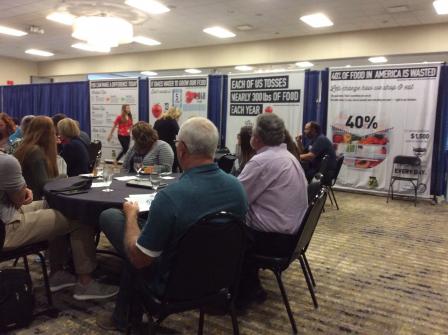 As part of its social media outreach, the MARC Solid Waste Management District started a multi-week campaign centering on food waste prevention. The campaign goal "Waste no Food," was to provide food waste reduction tips. The EPA hashtag #FeedPeopleNotLandfills was used. These posts reached almost 34,000 individuals. This campaign continued into 2019.
The MARC Solid Waste Management District speaks about food waste reduction in presentations it gives to organizations, at events, and during waste audits performed for local organizations and businesses. It also routinely hands out EPA food waste reduction resources at events. The MARC Solid Waste Management District continues to maintain a food waste prevention webpage and is committed to reducing food loss and waste.
---
Mountains and Plains Region (Region 8)
Sprouts Farmers Market Store #305
Aurora, Colorado
Sprouts Store #305 in Aurora, Colorado donated 39 tons of edible food for people and 84 tons of food scraps for animal feed in 2018. Feeding people and animals puts food to better uses versus sending to landfills.
Sprouts Farmers Market Store #325
Englewood, Colorado
Sprouts Store #325 in Englewood, Colorado donated 70 tons of edible food for people and 91 tons of food scraps for animal feed in 2018 – a 175 percent increase in food for animals compared to 2017. Feeding people and animals puts food to better uses versus sending to landfills.
---
Pacific Southwest Region (Region 9)
City of Cupertino
Cupertino, California
"I think it is a great project. I wish everyone would use the composting bin to the full extent to reduce the amount of garbage." – Anonymous from Cupertino survey to residents.
The City of Cupertino started accepting food waste in residential yard waste carts in 2010 and passed a local ordinance to implement organics collection for large generators beginning September 1, 2015 (seven months ahead of state law AB1826). Cupertino's local ordinance phased in additional businesses, beginning January 20, 2016, and included multi-family dwellings beginning on July 1, 2018 (also ahead of state requirements).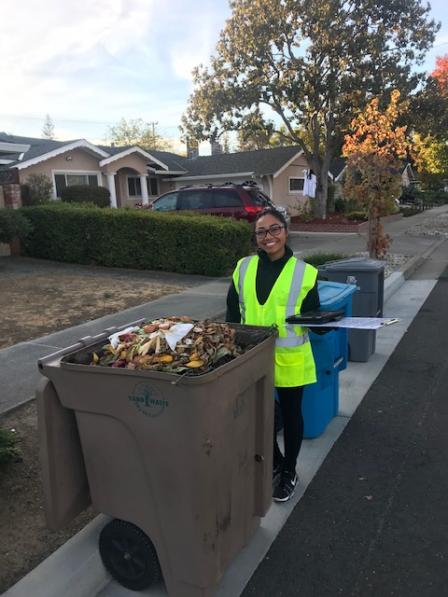 To help residents with their organics diversion in 2018, Recology (an integrated resource recovery company in San Francisco) and City of Cupertino (city) staff provided 123 kitchen pails to new and existing customers who requested them and 57 backyard compost bins to those who completed a composting workshop. 
To help businesses, both Recology and city staff provided on-site training and offered colored bins and decals to help with back-of-house sorting. Ensuring that the containers were in three colors proved beneficial as they mirrored images in outreach materials. Recology's commercial guide detailing acceptable waste was received very favorably by businesses and aided in proper separation of organics. 
The language barrier, though a challenge, was overcome by creating outreach materials with more graphics, less text, and with custom graphics when necessary.
"I love that we are working on reducing landfill waste across the community." – Anonymous from Cupertino survey to residents.
In 2018, city staff coordinated with Recology and students from a local community college to perform hundreds of lid-flips in residential areas to see if residents were putting food scraps in their yard waste carts as desired. Feedback based on participation was provided via door hangers, and carts were checked again. Twelve to 32 percent of the yard waste carts that were set out had food scraps in them, indicating that while many residents were separating out food scraps, there is still room for improvement ahead.
---
Pacific Northwest Region (Region 10)
University of Oregon
Eugene, Oregon
The University of Oregon began its composting program in 2008, collecting 27 tons of food scraps and compostable items in the first year. Over the next ten years, they grew the program substantially, composting 346 tons in 2018. In total, the University of Oregon has diverted over 2,400 tons of compostable material from landfills through composting alone. In 2018, aggressive food donation efforts by the dining facilities accounted for another 80 tons of diverted food.
In 2019, composting facilities in the State of Oregon collectively changed to a 'Food Waste Only' collection, which drastically affected the University of Oregon's post-consumer compost collection efforts. The University of Oregon Dining Services had already committed to purchasing over 90 percent compostable dining ware.  After a conversation about the future of compostable dining ware, Dining Services made a switch to reusable dining ware. Even though 'Food Waste Only' compost collection felt like a setback, it quickly became a more sustainable solution to reduce waste at the University of Oregon. 
Looking ahead, the University of Oregon Dining Facilities and LeanPath© are partnering to reduce waste even further. LeanPath's food waste prevention technology monitors all the food that is wasted in the university's kitchens and uses the data to train employees on the least wasteful ways to prepare food.

Rudy's Markets Inc. doing business as (dba) Newport Ave. Market
Bend, Oregon
Food recovery in Central Oregon is tough, but because Rudy's Markets' employee store owners care and take pride in helping their community, they have a history of recovering food. Rudy's Markets captures an estimated 49,000 pounds of recovered food per year for its gleaner program, and the food primarily goes to feed residents at senior centers and nursing homes in the region, with some food going to homeless shelters. 
The Newport Avenue store's composting program is driven by its produce, meat, dairy, and deli departments with an average per week of 1.25 tons food scraps collected and an estimated yearly total of 66.5 tons diverted.  The rewards of Central Oregon composting efforts are seen in the compost that is generated from businesses like Newport Avenue Market.  This bagged finished compost is then sold to customers...full circle at its best!
Rudy's Markets' greatest challenge continues to be the time it takes to train the 115 employee store owners to ensure their program is a success. The company's first goal is to order properly, to reduce shrink (loss of product inventory), and to have quality product on store shelves for customers to buy.  That means monitoring and following trends, to be a true merchant that sells what people want to buy.  By making continual improvement in this area, Rudy's Markets minimizes food being wasted. This impacts the profitability of our employee owned company and reduces the amount of food that would be wasted.