How to Prevent Wasted Food Through Source Reduction
On this page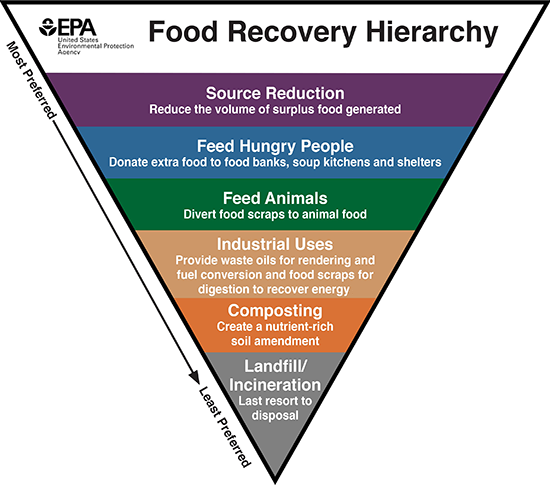 Everyone creates wasted food, but it is just as simple to not create it. Both businesses and individuals can learn to effectively prevent the flow of wasted food by taking simple steps such as making grocery lists, inventorying supplies, and buying less.
---
Benefits
Prevent pollution related to food production, such as fertilizers and pesticides, and save energy associated with growing, preparing, and transporting food.
Reduce methane emissions from landfills.
Save money by buying only what is needed and by avoiding disposal costs.
Save labor costs through more efficient handling, preparation, and storage of food that will actually be used.
---
What Businesses Can Do
Conduct a Waste Audit
Learn about what flows through your kitchen by measuring the amount, type, and reason for the generation of wasted food. Knowing how much and why wasted food is generated will help to create effective wasted food prevention strategies. It will also help to identify wasted food that is avoided and money saved. This analysis is called a waste audit.
Depending on your goals, there are a variety of free EPA tools available to conduct a waste audit. With the results of your waste audit, you are ready to take the next steps below.
Implement Reduction Habits
Preventing wasted food is a matter of implementing better habits:
Compare purchasing inventory with customer ordering.
Modify menus to increase customer satisfaction and prevent and reduce uneaten food.
Examine production and handling practices to prevent and reduce preparation waste.
Ensure proper storage techniques.
Be creative with your kitchen excess. Surplus or excess food can be used in new dishes. For example, stale bread can become croutons; fruit can become a dessert topping; and vegetable trimmings can be used in soups, sauces, and stocks.
Reduce serving sizes as appropriate and avoid use of garnishes that don't get eaten.
For buffet-style service, encourage customers to take only what they will actually eat.
For colleges, go trayless in the dining halls.
Join EPA's Food Recovery Challenge
You will gain visibility for your efforts, have the opportunity for recognition, gain access to tools and resources, and learn how other organizations in your sector are preventing and reducing wasted food. Find out more and how to join.
---
Success Stories
Disclaimer of Endorsement: Reference herein to any specific commercial products, process, or service by trade name, trademark, manufacturer, or otherwise, does not necessarily constitute or imply its endorsement, recommendation, or favoring by the United States Government. The views and opinions of authors expressed herein do not necessarily state or reflect those of the United States Government, and shall not be used for advertising or product endorsement purposes.
Quicken Loans
Quicken Loans Arena in Cleveland, Ohio implemented a successful food scrap recovery program in conjunction with other nearby venues such as Browns Stadium, Cleveland Metroparks Zoo, and Progressive Field. By tracking their kitchen waste daily, they managed to reduce their monthly food composted from an average of 3.5 tons down to an average of 1.5 tons. Quicken Loans Arena also composted over 30 tons of food 2011.
Hannaford Supermarkets
Hannaford Supermarkets is a full service grocer with 179 stores in the New England region. As a part of their commitment to sustainability and providing the best food to their customers, they implemented wasted food prevention strategies to reduce the amount of surplus food generated. Strategies include fresh truck deliveries every day instead of forecasting out orders and a computer-assisted ordering to order appropriately based on inventory and sales predictions.
University of Texas at Austin
University of Texas at Austin audited plate waste during lunch and dinner for five days in Spring 2008. They found students leaving an average of 5.7 ounces of edible food on their plates. Food service staff worked in the front of house to engage the students with signage and by visualizing their daily waste with symbolic trash bins. Taste testing also allowed the students to sample menu items before taking the dish. This required coordination with the back of the house, where staff were also trained on portion control and tracking of pre and post consumer waste. In Fall 2008, another plate audit was conducted- this time showing only 3.9 ounces of wasted food that was edible. Then by going tray-less, the amount of food wasted went down again in Fall 2009 for a total 48 percent reduction.