Links and Resources About Food Recovery in Reno, Nevada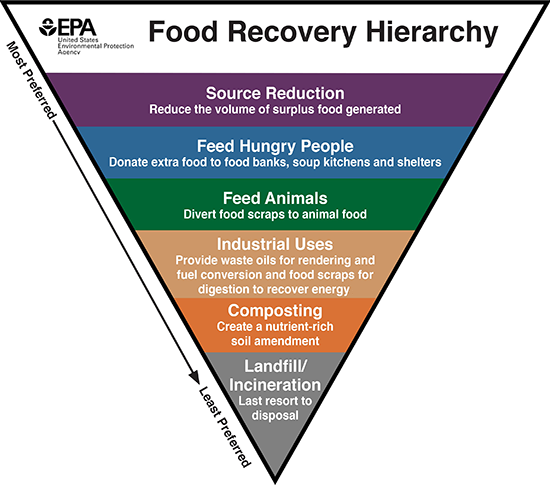 Learn about some food recovery alternatives in the Reno area. EPA's Food Recovery Hierarchy prioritizes these food waste strategies from most to least preferable.
On this page:
---
Source Reduction
Source reduction is the strategy of preventing food from becoming waste in the first place. There are many resources available to tackle source reduction:
---
Feed Hungry People (Donations)
The resources below include national, regional and local organizations which take food donations in the Reno area. Most take non-perishables, and some accept surplus perishable foods. Be prepared to describe your donations in terms of packaging, preparation, frequency and type.
Food Pantries - Many have varying or limited capabilities for storing food donations and therefore limit the types or timing of donations. It's often best to contact several to determine which can use your donations. Below are links to find local food pantries.
Food Pantry
Contact
Hours
Hands of Hope Ministries
295 Gentry Way # 20
Reno, NV 89502
(775) 284-8878
Pick up 7 days/week
10:00 am - Noon
Rock and Wrap It Up!: Website Exit; Matches vetted charities with eligible donors of perishable food including entertainment venues, hotels, K-12 schools and colleges, sports teams, and hospitals. Offers the free "Whole Earth Calculator" Exit to convert pounds of food to pounds of CO2 equivalent (CO2e).
ReFed Innovator Database Website

 

EXIT

 The Database is a living compilation of commercial and nonprofit entities turning the food waste problem into an opportunity for economic, social, and environmental impacts. This growing database is broken down by food waste solution type, organizational status, and geographic reach. Categories include 

secondary marketplaces

 that connect surplus food (food that would otherwise be wasted) to buyers. 

Food product creation organizations

 convert edible food that is currently considered waste (e.g., surplus/cosmetically challenged produce, brewery waste, vegetable trimmings) into value-added consumer food products (e.g., juices, fruit snacks, energy bars). The Database also list variety of 

food recovery organizations

 that capture edible food that would otherwise go to waste on farms, within the supply chain, or in consumer-facing businesses, and redistributes it to food insecure populations.

Food Banks: Regional food banks work with local food pantries, homeless shelters and other charities for food donation. While many food banks are unable to accept perishable and prepared food, they often work with donors to find perishable food options nearby. Listed below are the main food banks in the Reno area.
New Legal Guide
New legal guide on Federal Enhanced Tax Deduction for Food Donation Exit
(1) LIABILITY OF PERSON OR GLEANER – A person or gleaner shall not be subject to civil or criminal liability arising from the nature, age, packaging, or condition of apparently wholesome food or an apparently fit grocery product that the person or gleaner donates in good faith to a nonprofit organization for ultimate distribution to needy individuals.
- Courtesy of the Bill Emerson Good Samaritan Act
---
Feed Animals
Pig/Hog Farms: Large pig farms may accept food scraps. The Federal Swine Health Protection Act requires that food containing, or that comes in contact with meat or animal materials must be boiled before being fed to pigs. Consequently, many local pig farmers are primarily interested in single-stream fruits and vegetables or grain waste. Arrangements are often informal, and can be intermittent.
Spent Brewery Grain: Spent brewery grain can be used as animal feed, primarily for cattle, but also for pigs, goats, fish and almost any livestock. Most breweries give the grain away to local farms. Manufacturers with single food waste streams can find local farms and ranches to donate their excess/by-product.
---
Industrial Uses
Fats, oils and grease, also known as FOG, can be converted to fuels and has various industrial uses. FOG and food scraps can also be anaerobically digested to create energy and the digestate can be composted to create a soil amendment. Reno area options and resources include:
Waste to Biogas Resources: Searchable database of local biogas facilities that may accept FOG or food waste. The City of Reno wastewater treatment plants do not currently accept FOG or food waste for co-digestion.
SRC Companies Reno Rendering Co: Renderer and used oil collection
---
Food Scraps Composting
Composting turns food scraps into a nutrient-rich soil amendments and can be done on site in smaller amounts or on a larger scale at a municipal or commercial level.
Composting Facility
Location
Hours
Contact
Full Circle Compost (Carson City and Douglas County only; cannot pick up in City of Reno or Sparks)
3190 Hwy 395,
Minden, NV 89423
Wednesday-Saturday:
10 am – 4 pm
(775) 267-5305
RT Donovan: (Drop off only)
11600 Pyramid Way,
Sparks, NV
Monday-Friday: 7 am – 4 pm
Saturday: 1 am – 3 pm
(775) 425-3015
---
Reno Food Recovery Successes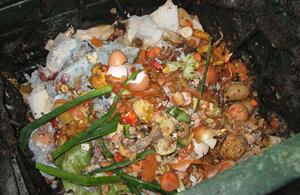 Atlantis Casino diverted 1,500 cubic yards of food waste from the landfill to a composting facility in 2013. Food scraps and other organic material were separated and diverted from the traditional waste stream, and processed into compost.
---
Disclaimer: The information contained on these pages is intended to inform the public and does not establish or affect
legal rights or obligations. Links to non-EPA sites do not imply any official EPA endorsement of, or responsibility for, the
opinions, ideas, data or products presented at those locations, or guarantee the validity of the information provided.
Reference to any specific commercial products, process or service by trade name, trademark, manufacturer, or otherwise,
does not necessarily constitute or imply its endorsement, recommendation, or favoring by the United States Government
and shall not be used for advertising or product endorsement purposes.