Links and Resources About Food Recovery in San Diego Area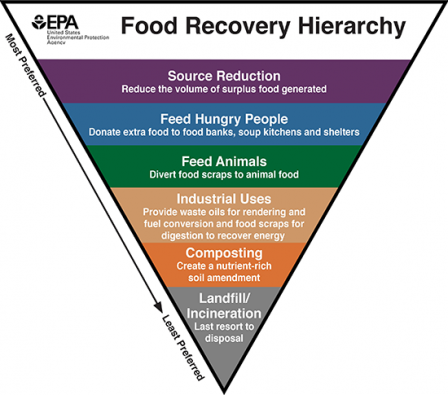 Learn about some food recovery alternatives in the San Diego Area. EPA's Food Recovery Hierarchy prioritizes these food waste strategies from most to least preferable.
On this page:
---
Source Reduction
Source reduction is the strategy of preventing food from becoming waste in the first place. There are many resources able to tackle source reduction:
U.S. EPA Food Recovery Website:
Toolkits and resources on this website include:
National Restaurant Association Con Serve Program - The website Exit connects restaurant owners or managers to tools and information to reduce waste.
Leanpath: Company assists foodservice operations in reducing food waste, website provides many free tools, videos and case studies.Exit
San Diego Resources
---
Feed Hungry People (Donations)
Help curb hunger in our region. Businesses and others can help by donating surplus food. See below for organizations that help fight hunger in San Diego.
Ways to Donate
Food Banks - Food banks collect, store, and distribute food to networks of food pantries, homeless shelters, and other charities that rely on donations. Some provide food directly to the hungry. The larger food banks can help donors to find local charities that can accept their food donations.
Gleaning - Gleaning is the act of picking the excess fruit or vegetables that are left on trees or plants after the owners or farmers have harvested what they want to eat, or what they can sell. San Diego gleaning groups organize volunteers to harvest produce from backyards, orchards, and farms. Donors may claim tax deductions. Why let this fresh food go to waste?
Organizations Accepting Food Donations The food banks in San Diego County are listed in the table below, along with other organizations able to accept large donations of food. If you are looking to donate to any of these organizations, please contact them using the information listed on the next page.
Donation Center
Location
Website/ Contact
Feeding San Diego 


9445 Waples St. Suite 135
San Diego, CA 92121

San Diego Food Bank


9850 Distribution Avenue
San Diego, CA 92121-2320

San Diego Food Bank - North County


680 Rancheros Road Suite 100
San Marcos, CA 92069

Catholic Charities: Food Resource Centers 
 

FRC- Downtown
 


FRC – College Area


FRC – El Centro



FRC – Vista






349 Cedar Street, Room 102
San Diego, CA 92101


6360 El Cajon Blvd, Suite B
San Diego, CA 92115


250 West Orange Avenue
El Centro, CA 92243


917 East Vista Way
Vista, CA 92084

Website Exit



Downtown (619) 231-2828 x102



College Area (619) 286-1100



El Centro  (760) 353-6823


Vista  (760) 631-4792

Community Resource Center North County



650 Second Street
Encinitas, CA 92024

Interfaith Services

 

Inland



Coastal



Veterans




 

550 W. Washington Ave.
Escondido, CA 92025


4700 North River Road
Oceanside, CA 92057


1617 Mission Ave.
Oceanside, CA 92058


Website Exit




(760) 489-6380



(760) 721-2117



(760) 529-9979

San Diego Rescue Mission


5150 University Ave.
San Diego, CA 92105

(888) SDRESCUE

Kitchens for Good


404 Euclid AveSan Diego, CA 92114

United Services Organization (USO) San Diego
3350 E Street
San Diego, CA 92102

(619) 296 3192

Father Joe's Villages


3350 E Street
San Diego, CA 92102
(619) 446-2100

Got Your Back San Diego


4061 Oceanside Blvd. Ste E
Oceanside, CA 92056

Southwestern College "Jag" Kitchen

Room 554, 900 Otay Lakes Road
Chula Vista, CA 91910


x5878

St. Rose of Lima Catholic Church, Social Outreach

278 Alvarado Street
Chula Vista, CA, 91910

Life Christian Center (Life Acts)

1664 Industrial Boulevard
Chula Vista, CA 91911

(619) 585-3638
Tools for Finding Food Charities
Gleaning Organizations
Working Towards a Fuller Future
These organizations coordinate efforts to reduce food waste and end hunger in San Diego County.
San Diego Hunger Coalition - The San Diego Hunger Coalition Exit leads coordinated action to end hunger in San Diego County through research, education and advocacy.
San Diego Food System Alliance - The Alliance Exit is a collaborative whose mission is to develop and maintain an equitable, healthy and sustainable food system in San Diego County. The Alliance is focused on a number of issues, including supporting local farmers and fishermen, addressing food waste, catalyzing urban agriculture, and ensuring that healthy, quality food is available for all San Diegans.
North County Food Policy Alliance - The purpose of the North County Food Policy Council Exit is to find solutions to address the unmet food security needs of the residents of North County and to increase access to a secure and nutritionally quality food supply and food shed.
---
Feed Animals
 
Food that is not suitable for donation to hungry people may be valuable for farmers with animals to feed. For instance, many breweries in San Diego donate their spent grain to farms and dairies in the region as well as out of state. The Ramona Unified School District uses food scraps from schools to feed animals in the agricultural program.
For information on which farms are in need of spent grain or other food donations, please contact the San Diego County Farm Bureau Exit - or call (760) 745-3023.
---
Industrial Uses
Fats, Oils and Grease, also known as FOG, can be converted into fuel and has various industrial uses. There is increasing interest in finding effective means to obtain biofuel and bio-products from wasted food. San Diego regional options include:
New Leaf Biofuel - The New Leaf Biofuel Exit collects grease from restaurants, schools, hotels and other businesses to convert the cooking oil that would otherwise be discarded into biodiesel fuel.
Buster Biofuels - The Buster Biofuels Exit partners with different businesses and corporations to collect and repurpose their used kitchen oils and grease to convert it into biofuel.
EDCO Disposal Recycling Buy Back Centers - Edco Disposal Exit accepts clean residential and commercial fat, oil and grease at no charge. 
---
Food Scraps Composting
Composting turn food scraps into a nutrient-rich soil amendments and can be done on site in smaller amounts or on a larger scale at a municipal or commercial level.
Composting Facilities
The San Diego region has facilities that accept food scraps for composting.
Miramar Greenery – City of San Diego - The Miramar Greenery Exit accepts commercial food scraps from pre-approved businesses to be taken to the Greenery and turned into compost. San Diego residents are allowed to take up to two cubic yards of compost for free. The Miramar Greenery website also lists the uses for compost.
El Corazon Compost Facility - City of Oceanside - The City of Oceanside's green waste program takes all green waste collected curbside to the El Corazon Compost Facility Exit to be composted. The El Corazon Compost Facility is also currently accepting vegetative food scraps from pre-approved businesses in Oceanside. Oceanside residents are allowed to pick up compost for free with proof of residency at the Oceanside Solid Waste & Recycling Services. Exit
City of Chula Vista - Chula Vista Exit is currently operating a pilot program where vegetative food waste is being collected from homes and businesses, and taken to the Otay Mesa Landfill Compost Facility.
---
Food Recovery Successes
The San Diego region has some notable successes in food recovery.
Petco Park - This large public venue Exit and home to the San Diego Padres donates large amounts of food to Feeding America for distribution to those in need. All concession stands and restaurants within Petco Park participate in a food waste diversion program. That includes the composting of food scraps at the conclusion of any game or major event. Petco Park's food waste is then taken to the Miramar Greenery where it's turned into compost. The compost is periodically returned on site for use in the ballpark landscaping.
San Diego Airport Authority -  The San Diego Airport Authority Exit started a food waste diversion program in 2013, composting food scraps generated by the on-site food prep in all 40 of the airport's restaurants, three prep kitchens, and the USO Airport Center at the Miramar Greenery. They also have a food donation program from their sites directed to their USO Sport Center.
San Diego Zoo and Safari Park - The San Diego Zoo and Safari Park Exit donates food to feed people and composts animal food prep waste at their Children's Zoo facility and all food waste from all their restaurants at the Miramar Greenery. 
The Ramona Unified School District - The district's innovative program Exit finds the highest and best uses for unserved food and food scraps. Unserved food is collected by a local pantry and donated to feed people; vegetative and bakery food scraps suitable for animal feed are delivered to the district's agricultural program; and high school students compost other food scraps in an onsite Earth Tub composting unit. Landscape trimmings help provide the "brown" carbon materials needed in the composting process, and the finished compost is used in school landscapes and gardens.
Sharp Memorial Hospital - Sharp Memorial Hospital Exit has been composting all their food waste at the Miramar Greenery since 2012, and in 2016 started donating their edible food to local charities.
The San Diego Unified School District (858-637-6268) partners with Feeding San Diego on a food rescue program EXITthat began in September 2016. Through their Love Food Not Waste pilot program, the district recovered leftover prepared food from over 170 school kitchens. The food is consolidated at 19 production kitchens where local hunger relief organizations, coordinated through Feeding San Diego, pick up the school food on a daily basis. These organizations are then able to extend a meal to those facing food insecurity in and around the school communities.
In addition to those examples, many grocery stores, restaurants, hotels and caterers donate leftover or unsold food to hunger relief organizations.
---
Disclaimer: The information contained on these pages is intended to inform the public and does not establish or affect
legal rights or obligations. Links to non-EPA sites do not imply any official EPA endorsement of, or responsibility for, the
opinions, ideas, data or products presented at those locations, or guarantee the validity of the information provided.
Reference to any specific commercial products, process or service by trade name, trademark, manufacturer, or otherwise,
does not necessarily constitute or imply its endorsement, recommendation, or favoring by the United States Government
and shall not be used for advertising or product endorsement purposes.