Reduce Wasted Food By Feeding Hungry People
On this page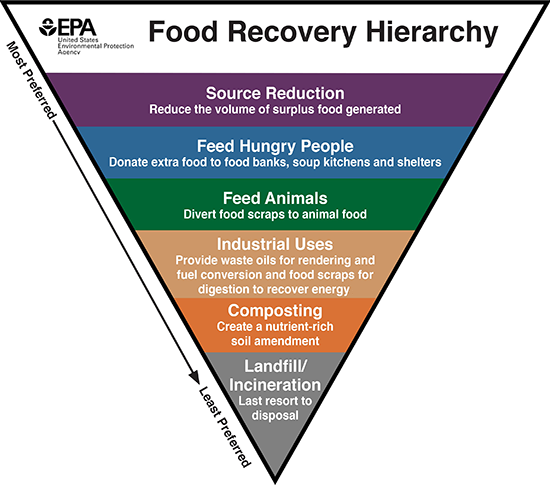 Feed Hungry People is the second tier of EPA's Food Recovery Hierarchy. EPA estimates that in 2018, about 63 million tons of wasted food were generated in the United States. While Americans dispose of millions of tons of food, the U.S. Department of Agriculture estimates that 10.5 percent of American households - about 13.7 million households - had difficulty providing enough food for all their members due to a lack of resources at some time during 2019.1 In many cases, the food tossed into our nation's landfills is wholesome, edible food.
We can be leaders in our communities by collecting unspoiled, healthy food and donating it to our neighbors in need. By donating food, we're feeding people, not landfills, supporting local communities, and saving money.
---
You may need a PDF reader to view some of the files on this page. See EPA's About PDF page to learn more
Getting Started
Anyone Can Be a Food Donor
Large manufacturers, supermarket chains, wholesalers, farmers, food brokers, and organized community food drives typically give food to food banks. Restaurants, caterers, corporate dining rooms, hotels, and other food establishments promptly distribute perishable and prepared foods to hungry people in their communities. Many local food banks will pick up food donations free of charge, saving you warehouse storage and disposal costs.
Legal Basics
Corporate donors are protected from liability under the Bill Emerson Good Samaritan Food Donation Act (PDF)(2 pp, 207 K, About PDF). Under this Act, as long as the donor has not acted with negligence or intentional misconduct, the company is not liable for damage incurred as the result of illness. Learn more from the University of Arkansas' Food Recovery – a legal guide (PDF)(12pp, 8.44MB). Exit
Safety Basics
Many non-perishable and unspoiled perishable foods can be donated to local food banks, soup kitchens, pantries, and shelters if the transaction is managed properly. Check with your local food bank or food rescue operation (soup kitchens, pantries, and shelters) to find out what items they will accept. Learn more about Food Safety Basics Exit or contact your state or local health department for more information on how to safely donate food.
Tax Benefits
There are potential tax benefits for companies that donate food. See Harvard Food Law and Policy Clinic's Tax Deduction for Food Donation, a Legal Guide Exit for information on enhanced tax deductions available to businesses donating food.
Find Food Recipient Organizations
The following sites contain tools that allow users to search for food banks, pantries, soup kitchens and shelters that may be interested in accepting wholesome, excess food:
The following organizations are examples of food donation organizations that provide a mechanism for entities to donate wholesome, excess food to those in need:
Food Recovery Network (FRN) Exit is a student-led organization and national network of college students, food businesses and non-profits whose goal is to combat wasted food and hunger. FRN chapters donate surplus food to food-insecure communities.
 
Rock and Wrap It Up! Exit is an anti-poverty think tank. It partners with music, sports and TV/film production organizations, as well as hospitals, hotels and schools to donate food that is prepared, but not served or sold, to indigent persons across the United States and Canada.
---
Food Donation Success Stories
Disclaimer of Endorsement: Reference herein to any specific commercial products, process, or service by trade name, trademark, manufacturer, or otherwise, does not necessarily constitute or imply its endorsement, recommendation, or favoring by the United States Government. The views and opinions of authors expressed herein do not necessarily state or reflect those of the United States Government, and shall not be used for advertising or product endorsement purposes.
Kroger
Kroger reduces the amount of food waste in its grocery stores through its Perishable Donations Partnership (PDP) program. Through the PDP program, safe, wholesome meat, produce, eggs and dairy products are donated to local food banks that have the capacity to safely handle and distribute fresh food.
In 2015, Kroger donated 56 million pounds of fresh food to local food banks. It takes the dedication and consistent execution of thousands of Kroger associates to make this happen. Working in tandem with its internal food safety experts, Kroger continuously looks for opportunities to add new categories of fresh product that can be donated safely through the program. For more information, visit Kroger's website on fighting hunger. Exit
Food Forward
In 2014, Food Forward's work ensured that 4.7 million pounds of perfectly good fruits and vegetables did not go to waste and, in 2015, that number shot up to 8.8 million pounds of produce recovered. Not only is that food being saved from the landfill, it is then being diverted to 300 hunger relief agencies across Southern California. Learn more about Food Forward's efforts.
Savor. . .Chicago - McCormick Place South
In 2014, SAVOR….Chicago – McCormick Place South, the exclusive food and beverage provider at McCormick Place donated over 41,000 pounds of food to local charities including Pacific Garden Missions. More than 37 tons of food have been donated to local charities since it began its work at McCormick Place.
---
Source of Statistics
United States Department of Agriculture, Economic Research Service, Household Food Security in the United States 2019.