On this page:
---
Description
Thursday February 16, 2017 1:00pm - 2:30pm EST

It is estimated that nationally, over 76 million tons of containers and packaging make up the largest portion of municipal solid waste generated, and 39 percent of those discards are sent to landfills. While the specific statistics on takeout waste tonnage for New York City are not known, Grow NYC's website estimates that New York City residents are only recycling about 17% of their total waste. Waste from New York City is either burned across the river in New Jersey, or transported as far as Virginia for landfilling, both of which require tipping fees. There is an urgent need to reduce all types of waste in NYC in order to meet the Mayor's plan of zero waste sent to landfills by 2030.
This webinar will examine some new approaches in New York City to begin to reduce the problem of takeout waste. Rachel Chaput, will present an overview of EPA's WasteWise program, a free, voluntary partnership program that encourages its partners to reduce municipal solid waste through reduction, reuse, and recycling. Sarah Currie-Halpern, Chair of Manhattan's Solid Waste Advisory Board, will talk about some ways that New York City is approaching the topic of takeout waste. Chloe Vichot of the green restaurant, Ancolie, the 4 Star Certified Green Restaurant in Greenwich Village, will speak about her efforts to go zero waste. Nick Kenner, CEO of the NYC restaurant Just Salad, will discuss his company's decision to be the first restaurant in New York that is permitted to serve food in customers' own containers.

Video: Taking on Takeout Waste: New Approaches in New York CityExit
---
Speakers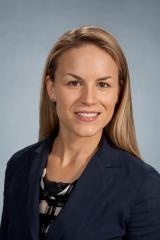 Sarah Currie-Halpern, Chair, Manhattan Solid Waste Advisory Board - In 2016, Sarah founded the waste reduction and diversion consulting firm, Think Zero, which helps corporations, building owners and small businesses with waste reduction and diversion planning and implementation. Before founding Think Zero, Sarah ran Solid Waste and Zero Waste Programs for the Mayor's Office of NYC, where she helped develop the Zero Waste section of the OneNYC sustainability plan and the Waste section of the recent NYC roadmap to reduce greenhouse gas (GHG) emissions by at least 80 percent by the year 2050. Chair of the Manhattan Solid Waste Advisory Board (SWAB) and a Board Member of Earth Day New York and the R Baby Foundation, Sarah is deeply committed to environmental and social advocacy.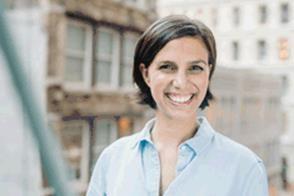 Chloe Vichot, Founder, Ancolie, the Epicurean Cantine Since 2012, Chloe has been focusing on living her dream and opening her own food business. She went back to school, starting in the kitchen, with two diplomas in French and Italian Culinary Techniques at the International Culinary Center. Then she took a Culinary Management Degree from the Institute of Culinary Education, where she won the leadership award. In early 2015, she quit her full time job in finance to work at Michelin-starred Eleven Madison Park, where she experienced fine dining and hospitality at its best. Having that experience under her belt, she felt that she was finally ready to open her dream place, an elegant and inviting oasis that offered real home cooking in glass jars, efficient service and embraced an epicurean sensibility.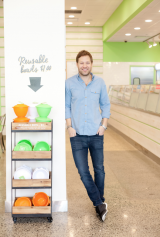 Nick Kenner, CEO and Co-founder, Just Salad - Nick Kenner is the CEO and co-founder of the fast casual chain Just Salad, which currently operates 31 locations in Manhattan, Chicago, Kansas, Jersey City, Hong Kong and Dubai. Along with his childhood best friend, Rob Crespi, Kenner opened the first Just Salad location at 320 Park Avenue in May of 2006. Before founding Just Salad, Kenner worked for two years as an assistant trader at hedge fund Exis Capital Management. Inspired by the lack of options that his usual midtown lunch routine offered, Kenner began developing a concept that would make healthy and delicious salads more accessible. To start, Kenner and his business partner, Rob Crespi, raised $500,000 from 20 investors. Today, Just Salad operates over 30 locations internationally with more than 1,000 employees and has been ranked one of the top five delivery restaurants in the world by GrubHub. Nick was named to Inc.'s 30 Under 30 America's Coolest Entrepreneurs List in 2007. He is an active board member of the Kenner Family Research Fund.
---
Slides
You may need a PDF reader to view some of the files on this page. See EPA's About PDF page to learn more.