Water Infrastructure Challenge
EPA promotes sustainable practices that help citizens enjoy the benefits of clean and safe water. EPA works with a broad group of stakeholders to help bring about sustainable practices on three levels that support each other: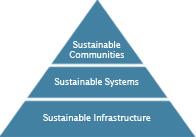 Sustainable Water Infrastructure - Sustaining the collection and distribution systems, treatment plants and other infrastructure that collects, treats and delivers water-related services.
Sustainable Water Sector Systems - Sustaining all aspects of the utilities and systems that provide water-related services.
Sustainable Communities - Promoting the role of water services in furthering the broader goals of the community.
---
In this area: