Pollution Prevention (P2) and TRI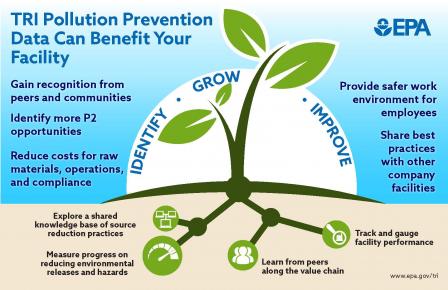 Under the Pollution Prevention Act of 1990 (PPA), the Toxics Release Inventory (TRI) Program collects information to track industry progress in reducing waste generation and moving towards safer waste management alternatives. Many facilities provide descriptions of measures they have taken to prevent pollution and reduce the amount of toxic chemicals entering the environment. As a result, TRI serves as a tool for identifying effective environmental practices and highlighting pollution prevention successes.
Access TRI's P2 Data
---
Learn About TRI P2 Resources
Source Reduction Activities Reported to TRI
For 2018, a total of 1,270 facilities (6% of all TRI facilities) reported initiating 3,120 new source reduction activities. Good operating practices, process modifications, and spill and leak prevention were the activities reported most frequently. Click on the legend to see examples of source reduction activities; reported codes are included in parentheses.
  Good Operating Practices
  Process Modifications
  Spill and Leak Prevention
An inorganic chemical manufacturing facility implemented procedures to prevent leaks of boron trifluoride by improving maintenance and inspection requirements for its outdoor storage tanks. (W39)
A frozen food manufacturer reduced its ammonia usage by upgrading compressor seals and o-rings in top fugitive emissions areas to reduce losses. (W39)
  Inventory Control
A gravure printer reduced toluene use through paint scrap tracking and paint reuse programs. (W21)
A ship manufacturer reduced styrene waste by ensuring that resins were used before expiration. (W21)
  Raw Material Modifications
A plastics product manufacturer reformulated their liquid polyester resin to a zero-styrene alternative resin type. (W42)
An automobile parts manufacturer is moving away from PVC materials which use antimony trioxide as a fire retardant to thermoplastic polyolefin (TPO)-type materials to meet customer demands. The facility continues to test alternative fire retardants to use in its products. (W42)
  Product Modifications
A circuit board manufacturing facility began offering alternative product finishes to customers to reduce the use of lead finish in its product. The facility also changed product specifications to minimize the amount of rework required in production, further reducing unnecessary use of lead for metal coating. (W81)
An oil and grease product manufacturer eliminated the use of toluene in its formulas as part of a plant-wide "Lubricants for a Healthier Planet" product strategy. (W82)
  Cleaning and Degreasing
A rubber products manufacturer changed the start time for a process so that it was based on production volume instead of production time, reducing the facility's use of nitrate compounds. (W64)
A paint and coating manufacturer improved manual solvent wash operations by monitoring solvent use during cleaning operations which resulted in reduced toluene usage by 7,000 gallons compared to the prior year. (W71)
  Surface Preparation and Finishing
A heating equipment manufacturer improved its painting process by installing additional robotic painting equipment which reduced its xylene emissions. (W72)
A motor vehicle parts manufacturer upgraded a surface treatment machine to a new chemical etching process which resulted in fewer bath dumps and therefore less acid usage. (W78)