Reporting for TRI Facilities
TRI Reporting Deadline
Reporting Help
Each year, certain industrial facilities submit Toxics Release Inventory (TRI) data to EPA. The data are due by July 1 and cover waste management activities that occurred during the previous calendar year. EPA makes these data publicly available.
On this page:
---
Is Your Facility Required to Report to the TRI Program?
A facility is required to report if it is in a covered industry sector and exceeds the established employee and chemical thresholds.
The TRI Threshold Screening Tool can help you determine if your facility is required to report.
Overview of the TRI Reporting Process
The image below summarizes the TRI reporting process. For more detailed information about each step, refer to the TRI Reporting Forms and Instructions.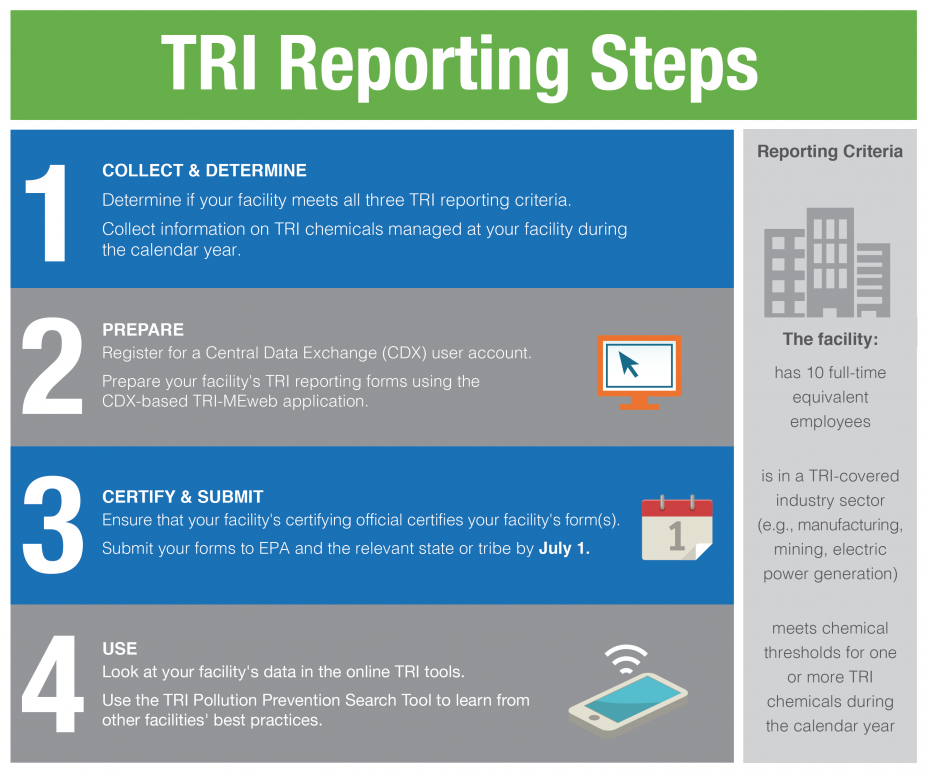 Reporting Changes for RY 2020
For details about what's new in the TRI-MEweb reporting software, view the list of RY 2020 TRI-MEweb enhancements.
TRI Training and Guidance Materials
TRI training and guidance are accessible via GuideME. Below are links to help you locate guidance for certain topics:
Emissions Factor Guidance