TRI Community-Scale Mapping Project
As part of the TRI Community Engagement Initiative, EPA conducted training workshops with South Philadelphia residents and leaders to raise awareness of the TRI Program, TRI Web-based tools, and related environmental information. Based on community input, EPA created an interactive map to demonstrate how community members can use publicly available data to create maps.
EPA intends the map to be a model for showing how TRI data can be combined with other relevant EPA, state, and local data for communities, including facilities, non-government organizations, researchers, academics, and students.
Learn more about the project, including how you can create your own community-scale map, by checking out the TRI Community-Scale Mapping Report (PDF). Click on the image (below) to begin using the TRI Community-Scale Map.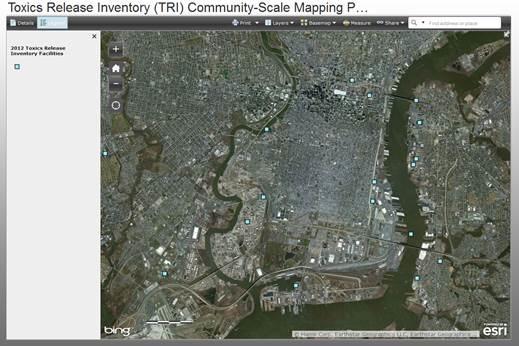 The map displays:
Locations of TRI and other EPA-regulated facilities (e.g., Air Permitted Facilities, Hazardous Waste Management Sites), and
Locations where youth and aging adults may frequently congregate.
Map features provide users:
Direct access to EPA data,
The ability to print maps, and
User friendly tabs to turn on and off map layers as desired.